Alfred Dampier 1847 – 1908
Alfred Dampier 1847 – 1908
Alfred Dampier 1847 – 1908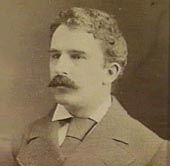 The son of a builder, Alfred Dampier was born in Horsham, Sussex, on 28 February.
Dampier accepted a three-year engagement with the Theatre Royal in Melbourne and made his Australian debut there on 20 September 1873 as Mephistopheles in his own adaptation, Faust and Marguerite.
In 1878 Dampier and his family toured the United States.
Australian plays for Australian audiences
'Alfred Dampier's enthusiasm for the Australian play was remarkable, both in his own day and looked at from the present,' wrote Leslie Rees. 'His plucky as well as self-interested policy of airing Australian plays for Australians had a magnificent popular justification, when, in 1890 he presented Robbery Under Arms. With its cast of 40, it was to be played again and again. A story sometimes quoted to illustrate Dampier's quickness and resourcefulness of mind is that one night during the play he saw some of the scenery shake, then topple towards the stage. "A landslide!" shouted Captain Starlight to the other actors. "Run for your lives!"'
Alfred Dampier was the ideal actor-manager – a consummate man of the theatre with impeccable credentials: a commanding stage presence, an uncanny knack for picking crowd-pleasing melodramas, a penchant for Shakespeare, a talent as a dramatist, a commitment to Australian plays, and theatrically-useful wife and children.
The son of a builder, Alfred Dampier was born in Horsham, Sussex, on 28 February, though the actual year is unconfirmed – 1843, 1845, 1847 and 1848 have all been suggested; 1847 seems most likely. He started out as a barrister's clerk, but his interest in the stage soon took him from amateur theatricals to a place in Henry Irving's company in Manchester. In 1866 he married a pianist, Katherine Russell, and fostered her acting talents. He moved with Irving to London and soon graduated to leading roles.
Dampier accepted a three-year engagement with the Theatre Royal in Melbourne and made his Australian debut there on 20 September 1873 as Mephistopheles in his own adaptation, Faust and Marguerite. He starred in many productions, and stage-managed others – such as J.C. Williamson and Maggie Moore's first season of Struck Oil in 1874. With his own company, Dampier made his Sydney debut in Hamlet early in 1877. This was followed by All for Gold; or, Fifty Millions of Money, which local playwright F.R.C. Hopkins had adapted for him from Eugène Sue's The Wandering Jew. Similarly, Garnet Walch adapted a comic novelette called Helen's Babies; or, The Best Children in the World for Dampier, with featured roles for Dampier's wife and two little daughters, Lily and Rose.
In 1878 Dampier and his family toured the United States. They presented Helen's Babies at the Broadway Theatre in New York from 4 February. The highlight of an 1881 British tour was a season of All for Gold at the Surrey Theatre in London.
Apart from a second visit to Britain in 1894, Dampier spent the rest of his life in Australia. His company specialised in melodrama, not just proven overseas plays but locally-written pieces as well. Dampier wrote many himself, invariably in collaboration with others. But he didn't neglect Shakespeare. When his company was in town, 'Friday Night was Shakespeare Night', and often the melodramas' profits subsidised his Shakespearean offerings.
Dampier and his company were resident in Sydney from 1885 until 1888 at the Royal Standard Theatre and, later, at the Gaiety. During this period he enthusiastically promoted home-grown drama – mostly with plays on which he had collaborated. One of his biggest successes was For the Term of His Natural Life, which he and Thomas Walker (a parliamentarian who used the pen-name Thomas Somers) adapted from Marcus Clarke's epic novel. It premiered at the Royal Standard on 5 June 1886 and was so successful that it outlasted a rival version at another theatre and remained in the repertory for years. Dampier scored again with Monte Cristo (1887), Jess (1888, later known as A Transvaal Heroine and Briton and Boer), and John Perry's The Life and Death of Captain Cook (1888) which had won first prize in Dampier's competition for an Australian centenary play. Dampier's wife often contributed to his scripts, and her The Flying Dutchman; or, Vanderdecken was staged sporadically.
From late 1888 to 1892 Dampier was based in Melbourne at the Alexandra (later renamed Her Majesty's). The predominance of local plays in his repertoire prompted him to dub it 'The Australian Theatre'. He had a big hit with Robbery Under Arms, adapted by Dampier and Garnet Walch from Rolf Boldrewood's rollicking novel. They reset the location from New South Wales to Victoria, presumably to evoke memories of the exploits of Ned Kelly only a decade before. Dampier first played the gentlemanly bushranger, Captain Starlight, at the Alexandra on 1 March 1890. Its initial run of 42 performances was a record for that time. He introduced the play to London audiences at the Princess's Theatre in 1894; it was revived at the London Pavilion in 1908. Dampier's other successes included The Miner's Right (1891), The Trapper (1891), This Great City (1891), The Scout (1891, later retitled The Prairie King), Wilful Murder (1892), To the West (1896) and The Duchess of Coolgardie (1896).
The Scout was particulary spectacular. A huge stage tank represened a backwoods lake replete with ducks, geese and swans, and there were warlike Indians in canoes, gunfights galore, an Indian encampment at night, and wildly galloping horses. For the finale the lake was transformed into a raging torrent. The great Sarah Bernhardt, who took time off during her Melbourne season to catch a matinee performance, was greatly impressed. After the final curtain, 'arrayed in a costume of virginal white, she clambered at the imminent risk of her neck up a shaky ladder onto the stage, where, to the accompaniment of dripping cowboys, Indians and other accessories, she congratulated [the company].'
To tie in with Melbourne's Centennial International Exhibition, Dampier and J.H. Wrangham came up with a timely crowd-pleaser, Marvellous Melbourne, its title a phrase first coined by George Augustus Sala in 1885. Premiering at the Alexandra on 19 January 1889, the play had everything: Spencer Street Station, complete with Aborigines, newsboys and a swagman, a Little Bourke Street opium den, a Toorak mansion, 'Falls Bridge by moonlight', and the Melbourne Cup – and it ran nearly four hours! The Arguscalled it 'vivid, vital and vehement'. Dampier staged it in Sydney in 1893 with its title judiciously altered to Slaves of Sydney.
Dampier's versatility as a producer was demonstrated at Christmas 1891 when he directed Garnet Walch's Jack the Giant Killer at the Alexandra. His daughter, Rose, played Princess Laughing Eyes.
Dampier lost heavily in the Depression that followed the early 1890s land boom. A disastrous 1893 tour of New Zealand culminated in his bankruptcy, but his tenacity and the goodwill of his colleagues soon got him back on stage.
Nevertheless, the early years of the new century were not kind to him. His health deteriorated after a bad fall through a stage trapdoor in New Zealand and, like his contemporaries George Darrell and Bland Holt, he found that the audiences who had flocked to see melodrama were being increasingly seduced by the wonders of the moving pictures; his elaborate stage representations of the bush and city life now seemed passé. He also had to contend with a scandal surrounding his daughter Lily. He retired after a farewell performance of – appropriately – Robbery Under Arms in Sydney on 10 November 1905. Sadly the recording of his voice, which he made in 1890, has been lost.
Alfred Dampier died in Sydney on 23 May 1908. He had spent the best part of 35 years touring Australia, playing not only the big cities, but smaller centres as well. His repertoire was broad – from the fruitiest of melodramas to Shakespeare – and he was not afraid to play villains and oddballs as well as the robust, manly hero roles in which he excelled. Above all, he proved that Australians would support Australian plays. He wrote and produced more than 30 and he presented many more written by others. Joe Slater paid this tribute:
As I turn once more the pages
Of life's book of memory
From behind Australian footlights
There's a face that's missed I see;
'Twas Australia's greatest actor,
Well remembered here today,
But, alas! His part is finished,
Alfred Dampier was called away
Dampier was survived by his wife, his two daughters and a son, Alfred Junior, all of whom were in theatre. In 1893 after a disastrous first marriage, Lily, Dampier's elder daughter, had married Alfred Rolfe (the stage name of Alfred Rokker), an actor in her father's company. After Dampier's death they toured New Zealand with Philip Lytton's tent company. In 1911 they rallied what remained of Dampier's old company and filmed Captain Midnight, the Bush King for Spencer's Pictures. Rolfe directed and starred opposite Lily. Its success swiftly led to two more features: Captain Starlight; or Gentleman of the Road, adapted from Dampier's play Robbery Under Arms, and The Life of Rufus Dawes, adapted from Dampier's For the Term of His Natural Life. None of these films has survived. Rolfe went on to direct many more Australian features. Lily produced Robbery Under Arms in Brisbane in 1914. Never strong, she was only 47 when she died in Melbourne the following year. Rose made occasional appearances as a principal boy in pantomime. Her brother, Alfred Dampier Junior, had a short career as a comedian. He and Rose were with their mother when she died in Pennsylvania on 8 March 1915.
In 1970 the recently established Australian Performing Group launched the Pram Factory performance venue in the inner Melbourne suburb of Carlton with an irreverent pastiche called – yes – Marvellous Melbourne.
Devised by Jack Hibberd and John Romeril, it was by no means an adaptation of Dampier's play of 80 years before, but it did celebrate the rich tradition of popular local theatre that Dampier had espoused – and the inclusion of a an opium den scene rang a few familiar bells for those who knew their theatre history. Mr Dampier would have been delighted!
Frank Van Straten, 2007
References
Biographical
Richard Fotheringham: 'Alfred Dampier' in Companion to Theatre in Australia. Currency Press, 1995
Eric Irvin: Dictionary of the Australian Theatre. Hale and Iremonger, 1985
Hal Porter: Stars of Australian Stage and Screen. Rigby, 1965
Leslie Rees: The Making of Australian Drama. Angus and Robertson, 1973
John Rickard: 'Alfred Dampier' in Australian Dictionary of Biography, volume 4
Margaret Williams: Australia on the Popular Stage, Oxford University Press, 1983
Media
Robbery Under Arms Poster