Allan Wilkie CBE 1878 – 1970
Allan Wilkie CBE 1878 – 1970
Allan Wilkie CBE 1878 – 1970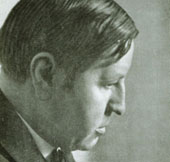 Born in Liverpool on 9 February 1878, Wilkie made his stage debut in 1899 as an extra in A Lady of Quality at the Comedy Theatre in London.
The Allan Wilkie Shakespearean Company debuted at the Princess Theatre in Melbourne on 11 September 1920 with Macbeth.
All the world his stage
In 2004, at a function to raise funds for the Bell Shakespeare Company, former Prime Minister Gough Whitlam recalled: 'In 1928 I had my 12th birthday during Year 2 at Telopea Park High School in Canberra, where we were studying our first Shakespeare play, Twelfth Night. At that time Canberra had a smaller population than any of the cities or towns on Bell's 2004 itinerary. The citizens of Canberra, most of whom had moved from Melbourne for the opening of the new Parliament House in May 1927, were entranced by three plays performed at the Capitol Theatre by the Allan Wilkie Shakespearean Company. Allan Wilkie was accompanied by his wife. As John Bell proves, it helps to have a wife with a romantic name; Wilkie's wife was Frediswyde Hunter-Watts. The three plays were Twelfth Night – with Wilkie as Malvolio, Merchant of Venice – with Wilkie as Shylock, and Henry VIII. My parents took me to all three. My eight-year-old sister, Freda, was not taken and still resents it.'
For a generation of Australians, Shakespeare and Allan Wilkie were synonymous. 'He was an authority on Shakespeare,' wrote Hal Porter. 'His range was wider by far than that of the many Shakespearians Australia had seen: Brooke, Dampier, Rignold, Sullivan, Montgomery, William Anderson, Charles Kean, Conrad Knowles, Edwin Booth, and those who – even at the level of Dan Barry – tossed off Othello on Saturday night, after a matinee of Deadwood Dick's Revenge.'
Born in Liverpool on 9 February 1878, Wilkie made his stage debut in 1899 as an extra in A Lady of Quality at the Comedy Theatre in London. His aptitude for Shakespeare soon won him roles in touring companies headed by Herbert Beerbohm Tree, Ben Greet and Frank Benson. In 1905 he formed his own company and toured England, South Africa, India, China and Japan. Rather than try to re-establish himself in wartime England, Wilkie decided to try his luck in Australia. With his actress wife, the aforementioned Frediswyde Hunter-Watts, he arrived in 1915.
In 1916 George Marlow engaged him to head his Grand Shakespearean Company. Established to mark the tercentenary of Shakespeare's death, the troupe toured widely, presenting Shakespeare – plus melodrama and 18th-century comedy – at affordable admission prices.
With this experience under his belt, Wilkie formed his own company – the first serious attempt to establish a permanent Australian touring Shakespeare company – with the goal of producing every one of Shakespeare's 37 plays. The Allan Wilkie Shakespearean Company debuted at the Princess Theatre in Melbourne on 11 September 1920 with Macbeth.
Though Wilkie recruited a versatile group of local actors, he and his wife invariably took the leading or featured roles. Traditional and engaging, their productions attracted audiences in small towns as well as capital cities. For economy and practicality, his settings were simple and readily adaptable to any size stage. Wilkie always used an orchestra, engaging local musicians to save costs. Any profits were invested in new costumes and scenery. When money was tight, the repertoire was adjusted accordingly: a season of melodrama in an outback mining town could do wonders for the bank balance!
Wilkie was not only an actor-manager in the grand tradition, he was also a skilled promoter. He cannily included curriculum plays in his repertoire and offered half-price concessions for school parties attending suitably sanitised matinee performances. He campaigned for government subsidies for the theatre and succeeded in getting free railway transport for his company – in effect, the first government subsidy of theatre in this country. From 1922 to 1924 he published The Shakespearean Quarterly. Claimed to be the only Shakespearean journal published in the British Empire, it covered Shakespearean study and stage production and was sold in the theatres where he performed. For a short period it was edited by Hector Bolitho.
After four years' touring, Wilkie claimed a world record: 1000 consecutive performances of Shakespeare. According to the Hobart Mercury he believed that 'in a small way he had done something towards preserving the integrity of the British Empire, and that however inadequately the plays might be performed, the mere representation of the language of Shakespeare improved the people who listened, and made them better citizens of the Empire.' It was appropriate that in 1925 he was awarded the CBE for his services to theatre, particularly with regard to education.
In June the following year, all his costumes, scenery and props were lost in a fire at the Geelong Mechanics' Institute. A national appeal financed a trip to London to buy replacements. Wilkie was back on the road again in January 1927. One of his players, J. Beresford Fowler, remembered him: 'A hard man to get on with; he had nearly every actor in Australia working with him at one time or another.' The roster included Lorna Forbes, Marie Ney, Augustus Neville, Leslie Manners, Frank Clewlow, John Cairns and Ellis Irving.
The combined effects of the Depression and the 'talkies' forced Wilkie to disband his company in 1930; by then he had produced 27 of the hoped-for 37 plays. He turned again to Restoration comedy and even to an Australian play – Doris Egerton Jones's Governor Bligh. His next productions were incongruous: in February 1931 he premiered Noel Coward's Hay Fever at the Tivoli in Melbourne and toured it and Drinkwater's Bird in Hand though Queensland. Audiences were sparse, and Wilkie and his wife left Australia. With a modest presentation of scenes from Shakespeare, they toured through New Zealand, Canada and the United States.
In 1932, following a brief tour of England, Allan Wilkie virtually retired from the stage, though he visited British Columbia in 1938 and continued to give occasional recitals. Frediswyde Hunter-Watts died in 1951 but Wilkie lived on to the age of 92, dying in Scotland on 7 January 1970. He was survived by his son, Melbourne journalist Douglas Wilkie (who died on 10 April 2002, aged 93), and by his second wife, Kate, who donated his extensive personal archives to the University of Adelaide's Barr Smith Library. The collection includes letters, clippings, programs, photographs, annotated prompt books and an unpublished autobiography, All the World My Stage.
Frank Van Straten, 2007
References
Biographical
John Golder: 'A Cultural Missionary on Tour: Allan Wilkie's Shakespearean Company, 1920-1930', in O Brave New World, Currency Press, 2001
Hal Porter: Stars of Australian Stage and Screen. Rigby, 1965
John Rickard: 'Allan Wilkie', in Australian Dictionary of Biography, volume 12
Lisa Warrington: 'Allan Wilkie', in Companion to Theatre in Australia, Currency Press, 1995
Media
Alan Wilkie Souvenir