Annette Kellerman 1886 – 1975
Annette Kellerman 1886 – 1975
Annette Kellerman 1886 – 1975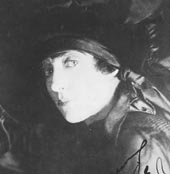 The world's greatest aquatic performer, Annette Marie Sarah Kellerman, was born on 6 July 1886 at Marrickville, Sydney.
In 1902 Kellerman began breaking swimming records.
She also performed a mermaid act at Princes Court, the pleasure gardens on the site of today's Victorian Arts Centre.
Neptune's Daughter
Hollywood swimming star Esther Williams, who portrayed Annette Kellerman in the 1952 film Million Dollar Mermaid, recalls meeting her on the MGM lot: 'Although she was 65 there wasn't a wrinkle on her face. She looked around the set and nodded her approval. "This is very accurate," she said. "This is what backstage at the Hippodrome was like." The two of us posed for a picture and then I asked, "How do you feel about me playing your life?" There was an awkward silence. "Do you have a problem with that question?" I asked. "It's not that," she finally answered in a pronounced Down Under accent. "It's just that I wish you were Australian." "I'm the only swimmer in the movies, Miss Kellerman. I'm all you've got." "I know, I know," she said. I wasn't sure she ever approved. She stayed and watched the shooting a bit, and then left. I thought maybe she'd come to the premiere, but I never saw her again.'
The world's greatest aquatic performer, Annette Marie Sarah Kellerman, was born on 6 July 1886 at Marrickville, Sydney. Her father, Frederick, was a violinist, and her mother, the former Alice Charbonnet, was a pianist and music teacher. The little girl's legs were so weakened from rickets that she had to wear painful steel braces. By the time she was 13, regular swimming had corrected most of her problems, and two years later she won her first race.
In 1902 Kellerman began breaking swimming records. The family moved to Melbourne where she participated in school theatricals and gave exhibitions of swimming and diving at various Melbourne baths. She also performed a mermaid act at Princes Court, the pleasure gardens on the site of today's Victorian Arts Centre, and swam with the fish in a glass tank at the Aquarium in the Exhibition Buildings. In June 1903 she appeared in the beach scene of Bland Holt's melodrama The Breaking of the Drought at the Theatre Royal.
In 1905, after a highly publicised ten-mile swim in the Yarra, Kellerman went to England with her father. Her daring long distance swims continually made headlines, but a successful Channel crossing eluded her. 'I had the endurance,' she said, 'but not the brute strength.' She swam the Thames, the Seine, the Rhine and the Danube. For an appearance before members of the royal family at London's Bath Club, she was forbidden to show any bare leg. Her solution was to buy a long pair of black stockings and sew them onto a boy's short racing costume – thus introducing the women's one-piece bathing suit.
Kellerman realised that theatrical work was potentially more lucrative than occasional public aquatic appearances. She developed an imaginative stage act with which she topped the bill at the London Hippodrome, swimming and diving in a huge glass-fronted tank. Next she determined to conquer the United States, where her exploits and her costume had already attracted attention.
In 1906 Kellerman made her American debut playing 55 shows a week at the White City amusement park in Chicago. Her sensational appearance on Revere Beach in Boston resulted in her arrest for indecency, an avalanche of publicity, and a lucrative contract with vaudeville entrepreneur Edward F. Albee. He revamped her stage act, adding large mirrors in strategic positions around the tank. 'What we are selling here is backsides,' he explained to the bewildered young Australian, 'and a hundred backsides are better than one!' Miss Kellerman's multiple backsides earned her $1250 a week. In 1907 she made her first film, a short for the Vitagraph studio. Several more followed.
Kellerman progressively added new attractions to her stage act: diabolo demonstrations, wire-walking, acrobatics, violin playing, singing, a comedy physical culture routine, and even humorous male impersonations. In November 1911 she appeared in the title role of Undine, 'an idyll of forest and stream', at the Winter Garden in New York with a score by the prolific composer Manuel Klein. Its success was repeated in London in May 1912.
In 1912 Kellerman married her American-born manager, James Sullivan. He encouraged her to pursue a career in films. Late in 1913 Kellerman and a company of 75 sailed to Bermuda to shoot Neptune's Daughter. An enormous success, it led to A Daughter of the Gods in 1916. This was filmed at Montego Bay in Jamaica with a cast of 20,000 and a budget of more than one million dollars, making it the most expensive film to that date. The principal set was an 8.1-hectare Moorish city, which was burnt to the ground in the final scenes; as well there was an intricate underwater 'mermaid village', shot by a camera encased in a specially designed diving bell. The waterfall scene was the first in movie history to be done completely in the nude.
Impresario Charles Dillingham chose Kellerman to replace Anna Pavlova in The Big Show of 1916 at the 5200-seat Hippodrome, New York's largest theatre, and paid her $2000 a week. For six months she stopped the show with a sensational high dive over an enchanted waterfall cascading around 200 mermaids. She also topped the bill at the famous Palace Theatre on Broadway.
Kellerman was an enthusiastic contributor to numerous troop entertainments and special performances to aid war charities. Several years of dance studies with Luigi Albertieri were rewarded when she was featured in a solo ballet spot in an 'All Star Musical and Novelty Benefit' for the Actors' Fund of America at the Metropolitan Opera House on 16 May 1916.
Kellerman's third film, Queen of the Sea, was shot on the Maine and Californian coasts in 1918, and featured a breathtaking 26-metre dive from a wire. One of the highlights of 1920's What Women Love was a fight between Kellerman and a drunken lout – underwater, of course! Her intrepid movie exploits earned her an odd accolade, 'The Douglas Fairbanks of the Screen Girls' Athletic Association.'
In 1921 J.C. Williamson's invited Kellerman to return to Australia to be the grand opening attraction for their remodelled Theatre Royal in Sydney. Miss Kellerman arrived with her company of 22, only to find that the Royal was far from ready. In desperation Williamson's sub-contracted her to Harry Musgrove at the Tivoli. 'The Lady Versatile, Miss Annette Kellerman (Herself, In Person) and her Big Show of Vaudeville De Luxe' opened at the Sydney Tivoli early in June and later played in Melbourne and other cities.
Theatre magazine's reviewer was ecstatic: 'Anything more classical than Miss Kellerman's beautiful dancing in Thaïs and The Sea Nymph could not well be imagined. Hers is the first sea dance yet seen in Australia. The swimming motions are perfectly graceful, and delight both the imagination and the sight. Some of her dancing pirouettes are amazing in their effortlessness. She has learnt well the supreme test of balance in a pirouette – stopping on the note. Dozens of fine dancers have often failed in this; but Miss Kellerman's sense of measure appears to be absolute. Her diving and swimming are, of course, her long suit. In both respects her work is perfection itself. Her lovely, lithe body and intellectual face seem to belong to a water spirit. She is part and parcel of her element. Miss Kellerman is a star that should light the way for many an artistic, gifted mind. Never has she been content with success. She has ever striven to attain true beauty in her work. That is her deep and enduring pleasure – a lesson to all who behold her, and contented happiness for herself.'
Kellerman and her company went on to New Zealand, where she shot her last feature film, Venus of the South Seas, which her husband directed. Kellerman played the beautiful Shona Royale, marooned with her pearl diving father on an exotic island in the south Pacific. Her children's book Fairy Tales of the South Seas was published in 1925. That year she played the New York Hippodrome again and went on to appear in revue in Los Angeles, at the Coliseum in London, and on the continent.
Always acutely heath conscious, Kellerman had written two books on swimming and one called Physical Beauty: How to Keep It in 1918. She opened a health food store in San Diego, California, and for much of the 1930s toured the United States, lecturing to 'modern' women on health matters. She and her husband spent some time in Australia, exploring the Great Barrier Reef. They returned in 1939, living in seclusion on Newry Island. When war broke out Kellerman set up the Red Cross Theatrical Unit in Sydney. She wrote, directed and appeared in its shows, which were performed for Australian and American servicemen up and down the east coat, and in New Guinea. Her efforts were recognised in 'The Annette Kellerman Wing' in Sydney's new King George Hospital.
When she returned to the United States, Kellerman was engaged as technical advisor on Million Dollar Mermaid, the 1952 film of her life that M-G-M had conceived as a showcase for their highest paid star, Esther Williams. Not unexpectedly, the screenplay had little to do with Kellerman's real life, but it thrust her back in front of a public that had largely forgotten her. She opened more health food shops but decided to return permanently to Australia in 1956. Prime Minister Menzies introduced her to the crowds at the Melbourne Olympics, and she joined Dawn Fraser in the training pool. Kellerman settled into a quiet retirement on the Gold Coast, where she swam in the Chevron pool every day.
After her husband's death in 1972, Kellerman spent her last years living with her sister in relatively poor circumstances. In 1974 she was inducted into the International Swimming Hall of Fame in Fort Lauderdale, Florida. Annette Kellerman died on 6 November the following year. She was 89. She had no children. Her brother, Maurice, was a Hollywood cinematographer.
Sadly, of Kellerman's five feature films, only Venus of the South Seas has survived complete. In 2003 Michael Cordell wove tantalising fragments of her screen legacy into a TV documentary, The Original Mermaid. This in turn inspired the publication of a short biography. A large collection of Kellerman's stage costumes and accessories is preserved in the Powerhouse Museum in Sydney.
Frank Van Straten, 2007
Related Links