Bert Bailey 1868 – 1953
Bert Bailey 1868 – 1953
Bert Bailey 1868 – 1953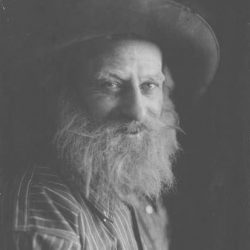 Albert Edward Bailey was originally a New Zealander, a farmer's son born in Auckland on 11 June 1868.
In 1910 the producers claimed that The Squatter's Daughter 'had made more money than any other Australian play ever produced, realising £70,000 in three years, and witnessed by over 1,500,000 residents of Australia and New Zealand.
'Life is a melodrama'
For several generations of Australians, including author and playwright Hal Porter, Bert Bailey wasDad, the archetypal strong willed bush battler of Steele Rudd's On Our Selection stories on stage and screen. Porter, however, was not Bailey's greatest fan: 'One can admire him for providing the world of entertainment with the first group of characters presumably to illustrate essential Australianism, or vilify him for setting up a collection of crudely carved folk-idols with a sinister command of the techniques of mass-hypnosis which make the sentimental and the false appear in the satisfying and self-flattering colours of the normal and true.'
Paradoxically, however, Albert Edward Bailey was originally a New Zealander, a farmer's son born in Auckland on 11 June 1868. By 1871 he was living with his mother in Sydney, where he attended Cleveland Street Public School. He started his working life as a telegram boy, served as a floor manager at the Crystal Palace Skating Rink and eventually faced the footlights as a 'descriptive vocalist' at the Canterbury Music Hall in George Street.
1n 1889 Bailey found work as a comedian with Edmund Duggan's touring company, which brought melodrama, pantomime and even light opera to far flung communities in Victoria, New South Wales and Queensland, venturing as far north as the Gulf of Carpentaria. Bailey and Duggan went on to make similar sorties with companies run by Irve Hyman and the indomitable Kate Howarde, who toured for years with a much-loved bucolic entertainment called Possum Paddock. It was a superb apprenticeship in popular theatre, at the same time providing a treasure house of characters and incidents.
In 1900 Bailey and Duggan 'came to town', joining the company of city-based producer William Anderson, who was Duggan's brother-in-law. Two years later Bailey married Ivy Gorrick, one of Anderson's actresses. Bert and Ivy acquired a property at Lake Macquarie and built Kendall Grange, an 18-room mansion. Bailey kept a cruiser and a speedboat on the lagoon. When Ivy died in 1932 he sold the property to the Little Company of Mary (now known as the Blue Nuns), who used it as an adjunct to their nearby hospital. In 1947 the property passed to the Brothers of St John of God who used it as a special school. It has since been subdivided for residential use.
Anderson's audiences responded enthusiastically to Australian plays, so he was quick to accept The Squatter's Daughter; or, The Land of the Wattle, a bushranging melodrama that Bailey and Edmund Duggan wrote under the combined pseudonym 'Albert Edmunds'. Bailey directed and played Archie McPherson, a comic 'new chum' from Scotland; Duggan played the daring bushranger, Ben Hall, while his wife, Eugenie, was the spirited heroine, Violet Enderby. The Squatter's Daughter was the ultimate in what was known as 'bush realism' – the curtain rose as a flock of sheep 'entered, left', accompanied by barking dogs.
There were laughing kookaburras, real bush foliage, whip crackers and wood choppers, a shearing contest, a fight between a man and a kangaroo, and a waterfall dumping 500 gallons per minute into 'a lake of real water'. This 'Romantic Australian Drama' premiered at the Theatre Royal in Melbourne on 9 February 1907 and ran for an astonishing seven weeks. It did even better in Sydney and went on to become Australia's most successful home-grown melodrama. In 1910 the producers claimed that The Squatter's Daughter 'had made more money than any other Australian play ever produced, realising £70,000 in three years, and witnessed by over 1,500,000 residents of Australia and New Zealand.' When Anderson produced a film version, The Bulletin's reviewer correctly predicted that it had 'enough horse and girl in it to appeal to crowded houses six nights a week.'
Bailey and Duggan, or 'Albert Edmunds', wrote many more melodramas. The Man from Out Back; or, Stockwhip and Stirrup was an early attraction at the King's Theatre in Russell Street, Melbourne, which William Anderson had built in 1908. Now the villains were cattle duffers rather than bushrangers, but the mix was much the same. There were horses, dogs and a galah, though the 'stolen' cattle were sacked because of their indelicate behaviour at rehearsals. Among the company was a genuine 'new chum' playing Dave Goulburn, 'a sundowner': Roy Redgrave, a footloose rake whose son, Michael, eventually far surpassed him in fame and fortune.
Another 'Albert Edmunds' effort, The Native Born, was built around a grisly murder and the discovery of gold near Mount Kosciusko. Bailey played an illusionist, Charlie Spinifex, so there were plenty of magic tricks as well as a convincing stage snow storm.
In 1911 Bailey and Duggan joined with their business manager Julius Grant to lease the King's Theatre from William Anderson. It became the home of the Bert Bailey Dramatic Company, jointly run by Bailey, Grant, Duggan and Anderson. Duggan's My Mate, in February 1911, featured Bailey as Dolf Darling, a somewhat sophisticated stockrider, and Duggan as his 'mate', a long-suffering selector. It was so formulaic that one reviewer said Duggan 'has faced drought and flood and fire so often on the stage that it must be hard sometimes for him to remember that he is in fact not on the land.'
Bailey and Duggan's greatest success was undoubtedly On Our Selection, which they (possibly with Beaumont Smith) adapted from the beloved stories of Steele Rudd, the pseudonym of Arthur Hoey Davis. On Our Selection premiered at the Palace Theatre in Sydney on 4 May 1912 with Bailey as Dad and Fred Macdonald as Dave. It was warm and funny and, to city audiences, so real that The Bulletin observed, 'One sniffs the pastoral odour of the unseen cow that trespasses on Dad's lucerne patch.' In one form or another, On Our Selection has been around ever since. In 1920 Bailey took the play to the Lyric Theatre in London. There, Hal Porter, noted acerbically: 'It corrected any image the English might have been forming of Australia as part-civilised.' It was withdrawn after 31 performances.
Largely due to the success of On Our Selection, Bailey, Duggan and Grant became major entrepreneurs, continuing to churn out their trademark popular theatrical Australiana. Their firm was a foundation member of the Theatrical Proprietors' and Managers' Association.
They adapted Steele Rudd's Duncan McClure and the Poor Parson in 1916. Gran'dad Rudd followed in 1918. In 1922, for E.J. and Dan Carroll, they produced The Sentimental Bloke, adapted for the stage from the poems of C.J. Dennis; Bailey played Ginger Mick. Its success was not repeated when they staged a season of Shakespeare in Sydney which was a commercial disaster. After the last performance, Bailey addressed the audience: 'Although the plays have been pretty well done, we've lost money, but tomorrow night I'm going to put on Dad's whiskers and get it all back.' And he did.
In 1929, after he toured Barry Conners' popular 'Cinderella' farce The Patsy to 110 country towns, Bailey decided that 'talkies' would destroy live theatre. He packed away his whiskers and retired. But not for long.
In 1932 young director Ken G. Hall coaxed Bert Bailey and Fred Macdonald to reprise their portrayals of Dad and Dave in a film version of On Our Selection. Cinesound Productions' first film, it was budgeted at a modest £6000. It became an instant box office hit, raking in £46,000 within a few months. It did less well in Britain, where it was released as Down on the Farm.
Inevitably there were sequels, all starring Bailey and Macdonald. The first, in 1935, was Grandad Rudd. It had a lacklustre British release as Ruling the Roost. Next was Dad and Dave Come to Town in 1938. It was notable for introducing Peter Finch in a small role and for breaking the jinx in Britain where, as The Rudd Family Goes to Town, it was seen in 1800 cinemas – claimed to be a record for an Australian production. Similar British success greeted the last of the series, 1940's Dad Rudd, M.P. It was Cinesound's final feature and Bailey's swansong. By then the characters of Dad and Dave were largely stereotypical caricatures, far removed from Steele Rudd's brilliant conception.
The long-running radio serial, with George Edwards as Dad and John Saul and, later, Patrick Penny, as Dave, took the process a stage further, as did Snake Gully with Dad and Dave, a virtually forgotten 1972 television series in which Gordon Chater played Dad with Garry McDonald as Dave. The somewhat awkward title resulted from a reluctance to acknowledge any obligation to the Davis/Rudd estate.
Bert Bailey finally retired in 1940. All those years sporting Dad's whiskers had made him a wealthy man. He filled his leisure hours watching cricket, sailing, playing bowls, yarning about old times at the Savage Club on his visits to Melbourne, and frequently reminding anyone who would listen that 'life is a melodrama'. He died at his home at Darlinghurst, Sydney, on 30 March 1953, leaving an estate valued at £32,527. In contrast, Arthur Hoey Davis, 'Steele Rudd', who had created Dad and Dave, had eked out his last years on a tiny pension and had died in poverty.
In 1995, exactly a century after the publication of Steele Rudd's first 'selection' story – and 55 years after Bert Bailey's last Dad and Dave movie – Anthony Buckley produced Dad and Dave: On Our Selection, an affectionate but ultimately awkward romp in which Leo McKern played Dad, Geoffrey Rush was Dave and Joan Sutherland made her only feature film appearance as Mum. George Whaley directed.
Bailey and Duggan's play is still revived. Adapted and directed by George Whaley, it was presented by NIDA at the Jane Street Theatre in 1979 with Don Crosby as Dad and Geoffrey Rush as Dave. Mel Gibson played Sandy, the wooer of Dad's daughter. It played in Brisbane, Perth and Canberra and, in December 1982, packed the Athenaeum in Melbourne, when Graeme Blundell directed it for the Melbourne Theatre Company with Frederick Parslow as Dad and Garry McDonald as Dave. This production was revived at the Arts Centre Playhouse the following year, with Parslow as Dad and Robin Ramsay as Dave. A Victorian country tour followed.
George Whaley recalled an amateur production in country Victoria: 'Colbinabbin is a very small town – railway station, wheat silos, a pub and a few houses. I have never noticed a hall. The production made a profit of $11,000.'
Bert Bailey's daughter, Doreen (affectionately known as Weet, Weetie or Tim), had been his constant companion on his tours and film shoots. The Sydney Morning Herald published several of her children's stories. She died in 1985, having donated a large collection of family papers to the National Library in Canberra.
Frank Van Straten, 2007
Related Links
References
Biographical
J. Beresford Fowler: The Green-Eyed Monster, Arthur H. Stockwell, 1968
Eric Irvin: Australian Melodrama, Hale and Iremonger, 1981
Eric Irvin: Dictionary of the Australian Theatre, 1788-1914, Hale and Iremonger, 1985
Helen Musa: 'Bert Bailey', in Companion to Theatre in Australia, Currency Press, 1995
Andrew Pike: 'Bert Bailey', in Australian Dictionary of Biography, volume 7, Melbourne University Press
Andrew Pike and Ross Cooper: Australian Film, 1900-1977, Oxford University Press, 1980
Hal Porter: Stars of Australian Stage and Screen, Rigby, 1965
Margaret Williams: Australia on the Popular Stage, 1829-1929, Oxford, 1983
Media
Photograph courtesy of National Library of Australia. An22985237