Betty Pounder AM 1921 – 1900
Betty Pounder AM 1921 – 1900
Betty Pounder AM 1921 – 1900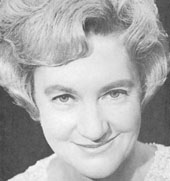 Betty Mildred Pounder – and what a wonderful name for a choreographer! – was born in Melbourne on 8 August 1921.
She joined J.C. Williamson's, making her debut under the direction of ballet mistress Edna Edgley in the 1941 revue Funny Side Up.
'Sparkle, darlings!'
'I believe no other person in the world worked on as many shows as Pounder,' says Australiantheatre icon Sue Nattrass. 'Her reproductions of Broadway shows were accepted by all those famous choreographers because they knew she did it properly – they trusted her. In the mid 1970s I often followed in her footsteps after she had been to see the shows in New York, and I found what high regard she was held in over there. All the dancers I met would ask after her and say, "Sparkle, darlings" – she said it to them too, as she did to us. And because they liked her so much they helped her when she was learning a show, when perhaps the production people wouldn't. She was an extraordinary woman. She never aged in the head; she related to young people as well as she did to her own generation, and that is unusual.'
Betty Mildred Pounder – and what a wonderful name for a choreographer! – was born in Melbourne on 8 August 1921.
She was four when she started dance lessons with May Denerio in North Fitzroy, mainly to help cure her shyness. By the time she was 12 she was studying classical ballet with Eunice Weston. At 16 she won a scholarship to study with Edouard Espinosa in London. When war broke out she joined ENSA, the forces entertainment organisation, but when her parents discovered she was entertaining troops on the battlefields of France they insisted she return home.
She joined J.C. Williamson's, making her debut under the direction of ballet mistress Edna Edgley in the 1941 revue Funny Side Up. Life as a JCW ballet girl wasn't easy. 'Everybody was strict,' Pounder recalled, 'but always terribly polite. We were not allowed out without stockings and gloves, keeping up the standard. It was an honour to work for JCW's then.'
Pounder danced in a seemingly endless series of Gladys Moncrieff revivals and before long she was made assistant to Edna Edgley's successor, Hazel Meldrum. She was sent to New Zealand where for about 18 months she trained locally-recruited dancers and chorus singers. She returned to become assistant ballet mistress and dancer in Annie Get Your Gun. Then came operas, Gilbert and Sullivan, pantomimes and countless more musicals. Kiss Me, Kate was her last show as a dancer; after that she was promoted to ballet mistress, starting with Call Me Madam in 1953, and then dance director.
In 1957 Williamson's sent Pounder on the first of her many trips to New York. Her brief was to study the choreography of The Pajama Game, which she documented using her self-devised notation and later reproduced in Australia for – at her suggestion – an all-Australian cast.
Pounder became an expert in the styles of the great Broadway choreographers – Fosse, Champion, Kidd, Robbins – who all knew and respected her talents. Sometimes, however, she was given the opportunity to create original choreography – for example, on Funny Girl, Camelot and Half a Sixpence. She was even sent to Amsterdam to supervise the production of Sweet Charity there. Pounder also created the choreography for several Australian musicals, such as The Sentimental Bloke (1961) and Peter Scriven's Nex' Town (1973).
In 1964 Pounder choreographed the Australian Ballet's first truly modern dance piece – Jazz Spectrum, with music by Les Patching, designs by John Truscott, and Marilyn Jones and Garth Welch as the principals. Pounder delighted in teaching the Australian Ballet's classically trained dancers the intricacies of jazz dance. A zesty blend of bright colours and dazzling movement, Jazz Spectrum remained in the repertoire until the 1966/67 season, when it resurfaced with fresh designs and a new name, Jazz Suite.
After 35 years' as Williamson's dance director, choreographer and casting director, Pounder was promoted to director for Salad Days in 1973. She went on to direct the second season of Godspell, and The Wiz in 1976, J.C. Williamson's final musical. Pounder worked as a freelance for its successor, J.C. Williamson Productions Ltd, on shows like Annie and More Canterbury Tales. For the Victoria State Opera she directed La Belle Hélène, their inaugural production, in 1977, and Orpheus in the Underworld in 1978. In 1979 she directed and choreographed Frank Hatherley's The Ripper Show, a new small-scale Australian musical, for the Playbox Theatre in Melbourne.
Eventually Pounder relinquished her beloved little office at Her Majesty's in Melbourne and started a new career as television casting director for Crawford Productions. After that she joined for the Victorian Ministry for the Arts, arranging summer concerts at the Sidney Myer Music Bowl, organising various community dance events, and taking school groups on backstage tours of Melbourne theatres. Later still she produced the Victorian Arts Centre's Morning Melodies shows for seniors. Her last major choreographic commission was the 1988 revival of My Fair Lady directed by Rodney Fisher, which toured nationally.
Betty Pounder's extraordinary contribution to Australian theatre was recognised with a Footlighters Award, and a Green Room Lifetime Achievement Award. She was made a Member of the Order of Australia in 1983. The Green Room Awards Association's annual award for Excellence in Dance is named in her honour.
Betty Pounder died on 7 December 1990, survived by her husband, John Baines, whom she had met when he was a member of Williamson's Melbourne orchestra. As a dancer, choreographer, director, teacher, producer, casting director and much loved show business legend, she had always followed her own advice. 'Life is a performance,' she would say. 'It's not a rehearsal – so make the most of it.'
Frank Van Straten, 2007
References
Biographical
Brian Courtis: 'The cleverly choreographed world of Betty Pounder', in Man of La Mancha program, 1988
Patricia Laughlin: 'Pounder: life is a performance'. in Dance Australia, August-September, 1987
Betty Pounder papers and other research material in the Performing Arts Collection, the Arts Centre, Melbourne