Carrillo Gantner AC
Carrillo Gantner AC
Carrillo Gantner AC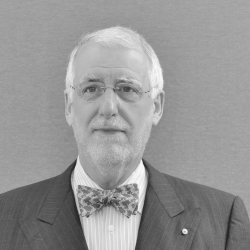 Carrillo Gantner's contribution to the performing arts in Australia is unsurpassed. He has acted in over 40 professional productions, the last as King Lear for Playbox in several Australian cities, Japan and Korea. He has brought many Asian performing artists and companies to Australia and initiated numerous exchanges with the region.
Carrillo was General Manager of the Melbourne Theatre Company and a Founding Director of Playbox Theatre Company (now Malthouse Theatre), where he led the construction of the Malthouse Theatre.
He is Chairman of The Sidney Myer Fund, and chaired the Australia Council Performing Arts Board from 1990 to 1993 and the Melbourne International Comedy Festival from 1994 to 2000. He was President of the Victorian Arts Centre Trust from 2000 to 2009 and President of Melbourne International Arts Festival from 2010 to 2014.
During his time as Chairman of Asialink from 1992 to 2006, hundreds of Australian performing and visual artists held residencies in countries throughout Asia. Carrillo was the primary initiator of the new Asian Triennial of Performing Arts (Asia TOPA) in Melbourne, 2017.
Carrillo was awarded an Officer of the Order of Australia in 2001 for services to the performing arts and Australia's cultural exchange with Asia. He was the first recipient of the Dame Elisabeth Murdoch Cultural Leader of the Year Award in 2001 and in 2002 received the Dorothy Crawford Award from the Australian Writers' Guild for services to Australian playwriting.
He was named the 2007 Victorian of the Year in recognition of his cultural and philanthropic service, and received the 2011 Green Room Lifetime Achievement Award. In 2017 he was awarded the Centenary Sue Nattrass Award by Live Performance Australia. This award recognises outstanding service to the live performance industry in a field that may not enjoy a high public profile.