Doris Fitton OBE CBE DBE 1897 – 1985
Doris Fitton OBE CBE DBE 1897 – 1985
Doris Fitton OBE CBE DBE 1897 – 1985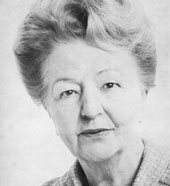 Doris Alice Fitton was born in Manila, the Philippines, on 3 November 1897, the daughter of an English businessman and his Australian wife.
She made her stage debut on her 18th birthday in his production of Elizabeth Baker's The Price of Thomas Scott at the Athenaeum Hall in Melbourne.
In January 1931 Fitton moved her company to the Savoy Theatre in Bligh Street, opening there with A.A. Milne's Michael and Mary. It was her directorial debut.
Persistence of vision
In his Foreword to Doris Fitton's 1981 autobiography, Sumner Locke Elliott wrote: 'In the beginning was Doris. And Doris was the Independent Theatre and the Independent Theatre was Doris. The Independent was the epitome of the Fabulous Invalid, constantly being pronounced dead or on the point of death, bankruptcy, insolvency, obsolescence, always surviving; the spirit that pervaded it was unconquerable, wilful, determined, exasperating, energetic, positive – Miss Fitton. There was a figure of a woman in voluminous draperies lifting up her arms on the original logo for the program; the very essence of Doris, arms held high in triumph. Noel Coward visited Australia in 1940 on behalf of Red Cross, and I was Doris's escort at the formal dinner for him. It was not a theatrical occasion. We shook hands with the Master, who by then had shaken four hundred and ninety-eight hands. There was a moment's pause. Doris leaned forward and said in a conspiratorial way, "We're of the theatre". Mr Coward's blue eyes snapped and then the internationally-known clipped voice said, "I knew it. I could see it shining from you".'
Doris Alice Fitton was born in Manila, the Philippines, on 3 November 1897, the daughter of an English businessman and his Australian wife. The family moved to Australia in 1902. Enamoured with the stage, Fitton was accepted as a pupil by Gregan McMahon. She made her stage debut on her 18th birthday in his production of Elizabeth Baker's The Price of Thomas Scott at the Athenaeum Hall in Melbourne. Her first professional engagement was with J.C. Williamson's – a small role in Edward Sheldon's Romance at the Theatre Royal in July 1916. After that she continued to study and act for McMahon at the Athenaeum Hall and the Playhouse in Melbourne.
Fitton moved to Sydney, married, and worked again with McMahon, who had founded the Sydney Repertory Theatre. In 1921 she appeared for him as her forebear, Elizabeth Fitton, in Bernard Shaw's The Dark Lady of the Sonnets. There was more Shaw for McMahon (Candida, Androcles and the Lion) then several important smaller roles in plays for Williamson's, including Cradle Snatchers, Rain and The Donovan Affair. In 1928 she joined Don Finlay's Turret Theatre at Milsons Point, acting and helping with the administration. She studied English repertory theatre, the Theatre Guild of New York and the Moscow Art Theatre, and discovered that Stanislavsky's book My Life in Art confirmed the ideals and teachings of Gregan McMahon.
When the Turret closed in 1930, Fitton and a group of dedicated friends formed the Independent Theatre, with Nellie Stewart as its first patron. The Independent debuted with Siegfried Geyer's Viennese comedy By Candlelight at the St James Hall in Phillip Street on 3 August 1930. In January 1931 Fitton moved her company to the Savoy Theatre in Bligh Street, opening there with A.A. Milne's Michael and Mary. It was her directorial debut. From then on she concentrated on directing, but her occasional acting appearances were always memorable.
In June 1931 the Independent's production of Coward's The Constant Nymph so impressed E.J. Tait of J.C. Williamson's that he booked it into the prestigious Palace Theatre for an extra month's run. A highlight of 1933 was an Australian piece, Hugh McCrea's The Ship of Heaven, with music composed and conducted by Alfred Hill. At that time the Independent was providing a nurturing environment for future talent such as Sumner Locke Elliott, Peter Finch, William Rees and John Alden.
In 1938 Fitton, Leslie Rees and Rex Rienits established the Playwrights Advisory Board, dedicated to fostering local drama. Fitton was its honorary secretary.
In 1939 Fitton moved her company to an old Harry Clay vaudeville venue, the forlorn Coliseum in Miller Street, North Sydney. She spruced it up, renamed it the Independent, and opened it on 2 September with Rattigan's French Without Tears. Virtually simultaneously, Australia went to war. Patrons' initial reluctance to cross the Harbour Bridge disappeared with the success of Wilder's Our Town in February 1940. For the next 38 years the Independent – and Fitton – provided Sydney with a steady supply of quality productions – everything from Shakespeare to Strindberg, Coward to Capote, as well as productions for students and children, and an associated drama school, which ran from 1931 to 1937. There were many Australian premieres. Among the local plays that debuted there the most notable was Sumner Locke Elliott's controversial Rusty Bugles in 1948, with its famously robust language and subsequent national tour for Kenn Brodziak's Aztec Services.
In 1944 Fitton formed Theatre Freeholds Ltd and raised enough money for it to acquire the building. She got it for only £7,000. In 1949 she went to London where she directed an Australian play, Bill Gates' The Earth Remains, for a short season at the little Q Theatre at Richmond. Another overseas trip, in 1965, included a visit to the Moscow Art Theatre.
Fitton directed frequently, expertly and somewhat dictatorially. Her casts constituted a true 'who's who' of Australian theatre: Kevin Brennan, Gordon Chater, James Condon, Ruth Cracknell, Carmen Duncan, John Ewart, Neva Carr Glyn, Ron Haddrick, Alexander Hay, Edward Hepple, Brian James, Peter Kenna, Reg Livermore, Garry McDonald, John Meillon, Helen Morse, David Nettheim, Peter O'Shaughnessy, Diana Perryman, Gwen Plumb, Madge Ryan, June Salter, Rod Taylor, Leonard Teale, Charles Tingwell, Tony Ward, John Unicomb, Jacki Weaver, Bettina Welch – to name, alphabetically, only a few. In 1950 Fitton directed Charlotte Hastings' Bonaventure for J.C. Williamson's at the Theatre Royal, Sydney. The production gave Max Oldaker his first non-singing role, and the chance of a lifetime to Michael Pate, who played the simple-minded handyman, Willie. He was seen by a Universal Pictures talent scout and won the same role in Thunder on the Hill, the movie version of the play.
Fitton's stage appearances were events to be savoured. Among her most notable at the Independent were in Anouilh's Antigone and Schiller's Maria Stuart in 1947, The Mad Woman of Chaillotin 1951, Durrenmatt's The Visit in 1963 and The Seagull in 1965. In 1945 she was magnificent in Robert Quentin's production of O'Neill's marathon Mourning Becomes Electra; it also played in Melbourne, as did The Little Foxes in 1951 and Black Chiffon in 1952. She toured as the Nurse to Judith Anderson's Medea for the newly-established Australian Elizabethan Theatre Trust in 1955, and in 1974 she took over the role of Madame Armfeldt in J.C. Williamson's production of Sondheim's A Little Night Music.
Sadly, Fitton made only two film appearances: she had a small role in Lee Robinson's The Stowaway(1958) and played Lady Duddlestone in the screen version of Patrick White's The Night the Prowler(1978), which Jim Sharman directed.
All through its five decades' existence, Fitton's brave enterprise was never really financially secure. Though it operated initially on an amateur basis, for most of its life it was a pro-am operation. An attempt to turn totally professional in 1967 was financially disastrous. At that time Fitton hoped that the Independent would become the state's theatre company, but it was the better-funded Old Tote that won the day. Then the Australia Council failed to renew the theatre's annual grant, and the National Institute of Dramatic Art started to draw potential students away from the Independent's school. Despite the efforts of many devoted supporters, especially established actors and writers, Fitton, then 80, finally accepted that, after 47 years, her beloved theatre would have to close. Appropriately, she brought down the curtain in May 1977 with a new production of Our Town, the play that had been so successful for her in 1940. She was awarded the DBE in 1982 (she had received OBE in 1955, and the CBE in 1975). She published her autobiography in 1981.
Dame Doris Fitton did not long outlive her beloved theatre – she died in Sydney on 2 April 1985. North Sydney Council commissioned a plaque in her honour. It was placed in the pavement at the theatre's entrance and unveiled by Gwen Plumb on 17 December 1986. A nearby park is named for her, and there is a Fitton Close in the Canberra suburb of Dunlop.
After the Independent ceased production, its theatre has had a chequered history. There were various short-term occupants, including Hayes Gordon, who conducted acting classes there. In 1988 it was acquired, first, by the Australian Elizabethan Theatre Trust, and later, on the initiative if Dr Rodney Seaborn AO CBE, by the SBW Foundation. Extensively refurbished, the SBW Independent lays claim to be Sydney's oldest continuously operating live theatre.
Frank Van Straten, 2007
Related Links
References
Biographical
Benita Brebach and Jessica Noad: 'Doris Fitton' and 'Independent Theatre', in Companion to Theatre in Australia,Currency Press, 1995
Doris Fitton: Not Without Dust and Heat, Harper & Row, 1981
Carolyn Lowry: The SBW Independent Theatre, The SBW Friends of the Independent Theatre, 2001
Independent Theatre 40th Birthday Souvenir Book, Independent Theatre, 1970
Ailsa McPherson: A Dream of Passion: Theatre Activity in North Sydney, Stanton Library, North Sydney Council, 1993