Edna Edgley AM 1910 – 2000
Edna Edgley AM 1910 – 2000
Edna Edgley AM 1910 – 2000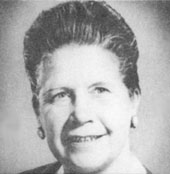 The splendid lady made her splendid entry as Edna Teresa Luscombe in Carlton, Victoria, on 3 December 1910. She was born, she said, 'with a desire for dance.'
By the age of 18 Edna was Ballet Mistress for Edgley and Dawe's touring revue Midnight Frolics.
In 1940 Eric Edgley and Edna married in London.
In 1951 Edgley and Dawe moved to Perth, where they leased His Majesty's Theatre, which they eventually bought.
'A desire for dance'
'She was a wonderful support to me,' said entrepreneur Michael Edgley in tribute to his mother. 'My father died in 1967 in Perth and I had been working with him for five years, and she was instrumental in my decision to go on with the business. She really was an icon in her own right, and the longer she went on, the more her reputation grew. She was basically involved in the theatre for 83 years; she literally began on the stage at age six. Not only did she have a phenomenal life, she went the best way that anyone could hope for, without pain, very quietly and with great dignity. It was just a splendid exit for a splendid lady.'
That splendid lady made her splendid entry as Edna Teresa Luscombe in Carlton, Victoria, on 3 December 1910. She was born, she said, 'with a desire for dance.' She learnt at Jennie Brenan's school in Melbourne and made her debut, age six, in the ballet recruited by J.C. Williamson's for an Italian Grand Opera season. When she was 10 she was cast in the pantomime Sinbad the Sailor at the King's Theatre in Melbourne, in which the English vaudeville duo, Eric Edgley and Clem Dawe, were the stars. By the age of 18 Edna was Ballet Mistress for Edgley and Dawe's touring revue Midnight Frolics. Later she was also the comedy 'feed' to the famous duo. In 1933, under the banner Clem Dawe's Midnight Frolics, they played a long season at the Theatre Royal in Hobart.
In 1935 Edgley and Dawe gamely took a fourteen-strong all-Australian revue company to England with a show called Seeing the World, but it was a financial disaster. In 1940 Eric Edgley and Edna married in London. After a three-month tour of South Africa the Edgley company headed back to Australia. In mid 1942 Edgley and Dawe – and Edna Luscombe – were featured in the Tivoli revues Hillbilly Shindig (with Bob Dyer) and Glad Rags (with George Wallace). Edna also worked in radio – she was featured on Melbourne's 3DB with a weekly show, Keep It Clean. Eric and Edna's first child, Michael, was born in 1943.
After a string of further Tivoli revues and pantomimes came a long season in Hobart in 1948. In 1951 Edgley and Dawe moved to Perth, where they leased His Majesty's Theatre, which they eventually bought. 'Edgley and Dawe Attractions' inaugurated their tenancy with yet another Midnight Frolics and, the following year, Vaudeville Revue. In between their own attractions, the company made the theatre available to other commercial producers and to local ballet and opera groups.
By the end of the 1950s rising costs and competition from television forced the Edgleys to try a new approach. In 1962 they imported the first of what became a colourful cavalcade of outstanding attractions from behind what was then the Iron Curtain: ballet companies, folk ensembles, circuses, orchestras, concert artists.
Edna travelled throughout Australia with them. She organised accommodation, transport andoutings, looked after the health and welfare of the artists, and generally acted as a 'mother hen.' Soon she was able to speak fluent Russian. The visitors loved and trusted her; in Moscow she was affectionately known as 'Mamma Edna'. But she also maintained standards: on at least one occasion she reprimanded Rudolf Nureyev for using bad language.
In their quest for new shows Edna and Eric made many trips to Russia and other parts of Eastern Europe. Edna's instinct for what would appeal to the Australian public was a vital ingredient in their success. After Eric's death in 1967, Edna encouraged her son Michael to assume his father's mantle. He did. Under the management of Michael, his siblings Phillip and Christine, and Edna, the business continued to flourish. Among their star attractions were Dame Margot Fonteyn, Mikhail Baryshnikov, Marcel Marceau and Torvill and Dean.
In 1974, at the age of 64, Edna was persuaded to return to the stage. On 28 November 1974 she made her debut with the Australian Ballet as the Nurse in Romeo and Juliet at the Sydney Opera House. 'Her characterisation,' wrote dance historian Edward H. Pask, 'was approached with a depth of understanding and displaying the true professionalism of a seasoned trouper.'
Year after year Edna returned to dance with the Ballet, performing in Romeo and Juliet, Onegin (again as the Nurse) and The Sentimental Bloke, in which she created the role of Ma. She appeared with the company at the Royal Opera House Covent Garden in a gala performance for the Queen and – her biggest thrill of all – she danced with them at the Bolshoi in Moscow. Edna was 81 when she appeared with the Australian Ballet for the last time, in 1991, but, sadly, ill health prevented her from participating in that year's ABC's telecast of Romeo and Juliet. And there was film: she made brief appearances in The Man from Snowy River and Phar Lap.
In 1988 Edna was made a Member in the Order of Australia for her services to the arts. In 1989 she received the Green Room Awards Association's Lifetime Achievement Award and, in 1998, she and fellow entrepreneur Kenn Brodziak were honoured as the recipients of Live Performance Australia's inaugural James Cassius Awards, recognising their outstanding contributions to live entertainment. Edgley Place in the Canberra suburb of Dunlop is named in her honour.
Edna Edgley never really retired. She died peacefully on 8 May 2000, aged 89. In her long theatrical career she had been a dancer, soubrette, ballet mistress, comedian, actress, entrepreneur and producer. At her funeral, Ian McRae, the Australian Ballet's general manager, said: 'Edna Edgley was a great lady of the theatre. She was both a gracious, generous person, and a true professional who cared deeply about the theatre and the people in it. It was her life. You could not be involved with this incredible lady without loving her dearly and respecting her enormously. If you close your eyes, I'm sure you will all have a picture of Edna, perhaps in the foyer of a theatre, all dressed up, perfectly groomed, with matching hat and coat; an elegant, dignified lady with sparkling eyes and a beautiful smile. And you can probably hear her cheery greeting: "Hello, dear!" We shall miss her.'
Frank Van Straten, 2007
Related Links
References
Biographical
Gabriella Coslovich: 'Farewell to an entertainment entrepreneur extraordinaire', in The Age, 10 May 2000
Ian McRae: 'Edna Edgley AM', in On Stage, Winter 2000
'Mrs Edna Edgley AM', in Inaugural James Cassius Awards program, The Entertainment Industry Employers Association, 1998
Edward H. Pask: Ballet in Australia – The Second Act, Oxford University Press, 1982