Eileen Joyce CMG 1908 – 1991
Eileen Joyce CMG 1908 – 1991
Eileen Joyce CMG 1908 – 1991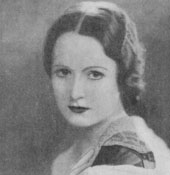 She was born on 1 January 1908 in humble circumstances in Zeehan, a declining, isolated mining community in western Tasmania.
Joyce made a sensational debut in 1930, playing the then unfamiliar Prokofiev third piano concerto at a Promenade Concert with Sir Henry Wood conducting.
Pianistic beauty
'I have heard Eileen Joyce play and have no hesitation in saying that she is in every way the most transcendentally gifted young piano student I have heard in the last twenty-five years. Her playing has that "melt" of tone, that elasticity of expression that is, I find, typical of young Australian talents, and is so rare elsewhere.' So wrote Percy Grainger in an open letter to the citizens of Perth, after the 14-year-old prodigy had played for him.
Eileen Alannah Joyce was always reticent to talk about her early years. We know now that she was born on 1 January 1908 in humble circumstances in Zeehan, a declining, isolated mining community in western Tasmania. She was still a baby when her family moved to another mining town, Boulder, 600 kilometres east of Perth, Western Australia. She learnt piano from the nuns at the convent schools she attended.
Grainger's enthusiasm for the young girl's talent was endorsed by the visiting German pianist Wilhelm Backhaus, who arranged for her to study at the Mendelssohn Conservatorium at Leipzig. The citizens of Boulder and Perth dug deep. After a farewell recital at His Majesty's Theatre, Joyce sailed for Europe. At Leipzig she studied under Robert Teichmüller and Artur Schnabel, and in London at the Royal College of Music with Tobias Matthay.
Joyce made a sensational debut in 1930, playing the then unfamiliar Prokofiev third piano concerto at a Promenade Concert with Sir Henry Wood conducting. Soon she was in demand for concerts, broadcasts and recordings. She memorised more than 50 piano concertos and numerous recital programs.
In 1936 the ABC, which had been established only four years before, brought her home as one of its celebrity concert artists. Her success was largely responsible for the ABC's decision to persevere with concert promotion, much to the displeasure of J. & N. Tait, the commercial entrepreneurs who had previously dominated the field. Fittingly, the first concert of the tour was at His Majesty's in Perth. Her rapturous reception was repeated as she travelled around the country. In Melbourne she broadcast a special message to the people of Tasmania as part of the inauguration of the submarine telephone cable linking that state with Victoria.
Eileen Joyce married in London in 1937 and had a son; sadly her husband died on active serviceand, over the years, she and her son became increasingly estranged.
Though small in stature, Joyce was strikingly beautiful. She enjoyed and exploited the glamour of celebrity, and developed a penchant for changing her elegant Norman Hartnell gowns to suit the music she was playing – blue for Beethoven, green for Chopin, red for Tchaikovsky. She also adjusted her chestnut-dyed hair – drawn back for Mozart, piled high for Beethoven, falling free for Grieg and Debussy. Critics sneered, but her audiences loved it.
During the war she performed regularly with Sir Malcolm Sargent and the London Philharmonic, especially for people devastated by the blitz. She reached vast new audiences by playing on film soundtracks. She was heard in The Seventh Veil, Men of Two Worlds, Quartet and, most notably, Brief Encounter, which elevated the Rachmaninov second piano concerto to hit parade popularity. And she appeared as herself in Battle for Music, Girl in a Million and Trent's Last Case. Her young years were the subject of a somewhat fanciful biography, Prelude; published in 1947, it was designed to appeal to older children.
Joyce returned to Australia for the ABC in 1948. 'It is a long established tradition,' said the program note, 'that no British artist can possibly be a great pianist, and for years her advisors urged her to adopt a name with a continental flavour, but she stubbornly refused. She has now raised the name of Eileen Joyce to the level of the great.' Again her reception was ecstatic. 'I have lovely memories of Eileen's playing,' said Richard Bonynge, then a student at the New South Wales Conservatorium. 'She brought such glamour to the concert stage. We all used to flock to her concerts, not least because of the extraordinary amount of cleavage she used to show!'
He concert schedule was gruelling – France, Germany, Italy, the United States, South Africa, the Netherlands, Scandinavia, South America, New Zealand, the USSR, Yugoslavia, India, Hong Kong – so it was appropriate that Wherever She Goes should be chosen as the title for the film based on the book Prelude. Shot in Sydney in 1951, Wherever She Goes featured a talented 11-year-old Sydney girl, Suzanne Parrett, as Eileen. Muriel Steinbeck and Nigel Lovell played her parents and comedian George Wallace had a brief cameo as a flustered stage manager. Joyce was seen at the beginning and end of the film playing the Grieg piano concerto. Although it failed to attract audiences, it was the springboard for several radio serialisations.
Joyce farewelled the concert stage in 1960, though she participated in a charity concert at the Royal Albert Hall in 1967 and two years later duetted with Geoffrey Parsons at Australia House at a fundraiser for the Australian Musical Association. In 1971 Joyce was awarded an honorary Doctorate of Music from Cambridge University. She received a similar honour from the University of Western Australia in 1979. In 1981 she was appointed a Companion of the Order of St Michael and St George (CMG) for her services to music.
Joyce returned to Australia in 1985 to judge the Sydney International Piano Competition. She was back again, noticeably frail, in 1989, for an ABC concert in her honour. Her health continued to deteriorate and she died in East Surrey Hospital on 25 March 1991.
'Once you stop playing,' she had once said, 'you are forgotten.' Perhaps that was why, in the late 1970s, she donated $37,000 to the University of Western Australia. Though she had lived and worked most of her life in England, Joyce was a strong and active supporter of young Western Australian musicians. The donation – her personal contribution to the celebrations of the 150th anniversary of the state's foundation – financed The Eileen Joyce Music Fund. This supports the development of music in the state and, especially, assists students, as Eileen Joyce Music Scholars, to obtain keyboard experience outside Western Australia.
In 1990 she gave her personal archives to the University's Callaway Centre. Spanning 1926 to 1989, the collection includes private and career-related correspondence, concert diaries, programs, newspaper clippings and unreleased concert recordings. She also provided funds for the construction of the University's Eileen Joyce Studio, an intimate venue for recitals and chamber music which also houses a collection of early keyboard instruments.
And in Zeehan, where her story began, a commemorative public park has been created on the site of her family's tiny cottage.
Frank Van Straten, 2007
Related Links
References
Biographical
Richard Davis: Eileen Joyce – A Portrait, Fremantle Arts Centre Press, 2001
Cyrus Meher-Homji: 'Eileen Joyce', in The Oxford Companion to Australian Music, Oxford University Press, 1997