Sir Eugene Goossens 1893 – 1962
Sir Eugene Goossens 1893 – 1962
Sir Eugene Goossens 1893 – 1962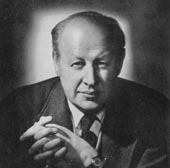 He was born into a remarkably populous musical family in London on 26 May 1893.
In 1907 Goossens' youthful proficiency on the violin was rewarded with a scholarship to the Royal College of Music in London.
In 1923 Goossens was appointed conductor of the Eastman Rochester Philharmonic Orchestra in New York State.
Triumph and tragedy
'In June 1951, before I left for England, Eugene Goossens gave me the opportunity to appear onstage in six performances as the heroine of his opera Judith,' recalled Joan Sutherland. 'He conducted this Australian premiere and was most kind and helpful. I wanted desperately to do well and he had such faith in my ability. (A few years later) he said it was "high time Australia took steps to keep her talent at home. If we had a fine national opera house with performances the year round and adequate financial rewards for our singers, they would think twice before leaving the country." He never let up on his dream of an opera house for Sydney, and although the realisation of that dream leaves much to be desired vis-à-vis practicality as a workable theatre, without him and those around him of like mind, the Sydney Opera House would not exist – nor would Opera Australia.'
Australians met Aynsley Eugene Goossens for the first time in 1946, when he toured for the ABC, conducting its orchestras in each state. His tour was so successful that the ABC's general manager, Charles Moses, contrived to offer him two positions: as the recently-formed Sydney Symphony Orchestra's first permanent conductor; and as director of the New South Wales State Conservatorium of Music. It was said that the two salaries earned him more than the prime minister.
Goossens was a towering figure in international music circles. He was born into a remarkably populous musical family in London on 26 May 1893. His father was a Belgian-born violinist and conductor and his mother was a singer. His paternal grandfather was also a violinist and conductor, and his mother's father was an operatic basso. And Goossens' siblings had notable musical careers: Sidonie and Marie as harpists, Leon as an oboist, and Adolphe on the horn.
In 1907 Goossens' youthful proficiency on the violin was rewarded with a scholarship to the Royal College of Music in London, where he developed his talents as a composer. After graduation he played violin everywhere and anywhere: in the Queen's Hall Orchestra, in chamber music groups, in restaurants and in theatre pit bands. In 1916, at short notice, he conducted Charles Stanford's opera The Critic. This led to positions conducting Diaghilev's Ballets Russes and the Carl Rosa Opera Company at Covent Garden. In 1921 Goossens formed his own orchestra to give concerts of contemporary music in London – including the first British concert performance of Stravinsky's Le Sacre du Printemps, after which The Evening Newscalled him 'London's Music Wizard'.
In 1923 Goossens was appointed conductor of the Eastman Rochester Philharmonic Orchestra in New York State, and a teacher at the associated Eastman School of Music.
He was also able to conduct the great orchestras of Philadelphia, Boston, New York and San Francisco. From 1931 to 1946 he was conductor of the Cincinnati Symphony, vigorously programming new music alongside established classics. During this period he wrote his only film score, for Basil Dean's The Constant Nymph (1933). In 1942 he requested patriotic fanfares from several prominent composers as 'stirring and significant contributions to the war effort'. Among the 18 received was Aaron Copland's monumental Fanfare for the Common Man. Goossens himself matured as a composer, being ranked alongside Walton, Bliss and Vaughan Williams. He was appointed to the Légion d'honneur in 1934.
If his engagement to tour Australia in 1946 was something of a coup for the ABC, his acceptance of Charles Moses' remunerative offer was even more exciting. Goossens returned to Sydney in July 1947 and announced that he intended to make the Sydney Symphony 'one of the six best orchestras in the world.' He speedily sacked unsatisfactory players and promoted or recruited younger ones. The results were immediate: the orchestra responded to his skill, musicianship and enthusiasm, and the public packed his concerts. Goossens introduced many major works which had previously been ignored or regarded as too challenging. Thanks to him, Australians were introduced to Richard Strauss' Rosenkavalier Suite, Alpine Symphony, Symphonia Domestica and concert performances of Elektra and Salome, Mahler's Song of the Earth and Symphonies 1, 7 and 8, Bruckner's Symphony 1 and Liszt's Faust Symphony. There were many more.
Goossens also championed local composers, introducing, among many others, John Antill's Corroboree in 1946 and Margaret Sutherland's Haunted Hills. Four years later Goossens conducted Corroboree again, this time for the Sydney Symphony Orchestra's first commercially-released recordings. More followed; all were well-received internationally. A typical Goossens innovation was an annual series of free outdoor concerts. The first, in 1949, attracted 20,000 people to the Botanic Gardens. Though the concerts' popularity never waned, the permanent orchestral pavilion that Goossens hoped for did not materialise.
Goossens cut a similar swathe at the conservatorium. He raised standards, upgraded staff, and conducted the senior orchestra himself. He taught the diploma classes in harmony, counterpoint and composition; Richard Bonynge, Geoffrey Parsons and Malcolm Williamson were among his students. Another of his ambitious coups was the production of two fully staged operas a year featuring conservatorium pupils. These were especially welcome in a city that was otherwise starved for regular opera productions. The brilliant young designer William Constable was responsible for most of the décor. The repertoire included Louise, Falstaff, Pélleas et Mélisande, Otello, Ethel Smyth's The Boatswain's Mate and Goossens' own one-act opera Judith – in which erstwhile Sydney stenographer Joan Sutherland made her operatic début.
It was the success of these performances, and the less than satisfactory conservatorium hall inwhich they were presented, that prompted Goossens to announce, as early as 1947, that Sydney needed 'an opera house'. What he really wanted was a building that could not only stage opera, but also provide an adequate venue for the Sydney Symphony Orchestra, which performed in the acoustically lamentable Sydney Town Hall. On 6 October 1948 Goossens controversially suggested that the opera house could replace the old tram sheds on Bennelong Point. In 1952, weary of Goossens' persistence, Charles Moses reluctantly arranged a meeting with the new premier, J.J. Cahill. It took a lot of persuasion, but eventually Cahill agreed that an opera house would be desirable, but he was not convinced of the suitability of the prominent harbour site. He appointed Goossens to a four-man advisory committee. In the end, of course, the Bennelong site was accepted. In September 1955, a competition to design the building was announced.
At the Sydney Town Hall on 22 November 1954 Goossens conducted the Sydney Symphony, two choirs, an organ and soloists in the world premiere of his epic oratorio The Apocalypse. His services to music were recognised with a knighthood on 9 June 1955. A mere nine months later came another apocalypse. On 9 March 1956 he flew into Sydney after completing a round of international conducting engagements. A customs search revealed he was carrying about 1000 'indecent photographs, films and books' – material apparently connected with his interest in Pantheism and his friendship with the notorious 'witch of Kings Cross', Rosaleen Norton.
The resulting conviction cost Goossens his career and his health. The Sydney Morning Heraldeditorialised: 'The end of his career has been pitiful beyond measure.' Goossens returned to Britain in May 1956, but concert bookings were sparse. Richard Bonynge found him 'absolutely destroyed. It was tragic.' Eugene Goossens died on 13 June 1962.
The 1956 scandal was the basis of Inez Baranay's novel Pagan and Geoffrey Burton's 2004 documentary The Fall of the House; it also inspired Louis Nowra's play The Devil is a Woman and the opera Eugene and Roie by Drew Crawford.
Thankfully, Australians have ceased to snigger at the mention of Goossens' name, and the positive aspects of the decade he spent here are being acknowledged. And as it did with the debacle over the Opera House's architect, Jørn Utzon, the public seems to want to atone for past hurts. Soon after the Opera House opened in 1973 a striking portrait of Goossens by Archibald Prize winner Henry Hanke was hung in the library. In 1982 Sydney Symphony Orchestra subscribers funded a bust of Goossens by sculptor Peter Latona. It was placed in the foyer of the Opera House Concert Hall and unveiled, appropriately, following the second Sydney performance of Goossens' The Apocalypse. In 1991 the ABC named the main concert venue in its new Ultimo Centre after Goossens, in recognition of his prodigious contribution to music in Australia.
The last word must go to Noel Coward, who, in nine impeccably chosen words, summed it all up:
'My heart just loosens
When I listen to Goossens.'
Frank Van Straten, 2007
Related Links
References
Biographical
Eugene Goossens: Overture and Beginners, Methuen 1951
Ava Hubble: More Than an Opera House, Lansdowne, 1983
Ava Hubble: The Strange Case of Eugene Goossens and Other Tales from The Opera House, Collins, 1998
Diane Collins: Sounds from the Stables, Allen & Unwin, 2001
David Salter: 'Sir Eugene Goossens', in Australian Dictionary of Biography, volume 14. Melbourne University Press
Phillip Sametz: Play On!, ABC Enterprises, 1992
Joan Sutherland: The Autobiography of Joan SutherlandRandom House, 1997