Florence Austral 1892 – 1968
Florence Austral 1892 – 1968
Florence Austral 1892 – 1968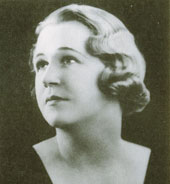 One of the world's great Wagnerian sopranos was born Florence Mary Wilson in the humble Melbourne suburb of Richmond on 16 April 1892.
Adopting the stage name 'Florence Austral' in tribute to her homeland, she made her operatic debut as Brünnhilde in Wagner's Die Walküre with the British National Opera Company at Covent Garden on 16 May 1922
The Antipodean Brünnhilde
'In the early Twenties,' wrote pioneer HMV record producer Fred Gaisberg, 'Florence Austral wasthe most important recording soprano we had, thanks to the beauty, power and compass of her voice. Added to this she was a quick study and adaptable for all types of music. Without apology, we could invite her to sing in concerted numbers when artists from the Covent Garden International Season recorded for us. Thus with Frida Leider she shared the role of Brünnhilde in a fine series of Walküre records, the first Wagner album recorded with the new electric process (1927). Austral took part with Chaliapin in that great favourite, the Church Scene from Faust. I well remember the occasion. Chaliapin could not resist the temptation to give the buxom Marguerite a sly pinch. So unexpected was it that she let out a squeal like a siren whistle. We all joined in a good laugh, after which we settled down to another attempt at the Church Scene, and this time it was successful.'
One of the world's great Wagnerian sopranos was born Florence Mary Wilson in the humble Melbourne suburb of Richmond on 16 April 1892. From 1903, when her mother remarried, she took the name Florence Fawaz. After some basic voice training she won several prizes in the 1913 Ballarat South Street competitions and was accepted as a pupil of the respected Elise Wiedermann, first at Fritz Hart's Albert Street Conservatorium, and later at the University of Melbourne Conservatorium. By 1919 she was ready to undertake further studies in New York, but not before she had been engaged by J.C. Williamson Filmsto sing between silent movie presentations at the Paramount Theatre in Bourke Street. Her associate artist was New Zealand born flautist John Amadio.
New York proved professionally disappointing, so the young soprano tried her luck among the many Australian singers in London. There, in September 1920, she made her professional debut singing at a fashionable restaurant. Adopting the stage name 'Florence Austral' in tribute to her homeland, she made her operatic debut as Brünnhilde in Wagner's Die Walküre with the British National Opera Company at Covent Garden on 16 May 1922. Later in the season she also sang Brünnhilde in Siegfried and Götterdämmerung. She made the first of her many recordings in September, and then toured Britain with the BNOC, singing the Wagner repertoire and the title role in Aida. She sang in concerts and continued her studies at the London School of Opera.
Parts of her performance in Siegfried at Covent Garden on 11 January 1923, conducted by Eugene Goossens, were broadcast 'live' by the BBC. On 20 January she shared the stage with Melba in a gala finale to the BNOC's season and in June she sang Tristan and Isolde for the first time.
In 1925 Austral sang in the United States, but her auditions for the Metropolitan Opera were unsuccessful, probably because of her increasing weight. She returned to London, where she and John Amadio married. During their honeymoon in the USA, Austral made her New York debut at Carnegie Hall on 2 January 1926.
She visited America again in 1927, 1928 and 1929, singing in concert and in Aida, Die Walküre and Götterdämmerung with the Philadelphia Civic Opera Company. She joined tenor Richard Crooks in an all-Wagner concert at the Metropolitan Opera House on 27 January 1929. Back in London she sang another Walküre at Covent Garden. In 1930 she and Amadio made a triumphant 'homecoming' concert tour of Australia under the management of E.J. Carroll. That year she also toured South Africa, sang Wagner with the Städtische Opera in Berlin – an engagement that was curtailed because of her imperfect German – and commenced another American tour. In 1932 she sang in the Netherlands and returned to Covent Garden in Tristan and Isolde. In New York in January 1933 she was one of 1,800 performers in a bizarre presentation of Beethoven's Choral Symphony in the vastness of Madison Square Garden.
In 1934 Austral and Amadio returned to Australia for a concert tour under the direction of a budding local entrepreneur, A.D.M. 'Archy' Longden. His advance manager, Madeleine Clarke, was said to be 'the only female concert manager operating in the Commonwealth'. The beautifully designed and printed souvenir programmes were available with a range of coloured covers to harmonise with lady patrons' gowns, and were bound with transparent glassine wrappers 'to prevent any damage to white evening gloves.'
Austral, Amadio and their pianist, Raymond Lambert, attracted publicity wherever they went. Unfortunately their visit to Albury coincided with the grisly discovery of the mutilated corpse of a young woman. This was the start of the notorious 'Pyjama Girl' mystery, and flights of fancy tried to link the Austral party to the crime, even suggesting that Longden or Lambert may have been the murderer.
Austral then took her place as the star of Sir Benjamin Fuller's noblest venture, his Royal Grand Opera Company, which was designed to complement the excitement generated by Melbourne's centenary. The company debuted at the refurbished Apollo Theatre in Bourke Street on 29 September 1934 with Austral in the title role of Aida – her first appearance in opera in her homeland. Over the next months, in Sydney and Melbourne, she sang in Walküre, Tristan and Isolde and, for the first time, Tosca, The Flying Dutchman and The Pearl Fishers (its Australian premiere). Austral later undertook a series of recitals and opera broadcasts for the ABC. In 1936-37 she made her final United States tour.
Austral returned to Britain, but the musical landscape had altered: broadcasting had eroded concert audiences, and other dramatic sopranos had usurped her place at Covent Garden. Her voice had also lost much of its lustre and her technique had started to deteriorate. In 1938 she sang in Walküre and Cavalleria Rusticana for Sadler's Wells and Il Trovatore and Der Freischutz for the Dublin Operatic Society at the Gaiety Theatre, Dublin. She sang Lohengrin there in 1939; it was her last appearance in opera. British concert engagements dwindled alarmingly; in 1945 she and Amadio returned to Australia.
When Austral sang at the 1946 Carols by Candlelight concert in Melbourne, her performance revealed the sorry state of her voice. She did not sing in public again. She taught at the University of Melbourne and helped with Gertrude Johnson's 1948 National Theatre Opera seasons. In 1952 she accepted Eugene Goossens' offer of a position at the new Newcastle Conservatorium. She resigned in 1959 and taught privately for a while, but by then she was in straightened circumstances and suffering from multiple sclerosis. Friends such as actor Max Oldaker rallied round and EMI reissued some of her greatest recordings. She died in virtual obscurity on 15 May 1968. Her husband, from whom she was estranged, had died in 1964 during rehearsals for a Melbourne concert.
The Newcastle Conservatorium has awarded an annual Florence Austral Memorial Scholarship since 1970.
Frank Van Straten, 2007
Related Links
References
Biographical
Michael Elphinstone and Wayne Hancock: When Austral Sang, Privately published, 2005
Fred W. Gaisberg: Music on Record, Robert Hale, London, 1946
James Moffat: Florence Austral, Currency Press, 1995
Thérèse Radic: 'Florence Austral', in Australian Dictionary of Biography, volume 7