Frank Tait 1883 – 1965
Frank Tait 1883 – 1965
Frank Tait 1883 – 1965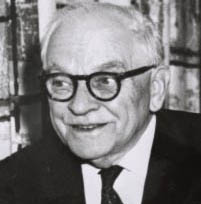 About 1879 the family moved to Richmond, Melbourne, where Frank – the youngest – was born on 12 November 1883.
In 1902 Frank, John and Nevin founded J. & N. Tait, concert promoters.
The ultimate entrepreneur
'I had a great working relationship with Frank Tait,' wrote John McCallum, recalling his days as joint managing director of J.C. Williamson's. 'It was a strange one really. Frank was a little younger than my father and 35 years older than I was. I had been employed by him as a young actor before the war, and I had once waited for three days outside his office to see him about a play I had written. When he did see me, he was courteous and polite, as he always was, but not, of course, interested in my play.
However, at least he had read it, and he referred me to a producer who did agree to produce it. Frank was tough, even ruthless, in money matters, but generous in other ways. It cannot have been easy for him, at the age of 75, to take into the business which he and his brothers had built up over 40 years a man of 39, and work with him on an equal footing. But he did, right from the beginning. When I was made joint managing director Frank was supposed to gradually retire. But he simply could not. Theatre business was meat and drink to him, and he could not give it up. Apart from his work and his family, he had no other interests, no hobbies. He never took holidays, only a few days at Christmas and New Year, when he went down to his seaside home at Sorrento.
I once suggested that he should stay there for a few weeks instead of a few days, but he said, "All I do there is to go to sleep. I can't stand it." Gauging what the public will like is a very inexact science, and Frank's experience and instinct were very valuable. He was not right all the time, none of us are, or every entrepreneur would be a millionaire; but he could assess ability and merit quickly and accurately, whether it was in a script, an actor, a singer or a dancer.'
Frank, Charles, John, James Nevin and Edward ('E.J.') Tait were five brothers who contributed notably to the performing arts in Australia as concert, film and theatrical entrepreneurs. Their father, a Scottish tailor, had migrated to Victoria in 1862 and settled at Castlemaine. About 1879 the family moved to Richmond, Melbourne, where Frank – the youngest – was born on 12 November 1883. He attended Richmond State School and, later, Melbourne Church of England Grammar School. He started his working life as a tea merchant's clerk.
In 1902 Frank, John and Nevin founded J. & N. Tait, concert promoters. Charles, who managed Allan's music store, guided the business, and E.J., J.C. Williamson's treasurer, watched from the sidelines. In 1903 Nevin made his first trip to London, where he engaged a number of celebrity artists to tour Australia, including the Welsh Male Choir, soprano Madame Albani and contralto Clara Butt. Further forays brought Emma Calvé, John McCormack and Harry Lauder.
The Taits' earliest presentations were centred on the Athenaeum Hall in Collins Street. Their concerts often included short films, and this led them to join with Millard Johnson and William Gibson in the production of The Story of the Kelly Gang which premièred on 26 December 1906. Running for more than an hour, it was the longest narrative film yet seen in Australia, and possibly the world. It cost £1000, and was said to have returned at least £25,000 to its producers.
The Taits, Johnson and Gibson merged their film interests in 1911 to form Amalgamated Pictures, which continued to produce features and newsreels. After Amalgamated combined with its main opposition, Australasian Films, in 1912, the Taits concentrated on concert presentation and occasional film exhibition.
In 1913 J. & N. Tait took a 20-year lease on a prominent site in Collins Street and constructed a large, luxurious concert-hall, the Auditorium, which opened in May with a gala concert by the British contralto Clara Butt. It was the Taits' principal Melbourne concert venue until 1934, when it was remodelled as a cinema – the Metro – and leased to Metro-Goldwyn-Mayer.
E.J. Tait left J.C. Williamson's in 1916 and joined the J. & N. Tait organisation, looking after business in Sydney. A few months later Nevin moved permanently to London to act as their overseas 'anchor'. Soon J. & N. Tait expanded to include theatrical presentations and so challenged J.C. Williamson's domination of Australian live theatre. The Taits' first production was Peg o' my Heart, a comedy romance which proved highly popular. Other plays, pantomimes and musicals followed.
Nevertheless J. & N. Tait continued as a separate company, promoting celebrity artists and occasional theatrical attractions. Through the next decade many of the world's greatest concert and stage stars appeared in Australia under the Williamson/Tait aegis, among them Melba, Amelita Galli-Curci, Toti dal Monte, Feodor Chaliapin, Jascha Heifetz, Percy Grainger, Ignace Paderewski and Anna Pavlova.
Alert to the early possibilities of wireless, in 1924 the Taits formed the Broadcasting Co. of Australia Pty Ltd, which was granted the licence for 3LO, Melbourne's second radio station. Eight years later, when 3LO came under the control of the government-franchised Australian Broadcasting Co., Williamson's, Allan's and The Age founded 3AW which initially broadcast from studios in His Majesty's Theatre, Melbourne. Later, a modern studio complex was built in La Trobe Street.
From 1928 the Taits, with George Tallis, controlled 'The Firm' from offices in the Comedy Theatre, Melbourne. An attempt to extend production activity to London in 1928-29 failed, but their pre-eminence in the theatrical and concert field in Australia and New Zealand remained unchallenged.
The Depression brought hard times. The Theatre Royal, Melbourne, and His Majesty's, Sydney, were sold for redevelopment; His Majesty's, Melbourne, partly burnt out in 1929, did not reopen until 1934. Charles Tait died in 1933. Tallis and the remaining brothers – E.J., John, Nevin and Frank – carried on. The partners often disagreed and, behind their backs, they were cheekily known as Agitate, Irritate, Hesitate and Cogitate. 'The Firm' survived both the Depression and a short period in 1938-39 when the Taits temporarily lost control of the business to New Zealand-based interests led by the buccaneering British producer Ernest C. Rolls. Their 30s attractions included stars like Yehudi Menuhin, John Brownlee, Sybil Thorndike, Fay Compton and Gladys Moncrieff, various Russian ballet companies, and gloom-chasing musicals such as Music in the Air, The Gay Divorce, White Horse Inn, Roberta and Anything Goes.
Through the war years the Taits kept their theatres open with revivals of past successes, including the ubiquitous Gilbert and Sullivan repertoire, which was always useful in difficult economic times. In 1941 Frank Tait married Viola Wilson Hogg, a Scottish soprano whom Williamson's had imported to star – as Viola Wilson – in Gilbert and Sullivan. It was his second marriage; his first, in 1913, was to Olga Barnard, who died in 1938.
Although the ABC began importing its own celebrity concert artists, many continued to appear for J. & N. Tait, including Gracie Fields, Marjorie Lawrence, Jan Peerce, David Oistrakh and Marian Anderson. Williamson theatres hosted tours of companies led by Cicely Courtneidge, Anthony Quayle, Vivien Leigh and Robert Helpmann, and Googie Withers and John McCallum. The Kiwis, a New Zealand all-male army revue, proved enormously popular. Among the major musicals presented by 'The Firm' after World War II were Annie Get Your Gun, Oklahoma!, South Pacific, Kiss Me, Kate, Call Me Madam, Can-Can, Paint Your Wagon, Brigadoon, and Song of Norway. Later came The Pajama Game, Camelot and Oliver!
Two more of the Tait brothers died in the post-war decade: Edward in 1947 and John — 'the grand old gent of the theatre' – in 1955. In 1961 Nevin died in London.
Frank Tait was knighted in 1956, at the age of 72. The story goes that when the news came through he was heard to mutter, 'A knighthood? But I'd rather have the rights to My Fair Lady.' In the end, of course, he got both. My Fair Lady was a triumph, and so were Camelot and the local musical The Sentimental Bloke.
In 1965 another of Frank Tait's dreams was fulfilled, when Williamson's presented Joan Sutherlandin opera in her homeland. Sir Frank Tait, the last of the remarkable 'family of brothers', died on 23 August 1965, shortly after the Melbourne season ended.
For over 70 years the Taits had brought Australians some of the best of the world's musical and theatrical attractions. Their philosophy of quality entertainment, well presented, rarely failed to win audiences. Although they were criticised for not encouraging local talent, they did provide – without any form of government subsidy – employment and experience for thousands of singers, musicians, actors and backstage personnel, and they undoubtedly lifted the standard of Australian theatre.
With the passing of the Tait brothers, the J.C. Williamson organisation struggled to survive, though Fiddler on the Roof in 1967 and Man of La Mancha in 1968 were notable successes. There was conflict between managing director John McCallum and John McFarlane, the managing director of the parent company, J.C. Williamson Ltd. In 1969 both men resigned and "The Firm" formed a partnership with the Herald and Weekly Times of Melbourne. In 1971 Williamson-Edgley Theatres was set up as a subsidiary of J.C. Williamson Theatres Ltd, with Michael Edgley as managing director. Edgley withdrew a year later.
A grandson of John Tait, Alistair Mitchell, became managing director in 1973. In 1976, after an unsuccessful application to the Industries Assistance Commission, the company was wound up, its assets realised and its theatres sold. The name passed to a new company, J.C. Williamson Productions Ltd, a consortium headed by Kenn Brodziak of Aztec Services Pty Ltd, with Stadiums Ltd and Edgley International. The directors included Lady Viola Tait, widow of Sir Frank. The new company presented plays and musicals including A Chorus Line, before moving into the area of concert promotions. In 1984, the company was acquired by the Danbury Group, a private investment company.
In 1971 Lady Tait published A Family of Brothers, a valuable chronicle of the Taits' remarkable contribution to Australian show business. Her second book, a pantomime treasury called Dames, Principal Boys… and All That, was published in 2001. She died on 6 February 2002. Her large collection of theatrical memorabilia was donated to the Victorian Arts Centre.
In 1992, in memory of their father and uncles, Sir Frank's daughters established the Tait Memorial Trust. Lady Tait was the founding patron. The Trust offers awards and grants for postgraduate study and performance opportunities to young Australian musicians and performers, and assistance during their visits to Britain.
Frank Van Straten, 2007
Related Links
References
Biographical
John McCallum: Life with Googie, Heinemann, 1979
Viola Tait: A Family of Brothers, Heinemann, 1971
Michael and Joan Tallis: The Silent Showman, Wakefield Press, 1999
Frank Van Straten: 'Charles Tait, etc', in Australian Dictionary of Biography, volume 12, Melbourne University Press
Media
Photograph courtesy National Library of Australia vn3209520-v