Frank Thring 1926 – 1994
Frank Thring 1926 – 1994
Frank Thring 1926 – 1994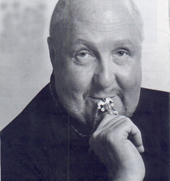 He was born Francis William Thring in Melbourne on 11 May 1926.
Young Frank made his first public appearance as a toddler in the opening scenes of his father's 1932 film The Sentimental Bloke.
Thring's first major professional engagement came in 1949, when he was recruited by Anew McMaster for a Shakespeare season at the Princess.
'The best tribute I can make to Frank,' said actor and playwright Alan Hopgood at a celebration of Thring's life, 'is that every actor who came in contact with him endeavoured, at some stage, to imitate his voice. Few succeeded. But the few who did were so clever that, had there been a memorial church service, I would have suggested that three of the best imitators should read the Lessons. And I'm sure Frank, wherever he is, would have sucked in air, groaned, and said, "Very funny, but there's really only been one of me – and (pause, groan) – just as well!"'
Frank Thring was indeed a one-off: a flamboyant, eccentric, intimidating, often cruelly sarcastic iconoclast, who, though he would have been the last to admit it, was also a very good actor.
He was born Francis William Thring in Melbourne on 11 May 1926. He was named for his father, Francis W. Thring, a much loved and respected entrepreneur; from a shaky start as an itinerant conjurer, he had gone on to run Hoyts cinemas, establish the nation-wide chain of luxurious Regent theatres, make early Australian sound films, including several starring George Wallace, lease the Princess as a Melbourne home for his Efftee stage productions, which he launched in 1933 with an elaborate all-Australian musical, Collits' Inn, and open Melbourne radio station 3XY. Thring senior died in 1936 when his son was only 10.
Young Frank made his first public appearance as a toddler in the opening scenes of his father's 1932 film The Sentimental Bloke. He trained as an actor with Irene Mitchell and broke into radio, first as a sound-effects man at 3XY and later as an actor. By far his most unlikely radio role was as the part-Aboriginal detective Napoleon Bonaparte in a serialisation of Arthur Upfield's The Man of Two Tribes. In March 1945 he enlisted in the RAAF, but was discharged six weeks later. In September that year he made his stage debut as Henry VIII in Ray Lawler's Hal's Belles at Lorna Forbes' and Stanley Turnbull's Melbourne Repertory Theatre in Middle Park. In 1946 he got good notices for his work there in Sumner Locke Elliott's Invisible Circus.
Thring's first major professional engagement came in 1949, when he was recruited by Anew McMaster for a Shakespeare season at the Princess. This led to a featured role (as a 75-year-old!) in The Love Racket, a musical showcasing the British comedian Arthur Askey that David N. Martin staged at the Tivoli. In 1951 Thring toured Australia in Kenn Brodziak's Aztec Services production of the farce See How They Run. Also that year he played Sheridan Whiteside in The Man Who Came to Dinner. The role suited him superbly, and he played it in five different productions.
Later that year, with financial backing from his mother, Thring took over the Middle Park RepertoryTheatre. He renamed it The Arrow and launched it with a sensational production of Wilde's Salome, followed by Fry's A Phoenix Too Frequent, directed by Irene Mitchell. His Arrow repertoire encompassed everything from Shakespeare to melodrama, and even included a local play, Ralph Peterson's The Square Ring, which transferred to the Princess. The Arrow suffered when the Union Theatre Repertory Company was established, and many of Thring's actors, such as Bunney Brooke and Zoe Caldwell, found professional work there. Thring went to London.
He made his British debut at the out-of-town Q Theatre at Chiswick in 1954 in Salome and Mordant Shairp's controversial drama The Green Bay Tree. Salome was sufficiently well received to deserve a 22-performance transfer to St Martin's Theatre in the West End, where it was presented in a double-bill with Jean-Paul Sartre's The Respectable Prostitute. Thring designed the costumes for both productions.
At Christmas 1955 Thring played a rascally Captain Hook in Peter Pan at the Scala Theatre. In the following year he played Sir Lancelot Spratt in Doctor in the House, which had a 240-performance run at the Victoria Palace. He was Saturninus in Peter Brook's 'bone crunching' Royal Shakespeare Theatre production of Titus Andronicus with Laurence Olivier, Vivien Leigh and Anthony Quayle. During the run Thring married Australian-born Joan Cuncliffe in a fairy tale ceremony at Stratford-upon-Avon. Vivien Leigh was matron-of-honour. A 1957 transfer to the West End was the final attraction at the Stoll Theatre.
Kirk Douglas saw one of Thring's Titus performances and suggested he try Hollywood. He made his film debut in 1958 alongside Douglas, Tony Curtis and Janet Leigh in The Vikings. His 'height and bulk, his flat, round face, his sinister, sleepy eyes and the air of authority in his smooth voice' immediately established him as the archetypal costume drama villain. He was unsurpassed as Pontius Pilate in Ben-Hur (1959), Herod Antipas in King of Kings (1961) and the devious Al Kadir in El Cid (1961).
Thring could have stayed overseas, lucratively exploiting his film persona, but instead he chose to return to Melbourne, where he joined the Union Theatre Repertory Company. 'He was generous,' recalled director John Sumner, 'charging us only a fraction of what his international fame deserved, accepting the growth and success of the company as the major part of his salary.' Thring made his UTRC debut in 1959, playing Sergius in Shaw's Arms and the Man, but it was as the wildly ranting Ahab in Orson Welles's Moby Dick – Rehearsed that he really established himself as a consummate actor. Through the following three decades Thring appeared frequently with the UTRC and its successor, the Melbourne Theatre Company. His credits there included The Happy Invalid (1962), The Man Who Came to Dinner (1963, 1980), The Homecoming (1965), Present Laughter (1965), Rhinoceros (1967), Falstaff in Henry I, Part 1(1969), All's Well That End Well (1970), An Ideal Husband (1972), The Nuns (1976), Brecht's Galileo(1977) and The Importance of Being Earnest (1988). In 1981 Thring presented his own one-man show, Frankly Thring, at the Russell Street Theatre.
Thring appeared for commercial managements in Robert and Elizabeth (1966), Hadrian VII (1969)and The Kingfisher (1978). For the State Theatre Company of South Australia he played the title role in Othello (1975) and was in the Sydney Theatre Company's Close of Play (1980). His Australian films include Age of Consent (1969), Ned Kelly (1970), Alvin Purple Rides Again (1974), Mad Dog Morgan(1976) and Mad Max Beyond Thunderdome (1976).
On television he appeared in The Noel Ferrier Show (1964), The Ray Taylor Show (1965), Skippy (1966), Salome (1968), Up the Convicts (1976), Against the Wind (1978), Bodyline (1984) and The Gerry Connolly Show (1988). His excoriating stage and television reviews in The Argus and TV Week amused readers but lost him many friends.
It was entirely appropriate that Frank Thring's final stage appearance, in 1992, was in Humorists Read the Humorists for the Melbourne International Comedy Festival, when he shared the stage of the Athenaeum Theatre with Bea Arthur, Wendy Harmer, Nigel Triffitt and others.
Frank Thring died on 29 December 1994. His wife, Joan, survived him. She had pursued her own career in the arts, devoting 10 demanding years to managing the affairs of ballet dancer Rudolf Nureyev. She was among the many theatre identities who spoke at the celebration of Thring's life at the Victorian Arts Centre's Playhouse on 5 March 1995.
In his will Thring left funds to establish an annual scholarship at the National Institute of Dramatic Art in Sydney.
The name Frank Thring still appears on movie credits, but these days it is the nom-de-cinéma of one William Wright, whose many directorial credits include gems like Anal Sluts and Sweethearts and Big Tit Teasers. To be perfectly Frank, our Mr Thring would have appreciated the irony!
Frank Van Straten, 2007
Related Links
References
Biographical
Sally Dawes: 'Frank Thring', in Companion to Theatre in Australia, Currency Press, 1995
A Tribute to Frank, booklet published for the celebration of Thring's memory, Victorian Arts Centre Playhouse, 5 March 1995
Media
Cartoon of Frank Thring