Garnet H. Carroll OBE 1902 – 1964
Garnet H. Carroll OBE 1902 – 1964
Garnet H. Carroll OBE 1902 – 1964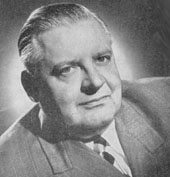 The son of a country dentist, he was born in Singleton, New South Wales, on 4 December 1902.
He worked for a couple of weeks at David Jones department store, and invested his earnings in tap lessons.
In February 1927, Carroll found a place in Ernest C. Rolls' production of Sunny, the opening attraction at the Empire Theatre in Sydney in February 1927.
Entrepreneur par excellence
1n 1955 Sir Ralph Richardson led a starry British company on a national tour of Australia in Terence Rattigan's The Sleeping Prince and Separate Tables. Later he wrote: 'After what we had considered to be our "try out" at Perth, we moved on to Melbourne. There Mr Garnet Carroll possesses a delightful theatre – built in the golden age of theatres, it has a beautifully shaped auditorium, which is perfect in size, and has plenty of gold in the decorations (it was the Princess). We played for 10 weeks in Melbourne to excellent business. Wherever we went and whatever we did, we had the advantage of the powerful and energetic presence of Garnet Carroll; this was very important to us and it helped us greatly.
Garnet is not the kind of manager who is pictured with a big cigar and his feet up in the office; he physically does the hopping about on his own feet, and he does what it is supposed he might do; he manages. He could always make me laugh, and there were times on tour when that can be the best tonic in the world.'
John West described as Garnet Hannell Carroll as 'a 20th-century entrepreneur in a 19th-century mould'. The son of a country dentist, he was born in Singleton, New South Wales, on 4 December 1902. When his father insisted that he should follow his profession, the boy fled, spending three years surviving on odd labouring jobs. When Carroll Senior eventually relented, Garnet returned to the fold. The family moved to West Maitland in 1921. There, by day, Garnet assisted in a menswear shop; by night he played juvenile leads with the local amateur musical society.
Garnet formed a song-and-dance act with his younger brother, Bruce, but this folded when Bruce drifted into films – he eventually ran the Capitol Theatre in Perth. Garnet drifted too – to Sydney. He worked for a couple of weeks at David Jones department store, and invested his earnings in tap lessons. He was good enough to get a role in Lionel Walsh's 1926 country tour of No, No, Nanette. Soon after, in February 1927, Carroll found a place in Ernest C. Rolls' production of Sunny, the opening attraction at the Empire Theatre in Sydney in February 1927. He combined a small part – the Ship's Captain – with duties as assistant stage manager.
When Sir Ben Fuller took Sunny to Melbourne, Carroll went with it. Fuller, whose own son showed little enthusiasm for show business, made the bright young man, his protégé. In 1928 Fuller cast him as Sergeant Joe Wilkins in Rio Rita, and again he assisted with stage management. After this, Fuller sent Carroll to manage his St James Theatre in Auckland. While he was there Carroll married Catherine Stewart Elliott, 'Kitty Stewart', one of Fuller's leading ladies.
During the Depression, Carroll supervised the closure of Fuller's theatres, but when Sir Ben rashly decided to return to live production, it was Carroll whom he chose to stage manage his financially disastrous 1934 Grand Opera Season. Carroll's son, John G.H., was born that year.
Two years later, Fuller and Carroll were partners in Savoy Theatres. Neither put up money: wily Sir Ben realised that his name was enough to get them a bank overdraft, and he was able to find attractions among the many musicals to which he held the rights. They opened at the Apollo Theatre in Melbourne with a jolly George M. Cohan show called Billie, and romped on with revivals of The O'Brien Girl, No, No, Nanette, Lady, Be Good! and Funny Face.
When Francis W. Thring died, Fuller and Carroll took over the lease of the Princess in Melbourne. In 1938 Carroll provided the expertise for the first major operatic venture of Gertrude Johnson's budding National Theatre Movement – The Flying Dutchman, which played for two nights at the Princess in October 1938. In 1941 Fuller and Carroll formed Gaiety Theatres Ltd, leasing the King's in Melbourne and using it fitfully for live productions until 1951, often in association with Kenn Brodziak's Aztec Services.
In 1946 they formed another partnership, Carroll-Fuller Theatres Ltd, to purchase the Princess. They reintroduced live shows there in 1947 with a season of Whitehall productions from the Minerva in Sydney.
Carroll made the theatre available for the National Theatre's ground-breaking annual arts festivals. Inaugurated with a stunningly successful production of Aida in February 1948, these paved the way for today's Opera Australia and the Australian Ballet. Carroll was awarded the Order of the British Empire in 1949.
In 1950 the Carroll–Fuller partnership restored the Palace in Sydney. The following year Carroll, along with Frank Tait and David N. Martin, resurrected the Theatrical Proprietors' and Entrepreneurs' Association, as today's Live Performance Australia was then known.
After Sir Ben's death in 1952, Garnet H. Carroll assumed complete control. For the following 12 years, often in association with other entrepreneurs, he presented an eclectic array of opera, ballet, musical comedy and drama, though he was constrained by the lack of an interstate circuit. At the Princess in 1954 he hosted the National Theatre Movement's gala performance of The Tales of Hoffmann for Queen Elizabeth II and Prince Philip.
Carroll's drama presentations were frequently led by international stars: Jessie Matthews in Larger Than Life (1952), Ralph Richardson, Meriel Forbes, Lewis Casson and Sybil Thorndike in The Sleeping Princeand Separate Tables (1955), Melvyn Douglas in Time Out for Ginger (1955), Robert Morley in Hippo Dancing (1957), Noel Madison in The Diary of Anne Frank, Margaret Rutherford in The Happiest Days of Your Life and Time Remembered (1958), Richard Arlen in Anniversary Waltz (1959), Shirl Conway in Auntie Mame (1959), Michael Pate in The Tunnel of Love (1959), Basil Rathbone in The Marriage-Go-Round (1960), Edward Everett Horton in Nina (1962).
But it was with his musicals that Carroll challenged the traditional supremacy of J.C. Williamson's: Kismet (1955), Salad Days (1957), Bells are Ringing (1958), Free as Air (1958), Once Upon a Mattress(1959), Lock Up Your Daughters (1961), The Most Happy Fella (1961), The Sound of Music (1961), The King and I (1962), Wildcat (1963), Carousel (1964), Finian's Rainbow (1964). Carroll's three-year alliance with the Tivoli resulted in The Merry Widow with June Bronhill (1959), and The Music Man and the electrifying West Side Story (1960) – which, sadly, was one of his biggest financial disappointments. For a decade from 1955 Carroll's company General Amusements Pty Ltd held the lease of the Capitol Theatre in Perth.
Garnet H. Carroll died in Melbourne on 23 August 1964, on the eve of his departure for London to see the world premiere of the musical Robert and Elizabeth. His son, John, eventually brought the show to Melbourne. For some years he maintained the pattern set by his father, but in 1969 the family company, Carroll Freeholds Pty Ltd, leased the Princess to the Australian Elizabethan Theatre Trust. The company was bought by David and Elaine Marriner in 1986. After extensive restoration, the theatre reopened with Les Misérables in 1989. Carroll is commemorated by a plaque in the stalls foyer, but his first floor office is now a gentlemen's toilet.
Garnet H. Carroll treasured his Princess Theatre and he loved 'the business' and the people in it. Benevolent and approachable, he attracted a dedicated backstage team and provided a nurturing environment for a generation of talented young Australians, such as performers Gloria Dawn, June Bronhill, Toni Lamond and Judy Banks, and, behind-the-scenes, designer John Truscott and entrepreneurs Andrew Guild and Frederick J. Gibson – Carroll's nephew – who eventually ran the new Theatre Royal in Sydney. Carroll's enthusiasm extended to community theatre. He was a key supporter of Gertrude Johnson's National Theatre and the inaugural president of the Victorian Drama League (VDL).
In memory of his brother, Bruce, he funded the Bruce Carroll Memorial Plaque which, for many years, was presented to the winner of the VDL's annual one-act play competition.
It was entirely appropriate that Carroll should bequeath funds to Monash University to establish the Garnet H. Carroll Prize to encourage 'artistry in musical theatre' – embracing music and lyrics, performance, design, lighting and production.
Frank Van Straten, 2007
Related Links
References
Biographical
Ivor Brown: Theatre 1955-56, Max Reinhardt, 1956
Alastair Duncan: Actors Blood
Julie McKinnon: 'Garnet H. Carroll', in Australian Dictionary of Biography, volume 13, Melbourne University Press
John West: 'Garnet H. Carroll' in Companion to Theatre in Australia,Currency Press, 1995
John West: Theatre in Australia, Cassell, 1978