Sir George Tallis 1869 – 1948
Sir George Tallis 1869 – 1948
Sir George Tallis 1869 – 1948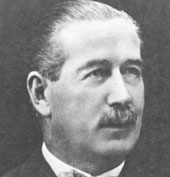 George Tallis was born in modest circumstances in Kilkenny, Ireland, on 28 October 1869.
After working as a reporter for the local newspaper, 17-year-old Tallis followed two of his brothers to Australia.
Tallis started at the Theatre Royal, Melbourne, as the proverbial office boy.
'A streak of theatrical genius'
'The Taits were all able men, each in his own way,' wrote long-time J.C. Williamson executive Claude Kingston. 'But none of the Taits was Tallis's peer as a live theatre entrepreneur. He had come into The Firm and learnt his trade under J.C. Williamson; as well as that he was born with a streak of theatrical genius – a blend of creative perception, visual imagination, good taste, intuition, and courage. To George Tallis, that quietly spoken, solidly built, well-groomed man of the world, near enough was never good enough. He was a perfectionist; everything had to be exactly right from the leading lady's gowns down to the lace of the youngest ballet girl's shoe.
Watching a rehearsal, he would decide that the dresses of the chorus were unsatisfactory in some seemingly insignificant detail – perhaps the shade of the sashes or the length of the skirts. "Scrap the lot," he would order. When it came to a question of excellence or money Tallis never counted the cost. Excellence won every time. I remember him for his mellow wisdom, his attentive way of listening to opinions different from his own, his faultless manners. I have never known another man who was, quite unstudiedly, as courteous as Tallis, not only to his social superiors and equals but also to his lowliest subordinates. It is true that he had one dire weakness: this was an unconquerable propensity to run away from trouble, which inevitably led on to worse trouble in the end. He could not nerve himself to face the immediate unpleasantness.'
George Tallis was born in modest circumstances in Kilkenny, Ireland, on 28 October 1869. After working as a reporter for the local newspaper, 17-year-old Tallis followed two of his brothers to Australia. His brothers died young, but Tallis was far luckier. Within days of his arrival in Melbourne he was working for entrepreneur J.C. Williamson, who was impressed by the lad's mastery of Pitman shorthand. Tallis's association with Williamson and the firm that he founded would last for more than 50 years.
Tallis started at the Theatre Royal, Melbourne, as the proverbial office boy, but his keenness and his shorthand ability soon convinced Williamson to make him his private secretary. Before long he was treasurer at the Royal and the Princess. Tallis loved everything about the business of show business. He swiftly mastered costing, costumes and casting, leasing and letting theatres, negotiating contracts and favourable performance rights, publicity, profit and loss accounts and handling recalcitrant performers. He was deeply was involved in many of Williamson's biggest ventures, such as the 1891 visit of the great tragedienne Sarah Bernhardt.
The 1897 tour by the matinee idol Julius Knight was particularly significant for both Tallis and Williamson, for Knight's company included Mary Weir, who was to become Williamson's second wife, and Amelia ('Millie') Young, whom Tallis married in 1898. Amelia was a Melbourne-based actress whose siblings included the much loved musical comedy star Florence Young. By this time Williamson was living in Sydney and was happy to leave the Melbourne management, and much of the organisation of the company's national touring schedule, in Tallis's capable hands. Tallis also personally invested in some of Williamson's productions, such as the 1900 Knight tour, and several successful musicals.
In 1904 Williamson, anxious to divest himself of more of the minutiae of management, decided on a radical reorganisation. He sold a quarter of the shares in the JCW firm to Gustave Ramaciotti, his Sydney-based legal adviser and owner of the Theatre Royal there, and another quarter to Tallis. 'Rami' and Tallis each paid £6,250, while Williamson retained a 50 per cent interest in the enterprise. It was a congenial and mutually advantageous arrangement, and from then until his death Williamson spent much of his time abroad, confident that "The Firm", as it came to be known, was in good hands.
At that time Williamson's had a permanent staff of 650, plus hundreds of temporarily employed actors, extras, musicians and stage staff. It had a circuit of first class theatres throughout Australia and New Zealand around which it toured drama, opera, musical comedy and pantomime companies and occasional concert artists. The annual running costs were reported to be around £200,000, for an annual profit of some £60,000.
In 1910 the Williamson business was incorporated as J.C. Williamson Ltd, with a capital of £180,000. Soon after, J.C. Williamson sold a quarter of his shareholding to Tallis, and a further quarter to solicitor Arthur Allen. Tallis also purchased Ramaciotti's holding. This gave him 62.5 per cent, Williamson 25 per cent and Allen 12.5 per cent. In 1911 Tallis sold a sixth of his interest the American actor and entrepreneur Hugh J. Ward. It was a decision he came to regret, as relations between them were frequently uneasy. The Firm also incorporated rival entrepreneurs Meynell and Gunn, who had previously been supported by Rupert Clarke and John Wren. When Williamson died in 1913, Tallis became The Firm's chairman of directors and 'the most influential and significant theatre personality in Australia.'
One of Tallis's first moves was to establish J.C. Williamson's in South Africa; soon after that The Firm presented the American musical comedy High Jinks in London. Both enterprises were victims of the Great War. Another debacle was an attempt to take Williamson's into film production and exhibition. Undaunted, Tallis put £60,000 of his own money into J.C. Williamson Films Ltd, with himself and Francis W. Thring as joint managers. Its success led other cinema ventures, such as Electric Theatres Pty Ltd., again with Thring, and J.C. Williamson New Zealand Picture Corporation Ltd.
As the war progressed, government demands for recruiting speeches to be delivered to theatre patrons, a Federal Entertainments Tax, the early closing of bars and hotels, and even moves to close down theatres altogether, made life extremely difficult for theatrical entrepreneurs. This, plus the emergence of various theatrical employees' unions, led to the formation in 1917 of an industry alliance, embracing virtually all of this country's theatrical entrepreneurs. This was the Theatrical Proprietors' and Managers' Association, an organisation that has survived a string of name changes to lead the industry, 90 years on, as Live Performance Australia. George Tallis was foundation president, with Hugh D. McIntosh and Benjamin Fuller as vice presidents.
Through the 1920s Tallis was a dominating, but largely unseen, presence in Australian entertainment. The Firm's main rival was J. & N. Tait, founded by five brothers from Castlemaine in Victoria. They had started as concert promoters but in 1920, after they diversified into drama and musical comedy, Tallis negotiated a deal in which the two organisations merged, forming a theatrical empire of unprecedented dominance. Two years later Tallis was knighted in recognition of his theatrical and charitable work.
Tallis recognised the potential of radio. He made sure that The Firm was included in the syndicates operating two of Australia's earliest stations, 2FC in Sydney and 3LO in Melbourne. Tallis was a member of the 2FC board and chairman of directors at 3LO. Both stations were inaugurated in 1924 with live broadcasts from Williamson theatres. And Tallis further expanded The Firm's interests, acquiring Musgrove's Theatres, which was operating the Tivoli vaudeville circuit.
On the film front Tallis merged his J.C. Williamson Films with Hoyts Pictures Ltd, on a 50-50 basis, thus creating one of Australia's two largest chains, operating more than 70 cinemas. Tallis and Thring then steered Hoyts into building a string of magnificent Regent Theatres – luxurious golden picture palaces – around Australia. The first was the Regent in the Melbourne suburb of South Yarra, opened in 1925. It was followed by its namesakes in Perth (1927), Adelaide and Sydney (1928), and Melbourne and Brisbane (1929). The Melbourne Regent was the finest of them all. It cost £360,000 and seated 3,250. It is the only one still standing. And Tallis had also cannily merged Electric Theatres with Hoyts' rival, Union Theatres, retaining a 17.5 per cent interest.
Through the 1920s The Firm's theatres hosted a glittering array of attractions – international actors such as Oscar Asche, Marie Burke and Ada Reeve, two Melba opera seasons and two ballet tours by Pavlova. Gladys Moncrieff starred in The Maid of the Mountains, there were big American musicals like The Vagabond King and Rose-Marie, and endless revivals of Gilbert and Sullivan. And in 1928 The Firm gave Melbourne a fine new playhouse, the Comedy.
But the end of the decade brought some severe setbacks: another foray into West End production ended in disaster; in Australia the very expensive musical Show Boat sank swiftly; The Firm's radio interests were subsumed by the newly formed ABC; Her Majesty's Theatre in Melbourne was gutted by fire; and Williamson's Tivoli venture finished in a messy bankruptcy. The depression and the introduction of 'talkies' made things much worse.
Tallis was now in his sixties and in indifferent health. He had been with Williamson's for 45 years and he felt he deserved a rest. He stepped down as chairman, but he retained a significant shareholding in the company. He retired to spend more time at 'Beleura', the sprawling seaside retreat that he owned on the Mornington Peninsula, an hour's drive from Melbourne. He rejoined the board in 1934. That year Devon Buildings Pty Ltd, a company owned by Tallis and the Taits, purchased the freehold of the Melbourne Tivoli. Tallis sold most of his Williamson shares in 1937, but he retained an interest in its successor, Australian and New Zealand Theatres Ltd until that company was liquidated in 1942. In one way or another he had been associated for 56 years with the organisation that he had joined as enterprising office boy in 1886. Sir George Tallis died on 15 August 1948.
By family agreement, Beleura was acquired by Tallis's youngest son, John Morton 'Jack' Tallis, a reclusive composer, musician, historian and gardener. When he died in 1996 he bequeathed the Italianate mansion, with its fascinating family memorabilia and its ornate gardens, to the people of Victoria, together with a substantial trust to finance their restoration and maintenance. Under the management of the Tallis Foundation, the property opened to the public in 2004. The Foundation also supports several significant music and drama scholarships and visual art awards.
Frank Van Straten, 2007
Related Links
References
Biographical
Alwyn Capern, George Michael Tallis: 'George Tallis KT', in Companion to Theatre in Australia, Currency, 1995
Mimi Colligan: 'Sir George Tallis', in Australian Dictionary of Biography, volume 12, Melbourne University Press
Claude Kingston: It Don't Seem a Day too Much, Rigby, 1971
Viola Tait: A Family of Brothers, Heinemann, 1971
Michael and Joan Tallis: The Silent Showman, Wakefield Press, 1999