George Wallace 1895 – 1960
George Wallace 1895 – 1960
George Wallace 1895 – 1960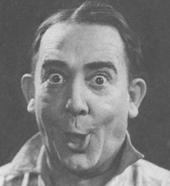 Australia's most versatile funny man, George Stevenson Wallace, was born in a canvas hut at Aberdeen, New South Wales on 4 June 1895.
Early in 1919 Wallace demonstrated his mastery of acrobatic dancing for Harry Clay at his Bridge Theatre at Newtown.
A natural lair
Here's how Australia's favourite British female comic, Jenny Howard, recalled her first encounterwith her future co-star, George Wallace, backstage at the Melbourne Tivoli during the Second World War: 'This strange apparition walked through the door and held me spellbound. He looked very rugged and I don't think he had shaved. His tie had stains on it and his clothes were covered in cigarette ash. But what really fascinated me was I'd never seen anyone keep his trousers up without braces before. He had this enormous stomach and his pants were somewhere beneath it. He croaked in a funny voice, "I'm Wallace. I'm a natural lair." Never having heard the word I thought perhaps he meant he was an Aboriginal. In my best British accent I said, "How do you do?" He replied, "I'm alright. I'm a bit rough in the morning."'
Australia's most versatile funny man, George Stevenson Wallace, was born in a canvas hut at Aberdeen, New South Wales on 4 June 1895. His grandfather was an Irish comic called 'Pipeclay' Wallace, but his father – who was known as 'Broncho' – was employed in the local meat works. Shortly after his son's birth, however, he too embarked on a vaudeville career, working for a while as a minstrel corner-man for Harry Rickards. Broncho and his brother-in-law, George Scott, later developed a successful double act, Scott and Wallace. Little George appeared on stage at the age of three as a pirate in a Sydney pantomime and was the infant member of a family song-and-dance act until his parents divorced.
Until he started work in his stepfather's ink factory, Wallace spent his days clowning for pennies on the Pyrmont waterfront. At 16, after knocking about North Queensland as a farm-hand, horse trainer and cane-cutter, he joined a touring variety show. He also fitted in a brief spell as a professional fighter. Australia's most versatile funny man, George Stevenson Wallace, was born in a canvas hut at Aberdeen, New South Wales on 4 June 1895. , keeping the customers entertained while Happy Harry Salmon frantically tried to fix his recalcitrant biograph. Next George Tysall recruited him for his Walkerston Nigger Minstrel Troupe, which at that time had, as one of its corner-men, a future Prime Minister of Australia, Arthur Fadden. Wallace travelled throughout Queensland, doing everything from soft shoe dancing to scenery painting. He loved it, and he decided that show business was to be his career.
In 1917 Wallace married Margarita ('Rita') Nicholas, a Mackay barmaid; their only child, George Leonard Wallace, was born the following year. Early in 1919 Wallace demonstrated his mastery of acrobatic dancing for Harry Clay at his Bridge Theatre at Newtown. Clay hired him at £4 a week. Wallace worked his wife and their little son into his routine, which included knockabout comedy, patter songs and eccentric dances. The family act was short lived, as indeed was the marriage, which ended with separation in 1924.
Late in 1919 Wallace formed a double act with Jack Paterson. As Dinks and Onkus ('The Two Drunks') they perfected a knockabout comedy act inspired by the success of Stiffy and Mo. Within a year they were Clay's most popular performers, regularly playing to full houses. The partnership survived for five years, though Paterson's role steadily diminished. He went on to form a double act with his wife; as Dinks and Trixie they were a popular variety attraction for years. An expert baton spinner, Dinks proudly led his unit in countless Sydney Anzac Day parades until his death in 1982.
By mid-1922 Wallace was touring Australia and New Zealand for Fullers' with his own supporting players. 'Onkus and His Merry Company' included Marshall Crosby as Wallace's straight man and Maida Jones his leading lady. They were supported by eight or nine other stalwarts. Typical programs concluded with a miniature musical comedy, invariably written and directed by – and starring – the multi-talented George Wallace. Harmony Row and His Royal Highness, later successful motion pictures, started life this way. George was also largely responsible for the music: Harmony Row, for instance, contained five original numbers.
George Wallace made his Tivoli debut at the end of 1929 during a brief period when the Melbourne Tiv was under Fullers' control. The Herald approved: 'With an atmosphere of old-fashioned extravaganza, a dash of modern revue, the dancing of musical comedy, and a suggestion of a plot, George Wallace provides good entertainment.'
The Depression and the talkies cruelly eroded live theatre and threw many of the country's best performers out of work. In December 1931 Wallace gamely put his own savings into a production of Cinderella at the Melbourne Bijou, with himself as a somewhat unconventional Buttons. Soon after this, Melbourne entrepreneur Francis W. Thring recruited him as a star attraction for his newly established Efftee film productions.
Early in 1932 Wallace made his screen debut in a seven-minute short called George Wallace – Australia's Premier Comedian, in which he introduced 'The Dance of the Wounded Wombat ('as recently performed by the famous Russian dancer, Palmolive') – a documentation of his light-as-a-feather dancing and his bone-cracking pratfalls. Later that year came a two-reeler, Oh, What a Night!, and his first feature, His Royal Highness, an elaborate musical filmed on the stage of the fire-damaged His Majesty's Theatre in Melbourne. Wallace's other Efftee films were Harmony Row (1933) and A Ticket in Tatts (1934). On stage he starred for Thring in the Australian musical Collits' Inn (1933), The Beloved Vagabond (1934) and a series of revues at the Princess in Melbourne in 1935. In February 1936 Thring announced that Wallace would star for him in a new film, A'sweepin' the Deep. It was never made: Thring died on 1 July.
In 1936 Mike Connors and Queenie Paul engaged Wallace to head a new revue company; this debuted at the Victoria Theatre, Newcastle, in June, and played to packed houses around New Zealand until well into 1937. On his return Wallace starred in two Cinesound films directed by Ken G. Hall: Let George Do It(1938) and Gone to the Dogs (1939).
With the outbreak of war, the Tivoli Circuit reluctantly replaced its overseas stars with locals.George Wallace was recruited for the revue Business as Usual in 1939, and he remained a Tivoli headliner in show after show until Americana in 1947 – though he managed to fit in occasional forays to Will Mahoney's Cremorne Theatre in Brisbane. During this period Wallace frequently worked with the urbane Englishman Edwin Styles and, most memorably, with the ebullient Jenny Howard. It was for her that Wallace hurriedly scribbled the words and music for 'A Brown Slouch Hat'. It became the nation's favourite home-grown wartime patriotic song. At the Tivoli Wallace perfected his 'Stanley the Bull', 'Fanny Shovelbottom's Friend' and 'The Drongo from the Congo' routines and his sublime drag creation, 'Sophie, the Sort on the Bus', and also romped through the Tivoli's traditional Christmas pantos.
Wallace had cameo roles in two more films – as the barber in The Rats of Tobruk (1944) and the hall keeper in the Eileen Joyce biopic Wherever She Goes (1951) – but, like Roy Rene, he reached a vast post-war audience via radio: from 1949 he starred as 'the boy from Bullamakanka' in the weekly George Wallace Road Show on the Macquarie Network. In 1952 he tried his luck in Britain; it was the only disaster in his long career.
Harry Wren brought Wallace back to the stage to star with Jim Gerald and other 'senior' favourites in his nostalgic Thanks for the Memory revue. Directed by Queenie Paul, it opened at the Princess in Melbourne on 3 October 1953. The Age called it 'Music hall magic.' Wallace's last show was Wren's The Good Old Days in 1956-57. By the end of the tour his health was failing. He was not well enough to sign up for Wren's next revue, Many Happy Returns, in 1959, so his son, George Junior, took his place. In so doing, young George left the Theatre Royal in Brisbane without a star, so, in a nice twist, father replaced son for five weeks. This was George Wallace Senior's curtain call. He died in Sydney on 19 October 1960.
Many of George Wallace's friends and fans treasured his paintings and the little dolls he made and sold for charity. His son, who had started in show business as 'Wee Georgie Wallace – a chip off the old bloke' lived much of his theatrical life in his father's shadow. 'He's got the face of his mother,' old George used to say, 'and who could be funny with a dial like that!' Nevertheless, George Junior led a merry variety company at the Theatre Royal in Brisbane for a record ten years, and transferred his show successfully to television. He died in 1968, survived by a son and a daughter, both of whom had lengthy careers in Gold Coast show business – Georgia as a dancer and Jeffrey as a drummer.
George Wallace's illustrious career was celebrated in Funny by George, an affectionate 1999 TV documentary. The producers managed to track down Wallace's wife who, despite her great age, treasured happy memories of the man she had married more than 80 years before. She died shortly after the documentary was screened.
Frank Van Straten, 2007
Related Links
References
Biographical
Nancye Bridges: Curtain Call, Cassell, 1980
Victoria Chance: 'George Wallace', in Companion to Theatre in Australia, Currency Press, 1995
Raymond Evans: 'George Leonard Wallace', in Australian Dictionary of Biography, volume 16, Melbourne University Press
Jim Murphy, Don Percy and Ian Woodward: Funny by George, TV documentary, 1999
Stuart Sayers: 'George Stevenson Wallace' in Australian Dictionary of Biography, volume 12
Frank Van Straten: Tivoli, Lothian Books, 2003