Gertrude Johnson OBE 1894 – 1973
Gertrude Johnson OBE 1894 – 1973
Gertrude Johnson OBE 1894 – 1973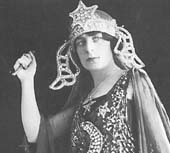 From the moment she was born in Hawksburn, Victoria, on 13 September 1894, Gertrude Emily Johnson was destined for a theatrical career.
Johnson was still a student when she auditioned for Dame Nellie Melba.
In 1918 she sang in Messiah with the Melbourne Philharmonic Society, and then joined the Rigo Opera Company for seasons in Melbourne, Sydney and Adelaide and New Zealand.
National treasure
'What was known as the National Opera was run by a woman named Gertrude Johnson, whom I'dnever met,' recalled Australian bass baritone Neil Warren-Smith. 'I'd only heard of her. Until the dress rehearsal [of Don Giovanni at St Peter's Hall, Eastern Hill, in 1955] that is. I was on stage in my costume and feeling very silly about it all – I thought I looked terrible. I heard a rich, clear voice come from out of the darkness of the auditorium: "Verdon [Williams]! Leporello cannot wear that! Give him this," she said, and a fawn-coloured felt hat with a drooping feather was passed over the footlights to me. It was one of the legendary Miss Johnson's own hats and, as far as I could see, no improvement on the thing I was wearing, but I got it into my head that I'd been singled out for some mysterious kind of honour. I jammed it on and wore the hideous thing from my first entrance at the first performance until my final exit on the last night.'
From the moment she was born in Hawksburn, Victoria, on 13 September 1894, Gertrude Emily Johnson was destined for a theatrical career. Her grandfather, George Johnson, had been a tenor with the Lyster Opera Company. Her father, a solicitor, was well-known as a baritone with the Melbourne Liedertafel. Her parents were affluent, though by no means wealthy. Gertrude was educated at Presentation Convent, Windsor. She showed an early aptitude for music, and was only six when she made her first public appearance.
Johnson was still a student when she auditioned for Dame Nellie Melba. 'She is a dickie bird,' she decreed, and advised her to go to Europe for training. In the meantime she was to study with Anne Williams at the Melbourne University Conservatorium. Soon her concert appearances were receiving glowing reviews. In 1915 she transferred to Melba's Albert Street Conservatorium, but left at the end of 1917 to accept an engagement as principal soprano with Count Filippini's opera company for a tour of Queensland and New South Wales. In 1918 she sang in Messiah with the Melbourne Philharmonic Society, and then joined the Rigo Opera Company for seasons in Melbourne, Sydney and Adelaide and New Zealand. In 1921, after a Farewell Concert at the Melbourne Town Hall, she left for London.
She was 25, tall, dark and beautiful; she was a natural and affecting actress, and the possessor of a voice of remarkable richness, liquidity and power. Soon she was singing principal roles with the British National Opera Company. She was in the first BBC opera broadcast, singing the Queen of the Night in The Magic Flute, a role in which she scored an enormous success at Covent Garden. Her performances at the Salzburg Festival were lauded, and she sang in many recitals with the British composer Cyril Scott.
On 7 December 1926, she was Musetta to Melba's Mimi in the great diva's Old Vic Farewell. This was a fundraiser for Lilian Baylis' brave attempt to establish a national theatre and training school. 'I saw the wonderful work being done there for young artists,' said Johnson, 'and I thought how wonderful it would be to have an Old Vic in each state of Australia.' In 1935, soon after her return to Melbourne, she formed 'The National Theatre Movement, Victoria', dedicating the enterprise to the training of young Australians in drama, opera and ballet. The initial capital was £8. Gertrude Johnson became the National's director – an honorary position she held for the rest of her life.
Johnson swiftly recruited a solid body of subscribers and the support of several prominent citizens, and launched the venture on 12 December 1936 with 'A Joyous Pageant of the Holy Nativity,' at the Princess Theatre, where she had auditioned for Melba 25 years before. This production marked the beginning of her long association with entrepreneur Garnet H. Carroll. Six months later the National was presenting As You Like It and The Barretts of Wimpole Street, and its first opera, The Flying Dutchman, which Carroll directed.
In the church hall of St Peter's, Eastern Hill, Johnson established schools of drama, opera and ballet, headed by, respectively, William P. Carr, Dr Herman Schildberger and Jean Alexander. The National's initial ballet performance came in 1939, at the Princess, with a programme including Etude and Mozartiana, the first works created in Australia by Edouard Borovansky.
During the war the Princess became a cinema, so the National made do with the 350-seat theatre at its Eastern Hill headquarters, staging no fewer than 15 operas, including such unusual fare as The Beggar's Opera, Méssager's Monsieur Beaucaire and Gluck's Iphigenia in Aulis, as well as innumerable dramatic and dance presentations. The National gave a generation of young actors, dancers, singers, musicians and designers the opportunity to develop their talents in a professional yet fostering atmosphere, while eager, ever-increasing audiences appreciated the respite from the revivals and escapist fare offered by commercial theatre at the time. And the National's efforts contributed £16,000 to war charities.
Her work at the National brought out another of Johnson's strengths: she was a natural entrepreneur. In February 1948, with support from Garnet H. Carroll, she mounted the first of the National's pioneering Arts Festivals at the Princess Theatre, showcasing the first locally-assembled opera company seen in Australia for years. There were 45 principals, and Joseph Post conducted. The initial repertoire – Aida, Faust, Rigoletto and The Marriage of Figaro – was so well received that the season was extended, Carmen was added, and a second season followed in November.
There were two opera seasons at the Princess in 1949, and annual festivals of opera, ballet and drama from 1951 to 1954. The operatic repertoire expanded to include Britten's Albert Herring, and Menotti's Amahl and the Night Visitors and The Consul; the latter, in 1953, with its harrowing and topical theme of communist oppression in Eastern Europe, provided a spectacular showcase for the talents of young Marie Collier. The great Australian baritone John Brownlee, who had sung with Gertrude Johnson in London at Melba's Farewell, appeared in Don Giovanni and The Barber of Seville; and Marjorie Lawrence, though paralysed from polio, created a sensation as a throne-bound Amneris in Aida in 1951. In 1953 the National's Opera Company travelled to Sydney and the Sydney equivalent, Clarice M. Lorenz' National Opera of Australia, visited Melbourne.
The National's drama offerings at the Princess were not numerous, but they were still interesting: Shakespeare and Shaw rubbed shoulders with Tennessee Williams, and there were even Australian plays, like Ray Lawler's Cradle of Thunder in 1952. Most of the National's drama activity, however, remained centred on the little theatre at Eastern Hill.
The National's professional dance activities premiered at the Princess in 1949 under the direction of Joyce Graeme, who had come to Australia with Ballet Rambert. The company toured widely in Australia and New Zealand. Its achievements included the first-ever Australian staging of the four-act version of Swan Lake, in 1951, and the land-mark Corroboree, to John Antill's score. Gertrude Johnson was awarded an OBE in 1951.
Johnson's proudest moment came in 1954: on 1 March the National Theatre presented The Tales of Hoffmann at the Princess for the Queen and the Duke of Edinburgh. Joseph Post conducted, Stefan Haag directed, and Louis Kahan designed the sets and costumes.
Had Miss Johnson and Miss Lorenz been able to work together, their enterprises might well have developed into a truly national opera company; instead each company swiftly withered, to be replaced in 1956 by the Australian Elizabethan Trust Opera Company – today's Opera Australia.
After the establishment of the Australian Elizabethan Trust and the introduction of television, most of the National's theatrical presentations were smaller-scale student productions. Somehow the National's schools survived a series of re-locations and the disruptions caused by a string of disastrous fires.
Gertrude Johnson died on 28 March 1973. For almost half her 78 years she had laboured, unpaid, to provide young Australians with training in dance, opera and drama. Her legacy is her beloved National Theatre, whose schools and auditorium are now located in the former Victory Theatre in St Kilda – a living tribute to a remarkable woman who, with selflessness, determination, imagination and inexhaustible enthusiasm, provided several generations of young Australians with a unique blend of arts training, experience and support.
Here are a representative few of the hundreds who can thank Gertrude Johnson and her National Theatre for their start or for their early stage experience:
Singers: Robert Allman, Valda Bagnall, Harold Blair, John Cameron, Verona Cappadonna, Marie Collier, Ian Cousins, Dorothea Deegan, Gregory Dempsey, Ormonde Douglas, Ronald Dowd, Alan Eddy, Jenifer Eddy, John Dudley, Lauris Elms, Graeme Ewer, Elizabeth Fretwell, Kathleen Goodall, Clifford Grant, Nance Grant, Stefan Haag, William Laird, John Lanigan, Raymond McDonald, Joy Mammen, Margaret Nisbett, Lorenzo Nolan, Betna Pontin, Marea Prerauer, Justine Rettick, John Shaw, Robert Simmons, Charles Skase, Anthony Strange, Joseph Talia, Halinka de Tarczynska, Neil Warren-Smith, Wilma Whitney, Barbara Wilson and Lance Ingram – later, as Albert Lance, a stalwart of the Paris Opera.
Dancers: Marilyn Burr, William Carse, Maxwell Collis, Marie Cumisky, Henry Danton, Mary Duchesne, Lynne Golding, Walter Gore, Joyce Graeme, Brenda Hamlyn, Strelsa Heckelman, Geoffrey Ingram, Marita Lowden, Leon Kellaway, Jack Manuel, Edward Pask, Rex Reid, Margaret Scott, Valrene Tweedie, Ronald Reay, Aina Reega and Steven Woodgate.
Choreographers:  Joyce Graeme, Marilyn Jones, Leon Kellaway, Louise Lightfoot, Laurel Martyn, and Joanne Priest
Actors: Carl Bleazby, Bunney Brooke, June Brown, Zoe Caldwell, Anne Charleston, Blair Edgar, Noel Ferrier, Lewis Fiander, Mary Hardy, Joan Harris, June Jago, Douglas Kelly, Patricia Kennedy, Patsy King, Barrie Kosky, Ray Lawler, Irene Mitchell, Gerda Nicholson, Helen Noonan, John Orczik, Frank Thring and Joy Westmore.
Designers: Ann Church, William Constable, Anne Fraser, Louis Kahan, Barry Kay, Robin Lovejoy, John Rowell, Kenneth Rowell, John Truscott, Harald Vike, Tim Walton and Angus Winneke.
Musicians: John Antill, Eric Clapham, Douglas Gamley, Deith Harrhy, John Lanchbery, Dorian Le Gallienne, James Penberthy, John Tallis and Verdon Williams.
It's an impressive line-up; and as long as long as the National's schools of drama and dance continue, the list will keep on growing.
Frank Van Straten, 2007
Related Links
References
Biographical
Thérèse Radic: 'Gertrude Johnson', in Australian Dictionary of Biography, volume 14, Melbourne University Press
Frank Van Straten: 'Gertrude Johnson – Master Builder', in Stages, July-August 1993
Frank Van Straten: National Treasure, Victoria Press, 1994
Neil Warren-Smith: 25 Years of Australian Opera, Oxford University Press, 1983
Media
Gertrude Johnson later in life