Gladys Moncrieff OBE 1892 – 1976
Gladys Moncrieff OBE 1892 – 1976
Gladys Moncrieff OBE 1892 – 1976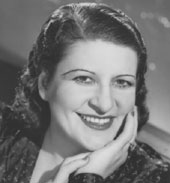 There was little theatrical glamour in Bundaberg, the central Queensland sugar town where Gladys Lillian Moncrieff was born on 13 April 1892.
Gladys sang in her school's Gilbert and Sullivan productions and with the local choral society in Handel's Messiah.
In 1921, she first played Teresa in The Maid of the Mountains. Its resounding success established her as a major star.
Our Glad
'Glad is a dear, so charming, and has a natural manner, which is what has made her so beloved,' wrote one of her many leading men, Australian tenor Max Oldaker. 'She is so natural. I've never met a star so unlike a star. To me she is perfectly charming. Her flowers on the first night practically filled the stage, and her reception at her first entrance was stupendous and held up the show. The applause rose and fell and rose again, interspersed with cheers and whistling. Somehow she brings back the glamour of the theatre.'
There was little theatrical glamour in Bundaberg, the central Queensland sugar town where Gladys Lillian Moncrieff was born on 13 April 1892. Her parents were musical: her mother was a soprano who'd had a short professional career as Ada Lambell; her father played and repaired organs and presented silent movies in local halls. Glad was six the first time she sang at one of his shows. Soon after, Dan Barry came to town with East Lynne, and little Gladys became Little Willie – her first professional role.
The family moved to Townsville. Gladys sang in her school's Gilbert and Sullivan productions and with the local choral society in Handel's Messiah. With funds raised at a benefit concert, she went to Sydney to further her vocal studies. She appeared in suburban vaudeville for J.C. Bain and in 1911 auditioned for Hugh J. Ward, managing director of J.C. Williamson's. With Melba's approval, she was given a three-year contract.
After tuition from Ward's wife, Grace Miller, Moncrieff joined Williamson's chorus. She progressed steadily. She had featured roles in a 1916 tour of South Africa. Two years later, in New Zealand, she was given the lead in Katinka. Other musicals followed until, in 1921, she first played Teresa in The Maid of the Mountains. Its resounding success established her as a major star. She also had a hit with A Southern Maid, which came from the same writing team. As in London, it was directed by Oscar Asche. A live transmission of the performance of 10 January 1924 launched Sydney's second radio station, 2FC.
In 1924 Moncrieff married a dancer, Tom Moore. J.C. Williamson's paid for their honeymoon in London, where Moncrieff made her first recordings. Back in Australia Williamson's starred her in The Lady of the Rose, The Street Singer and revivals of The Merry Widow and – inevitably – The Maid of the Mountains. With her husband as her manager she decided to try her luck overseas. Foolishly she accepted the first show she was offered, a shoddy new musical called Riki Tiki. It ran only two weeks in the West End. In early 1927 she scored the lead in Franz Lehár's latest operetta, The Blue Mazurka, at Daly's, but what started as a successful run ended after six months when the show's producer committed suicide.
To Moncrieff's disappointment Williamson's failed to contract her for The Desert Song and The Vagabond King, but Fullers' snared the rights to Rio Rita, realising it was an ideal vehicle for her. She was wary of working with a new management, but Sir Ben Fuller cannily cabled his brother, who was handling the negotiations: 'No Gladys Moncrieff, no Rio Rita. Tell her she will lose nothing in prestige or honour by joining us.' Moncrieff's success in Rio Rita was second only to her triumph in The Maid of the Mountains. It toured for two years.
By now Moncrieff's relationship with her husband was strictly that of star and manager. With the money she made from Rio Rita, they set up Gladys Moncrieff and Tom Moore Productions, debuting at the Palace Theatre in Melbourne in June 1929 with 'a sensational play of the air', The Zeppelin Terror. Apparently the 'terror' of the title was Mr Moore's invention: the piece had played briefly on Broadway as simply Zeppelin. They followed this with 'a chilling, thrilling, killing mystery' – The Gorilla – and a comedy called The Man From Toronto.
The 'talkies' and the Depression took their toll and the venture failed. Moncrieff and her husband lost everything, including their marriage. Perhaps understandably, the episode is not mentioned in Moncrieff's autobiography.
Moncrieff sang in cinemas and on radio, and recorded her most popular songs. She returned to J.C. Williamson's for more revivals, including, of course, The Maid of the Mountains. In 1933 it was with that show that Moncrieff fittingly closed Her Majesty's in Sydney and the Theatre Royal in Melboure, both lamented victims of the Depression.
With no prospect of new challenges from Williamson's or Fullers', Moncrieff turned to entrepreneur Francis Thring. In 1933 she starred in his first major stage production, the Australian musical Collits' Inn, and made some recently discovered test recordings of its score. Unfortunately plans for a film version were aborted. Thring featured her in two more Australian musicals, The Beloved Vagabond and The Cedar Tree, and in Jolly Roger.
She returned to Williamson's for more revivals, and undertook a concert tour for the ABC.
She was driving to Melbourne to discuss a radio performance of Tosca when she was seriously injured in a car crash. She spent six months in hospital. As soon as she was well enough, she resumed her concert career, still in plaster and still on crutches. Her departure by rail from Sydney attracted a large crowd and was covered live by the ABC. According to legend, as the train steamed out of the station, listeners were told that, 'Gladys Moncrieff has tied a posy of flowers to her crutch and is waving it out the window.'
In 1940 Moncrieff made a triumphant return to the stage in The Time of Your Life, a Tivoli revue, in which she shared top billing with another musical comedy stalwart, comedian Don Nicol. In 1943 she toured New Guinea, entertaining the troops, but, at home, she was doomed to still more revivals for Williamson's.
In 1944, while she was playing in Melbourne in Viktoria and Her Hussar, two of the show's featured dancers resigned from Actors' Equity. As a result most of the rest of the company went on strike, but some of the principals – notably Gladys Moncrieff – remained loyal to Williamson's, and ran the gauntlet of a picket line led by, ironically, Don Nicol. During the strike's three chaotic weeks, Equity members staged fund-raising shows in support of their striking colleagues. Eventually the authorities found in favour of the actors. This established the principle of 100 per cent union membership, which was eventually accepted by the country's theatrical entrepreneurs – and by Miss Moncrieff, who reluctantly joined Equity.
In 1947, while holidaying in New York, Moncrieff went with E.J. Tait to see Annie Get Your Gun. 'You could play this, Gladys,' he told her. Fortunately 55-year-old Moncrieff demurred – in fact she had her heart set on a leading role in Song of Norway but, perversely, Williamson's gave it to an unknown American import. In 1951 Moncrieff ventured to Japan and Korea for more troop concerts. On Boxing Day that year she opened in Gay Fiesta, the first of Harry Wren's big nostalgic revues. Five days later the papers announced that she had been awarded the OBE.
Though the microphone made her extremely nervous, Moncrieff kept herself busy with her own weekly radio show on the national Macquarie Network. She persevered because of the young talent it was designed to assist. Tenor Donald Smith and soprano Roslyn Dunbar were two of the contestants who went on to great things.
The last phase of Moncrieff's long professional career began in January 1959 when she starred in another Harry Wren extravaganza, Many Happy Returns. After packing theatres wherever it went, its marathon run ended in Hamilton, New Zealand, on 5 July 1961. Of course, her final song had to be 'Love will find a way' from The Maid of the Mountains. She wrote: 'It was rather sad that I finished my career in variety rather than in my first love, musical comedy, but in the theatre you take what comes and view these things philosophically.' The gown she wore that night is preserved in the Powerhouse Museum in Sydney.
In 1962 Moncrieff made a couple of guest appearances on George Wallace Jnr's television show Theatre Royal, then she and her companion, Elsie Wilson, spent some years travelling. In 1968 they retired to the Isle of Capri on the Queensland Gold Coast. From her balcony, Moncrieff would wave greetings to the tourists on passing pleasure boats. Her autobiography was published in 1971. She made her last public appearances in Sydney in 1973, at the opening of the Opera House and the new Her Majesty's Theatre. 'Our Glad' died on 8 February 1976. Her husband, Tom Moore, attended her funeral.
Gladys Moncrieff is remembered in many ways. Her name is commemorated in the Federal Gold Coast electorate of Moncrieff, a hibiscus, the library at the Queensland Performing Arts Centre, an Isle of Capri public park, and the municipal theatre in Bundaberg, her birthplace. In 1989 she and Roy Rene were pictured on an Australia Post stamp. Many of her finest recordings have been reissued on CD and her life has been celebrated in a nostalgic theatre show. In 2006 the NSW State Government granted $9000 for the restoration of her crumbling grave at Sydney's South Head Cemetery.
Dame Joan Sutherland paid this tribute: 'Gladys Moncrieff was the Queen of Musical Comedy during my childhood and for much longer than that. Her right to that title will never be disputed.'
Frank Van Straten, 2007
Related Links
References
Biographical
Ian Bevan: The Story of the Theatre Royal, Currency Press, 1993
Peter Burgis: 'Gladys Moncrieff', in Australian Dictionary of Biography, volume 10, Melbourne University Press
Alwyn Capern and John West: 'Gladys Moncrieff', in Companion to Theatre in Australia, Currency Press, 1995
Adrian Magee: Gladys Moncrieff – Australia's Queen of Song, Reed Library, 1997
Gladys Moncrieff: My Life of Song, Rigby, 1971
Charles Osborne: Max Oldaker – Last of the Matinee Idols, Michael O'Mara Books, 1988