Googie Withers AO CBE 1917 – 2011 and John McCallum AO CBE 1918 – 2010
Googie Withers AO CBE 1917 – 2011 and John McCallum AO CBE 1918 – 2010
Googie Withers AO CBE 1917 – 2011 and John McCallum AO CBE 1918 – 2010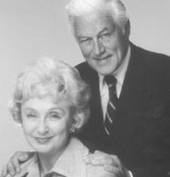 Googie Withers' and John McCallum's long, long love affair with the Australian public started more than half a century ago, in 1955.
John Neil McCallum was born on 14 March 1918 in Brisbane.
He trained at the Royal Academy of Dramatic Art in London.
High Spirits
'My association with J.C. Williamson's began [in 1959] when I was summoned to the presence of John McCallum, the joint managing director,' recalled actor Noel Ferrier. 'Although I had not previously met him I was suitably impressed by his English theatre aura, which he wore like a toga, although he was born in Australia. He asked me if I would be interested in working with his wife, Googie Withers, and himself, in a play called Roar Like a Dove. I put on my expression of gratitude, did a passable routine of doffing the cap and said how honoured I was to be offered such an opportunity. I had no shame. After all, being asked to work with John and Googie was tantamount to some sort of accolade. We toured throughout Australia and New Zealand.
Travelling with the McCallums then was rather like trooping around with the Romanoffs before the revolution. The circumstances of the period gave the whole caravan a feeling we were living through the last days of an era. The winds of change were whistling through the theatrical corridors and John and Googie were among the last of a particular style of theatre which traded on mystique and glamour as much as performance.'
Googie Withers' and John McCallum's long, long love affair with the Australian public started more than half a century ago, in 1955, when they made their Australian debut at the Comedy Theatre in Melbourne in, what J.C. Williamson's publicity proclaimed to be the 'smoothest, smartest, sparkling success,' Simon and Laura, a new London comedy by Alan Melville. The anticipation was extraordinary. John was the local boy returning from overseas triumphs, while Googie was already well known to Australians from her many British films.
John Neil McCallum was born on 14 March 1918 in Brisbane, where his father ran the Cremorne Theatre. He appeared in several amateur productions, such as Brisbane Repertory Theatre Society's Hamlet at the Princess Theatre, Woolloongabba, in September 1936. Later that year he went to London. He trained at the Royal Academy of Dramatic Art in London, worked in British repertory and, in 1939, appeared with the Shakespeare Memorial Theatre and the Old Vic. After war service with the AIF, he worked for J.C. Williamson's, producing The Wind and the Rain at the Theatre Royal in Sydney, starring opposite Gladys Moncrieff in revivals of The Maid of the Mountains and Rio Rita, and playing in Susan and God, By Candlelight and Claudia at the Comedy in Melbourne. He then returned to London. In his second British film, The Loves of Joanna Godden, he found himself co-starred with Googie Withers.
Georgette Lizette Withers was born on 12 March 1917 in Karachi, India, which was where sheacquired the affectionate nickname 'Googie'. She studied acting and dancing in London. After her debut in The Windmill Man at the Victoria Palace in 1929 she scored increasingly important parts on stage and film. During the war she was part of a British an army entertainment unit. Googie and John married in London on 24 January 1948. The following year they appeared together in the film Traveller's Joy.
In 1954 John and Googie were paired on stage for the first time – in Waiting for Gillian, at the St James's Theatre in London. It was after this success that they were booked by J.C. Williamson's for a tour of Australia and New Zealand.
The reviews for Simon and Laura were predictably warm, but Frank Thring, guest critic for The Argus, was characteristically acerbic: 'It is indicative of J.C. Williamson's low opinion of the public mentality (an opinion not entirely unjustified) that they chose this soufflé of a play in which to display Miss Withers' undisputed talents, in preference to the finer, grimmer and less commercial pieces in which Miss Withers has displayed her dramatic powers overseas.' The couple later appeared in the Terence Rattigan drama The Deep Blue Sea, which Googie had played in London.
In mid-1958, John became assistant general manager of J.C. Williamson's and he and Googie made Australia their home. Their next Australian venture was Lesley Storm's comedy Roar Like a Dove, in which John had starred in London. It toured for nine months in 1959. John directed several productions for Williamson's, including Ray Lawler's The Piccadilly Bushman, and the second company of My Fair Lady.
In 1960-1961 Googie toured for Williamson's in Clifford Odets' moving drama of theatrical life, Winter Journey, in which she had starred in London opposite Michael Redgrave. It was presented in repertory with a vintage Somerset Maugham comedy, The Constant Wife.
In 1961 John joined Sir Frank Tait as joint managing director of J.C. Williamson's. Googie made her New York debut in 1961 in The Complaisant Lover, and then returned to Australia to star in the contemporary drama Woman in a Dressing Gown, which Ted Willis had written with Googie in mind for the lead. The play had its world premiere at the Comedy Theatre in Melbourne on 9 November 1962. Googie's performance was hailed as 'a triumph' by The Age. The Herald said she 'convincingly handles with strength and certainty, drama, comedy and sheer farce in this magnificent new play.'
In 1964 Williamson's marked the 400th anniversary of Shakespeare's birth with The First Four Hundred Years, 'a program of Shakespeare's infinite variety' arranged by Alan Dent and directed by Raymond Westwell. The distinguished cast included Googie, Westwell and Keith Michell and his wife, Jeanette Starke. Googie's roles included Kate, Beatrice, Margaret, Portia, Rosalind, Gertrude and Cleopatra. It was hard work!
The following year, 1965, Googie played Lady Piper in Samuel Taylor's slick New York comedy Beekman Place. Also that year, following the death of Sir Frank Tait, John McCallum became Managing Director of J.C. Williamson's.
1965, Googie played Lady Piper in Samuel Taylor's slick New York comedy Beekman Place.; later he would set up Fauna Films to produce the television series Skippy The Bush Kangaroo, Boney, Barrier Reef, Bailey's Bird and Shannon's Mob, and the feature films The Intruders and Smiley. One of Williamson's rare ventures into home-grown theatrical product occurred in 1966: James Brazill's Desire of the Moth. Googie was Edith, the enigmatic, complex wife of a New South Wales farmer. Earthy and earnest, it was not a great draw. John resigned from Williamson's soon after.
In 1968 John and Googie were reunited on stage in the Alan Ayckbourn comedy Relatively Speaking. It was presented jointly by Phillip Productions of Sydney and John's own company. They returned to Williamson's for Neil Simon's Plaza Suite, which enjoyed a marathon 51-week tour of Australia and New Zealand.
In 1971 Googie played a Western Australian country publican in the film comedy The Nickel Queen. Also in the cast were the McCallums' daughter Joanna, the former Western Australian premier Charles Court and radio personality John Laws.
John McCallum's services to the performing arts were recognised by a CBE in the 1971 New Year's Honours.
Googie – who had maintained a concurrent career in the West End – joined the Melbourne Theatre Company in 1972 for The Cherry Orchard and An Ideal Husband, both staged at the Comedy. In 1974 it was John's turn. He starred at the Comedy in As It's Played Today, a political drama which he also wrote, directed and produced.
The lavish staging even included a simulated helicopter landing. Meanwhile, Googie scored a major hit as prison governess Faye Boswell in the British TV series Within These Walls.
In 1978 Googie and John were reunited for the Australian tour of William Douglas Home's gentlecomedy The Kingfisher. Their co-star was Frank Thring. The producers were Malcolm C. Cooke and Mike Walsh's Hayden Price Attractions.
Googie was made an Officer of the Order of Australia (AO) in 1980; she was the first non-Australian woman to be honoured in this way.
An Australian tour of the 1921 Somerset Maugham comedy The Circle started in 1982. Googie and John had starred in the very successful revival at Chichester, England, in 1976, and had repeated their triumph at the Haymarket in London. Stardust was next, in 1984. It was expressly written for Googie and John by Ted Willis (22 years on from Woman in a Dressing Gown) and they had played it throughout the UK. John directed the Australian production in which they shared top billing with Robert Helpmann. In 1987 they were in the Australian TV mini series Melba, Googie as Lady Armstrong and John as George Musgrove.
In 1978 Googie and John were reunited for the Australian tour of William Douglas Home's gentlecomedy The Kingfisher. It was a four-hander. Joining them were daughter Joanna and Nicholas Hammond, who, back in 1981, then aged 10, had appeared with Googie in The Complaisant Lover in New York. In 1990 Googie and John toured Britain in On Golden Pond. In 1993 they toured Australia again, this time in High Spirits, a pot-pourri of excerpts from their past successes, designed by their son, Nicholas. It was presented by John Frost, who had been stage manager on The Kingfisher15 years before. At Chichester they played in Peter Hall's production of An Ideal Husband in 1996 and in Lady Windermere's Fan in 1997. An Ideal Husband toured Australia in 1997.
Googie and John received Live Performance Australia's James Cassius Williamson Awards in 1999. One of their last appearances was as a presenters at LPA's 2008 Helpmann Awards ceremony.
John McCallum died on 4 January 2010, Googie Withers on 15 July 2011.
Googie Withers and John McCallum – two remarkable people who have devoted their lives to the theatre, and who have given us more joy, more laughter and more tears for more years than anybody else. As Bunty Turner, Australia's 'My Fair Lady', put it: 'In the easy come, easy go, transient theatre life everyone is "darling". At the risk of sounding idiotically sentimental, John and Googie really are.'
Frank Van Straten, 2007
Related Links
References
Biographical
Noel Ferrier: There Goes Whatsisname, Macmillan Australia, 1985
John McCallum: Life with Googie, Heinemann, 1979
Frank Van Straten: 'A Toast to Googie and John', published in the programme for the Australian tour of High Spirits, 1993