Harry Rickards 1843 – 1911
Harry Rickards 1843 – 1911
Harry Rickards 1843 – 1911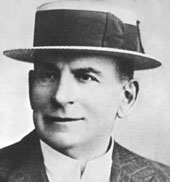 Harry Rickards' real name was Benjamin Harry Leete. He was born in modest circumstances in Stratford, East London, on 4 December 1843.
In 1859 he made his first appearance at the Theatre Royal, Runcorn in Rob Roy.
The King of Australian Vaudeville
'To the vaudeville artiste climbing the slippery ladder of fame in my day, the name of Harry Rickards sounded like magic,' recalled veteran comedian Charlie Vaude. 'He was the big man in the theatrical business. His success came about because he regarded himself as the agent of a public for whom he said the best was none too good. If a turn was good enough for Australia he never hesitated to book it if possible. The sky was the limit with the Guv'nor. For some reason he took me under his wing. I could always get him into a good humour. I had only to tell him a story in the cockney twang to get him laughing heartily. He was a cockney and proud of it. Like Bland Holt and J.C. Williamson, Harry Rickards was an artiste. They all understood that the better the artiste the more temperamental they would be. I've yet to meet a star who was not a bundle of nerves. Rickards would never argue with his artistes. He left that to his managers.'
Harry Rickards' real name was Benjamin Harry Leete. He was born in modest circumstances in Stratford, East London, on 4 December 1843. Against his father's wishes he developed his singing voice and his comedic talents at the local pub. In 1859 he made his first appearance at the Theatre Royal, Runcorn in Rob Roy. In 1864, after much persistence, he obtained an engagement as a comic singer at John Wilton's music hall in Whitechapel. He had some success with a song called 'Oxford Joe', but his big break came when he added 'Captain Jinks of the Horse Marines' to his repertoire. This was an early example of the 'character song', a new form pioneered by the lion comiques, in which the performer's persona was at one with his – or very occasionally her – material. The lion comique was typified as a 'swell', handsome, fashionably attired, strutting through society with engaging panache. Soon Rickards was appearing at four halls every night.
In 1870 Rickards took over the small Swiss Cottage Music Hall at South Hackney, an enterprise that finished in the Bankruptcy Court. The following year, possibly in an effort to restore his finances, he decided on a trip to the Australian colonies. His partner was John Enderby Jackson, a small-time entrepreneur, and their little company included Rickards' wife, billed as Carrie Tudor. They made their colonial debut at the Princess Theatre in Melbourne on 2 December 1871, and then hired St George's Hall in Bourke Street for an extended season.
Though Jackson returned to Britain, Rickards and his company toured cities and towns aroundAustralia and New Zealand until 1874, when Rickards and his wife sailed for San Francisco. They made their American debut at Maguire's New Theatre in October, but by now their marriage was in tatters. Rickards joined up with the renowned Lottie gymnastic group. Furthermore, he eventually formed a new domestic partnership with one of their stars, Mdlle Katrine, 'The Empress of the Air'. Her real name appears to have been Kate Roscoe or Roscow.
They headed for New York, appearing at the Theatre Comique on Broadway in February 1875, then went on to London, and subsequently toured South Africa. They married in 1880.In 1885, after another disastrous attempt at management, Rickards organised a new company for a second Australian and New Zealand tour. When he made a third tour in 1888, his brother, Jack Leete, became his general manager. After that came bookings in the United States, Britain and South Africa. He was back in Australia in 1892, and this time he was determined to stay.
Initially, houses were poor, as the Depression of the 1890s began to take its toll. In Sydney he was able to lease the Opera House, on the corner of York and King Streets, a site later occupied by Grace Brothers' building. He opened there on 10 December 1892 with his 'New Tivoli Minstrel and Grand Specialty Company of Forty Great Artistes'. The choice of the word 'Tivoli' was inspired: it implied that his artistes had come from the prestigious Tivoli music hall in London; in reality most of them were locally recruited. The following year he moved his company to the newer and more attractive Garrick Theatre in Castlereagh Street. He renamed it the Tivoli and opened there on 18 February 1893. It was an enormous success. Rickards catered for an eclectic, demanding and increasingly educated audience. Though his shows were pitched mainly at the city's increasingly affluent middle classes, he did not hesitate to woo the poorer sections of the community who populated the gods, the cheapest section of the house.
During 1893 and most of 1894, Rickards' formula remained pretty much unaltered: a basic company of versatile, popular regulars, often augmented by visiting acts, but containing no real stars. There was no shortage of young Australian talent treading the Tivoli boards at this time: Priscilla Verne, Harry Clay, the Leslie Brothers, Albert Whelan, George Sorlie, Florrie Forde and Billy Williams were typical. The Leslies, Florrie Forde and Billy Williams would find fame in London, and Williams returned to the Tivoli as a headliner in 1910.
Rickards' own appearances became less frequent. He toured interstate occasionally, leaving the running of the Sydney Tivoli in the capable hands of Jack Leete. Rickards realised his future was as an entrepreneur. In 1895 Rickards leased the old Opera House in Bourke Street, Melbourne, making it the headquarters for his company in that city.
That same year Harry Rickards received the first challenge to his supremacy in Australian vaudeville. J.C. Williamson backed two Americans Henry Lee and James G. Rial, who imported a company of second-rung acts, which they called 'The World's Entertainers'. They met with only moderate success, so Rial announced that he was returning to the United States to recruit fresh talent – but wily Rickards sailed on an earlier ship. He made engagements up to two years ahead.' This stratagem cost him some £30,000 – but it made him. His first big star was Charles Godfrey, who made famous the song 'After the Ball is Over'.
Rickards' early programs consisted of a minstrel show style 'sit-around', usually with local artists, followed after interval by a succession of top variety acts – comics, singers, ventriloquists, jugglers, acrobats, male and female impersonators, illusionists, even performing animals, from rats and cats and dogs to birds and even seals. Later Rickards dropped the minstrel 'First Part' and concentrated on straight vaudeville bills. He occasionally ventured into musical comedy, drama and pantomime, but usually with lesser success.
Rickards purchased the freehold of the Sydney Tivoli, but lost heavily when it was ravaged by fire. He rebuilt it immediately. He also commissioned the great theatre architect William Pitt to design a new Opera House for Melbourne. It opened in 1901, and was later renamed the Tivoli. Soon Rickards was shuffling acts around Australia. Under his astute management the Tivoli Circuit became one of the most respected, lucrative and powerful vaudeville enterprises in the world. Harry's brother, wife, two daughters and several other family members were involved in the business at various times. The Rickards family lived in baronial splendour at Canonbury, the grand harbour-side mansion that Rickards built at Darling Point in 1905.
Rickards imported some of the world's finest vaudeville talent, and he also encouraged manyemerging young Australians. Some of his biggest stars are now virtually forgotten, but in their day they were great international celebrities: charming singer Ada Reeve, juggler Paul Cinquevalli, strongmen Sandow and Hackenschmidt, ventriloquists Fred Russell and J.W. Winton, comedians Marie Lloyd, Lillie Langtry, G.H. Chirgwin, W.C. Fields, Harry Tate, Walter C. Kelly (Grace Kelly's uncle), Julian Rose (a role model for Roy Rene 'Mo'), boxers Tommy Burns and Jack Johnson, escapologist Harry Houdini, and illusionists Carter the Great, Chung Ling Soo and Carl Hertz. Rickards succeeded in making vaudeville 'respectable' and his shows attracted a wide patronage.
Rickards' stars brought with them many of the technological 'wonders of the age'. On 22 August 1896 Carl Hertz introduced Australians to projected moving pictures as part of his magic act and, in 1906, Tivoli patrons saw an early attempt at talking pictures via a device called the Gaumont Chronophone. Harry Houdini brought a Voisin biplane with him on his 1910 visit, and claimed the honour of making the first flight in Australia.
Though Rickards frequently included short films in his programs, he could not see a future for cinema. He and Bland Holt refused an invitation from Arthur Russell to invest in his Hoyts Pictures. 'I like 'em in the flesh,' said Rickards.
Harry Rickards was on one of his annual talent-booking expeditions when he died in London on 13 October 1911. His remains were returned to Sydney for burial. He left a fortune of £135,000. In 1912 Rickards' heirs sold the Tivoli business to boxing entrepreneur Hugh D. McIntosh. Under a succession of managements it continued to entertain Australians until 1966.
Rickards' mansion, 'Canonbury', was demolished in 1983 to make way for a public park. Sadly his grave at Waverley Cemetery, with its striking bust by James White, has been vandalised. His family has presented a duplicate bust to the State Library of New South Wales.
Frank Van Straten, 2007
Related Links