Hayes Gordon AO OBE 1920 – 1999
Hayes Gordon AO OBE 1920 – 1999
Hayes Gordon AO OBE 1920 – 1999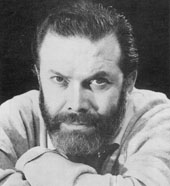 Hayes Gordon was born in Boston, Massachusetts, on 25 February 1920.
While he studied pharmacy he participated in local variety broadcasts and, at the age of 20, presented his own weekly 60-minute television show, Hayes Gordon Presents.
In 1951, he found himself caught up in the McCarthy campaign to root out 'reds'.
It was J.C. Williamson's offer of the leading role in Kiss Me, Kate in Australia that rescued his career.
Dedication, inspiration and imagination
'The stage was where Hayes Gordon lived,' wrote Reg Livermore, who trained with Gordon and acted in many of his early Ensemble productions. 'Everything he did had a sharp and thrilling edge to it. For those of us already in the thrall of what was happening in the theatre in America, he was the horse's mouth, providing practising actors the opportunity to hone their skills, to seriously stretch themselves; it was an opportunity not to be missed. Even if you were only moderately curious you could pick up a few tips. Hayes, of course, offered more than just a few tips, he truly spoke another sort of language. The information Hayes shared amounted to a revelation. It didn't take long to realise there was more to acting than nice, rounded vowels sounds, and coming on from the wings on the upstage foot; he was opening doors to a more particular understanding of our craft and would kick-start the imaginations of many. Off the stage, Hayes was quietly spoken and mesmerising; his authority, intelligence and range of interests went far beyond the norm.'
Hayes Gordon was born in Boston, Massachusetts, on 25 February 1920. He had his first stage roles in amateur Gilbert and Sullivan productions when he was still at high school. While he studied pharmacy he participated in local variety broadcasts and, at the age of 20, presented his own weekly 60-minute television show, Hayes Gordon Presents. His graduation with a Bachelor of Science was followed by a stint entertaining guests at a smart New Hampshire hotel. He gravitated to New York where he had voice training and, in 1942, scored a place in the chorus of the Paper Mill Playhouse, Millburn, New Jersey, which had a fortnightly-change repertoire of vintage musicals. His first was Naughty Marietta.
Gordon's performance in Paper Mill's The Desert Song resulted in a meeting with its lyricist, Oscar Hammerstein, and a small part in the premiere of Rodgers and Hammerstein's Oklahoma! in March 1943. He received his draft papers a few months later. His first service assignment was Moss Hart's musical play Winged Victory, a tribute to the US Air Force. With Hart's co-operation, Gordon set up a theatre education program for the 350 members of the company. At the same time he started to study acting with Sanford Meisner at his Neighbourhood Playhouse. Winged Victory toured the country, including a spell in Santa Monica, where the show was filmed. Gordon's later Broadway appearances were small roles in the 1946 revival of Show Boat, Brigadoon, a flop called Sleepy Hollow and the revues Small Wonder and Along Fifth Avenue.
It was during the run of Brigadoon that Gordon began taking acting lessons from the director and teacher Lee Strasberg, the legendary exponent of 'The Method' technique of acting. Gordon was in an early TV 'soap' called Fashion Story, had a radio show called Music in the Air, and did night club work. Then, in 1951, he found himself caught up in the McCarthy campaign to root out 'reds'. He had always been an active supporter of theatrical unions, but Gordon was no communist. Nevertheless, on principle, he refused to sign what was known as 'the loyalty oath'. Suddenly, for the first time, he was out of work. It was J.C. Williamson's offer of the leading role in Kiss Me, Kate in Australia that rescued his career.
Kiss Me, Kate opened at His Majesty's in Melbourne on 2 February 1952 and toured until mid 1953. During the long run he gave members of the company lessons in the techniques he had learnt from Strasberg. After Kate he appeared in JCW revivals of Annie Get Your Gun and Oklahoma! and compered the long-running Ford Show variety series on radio. From November 1955 he played Hajj in Garnet H. Carroll's production of Kismet. He compered the original Late Show on TCN-9, Sydney, and then created an afternoon 'advice' program called Medico.
Gordon gave occasional acting classes for Doris Fitton's Independent Theatre students, but eventually started his own informal school, specialising in 'The Method'. His pupils' first public performance, a highly-acclaimed program of Tennessee Williams one-acters, was staged 'in the round' in the Cammeray Children's Library on 11 May 1958. The company included Reg Livermore, Jon Ewing, Robin Lawlor, Clarissa Kaye and Pat Hill. This was the birth of what was initially known as 'The Ensemble Company'. A few weeks later Hayes moved his company to a room above a cake shop in Berry Street, North Sydney. In September 1958 a deed formally established The Ensemble Theatre Company, a collective of actors with everyone equal – except Gordon: he was 'more equal' in that he was firmly in command. As he explained it: 'On the business level it was a co-operative.
On the artistic plane it was autocratic.' The actors received no pay; box office takings barely covered the rent. Gordon's innovative productions drew full houses, but before long the venue was declared a firetrap, and he was forced to look for a new home. He found it in a derelict warehouse on the shore of picturesque Careening Cove, Kirribilli. After intensive fundraising the property was acquired for £6,500. Hundreds of hours of voluntary labour transformed it into the Ensemble Theatre, designed to seat 162 patrons on all four sides of a rectangular acting area. It opened on 7 January 1960 with a new production of Mel Dinelli's The Man, which had been well-received in its first season at Berry Street. Fifty years later the Ensemble is still in business – Sydney's first theatre-in-the round and its longest established professional theatre company.
The Man was followed by Tennessee Williams' Orpheus Descending and the vintage American melodrama The Drunkard – a singular and very successful departure from the modern American repertoire that Gordon favoured, though eventually new Australian plays also found a place in the Ensemble's repertoire. Gordon directed the vast majority of the company's productions, simultaneously maintaining his commitment to the Ensemble's highly-regarded acting school. As well there were readings of Australian poetry, special presentations for schools and occasional film screenings.
From January 1966 Gordon directed a series of scaled-down versions of classic American musicals in a theatre-restaurant setting at Menzies Hotel, Sydney. Oklahoma! was the first, followed by Kiss Me, Kate, Out of this World, Can-Can, Wonderful Town, Brigadoon and South Pacific. The resident company included Lorrae Desmond, Judi Farr, Nancye Hayes, Peggy Mortimer, Rosina Raisbeck, Colin Croft, Reg Evans, Robert Healey and Denis Quilley.
In 1967 J.C. Williamson's persuaded Gordon to return to the stage as Tevye in Fiddler on the Roof. He told a reporter, 'I don't get kicks out of acting any more. My job is to teach.' Why then, did he take the part? 'I am doing it simply for the money.' And the money went to support the Ensemble. Fiddler opened at Her Majesty's in Sydney on 16 June 1967. Gordon's bravura performance was universally praised. Despite health problems he stayed with the show throughout its nearly three-year run, and resumed his practice of giving acting classes for his fellow performers. Gordon went straight from Fiddler to directing a 200th anniversary re-enactment of the landing of Captain Cook at Botany Bay, an event largely sabotaged by groups of protesters.
Back at the Ensemble, Gordon relinquished some of his administrative control. He reluctantly accepted the introduction of subscription programming and applications for government subsidies. In 1971 for Williamson's and Kenn Brodziak's Aztec Services, he directed the play Who Killed Santa Claus?, a starring vehicle for his old friend and Ensemble pioneer, Maggie Fitzgibbon. In 1972 he married actress Helen Terry, a former student (his previous marriage, to budding American music theatre performer Katrina Van Oss, had ended in divorce many years before). In 1973 he directed Peter Shaffer's The Royal Hunt of the Sun for the Christchurch Arts Festival.
Also that year the Ensemble's teaching activities transferred to a building in Pitt Street, and later to the Independent Theatre in North Sydney. And Gordon made headlines when he declined an invitation to direct the opening ceremony of the Opera House, which he regarded as a $100 million design debacle.
Gordon returned to the professional stage to play Daddy Warbucks in the musical Annie for J.C. Williamson's, Edgley and the Adelaide Festival Centre Trust. The national tour opened at Her Majesty's in Melbourne on 25 October 1978. The year 1979 brought the Order of the British Empire and a tribute on This is Your Life.
By 1983 the Ensemble's old warehouse theatre had outlived its usefulness. The company moved to a former cinema space in the Opera House while a new Ensemble, designed by Allan Williams, was built in Kirribilli. It opened on 18 August 1984 with Neil Simon's The Prisoner of Second Avenue. The new theatre seated 216, but without the 'in-the-round' flexibility that had been so much a part of Gordon's ideal.
Gordon, meanwhile, returned to the stage as Tevye in an Australian Opera revival of Fiddler on the Roof. It opened at the Princess in Melbourne and provided the company with one of most unexpected success. It later played at the Sydney Opera House and the new State Theatre in Melbourne. Gordon's final stage appearance was in Neil Simon's Broadway Bound for Gary Penny Productions at the Opera House Playhouse. His book Acting and Performing was published in 1992. Gordon's last directorial assignment was Simon's Jake's Women at the Ensemble in 1993. He was made an Officer of the Order of Australia in 1997.
Hayes Gordon was 79 when he died on 19 October 1999. He was survived by his wife and daughter, by a theatre and an acting school, and by several generations of theatre people who had been nurtured and inspired by his energy, expertise, dedication and profound selflessness.
Frank Van Straten, 2007
References
Biographical
Lawrence Durrant: Hayes Gordon – The Man and His Dream, Hale and Iremonger, 1997
Reg Livermore: Chapters and Chances, Hardie Grant, 2003
Don Reid: 'Hayes Gordon' and 'Ensemble Theatre Company', in Companion to Theatre in Australia,Currency Press, 1995
Media
Hayes Gordon in Fiddler On The Roof