Hephzibah Menuhin 1920 – 1981
Hephzibah Menuhin 1920 – 1981
Hephzibah Menuhin 1920 – 1981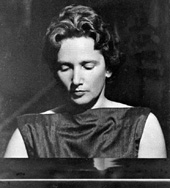 Hephzibah Menuhin was born on 20 May 1920 in San Francisco.
She began her piano studies at the age of four and gave her first recital in San Francisco in 1928 when she was eight.
For eight years she moved between France, Switzerland and Italy, studying with Rudolf Serkin in Basel and Marcel Ciampi in Paris.
Keyboard crusader
In a tribute to his sister, Yehudi Menuhin wrote: 'So blessed by the Gods was she from the very start of her life that they named her "Hephzibah", which means "the one awaited with joy, the bringer of life," for there was already a radiance about her that I can recall on the day my parents and I, the four-year-old brother, welcomed her with delight into the house. And that glow never left me. She was one of those rare and chosen human beings for whom to love meant quite simply to serve. And in her light, to serve was to feel with and for others with such closeness of comprehension that she could share deepest pain, their profoundest fears, with an instinct and an intuition all her own.'
Hephzibah was the second of the three remarkable Menuhin siblings. All were musicians – the eldest, Yehudi, became the greatest violinist of his time, Hephzibah was a celebrated pianist, and the youngest, Yaltah, was also a noted pianist.
Hephzibah Menuhin was born on 20 May 1920 in San Francisco, where her parents moved after the birth of Yehudi in New York in 1916. In spite of the idyllic family life their publicity depicted, the children's upbringing was far from happy. The father, Moshe, was a canny entrepreneur and their mother, Marutha, was manipulative and cold.
The family's constant touring denied the children any semblance of a normal upbringing and, later, it was Marutha who authorised her children's marriages.
The children had little formal schooling. Yehudi recalled that his sister spent only five days at a San Francisco school, where she was classed as educationally backward. Her parents took her home and taught her to read and write fluently in a year. She never went to school again.
Like her brother, Hephzibah showed early musical brilliance. She began her piano studies at the age of four and gave her first recital in San Francisco in 1928 when she was eight.
For eight years she moved between France, Switzerland and Italy, studying with Rudolf Serkin in Basel and Marcel Ciampi in Paris. She and Yehudi played together for family gatherings, and in 1933 they made their first recording – the Mozart Sonata in A, K.526; it won the coveted Candid Prize as best disc of the year. Their public debut came on 13 October 1934, at the Salle Pleyel in Paris. Yehudi claimed that their closeness as children 'matured into music and revealed that we had a Siamese soul.' They performed in New York's Town Hall and Queen's Hall in London, and Hephzibah gave solo recitals in most of the major cities of Europe and America.
In 1935 J. & N. Tait managed the Australian engagements for Yehudi Menuhin's first world tour. He was 19; his parents and sisters travelled with him, though neither Hephzibah nor Yaltah played in public. They did, however 'read French tragedies to one another in the Melbourne Botanic Gardens, and were photographed everywhere with the right people.' In March 1938, backstage after a concert at the Royal Albert Hall, Bernard Heinze introduced Hephzibah and Yehudi to the Australian brother and sister Lindsay and Nola Lindsay, heirs to the Australian 'Aspro' fortune. Before the year was out, Yehudi had married Nola in London, and Hephzibah had married Lindsay, a grazier and keen music lover, at the Menuhin's home in Los Gatos, California.
At first, freed of the family's control, Hephzibah settled happily into life on her husband's remote sheep station, 'Terrinallum', near Darlington in the Western District of Victoria. She was only 18, yet she embraced the robust rural existence, devoting her energies to setting up a travelling library service, working in children's education and raising two sons, Kronrod George and Marston. And she never abandoned her music. She and Yehudi played together many times during his 1940 tour of Australia for J. & N. Tait. She also gave countless solo recitals, supported local activities such as the Griller Quartet and Richard Goldner's Music Viva, and befriended the many displaced European musicians who found their way to a new life in Australia. And she gave Australians their first chance to hear Bartok's Second Piano Concerto and other unfamiliar works. When she was scheduled to participate in Bernard Heinze's 1947 Brahms Festival, 1,000 people were turned away and the jostling crowd prevented both soloist and conductor from entering the Melbourne Town Hall.
Later in 1947, flying overseas with her husband and sons, Hephzibah met Melbourne businessman Paul Morawetz and his family. She played with Yehudi in New York and at the Prague Spring Music Festival in a concert organised by Morawetz. It was Morawetz who took Hephzibah to see the notorious Theresienstadt concentration camp. The effect on her was profound. Always an avid champion of worthy causes, she became increasingly alienated from her privileged life in Australia; she also became romantically linked with Morawetz. Their relationship lasted for several years.
Her music-making continued. In 1951 she and Yehudi played at the opening of the Royal Festival Hall in London, then for J. & N. Tait they made a concert tour of Australia. Hephzibah continued to support all types of causes with concerts and recitals, and she played and broadcast for the ABC. In Sydney she scored an enormous success as soloist in Juan José Castro's piano concerto, with the composer conducting. She also gave her support to the National Music Camp Association. Never afraid to express her sometimes contentious opinions, she grabbed headlines like 'Noted Pianist Calls Television "Gruesome"' – 'US television had had the same bad influence on the American child as radio, films and comics. Children in America have lost the art of entertaining themselves. They sit by the television set watching horrible, blood-curdling serials, and chewing gum. They are lazy, lethargic, and completely lacking in initiative'. Her passionate extra-marital life became even more public when she became involved with Richard Hauser, a Viennese sociologist and social commentator who had moved to Sydney with his family. She left her husband and children, eventually divorcing and marrying Hauser in Sydney in 1955; two years later they moved to London with their daughter, Clara.
In London the Hausers established their Centre for Human Rights and Responsibilities. Their home was always open to vagrants and other down-and-outs. Hephzibah was also active in peace and disarmament causes. In the late 1960s she and her husband set up a home for the deprived in the depressed London dockland area of Bethnal Green. They sheltered unmarried mothers, homeless families, discharged convicts and young delinquents. In 1977 she was made president of the Women's International League for Peace and Freedom, which campaigns for complete disarmament by all nations.
And always there was music. In 1962 she and Yehudi toured Australia under the joint management of J. & N. Tait and the ABC. With Yehudi and his Menuhin Festival Orchestra she toured the United States and Canada in 1967 and Australia, for J.C. Williamson Ltd, in 1970 and 1975. In 1977 she was back to join the judges' panel for the first Sydney International Piano Competition and to play for the Soirees Musicales Society in Melbourne at a concert at which her son Dr Marston Nicholas made his first public appearance as a cellist.
In 1979 Hephzibah Menuhin made her last Australian concert appearances, playing with her brother and the Sydney String Quartet. In The Australian, reviewer Peter Burch observed: 'Yehudi and Hephzibah have been making music together for a lifetime, and they perform with all the ease and distinction that comes with a secure partnership. Yet…there is no suggestion of bland familiarity. One senses that responsibility for sustaining the structure of a piece rests increasingly with Hephzibah's less introspective approach.' She appeared with her brother for the last time at the Royal Festival Hall in London in November 1979.
After a long illness Hephzibah Menuhin Hauser died in London on 1 January 1981. Her stepdaughter, Australian feminist Eva Cox, said: 'It was my father Richard Hauser who made me responsible for the fate of the world, but it was my stepmother, Hephzibah Menuhin, who helped me to care about others. It was she, and my mother, who taught me that women should not be silent and complicit with unfair use of power, neither in the household nor in the wider world. That is one basis of my feminism.' Her brother wrote of her: 'Such was Hephzibah's sensitivity that she did not need many words. She was an extraordinary instrument, almost an extension of myself.' He dedicated his Carnegie Hall concert of 22 February 1981 to her memory. 'History,' said the New York Times reviewer, 'hovered in the air.'
As a musician Hephzibah Menuhin was happiest in Mozart, although she covered a wide repertoire. Her recordings include Schubert's 'Trout' Quintet with members of the Amadeus Quartet, Mozart concertos with her brother conducting, trios with Yehudi and Maurice Gendron – their collaboration lasted 25 years – and sonatas with Yehudi.
The annual $8,000 Hephzibah Menuhin Memorial Scholarship was established in 1980. It is awarded by a National Council to the Australian pianist aged between 18 and 25 years who gives the most outstanding performance at a competition held alternately in Melbourne and Sydney. It is administered alternately by the University of Melbourne Faculty of Music and the NSW State Conservatorium of Music. In 1988, Yehudi Menuhin presented a concert at Monash University's Robert Blackwood Hall to raise funds for the Scholarship.
The year before, Hephzibah's younger sister, pianist Yaltah Menuhin, played at a memorial concert in the foyer of the Arts Centre's Hamer Hall, where the principal soloist's dressing room was named in Hephzibah's honour.
In 1998 Curtis Levyproduced and directed Hephzibah, a poignant and profound documentary portrait of this extraordinary woman. It includes interviews with family members, an extraordinary collection of archival home movie footage, and Hephzibah's letters read by Kerry Armstrong. The soundtrack features her performances, often with Yehudi. Hephzibah has won many awards.
At the time of her death in 2003, Melbourne musician and writer Glen Tomasetti was completing a biography of Hephzibah Menuhin. It remains unpublished.
Frank Van Straten, 2007
Related Links
References
Biographical
Peter Burch: 'Fruits of a lifetime's music making', in The Australian, 30 October 1979
Gloria Frydman: What a Life – A Biography of Paul Morawetz, Wakefield Press, 1995
Moshe Menuhin: The Menuhin Saga, Sidgwick and Jackson, 1984,
Yehudi Menuhin: Unfinished Journey, Futura, 1978
Media
Hephzibah with Yehudi Menuhin Photograph courtesy State Library of Queensland