Isador Goodman AM 1909 – 1982
Isador Goodman AM 1909 – 1982
Isador Goodman AM 1909 – 1982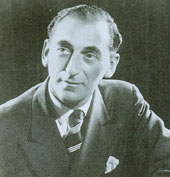 Moses Isidore (the original spelling) Goodman was born into a musical family at Cape Town, South Africa, on 27 May 1909.
When he was 12 his father died and his mother took him to London, where he studied at the Royal College of Music.
The poet of the piano
'Isador Goodman was Australia's poet of the piano,' wrote music authority Michael Harrison. 'His interpretations of Chopin, Liszt and Rachmaninov have earned him a permanent place in the Australian performers' hall of fame. Tragically it was only in the final years of his life that his pianistic skills were fully appreciated by Australian music lovers. His recordings became almost as popular as the Little River Band and Olivia Newton-John. Isador Goodman became a household name, and his interpretation of Rachmaninov's Second Concerto and Liszt's Concerto in E flat revealed a sensitivity and subtlety rarely heard in these works. Goodman had the ability to appeal to different sections of the community. He was equally at home playing the lighter and the classical repertoire. He was a performer who spoke to the people of Australia. His interpretative skills and brilliant performances continue to live in memory, and thanks to his recordings, his art has been preserved for posterity.'
Moses Isidore (the original spelling) Goodman was born into a musical family at Cape Town, South Africa, on 27 May 1909. His father was a violinist and his mother an accomplished pianist; it was she who gave him his first music lessons. When he was six one of his compositions received a public performance; at seven he was a soloist with the Cape Town Symphony Orchestra. When he was 12 his father died and his mother took him to London, where he studied at the Royal College of Music. He quickly built up a formidable concert repertoire and at the age of 14 played the Liszt E flat major Piano Concerto under Dr Malcolm Sargent.
Goodman won the prestigious Chappell and Challen Gold Medals and commenced studying conducting under Constant Lambert. He made his solo concert debut at the Grotrian Hall in Wigmore Street on 15 March 1926. Two years later he created a sensation as a last minute replacement for the pianist booked to play Gershwin's 'Rhapsody in Blue' at the London Coliseum. After that he toured Europe as solo pianist with Alexandre Levitoff's Oumansky Russian Ballet.
In 1929 20-year-old Goodman accepted NSW State Conservatorium's director W. Arundel Orchard's offer of a teaching position. The severe economic downturn and the glut of deserving local musicians meant that Goodman was made to feel uncomfortable and unwelcome. Although his association with the Conservatorium lasted 50 years, it was often far from amicable.
But Goodman's good looks, charm and, above all, enormous talent, soon won over Sydney'smusical and society circles. On 2 April 1930 he made his first live broadcast, over 2FC. In 1931 he toured Australia for J. & N. Tait as associate artist for the visiting Scottish tenor Joseph Hislop. The following year he was soloist in a concert by the new National Broadcasting Symphony Orchestra, broadcast live from the Conservatorium to mark the official start of the ABC.
Times were hard, and Goodman needed to supplement his 'classical' income with other work. Anything but a musical snob, he appreciated jazz and popular music as much as he did the classical repertoire; it also helped him make a living. He refused to be 'pigeon-holed', but it was this 'cross over' that made him, in some influential areas, unacceptable as a serous musician.
In 1933, while he was still teaching at the Conservatorium, Goodman became musical director at Sir Benjamin Fuller's opulent St James cinema; in 1936 he switched to the Prince Edward and in 1938 to the Capitol in Melbourne. Goodman also composed for the cinema. His first two projects were for mediocre, swiftly forgotten films, The Burgomeister (1935) and White Death (1936).
In Melbourne Goodman was made musical director of Pepsodent's 3AW radio show Sunday Night at Eight, which was broadcast live from the Comedy Theatre. When war broke out Goodman staged many fundraising concerts, and accompanied Noel Coward when he appeared in Melbourne in 1940. Goodman returned to Sydney for the gala broadcast to launch 2GB's Macquarie Auditorium on 18 December 1941. A couple of months later, he was serving as a lieutenant in the Australian Army.
Goodman's position in the Army Education Service allowed him to continue with concert engagements, but his strenuous travels in Australia and New Guinea took their toll. In September 1944 he was discharged as medically unfit. He had given 200 performances to over 150,000 servicemen. To them he dedicated his evocative 'New Guinea Fantasy' for piano and orchestra.
When he found his presence was no longer welcome at the NSW Conservatorium, he toured New Zealand under the management of Alexandre Levitoff, and then headed 'home' to Britain. There were BBC broadcasts, recordings, and concert appearances in London, Manchester and Paris. In October 1948 he played at a Royal Command Performance for the King and Queen at St James's Palace. But in spite of the glory, he was virtually penniless. Levitoff suggested a return to Australia.
He toured New Zealand again and undertook a series of concerts for the ABC. Then, in Melbourne, he was soloist in Concerto for You, a series of light classical programs produced by radio 3DB, spotlighting their in-house symphony orchestra. Melodiously Yours followed. In 1952 he formed his own Sydney Concert Orchestra for a series called Music for Pleasure on the ABC. Less congenial was a stint for Harry Wren in variety at the Palladium in Sydney. According to critic Lindsey Browne, 'Wit hovered over the subject of sex as buzzards hover over desert nomads.' Similarly disappointing was what happened to his lush, impressionist score for Charles Chauvel's 1955 film Jedda: Elsa Chauvel scrapped the most innovative passages and replaced them with old-fashioned commercial 'mood' music. Back in Melbourne he tinkled for diners in the elegant environment of Menzies' Hotel.
On the opening night of TCN9 in Sydney, Goodman presented a program called Accent on Strings; he became the channel's musical director and stayed there until late 1960. In 1963 he toured as musical director for Garnet H. Carroll's production of The King and I. In 1965 J. & N. Tait engaged him to tour Australia and New Zealand as accompanist and associate artist for the beloved English entertainer Gracie Fields.
In 1967 Goodman returned to teaching at the NSW Conservatorium. Injuries from a serious car crash in 1969 put him out of action for four years, but he made a triumphant return to the concert platform with an all-Chopin recital in Sydney in 1973. Later that year he played with the Melbourne Symphony Orchestra in the first series of concerts at the Sydney Opera House. In February 1974 he was soloist for the Sydney Opera House concerts conducted by the legendary visiting American conductor Arthur Fiedler. He was back early in 1975, when he played Liszt's Second Hungarian Rhapsody at the Concert for Darwin, staged to raise funds for the city devastated by Cyclone Tracey. He was made a Member of the Order of Australia in 1981.
In his last years Goodman's career took a new turn. He joined Philips' roster of major international classical musicians, recording highly acclaimed albums from 1977 until shortly before his death. There were more concerts, most notably a recital under the management of Clifford Hocking at the new Hamer Hall in Melbourne on 31 July 1982. His recital at the Sydney Town Hall on 26 September 1982 was his last. He died on 2 December.
Frank Van Straten, 2007
References
Biographical
Virginia Goodman: Isador Goodman – A Life in Music, Collins, 1983
Michael Harrison: 'Isador Goodman', notes for Belart CD 432207
Thomas Jude Sammut: 'Isador Goodman', in The Oxford Companion to Music, Oxford University Press, 1997