Jack O'Hagan OBE 1898 – 1987
Jack O'Hagan OBE 1898 – 1987
Jack O'Hagan OBE 1898 – 1987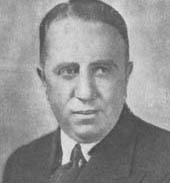 The son of a publican, O'Hagan was born in Melbourne, Victoria, on 29 November 1898.
He certainly started his musical career when he was still in his teens.
O'Hagan achieved early success with songs linked to silent films
'A track winding back'
'There at last is not the slightest doubt about Australia being on the melody map,' said The Australian Musical News in 1923. 'Not so long ago, Allan and Co, as the biggest music publishers in Australia, used to receive about one song a year of the popular order for their consideration. Since Jack O'Hagan made his big hit with "Gundagai" his success has provided such an impetus that the same firm now receives an average of about six popular songs a day. Australia has a lot more potential composers than anyone used to imagine a couple of years ago. They have been lured right out of their odd corners and hiding places. Some of them dwell in the remote bush, and in many cases they show in spite of crudity of musical expression, that they have a distinct turn for tunefulness'.
A 'distinct turn for tunefulness' certainly characterised John Francis 'Jack' O'Hagan. The son of a publican, O'Hagan was born in Melbourne, Victoria, on 29 November 1898. Although he was taught music, he claimed that mostly he played by ear. He also claimed that he joined up at 16 and spent the years of the Great War in the army pay corps – but there appears to be no official record of his service.
He certainly started his musical career when he was still in his teens. His first documented effort was 'That Hesitation Rag', for which he provided the words to Cliff W. Hanson's melody. It was copyrighted in 1916. The following year he had four songs published; three had music by Henri Penn, who introduced him to George Sutherland, managing director of Allan's music house. Sutherland employed him as a 'professional manager' – in effect a song plugger whose job it was to get Allan's songs heard in theatres and dance halls.
O'Hagan achieved early success with songs linked to silent films: 'Anatol' reflected the popularity of Gloria Swanson's The Affairs of Anatol and the Valentino epics The Sheik and The Four Horsemen of the Apocalypse inspired 'In Dreamy Araby' and 'Julio' respectively. Many more movie songs followed, including 'Forgotten' for the 1927 Australian film Environment.
The popularity of O'Hagan's 'Down Caroline Way' (1921) led him to attempt something more local. Though he had already had a flop with a song called 'Blue Mountains', O'Hagan accepted the challenge and penned his most emphatic hit. It was originally to be called 'Along the Road to Bundaberg', but as that city lacked a river whose name had the requisite number of syllables, the honour went to the Victorian town of Gundagai: 'where the blue gums are growing, and the Murrumbidgee's flowing…'
'Along the Road to Gundagai' was featured in J. & N. Tait's pantomime Aladdin at the King's Theatre, Melbourne, in December 1922. Because there were no local recording facilities, the first 'Gundagai' recording was made in Britain. Peter Dawson recorded it in 1931 and in 1937 it was chosen as the theme for the long running Dad and Dave radio serial. O'Hagan wrote more songs in the same vein – 'Where the Dog Sits on the Tuckerbox' (1938), 'The Snake Gully Swagger' (1939), 'Snake Gully Home of Mine' (1940) and 'When a Boy from Alabama Meets a Girl from Gundagai' (1942) – but it was only 'Gundagai' that retained its popularity. It was recorded by Barry Humphries in duet with Dick Bentley in 1972, Daryl Somers and Stephane Grappelli in 1975, Slim Dusty in 1978 and Ian McNamara in 1990. It was also featured prominently on the soundtrack of the 1978 film Newsfront.
'After the Dawn' (1926) was a big hit. Three years later came 'Rose of Flanders', a song eulogising Nurse Edith Cavell that O'Hagan wrote to tie in with the Sybil Thorndike film Dawn, and 'Mexican Serenade', based on the waltz from Delibes' Coppélia. It was recorded by both Gladys Moncrieff and Richard Tauber. O'Hagan wrote it under the pseudonym 'Pamela Terese', the given names of one of his daughters. Throughout his career, O'Hagan adopted a number of pseudonyms, including 'Ferguson Noakes', 'John Francis Quinlan' and 'Dean Flintoft'.
Many of O'Hagan's most endearing songs had home grown themes. The bush featured in 'Down by the Murray', 'That Old Bush Shanty of Mine, 'I'm Off to Woop-Woop', 'I'm Gonna Hump My Bluey', 'Yackandandah' and 'There's a Part of My Heart in Wonthaggi'. There were 'hero' songs like 'Kingsford Smith, Aussie Is Proud of You', 'Our Don Bradman' and 'The Lone Girl Flyer', dedicated to Amy Johnson; later came 'Ginger Meggs' and 'Our Marjorie', celebrating the achievements of Olympic sprinter Marjorie Jackson. There were 'special occasion' songs like 'Colonel Campbell and Mr Lang', satirising the unconventional opening of the Sydney Harbour Bridge, 'Carry On' to raise spirits in the Depression, 'Let's Take a Trip to Melbourne', to promote that city's centenary, and, later, 'Moomba', for its annual community festival. His war songs included 'Red Cross Nurse', 'England Can Take It', the mocking 'Oh, How We Love You, Mister Hitler', and the wistful 'Little Ships Will Sail Again'.
O'Hagan was a pioneer broadcaster, singing his own songs on 3AR as early as August 1924. He was regularly heard on 3LO, in which Allan's had an interest, and later on 3AW, an Allan's–J.C. Williamson's joint venture. He was anchorman for 3AW's early 'live' test cricket broadcasts – actually studio recreations. Later, for 3DB, he wrote, directed and performed in shows like Songs and Songwriters and Them Was the Days.
For a while he ran his own 'Jack O'Hagan Music Company', publishing his own compositions as well as material licensed from overseas. He made countless recordings – again his own compositions and 'cover versions' of contemporary hits. And typically he flirted with the new fangled 'talkies': in 1931 he provided songs for Australia's first musical film, Showgirl's Luck (1931) and sang a bracket of his own songs in a musical 'short' in Francis W. Thring's Efftee Entertainers series.
An almost forgotten part of O'Hagan's output was his work for the theatre. There were occasional songs for pantomimes but, more importantly, he provided the scores for a number of revues and musical comedies. In 1928 he wrote songs for the farce Let's Get Married. The following year, for J.C. Williamson's, he provided new songs for the British musical farce Turned Up. He provided the scores for Ernest C. Rolls' 1934 revues Honi Soit and Tout Paris, Rhapsodies of 1935, Vogues of 1935 and Folies d'Amour (1939). Rolls also presented O'Hagan's ambitious musical comedy Flame of Desire (1935). Other musicals such as Passion Flower, Night Night Mitzi and The Romany Road were never produced.
After the war, O'Hagan's simple, catchy melodies seemed outmoded. In 1947 his rallying anthem 'Young Man, Wither Goest You?' was ignored. O'Hagan joined the advertising agency O'Brien Publicity, where for 14 years he churned out dozens of catchy advertising jingles until his retirement in 1965. But there was to be one 'last hurrah': the inspiring 'God Bless Australia' in 1967. It was 'Waltzing Matilda' but with his own new patriotic lyrics. It was recorded and for a while there seemed to be a possibility it might become Australia's new national anthem, but, like O'Hagan himself, it slipped quietly from public view.
Jack O'Hagan was made a Member of the Order of the British Empire in 1973. He returned briefly to the spotlight in 1984, when his unique career was celebrated in the exhibition A Track Winding Back at Melbourne's Performing Arts Museum. He died on 15 July 1987, aged 88. He claimed to have written about 600 songs, of which around 160 were published, but, inevitably, it was to the strains of 'Along the Road to Gundagai' that his casket was borne from the funeral service.
The portrait of O'Hagan by Stanley Ballard, which received an honourable mention in the 1958 Archibald Prize, has been donated by O'Hagan's family to the Gundagai Historical Museum, where it holds pride of place in a permanent O'Hagan display.
Six years after O'Hagan's death, a Melbourne amateur group staged Jack: A Musical Tribute to Jack O'Hagan and, in 1997, Melvyn Morrow and David Mitchell used O'Hagan's vast output to create an affectionate tribute called Here Comes Showtime. Directed by Nancye Hayes, 'Australia's Biggest Little Musical' premiered at Sydney's Marian Street Theatre in 1997. In The Sydney Morning Herald James Waite called it, 'A class act… a high cholesterol slice of popular Australian entertainment.' Frequently revived under its new title, Jack O'Hagan's Humdingers, it celebrates the achievements of the man who proved that Australians could create and enjoy their own popular music.
Frank Van Straten, 2007
Related Links
References
Biographical
Peter Game: The Music Sellers, Hawthorn Press, 1976
Keith Watson: The Jack O'Hagan Story, privately published, 2005