James Edward Neild 1824 – 1906
James Edward Neild 1824 – 1906
James Edward Neild 1824 – 1906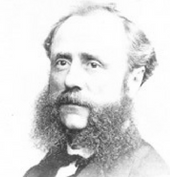 Neild was born in Doncaster, Yorkshire, on 6 July 1824.
In 1853, aged 29, Neild surrendered to the lure of the gold rush, working his passage to Australia as a doctor on board Star of the East.
Dissector of the Theatre – and bodies as well
'Dr J.E. Neild has been a central figure in Melbourne society for the last fifty years,' said his obituary in The Argus, the paper for which he had written hundreds of dramatic and musical reviews. 'In private life he was one of the most lovable of men. Courteous and obliging on all occasions, he invariably reminded those who came in contact with him of the typical "good old English gentleman, one of the olden time." In personal appearance he was short of stature, with a lithe and very active figure, and eyes whose brightness indicated the keen, sharp nature of the man.' The Bulletin described him as a man who for about 40 years had spent thousands of the best nights of his life in the 'bad' atmosphere of a theatre – which proved that 'the atmosphere for all is foulness, can't be nearly so deadly as it appears in scientific discussion of the subject.'
For three decades, under a variety of colourful pseudonyms, James Edward Neild documented colonial theatre in hundreds of informed, detailed reviews in the Melbourne press – yet this was not his 'real job'. He was also a respected medical practitioner and forensic pathologist.
Neild was born in Doncaster, Yorkshire, on 6 July 1824. His enthusiasm and love for the arts developed early, but his mother insisted that he pursue a more stable career. He served an apprenticeship with his uncle, a Sheffield doctor, studied surgery, and worked as house surgeon at the dispensary at Rochdale, near Manchester. In his spare time he contributed drama reviews and verse to local papers.
In 1853, aged 29, Neild surrendered to the lure of the gold rush, working his passage to Australia as a doctor on board Star of the East. He walked to the diggings at Castlemaine, where he contrived to combine fossicking with a makeshift medical practice. In 1855 he and David Long established 'Long and Neild' to take over a busy Melbourne pharmacy that had been established by Long's father. Situated on the corner of Bourke and Exhibition Streets, the pharmacy was in the heart of the city's entertainment district. In more recent years, with an extra storey added, the building housed Thomas' record shop; it continues to provide entertainment as the Elephant and Wheelbarrow Hotel. Again, Neild discharged his pharmaceutical duties while writing drama and music criticism. Usually signing himself 'Christopher Sly' he contributed to the dailies The Age and The Argus, and the weeklies The Examiner and My Note Book, which for a while he also edited. Somehow Neil managed to juggle his dual careers for the rest of his life.
In 1857 Neild married David Long's daughter, Susannah. Four years later he established a medical practice and in 1864 the University of Melbourne granted him a medical degree. He lectured there in forensic medicine from 1865 until 1904. He was elected to the Medical Society of Victoria, served as its president in 1868, and edited the society's Australian Medical Journal from 1862 until 1879. His journal articles were credited to 'Sinapis'. He was one of the founders of the Medical Benevolent Association, was influential in establishing the Victorian branches of the British Medical Association and the St John Ambulance Association and was the first president of the Victorian Eye and Ear Hospital.
All through this busy period, from 1865 until 1890, Neild wrote theatre and music criticism for The Australasian, using the pen-names 'Jaques' and, later, 'Tahite'. He approved of 'naturalism' in performance, where the role is more important than the person playing it. Thus he applauded Janet Achurch, G.V. Brooke, Walter Montgomery, Adelaide Ristori, G.H. Rogers and Nellie Stewart, and disdained the histrionics of Mrs Scott-Siddons, Barry Sullivan and almost all opera singers. In 1860 members of the Bianchi opera company, whose efforts Neild had described as 'absurd and objectionable', denounced him in posters and he was taunted from the stage of Coppin's Olympic Theatre by a visiting illusionist, John Henry Anderson, 'The Wizard of the North'.
Nevertheless, despite his frequent 'frankness', Neild was generally well respected by the theatrical profession. Many prominent players became personal friends, happy to relax at convivial get-togethers at his home at 21 Spring Street. In return, Neild often tried to explain to his readers the reality of their stage favourites, on- and off-stage: 'A little corner of the curtain is sometimes raised, but the folds are never so completely pulled back as to show completely the real domestic dramas of actors' and actresses' lives through all their consecutive acts.'
Nellie Stewart warmly recalled Neild's assistance and advice and his 'genuine criticism, which was not to be bought.' She credited his help in correcting 'the restlessness and mannerisms that I showed in the beginning of my career, caused, I fancy, by too much vitality.' Neild claimed to have been the first to recognise the vocal potential of young Mrs Charles Armstrong, advising her to abandon piano tuition in favour of the course that culminated in her emergence as Nellie Melba. In her autobiography, Melba proudly quotes Neild's glowing review of her first public performance.
More than any of his contemporary critics, Neild encouraged the presentation of locally writtendrama, though he was quick to lambast what he considered to be unsatisfactory. In 1870, for instance, he described scenic artist John Hennings' attempt to depict a bush homestead as 'something between an English barn, an Australian cow-shed, and the fancy abode of Robinson Crusoe.' He was also quick to alert an unsuspecting public to managements' propensity to pass off second-rate imported artists as international celebrities.
Apart from his voluminous reviews, Neild, as 'Cleofas', wrote numerous articles for the Melbourne Herald, Melbourne Punch, The Weekly Review and Bell's Life in Victoria. He also wrote as 'The Grumbler' for The Victorian. He published a lecture, On Literature and Fine Arts in Victoria, in 1889 and, again as 'Cleofas', a theatrical novel, A Bird in a Golden Cage, in 1867. In 1866 he provided the lyrics for the March and Chorus that Cesare Cutolo composed for the opening of the Melbourne Intercolonial Exhibition. It was sufficiently popular to be published by Charles Troedel. Two of Neild's short comic plays were produced on the Melbourne stage.
In 1868 Neild was prominent among a clique of Melbourne bohemians who founded the Yorick Club, operating initially from rooms in the Theatre Royal in Bourke Street. There he rubbed shoulders with Adam Lindsay Gordon, Henry Kendall, Marcus Clarke and Hugh McCrae. A lover of Shakespeare, he delighted in peppering his medical lectures with Shakespearean quotations and read a speech or two every day of his life. In 1884 he was one of the founders of the Melbourne Shakespeare Society (Neild's preferred spelling was used initially). The Society encouraged public readings and the serious study of Shakespeare and for a while was acknowledged as the largest Shakespeare society in the world. It's smaller now, but continues to flourish – it is one of Australia's oldest literary societies.
For many years Neild was an honorary medical consultant for the theatrical fraternity. In spite of the respect he enjoyed in the theatrical and medical communities, his private life was far from sedate. He was prone to amorous adventures, particularly with attractive actresses, and he was frequently less than discreet. Sometimes his reviews would highlight an actress's 'exquisitely moulded bust' or 'well-proportioned, finely rounded figure'. In 1878 he found himself portrayed as the repulsive Dr De la Morte in Checkmated, a sensational romantic novel by Cecilia Padmore Hill, with whom he had been romantically entangled.
Nevertheless, on 19 July 1890 his friend George Coppin organised a Grand Complimentary Concert in his honour at the Melbourne Town Hall, followed a week later by a Special Dramatic Matinee at the Princess. The starry list of participants included the Brough–Boucicault Company, the Bland Holt Company, the William Rignold Company, Alfred Dampier, Mrs G.B.W. Lewis, Kyrle Bellew and Mrs Brown-Potter. In August 1904 his colleagues gathered at the Vienna Café to celebrate his 80th birthday.
One of the last things that Neild wrote combined his profuse knowledge of pathology and Shakespeare – a humorous description of an inquest on the body of Ophelia for the Melbourne Shakespeare Society. Sadly he was too ill to deliver it in person. John Edward Neild died at his home on 17 August 1906. The family grave in Melbourne General Cemetery is unmarked.
A family friend, Fairlie Taylor, prepared a biography of Neild in 1969; the manuscript is preserved in the Medical History Museum at the University of Melbourne. Dr Harold Love's definitive biography, James Edward Neild, Victorian Virtuoso, was published in 1989. He is commemorated in James Edward Neild House, formerly the property of the Australian Medical Association at 426 Albert Street, East Melbourne. The building is now part of the campus of the Royal Victorian Eye and Ear Hospital and the Royal Australian and New Zealand College of Ophthalmologists.
Frank Van Straten, 2007
Related Links
References
Biographical
Joseph Johnson: Laughter and the Love of Friends, Melbourne Savage Club, 1994
Bryan Gandevia: 'James Edward Neild', in Australian Dictionary of Biography, volume 5
Harold Love: 'James Edward Neild', in Companion to Theatre in Australia, Currency Press, 1995
Harold Love: James Edward Neild, Victorian Virtuoso, Melbourne University Press, 1989
Nellie Stewart: My Life's Story, John Sands Ltd, 1923