Jim Gerald 1891 – 1971
Jim Gerald 1891 – 1971
Jim Gerald 1891 – 1971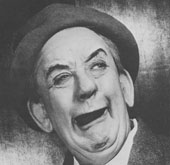 Gerald was born in the Sydney suburb of Darlinghurst on 2 January 1891.
In 1907 Gerald blacked up for the role of the tracker Warrigal in Charles MacMahon's film Robbery Under Arms, with his brother Lance as the police inspector.
While appearing in Adelaide he met soubrette Essie Jennings.
They married in New Zealand in 1913 and worked up a double act, 'The Actress and the Paper Hanger'.
Funny business
'There was no more fastidious performer than the great Jim Gerald,' reminisced variety veteranNancye Bridges. 'He's still remembered as Australia's greatest pantomime Dame and a droll baggy-pants comedian, but he was particular about the way his shows looked; he always demanded the best that money could buy in lighting technicians, soubrette, straight man and choreographer. Gerald did not write his own scripts like George Wallace and Mo, but he had an uncanny taste for a line, picking the laughs and knowing how and when to deliver them.'
James FitzGerald was born into show business. His father, Stephen Australia FitzGerald, was as at home in Shakespeare as he was in melodrama, and his uncles, Dan and Tom, ran the great FitzGerald Brothers Circus. Gerald's three elder brothers also had careers in the theatre, as Lance Vane, Clifford Stevens and Max Clifton.
Gerald was born in the Sydney suburb of Darlinghurst on 2 January 1891. He spent much of his boyhood in the sand hills behind Centennial Park, watching and learning from the acrobats and jugglers who trained there. He gained an apprenticeship with Oscar Pagel, a strongman who had a team touring with FitzGeralds' Circus. With Pagel he visited Africa, Asia and North America. Back in Australia he perfected his own stunt motor cycle act and, billed as Diabolo, he toured with Barton's Circus.
In 1907 Gerald blacked up for the role of the tracker Warrigal in Charles MacMahon's film Robbery Under Arms, with his brother Lance as the police inspector. In 1910 Gerald, Lance and Max had roles in The Life and Adventures of John Vane, the Notorious Australian Bushranger, a long-lost film produced by their father. The boys also took to the road in a company managed by and starring FitzGerald senior. Gerald developed an energetic speciality act embodying eccentric dancing, comedy acrobatics and startling pratfalls.
While appearing in Adelaide he met soubrette Essie Jennings. Born Esther Futcher in Ballarat in 1887, she'd been a featured Tivoli performer since 1903. They married in New Zealand in 1913 and worked up a double act, 'The Actress and the Paper Hanger', which proved immensely popular on the Fuller Circuit. Gerald saw war service as a driver and entertainer in Egypt and Mesopotamia; his brother, handsome young actor Max Clifton, lost his life at Pozières.
After the war Jim and Essie returned to Fullers' where Jim used his battlefield experiences as 'Private Jitters' in a sketch called 'The New Recruit'. Inevitably they were recruited for Fullers' annual pantomimes. In 1921, for instance, Essie was the Fairy Queen in Frank Neil's Bluebeard pantomime at the Princess in Melbourne, with Jim as the Dame. His silver-haired Dame character, which he based on his mother, became a Christmas staple for generations. In the late 1920s Jim tried his luck in the United States. He claimed to have made around 30 silent comedy shorts, but his accent was unacceptable for the new fangled 'talkies'.
Gerald made his Tivoli debut in Melbourne in April 1930. With fellow comic Reg Hawthorne he introduced a localised version of the song 'Mr Gallagher and Mr Shean', coming up with new topical verses every week. Also at the Tivoli he made his musical comedy debut as Mumps, the boisterous waiter in an indifferent musical comedy called The Honeymoon Girl. 'Mr Gerald can laugh at his own jokes without becoming irritating,' said The Argus, 'and his dancing varies from graceful to hurricane knockabout.' For Fullers' he starred in For the Duration, a war farce. Its final performance, at the Melbourne Bijou on 19 July 1930, marked the end, for the time being, of Fullers' live presentations. Like almost all other managements they surrendered to the 'talkies' and the Depression.
Gerald survived the bad times better than most. In August 1930 he starred for Williamson's at the King's Theatre in Melbourne in an American comedy, Little Accident, and then worked in revue for Connors and Paul, the Tivoli and for Bert Lennon in Adelaide. In 1934 he and the great English male impersonator Hetty King starred for Frank Neil and J.C. Williamson's in Mother Goose at the King's in Melbourne. Gerald's status is confirmed by their respective weekly salaries: he got £105, King £60; most of the other principals received £8.
Reflecting his circus background, Gerald was the quintessential clown: he had a rubbery face that he could contort into endless quaint convolutions, and the loose-limbed body of an acrobat. He had funny walks, funny tumbles, funny dances, funny stances.
'I used to do an acrobatic dance in every show, twice a day' he said, 'including my head spins. The head spin was a trick I learnt in my circus days, spinning on my head. Really hard work, it was. Then on each side of the proscenium I had blocks put in so I could run at the wall and do a somersault off it. And I used to somersault off the stage, over the orchestra and into the front stalls – and back again, thanks to a little hickory trampoline hidden in the pit.' Unlike the sometimes aggressive Australianness of George Wallace and Roy Rene, Gerald was 'international' in his style, and he and Essie travelled overseas several times in search of material. He loved motoring and owned a succession of expensive cars. Gerald's devoted fans called themselves the Geraldines, and his name was so familiar that 'Jim Gerald' became rhyming slang for the Herald newspaper.
In 1935 Gerald starred in the Tivoli revue London Calling – named to mark his imminent departure overseas. After touring the British provinces in a show called Shout for Joy, he opened on 30 October at the Garrick Theatre in the West End in Don't Spare the Horses, a revue written by the Australian Kenneth Duffield. It garnered generally sympathetic reviews ('It has a certain not altogether unattractive air of improvisation') but closed after only five performances. He was back at the Tivoli the following year and played the Dame in Cinderella at Christmas. In 1939 the ABC engaged him for Jim and Jitters, in which he reprised his 'New Recruit' characterisation, backed by Jim Davidson's dance band. Gerald recycled the character for the series Private Jitters, which was broadcast on commercial radio the following year.
At the Melbourne Tivoli at Christmas 1940 Gerald played the Dame in Mother Goose during the dayand headlined in the revue We're in the Army Now at night. It was another prophetic title. General Blamey, Prime Minister Menzies and army minister Percy Spender decided that the 100,000 diggers in the Middle East needed some Tivoli-style entertainment, and that Jim Gerald should organise it. On 10 April 1941 he enlisted as a private in the AIF. He was promoted to the rank of Honorary Lieutenant Colonel the following day.
At his base at Victoria Barracks in Sydney, Gerald assembled the best available talent, including Jim Davidson, who became his musical director. With a repertoire of 20 shows, the unit sailed in the Queen Elizabeth. Their first presentation, All in Fun, opened at the Majestic Theatre at Beit Jirja, near Gaza, on 16 December 1941. The Eastern Times judged it 'The best show in the Middle East'. Gerald went on to establish a network of other travelling concert parties. He returned to Australia in October 1942, leaving Jim Davidson in charge. Soon he was back, regularly topping the bill at the Tivoli.
Gerald transferred to the Harry Wren management, starring in Red Riding Hood in 1949 and with Bob Dyer in the revue Can You Take It? Then Wren cast him as the roué in Ladies' Night in a Turkish Bath, an American farce notable mainly for its nubile, scantily clad girls, and sent him to the United States to see the show. It had proved an enormous success for the comedian Skeets Gallagher and in San Francisco Gerald took over during the star's illness. He went on to play the role in Australia in 1951 and in a 1958 revival.
In 1952, at the Melbourne Tivoli, Gerald played a cockney bookmaker's tout in Ted Willis's No Trees in the Street, an early and unconvincing example of what became known as 'kitchen sink' drama. Also for Wren, Gerald starred with George Wallace and Gladys Moncrieff in a nostalgic revue called Gay Fiesta which played in Adelaide and toured New Zealand. At the end of the year Gerald was back on familiar territory – in the Tivoli's Cinderella, with Tommy Trinder as Buttons. 'He was the greatest Dame of them all,' said Trinder. 'I always called him "The Silver Fox".'
Gerald had an interest in a uranium mine in the Northern Territory; he lived there for a while until Harry Wren put him back in the spotlight for more nostalgia with Thanks for the Memory (1953), The Good Old Days (1956) and Many Happy Returns (1959). After that, Gerald and his wife retired to a cosy bungalow at Rosebud on the Mornington Peninsula. He was in the audience when the Melbourne Tivoli closed on 2 April 1966, but Essie was too ill to attend. After she died in 1969 Jim retreated to the anonymity of a nearby hostel. The last of the 'big three' of Australia's 20th century comics – Gerald, George Wallace and Roy Rene – died on 2 March 1971.
Graham Kennedy told a Sun reporter: 'During the Depression, my father used to wash Jim's car for him. But I never really came to know him until I visited him and his wife at their home down the coast. He was a "business" comedian, and I came to admire both him and his work. Some of us were going to see him at the hostel, but we understood he did not want visitors, and we never got around to it.'
Frank Van Straten, 2007
Related Links
References
Biographical
Nancye Bridges: Curtain Call, Cassell Australia, 1980
Jim Davidson: A Showman's Story, Rigby, 1983
Victoria Chance: 'Jim Gerald', in Companion to Theatre in Australia, Currency Press, 1995
Martha Rutledge: 'James Gerald', in Australian Dictionary of Biography, volume 14, Melbourne University Press
Frank Van Straten: Recorded interview with Jim Gerald and Essie Jennings, 1968
Frank Van Straten: Tivoli, Lothian Books, 2003
F rank Van Straten: Tivoli Follies, unpublished manuscript, 1999
Media
Jim Gerald and dancing troupe