Joan Hammond 1912 – 1996
Joan Hammond 1912 – 1996
Joan Hammond 1912 – 1996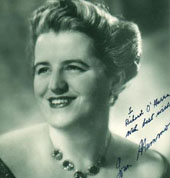 Joan Hood Hammond was born on 24 May 1912 in Christchurch, New Zealand.
She began formal music studies in 1928 at the New South Wales State Conservatorium.
She made her professional debut at 19, singing the vocalise in Vaughan Williams' Pastoral Symphony.
After a final concert in Sydney, she sailed for Italy on a Norwegian freighter. In 1936 she began three years' study of opera and languages in Vienna, Florence and London.
Opera for the people
'Joan Hammond was a superb artist and the most generous person imaginable,' wrote British music critic Alan Blyth. 'In her prime she still had to fight a prejudice against English-speaking singers, especially those who appealed to a public outside the operatic elite. She ought to have had an international career commensurate with her extraordinary talent, which comprised a voice of great natural beauty and a temperament that enabled her to put across her music to a large audience. Indeed, long before the Three Tenors were thought of, she had carried the banner of opera to the people. Her technique was well nigh impeccable. She could fine down her large but always flexible voice to a thread of legato and expand it to heroic heights. Her many records are a lasting reminder of her rich, warm tone, excellent technique and, above all, her ability to communicate with an audience, even an unseen one.'
An operatic soprano who was also a first-class swimmer; a champion golfer who was also a keen yachtswoman; a sports writer who played the violin – will the real Joan Hammond please stand up!
The real Joan Hood Hammond was born on 24 May 1912 in Christchurch, New Zealand. She was only six months old when her parents moved to Sydney, where she began formal music studies in 1928 at the New South Wales State Conservatorium. She took violin as her first subject and voice as her second, financing her studies by filing sports reports for the Daily Telegraph. When she wasn't practising music she was practising golf; at the age of 17 won the Junior State Championship.
For three years she played second violin in the Sydney Symphony but sang wherever and whenever she could – in cinemas, department stores and music clubs. She made her professional debut at 19, singing the vocalise in Vaughan Williams' Pastoral Symphony.
In 1932, J.C. Williamson's recruited local singers for minor roles and chorus work with their Italian Imperial Grand Opera Company; Hammond made her operatic debut as Giovanna in Rigoletto and also appeared as Siebel in Faust. In 1934, when Sir Benjamin Fuller's Royal Grand Opera Company played in Sydney, Hammond stepped in at short notice to replace the singer scheduled to sing Venus in Tannhäuser. She also sang Helmwige in Die Walküre.
At the instigation of the wife of the Governor of NSW, Australia's women golfers raised enough funds to send Hammond to Europe. After a final concert in Sydney, she sailed for Italy on a Norwegian freighter. In 1936 she began three years' study of opera and languages in Vienna, Florence and London. One of her teachers was Dino Borgioli, who had been the leading tenor in Melba's 1924 Australian opera season. In November 1938 she made her London recital debut at the Aeolian Hall, followed by a Messiah at the Queen's Hall under Sir Thomas Beecham. She starred in La Bohème and La Traviata at the Vienna Staatsoper in early 1939, and opened the London Proms series with Sir Henry Wood conducting.
When war broke out, Hammond was still in London; it remained her home for the next 25 years. She joined the Women's Voluntary Service, driving an ambulance around the city's blitzed East End. The war thwarted plans for her to sing at La Scala, and for two years her singing was confined to the concert platform, broadcasts, troop concerts and the recording studio. In September 1941 she recorded 'O My Beloved Father' from Puccini's Gianni Schicchi. It immediately found a place in the hearts of the thousands whose family lives had been thrown into turmoil by the war. It went on to sell more than a million copies and won Hammond a coveted Golden Disc. It has never gone out of print. The Carl Rosa Company resumed its activities in 1942, and recruited Hammond for Madama Butterfly, La Traviata, Faust, Il Trovatore, La Bohème and Tosca.
After the war Hammond toured Germany with the Sadler's Wells company as Butterfly, then in 1946 returned to Australia for a four-month ABC concert tour. In 1947 she went back to Vienna to sing Tosca, Violetta and Mimi. Later in the year she toured South Africa. She made her Covent Garden debut in 1948 as Leonora in Il Trovatore and sang there until 1951 in Fidelio, Tosca, Aida and Butterfly.
In 1949 Hammond toured the United States, appearing at the New York City Centre as Butterfly, Aida and Tosca. She sang in Scandinavia, East and Central Africa, the Soviet Union, India, the Far East and Canada. In 1952 she was contracted for a British film on the life of Melba, but this was cancelled when another similar project took precedence. She returned to Australia in 1952 for a gruelling 40-concert ABC tour, this time with conductor-pianist Walter Susskind. She lent her support to the newly formed Elizabethan Trust Opera Company, singing in Tosca and Otello in 1957 and Salome and Madama Butterfly in 1960.
The Slav repertory suited her tone and her complete identification with a role. In 1959, capitalising on the success of her recording of the aria 'O Silver Moon', Hammond was in the first British staging of Dvorak's Rusalka at Sadler's Wells. She also sang in many operas for BBC radio and television. Her voice was particularly suited to Puccini and Verdi; she sang the Verdi Requiem countless times under conductors such as Victor de Sabata and John Barbirolli, and always to critical acclaim.
In 1965, at the height of her career, Hammond suffered a coronary attack which precluded further singing engagements. She returned to Australia, building a retirement home in the bush at Airey's Inlet in Victoria. In 1970 she published her autobiography, A Voice, a Life. She was appointed a Dame of the British Empire in 1974.
Her 'retirement' was only temporary. She gave masterclasses in Australia and Britain, several of which were televised. She became patron of the Melbourne-based Victorian Opera Company, which was then operating on a semi-professional basis. Her commitment, energy and experience helped the organisation to evolve into the Victoria State Opera. She was its artistic director from 1971 until 1976 and remained on the board until 1985.
She joined the Victorian Council of the Arts, which advised the state government's Minister for the Arts. She was also a member of the Australia Council for the Arts' first opera advisory panel, and an Honorary Life Member of the Australian Opera, serving on its National Advisory Council.
From 1975 Hammond headed the Victorian College of the Arts' Vocal Studies department. She continued as Vocal Consultant from 1990 to 1993 and taught at the University of Melbourne's Faculty of Music. She also gave private lessons. In 1986 the VSO initiated the annual Dame Joan Hammond Award in her honour. Its recipients include Richard Divall, Joan Carden, Donald McDonald, Ken Mackenzie-Forbes, Elijah Moshinsky, Moffatt Oxenbould, Marilyn Richardson and John Shaw. In 1990, when the award was presented to Dame Joan Sutherland, Nick Enright wrote and delivered a commemorative poem, A Ballad for Two Dames. The manuscript, signed by Hammond, Sutherland and Richard Bonynge, is preserved in the National Library of Canberra.
In 1983 Hammond narrowly escaped death when the Ash Wednesday fires destroyed her Airey's Inlet house with its lifetime's collection of treasured memorabilia, including the manuscript of a further book of reminiscences. In 1992 she completed a book on the art of singing, but it remains unpublished. Hammond's long, productive relationship with the VSO ended in 1993, after she made some critical, if constructive, comments in a television interview. To her considerable distress, she was isolated from its future activities. She was living quietly in Bowral, New South Wales when she died on 26 November 1996.
Joan Hammond's personal papers are preserved in the National Library in Canberra. Her sheet music collection is at the University of Melbourne Conservatorium and the Arts Centre's Performing Arts Collection holds her awards, as well as many programs, photographs and clippings and the replacement 'O My Beloved Father' Gold Record.
Joan Hammond's remarkable, unmistakable voice, bright in colour, vibrant and full-toned, is enshrined on around 150 78 rpm sides and a further seven LP albums. Many have been remastered and reissued on CD, a timeless tribute to a highly disciplined but warm and generous artist who effortlessly transcended the barriers normally raised between popular and classical music, and between art and sport.
Frank Van Straten, 2007
Related Links
References
Biographical
Joan Hammond: A Voice, a Life, Gollanz, 1970
A Tribute to Dame Joan Hammond, Booklet published for the tribute to her memory, Melbourne Concert Hall, 17 December 1996