Joan Sutherland OM AC DBE 1926 – 2010
Joan Sutherland OM AC DBE 1926 – 2010
Joan Sutherland OM AC DBE 1926 – 2010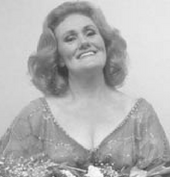 Joan Alston Sutherland was born in Sydney on 7 November 1926.
When she was 18, she began to study singing seriously with Aida Summers, though she was earning her living in a mundane secretarial job.
In London, Sutherland studied at the Opera School of the Royal College of Music. She made her debut there on 12 May 1952 in an act from Geoffrey Shaw's All at Sea.
La Stupenda
On 14 October 1958 the Australian contralto Lauris Elms sang with Joan Sutherland in the Leeds Centenary Festival production of Handel's opera Samson, in the presence of the Queen and Prince Philip. She recalled: 'On that first night, my astonished ears heard Joan Sutherland sing "Let the Bright Seraphim" as only an angel could have sung it. The audience rose to its feet and gave her the ovation of the night, in spite of Jon Vickers, Joseph Rouleau (not to mention myself) having delivered fine sounds and sung all night long. There was no doubt in my mind that this was the most ravishing singing I had ever heard!'
Joan Alston Sutherland was born in Sydney on 7 November 1926. Her mother, a former mezzo soprano, taught her the rudiments of singing and encouraged her to listen to recordings. She attended St Catherine's School in Waverley. When she was 18, she began to study singing seriously with Aida Summers, though she was earning her living in a mundane secretarial job. On 12 December 1946 she made her debut – singing in the chorus for a performance of Bach's Christmas Oratorio in the Sydney Town Hall. In 1949 she won one of Australia's most important competitions, The Sun Aria. She won another major singing competition, the Mobil Quest, the following year. She was determined to go to England for further study. In April 1951 Mobil sponsored her farewell recital in the Sydney Town Hall, but before she left she was persuaded by Eugene Goossens to sing the title role in his opera Judith at the Sydney Conservatorium. The opening night, 9 June 1951, marked her first appearance in staged opera.
In London, Sutherland studied at the Opera School of the Royal College of Music. She made her debut there on 12 May 1952 in an act from Geoffrey Shaw's All at Sea. Two months later she was in the College's production of Puccini's Il Tabarro. From then on her progress was swift and steady. She made her Covent Garden debut as the First Lady in The Magic Flute in October 1952; that season she also sang the High Priestess in Aida, Clotilde in Norma (with Maria Callas in the title role) and Amelia in A Masked Ball – her first starring role. She made her recital debut at Wigmore Hall on 7 November 1952, with Gerald Moore at the piano.
In 1953 she sang in the world premiere of Benjamin Britten's Gloriana. In 1954 she married Sydney-born conductor and pianist, Richard Bonynge. He convinced her to abandon her aspirations to become a Wagnerian dramatic soprano and to concentrate instead on the bel canto repertoire, since she excelled in the high notes and coloratura. From 1954 to 1958, she tackled Eva in Die Meistersinger, Agathe in Der Freischütz, Desdemona in Otello, Gilda in Rigoletto and Donna Anna in Don Giovanni, and many others.
Sutherland made her first recording, a Bach Cantata, for His Master's Voice in 1958. In 1959 shebegan recording for Louise Hanson-Dyer's L'Oiseau Lyre label and for Decca – with whom she remained for the rest of her long career.
At Covent Garden on 17 February 1959 Sutherland sang the title role in Lucia di Lammermoor for the first time, in a now legendary production by Franco Zeffirelli. It immediately established her as the greatest soprano of her generation.
Later highlights of her extraordinary career have included Donna Anna in Don Giovanni at the Vienna State Opera, Lucia di Lammermoor at the Opéra in Paris and the Metropolitan Opera, New York, I Puritani at Glyndebourne, La Sonnambula at the Royal Opera House and Meyerbeer's Les Huguenots and Bellini's Beatrice di Tenda at La Scala in Milan, Norma and Adriana Lecouvreur with Canadian Opera, Leonora in Il Trovatore at the Metropolitan Opera, and Donizetti's Anna Bolena at the Royal Opera House, Covent Garden. It was her interpretation of the title role in Alcina at the Teatro la Fenice, Venice, in 1960 that earned her the affectionate sobriquet, 'La Stupenda' – 'the stupendous one'.
In 1965 Sutherland returned to Australia to perform five of her greatest triumphs – Lucia di Lammermoor, Faust, La Traviata, La Sonnambula, Semiramide – with the Sutherland–Williamson International Grand Opera Company, including a young, comparatively unknown tenor called Luciano Pavarotti. Sutherland's husband, Richard Bonynge, was musical director. The company played in J.C. Williamson's theatres in Melbourne, Adelaide, Sydney and Brisbane.
From 1974 Sutherland sang regularly with the Australian Opera (now pera Australia). Her many roles included the four heroines in The Tales of Hoffmann, Lakmé, Lucrezia Borgia, Suor Angelica, Norma, Donna Anna in Don Giovanni, Violetta in La Traviata, Electra in Idomeneo, Lucia di Lammermoor, Amalia in I Masnadieri, Desdemona in Otello, Alcina, Leonora in Il Trovatore, Semiramide, Adriana Lecouvreur, Mme Lidoine in Dialogues of the Carmelites, Elvira in I Puritani and Marie in The Daughter of the Regiment.
In 1988 Sutherland first sang the role of Anna Glawari in The Merry Widow for the Australian Opera. That year she also toured the United States with the Sydney Symphony, presenting concerts in Carnegie Hall and the United Nations in New York and the Kennedy Center in Washington D.C. to mark Australia's Bicentennial. At the Metropolitan Opera House, New York, she presented a concert with Richard Bonynge as her accompanist.
Dame Joan made her farewell to the operatic stage as Marguerite de Valois in Les Huguenotsduring the Australian Opera's 1990 Winter Season. She was then 64. There was to be one final appearance, when she participated in a gala performance of Die Fledermaus at Covent Garden on New Year's Eve, 1990, with her friends Luciano Pavarotti and Marilyn Horne. Sutherland's remarkably candid autobiography, A Prima Donna's Progress, was published in 1997.
Sutherland's recorded legacy is huge – not just dozens of recitals and definitive recordings of complete operas, but also an album of Christmas songs, an album with her close friend (and neighbour) Noel Coward, and an album of musical comedy favourites that she dedicated to Gladys Moncrieff, a much loved Australian Merry Widow of an earlier generation. Most of her vinyl recordings have been transferred to CD.
Many of Sutherland's operatic performance are now available on DVD, as is the 1995 film Dad and Dave: On Our Selection, in which she makes a game but unsuccessful attempt to portray 'Mum', the wife of Leo McKern's 'Dad'. Her 1972 TV series Who's Afraid of Opera, designed to appeal to youngsters, awaits re-release. And, unbelievably, she can be heard singing Lakmé on the soundtrack of 'Thank God It's Doomsday', a 2005 episode of The Simpsons.
Joan Sutherland received honorary degrees from universities in Australia and abroad. She was honoured as a Commander of the British Empire in 1961, a Companion of the Order of Australia in 1975 and a Dame Commander of the British Empire in 1978. She received the Order of Merit in 1981. In 1989 the French government awarded the Commandeur de l'Ordre National de Mérite to Dame Joan and her husband in recognition of their services to French music. In 2004 Sutherland received a Kennedy Center Honor in recognition of her achievements. Sutherland House at her old school, St Catherine's in Sydney, and the Joan Sutherland Performing Arts Centre at Penrith, New South Wales, are named in her honour.
Dame Joan Sutherland's outstanding contribution to performing arts excellence was recognised by Live Performance Australia with its 2005 James Cassius Williamson Award.
Dame Joan Sutherland died on 10 October 2010. She was buried near her home in Montreux, Switzerland. A month later, a State Memorial Service was presented at the Sydney Opera House, which in 2012 named its Opera Theatre 'The Joan Sutherland Theatre' in her honour.
In 1974, Clemence Dane wrote of Sutherland's Covent Garden performance in Alcina twelve years before: 'She sang like a mockingbird on a moonlight night, which is the loveliest sound I know. I got much the same pleasure from listening to her as years ago when, once or twice, I heard Melba sing. Perhaps there are two sorts of great singers, the Voices and the Skin-Changers. The Skin-Changers are born impersonators whose voices crown their acting gifts… But the Sutherlands and Melbas are Voices… they act with their voices, they be glamour through their voices, they make the audience laugh or shiver by means of their voices. It is a different art. The Voices are music.'
Frank Van Straten, 2007, 2013.
Related Links
References
Biographical
Brian Adams: La Stupenda, Hutchinson of Australia, 1980
Richard Bonynge: Joan Sutherland and Richard Bonynge with the Australian Opera, Craftsman House, 1990
Clemence Dane: London Has a Garden, Michael Joseph, 1974
Quaintance Eaton: Sutherland and Bonynge – An Intimate Memoir, Dodd, Mead & Company, 1987
Lauris Elms: The Singing Elms, Bowerbird Press, 2001
Barbara and Findlay Mackenzie: Singers of Australia, Lansdowne Press, 1967
Norma Major: Joan Sutherland, Queen Anne Press, 1987
Joan Sutherland: A Prima Donna's Progress, Regnery Publishing, 1997
Media
Joan Sutherland at airport