John Alden 1908 – 1962
John Alden 1908 – 1962
John Alden 1908 – 1962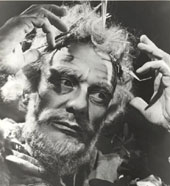 Gordon Buchanan was born on 17 January 1908 in Taree, New South Wales, where his parents ran a small store.
Alden became a school teacher, but in the evenings he worked backstage for Doris Fitton's Independent Theatre.
In 1937 Alden resigned from the Department of Education and left to try his luck in Britain.
After war broke out he stage-managed a play called Good Men Sleep at Home at the Shaftesbury Theatre in April 1940, and then headed home.
'He that plays the king.' 'John Alden was an English teacher with a passion for Shakespeare and a determination to form his own company for the purpose of presenting it,' recalled Ruth Cracknell. 'It was an unlikely dream in those days… Rough productions in some respects, got together on a shoestring, but some fine actors. All who worked in radio were delighted to have the opportunity to flex their muscles in this way. I learned much from Alden – both what to do on stage and what not to do. Can one ask for more? I found him difficult at times, but I don't necessarily lay at his door the gnawing ulcer that was the legacy of my time with him.'
Best remembered as one of this country's greatest Shakespeareans, John Alden was our last actor-manager in the grand tradition.
His start was unpropitious. Gordon Buchanan was born on 17 January 1908 in Taree, New South Wales, where his parents ran a small store. In 1930 he was awarded a BA at the University of Sydney, where his interest in Shakespeare was sparked by Professor John Le Gay Brereton. Alden became a school teacher, but in the evenings he worked backstage for Doris Fitton's Independent Theatre, which was then based at the Savoy Theatre in Bligh Street. As 'John Alden' he made his acting debut there in November 1934 in Fitton's production of Elmer Rice's Counsellor at Law, with a cast including Sumner Locke Elliott and Peter Finch. Alden played in 11 more productions for Fitton at the Savoy and, like Locke Elliott, he also found work in radio, principally with the busy George Edwards unit.
In 1937 Alden resigned from the Department of Education and left to try his luck in Britain. There he toured with Sir Donald Wolfit, and worked in stock and repertory companies, most notably the Harrogate Rep, where he met actor and director James Mills. His only London appearance was as a humble extra in Lewis Casson's famous 1938 Old Vic production of Coriolanus with Laurence Olivier. After war broke out he stage-managed a play called Good Men Sleep at Home at the Shaftesbury Theatre in April 1940, and then headed home.
Back in Sydney, Alden was in demand as a leading actor on commercial radio stations and the ABC; for the latter he played Evans in the first airing of Douglas Stewart's landmark verse play The Fire on the Snow in 1941.
In mid 1943 Alden was cast with Peter Finch in Red Sky at Morning, a film version of Dymphna Cusack's 1935 play. A total disaster, it was withdrawn after a few country screenings, and drastically re-edited. Retitled Escape at Dawn, it resurfaced briefly in Britain a few years later, mainly to exploit Finch's participation. In 1944 Alden unsuccessfully sought the Department of Education's support for a 'state touring dramatic company'.
For 2GB–Macquarie and J.C. Williamson's Alden directed several plays in the innovative 5.30 p.m. series presented at the Theatre Royal during the war years. He returned to the Independent, directing and playing in The Royal Family of Broadway in 1941 and, the following year, tackling his first Shakespearean lead – Macbeth, opposite Doris Fitton. He directed The Merchant of Venice at the Independent in 1945. Alden also directed the ABC's Children's Session, and contributed a series of plays based on Greek mythology. After the war he spent 13 months in Japan, heading a company playing for the allied occupation forces.
In late 1948 Alden directed and played in Measure for Measure, the first of five significant 'Wednesday night Shakespeare' presentations at the Independent. In 1949 he was seen briefly in the film Into the Straight, a racing drama that made little impact. In 1950, with Arts Council support, Alden founded his own company and leased the St James's Hall in Phillip Street, Sydney, opening with Lyndall Barbour in O'Neill's Anna Christie. Then came The Merchant of Venice, Measure for Measure and, most sensationally, King Lear, which was seen by 17,000 people. Alden directed and took the title role in a cast that included Dinah Shearing and Ruth Cracknell. Ms Cracknell recalled, 'The play had quite an impact, particularly the eye gouging scene. People would rush out – hopefully making the street before throwing up.' Lear ran for five months to capacity audiences, was broadcast by the ABC, and established Alden as a major figure of the Australian stage.
In 1951, with the backing of J.C. Williamson's, Alden realised his dream: a national tour of The John Alden Jubilee Shakespeare Company. It opened on 5 December at the Comedy Theatre in Melbourne with 'the titanic tragedy' of King Lear (inevitably!) and continued with A Midsummer Night's Dream, The Merchant of Venice, The Merry Wives of Windsor, Othello, The Tempest and The Winter's Tale. The leading roles were played by Alden, Max Oldaker, Nancye Stewart and Neva Carr Glyn. Also in the 30-strong company were William Rees, Alistair Roberts, Owen Weingott, John Meillon, Ron Shand, Bill Akers and James Mills – with whom Aden had worked in Harrogate before the war.
After Melbourne, the marathon continued to Adelaide, Brisbane, Toowoomba, Canberra, Perth, Launceston and Hobart, where the tour ended in November, 1952.
The tour had been promoted as a highlight of the Commonwealth's Jubilee celebrations and accordingly had received some modest government financial support. Sir Charles Moses hailed it as 'the beginning of a true national theatre' and Alden and his business manager, Elsie Beyer, approached the Commonwealth for annual funding. In spite of Prime Minister Menzies' enthusiasm when the company visited the national capital, the hoped-for government backing was not forthcoming, due largely to Alden's reluctance to relinquish total control and submit to the dictates of a governing board.
Of all the cities visited by the Alden Company, Perth had been the most welcoming. Alden returned there in November 1953 with a non-Shakespeare repertoire including Misalliance, Uncle Harry, The Holly and the Ivy and Tobias and the Angel. His company included Anthony Ward, Phillip Edgley, Dinah Shearing and Harvey Adams.
In 1955 Alden was featured in a couple of episodes of the television series The Adventures of Long John Silver, a spin-off from the 1954 feature film with Robert Newton, while on stage he played Felix Ducotel in J.C. Williamson's production of the Spewacks' comedy My Three Angels in Sydney and Melbourne. Alden had hoped that his Company could have formed the nucleus of a national drama company under the wing of the newly-formed Australian Elizabethan Trust, but the Trust thought otherwise. Nevertheless he was cast in Medea, the Trust's inaugural production; Judith Anderson took the title role, with Doris Fitton as the Nurse and Alden as Creon. The tour opened at the Albert Hall in Canberra in October 1955, but on the first night in Melbourne, Alden suffered a heart attack and was forced to leave the company.
By 1957 he was sufficiently recovered to return to direct at the Independent: Tobias and the Angel and The Merchant of Venice (1957), and A Midsummer Night's Dream (1959). In 1958 he directed and starred in the rarely staged Titus Andronicus (1958) and was seen on ABC television in the plays Murder Story, Harlequinade and Sixty Point Bold.
In 1959, to mark the tercentenary of Shakespeare's birth, J.C. Williamson's organised a touring Shakespeare company, with Alden as artistic director. With a repertoire consisting of King Lear, The Merchant of Venice, The Winter's Tale and A Midsummer Night's Dream, the tour opened at the Comedy in Melbourne on 12 June. Alden, Peter O'Shaughnessy and the Scottish actor John Laurie headed the 26-member company, which included Leonard Bullen, Jessica Noad, Anthony Bazell, John Unicomb, Edward Brayshaw, Terry McDermott and John Frawley. The productions were generally well-received, but the tour was a financial disappointment. Hopes that it would lead to a permanent national drama company evaporated.
In May 1961 Alden appeared at the Palace Theatre, Sydney, as Shylock in The Merchant of Venice, directed by May Hollinworth for the Elizabethan Theatre Trust. Its success prompted the Trust to sponsor the First Sydney Shakespeare Festival, with Alden as artistic director. The Merchant of Venice was dusted off yet again, and supplemented by Othello and Macbeth. Staged at the Conservatorium, the Elizabethan at Newtown and the Orpheum at Cremorne, the enterprise was an artistic and financial disaster.
Ironically, Alden's last work was for television – the ABC's historical drama series The Patriots. His heart problems recurred and he was forced to leave the show after only two episodes. He died in Sydney on 10 November 1962. He was 54.
There is no doubt that at his best Alden was a superb interpreter of Shakespeare, more secure in the dramas and tragedies than he was in the comedies. His standing was such that he drew audiences in spite of competition from starry imports such as Laurence Olivier and Vivien Leigh with the Old Vic (1948), Anthony Quayle and the Shakespeare Memorial Theatre Company (1949 and 1953) and Katharine Hepburn and Robert Helpmann with the Old Vic (1955).
As a director and teacher he influenced, encouraged and inspired a generation of Australian actors. Though by the end of his career his classical technique was regarded as dated, Alden had brought Shakespeare to audiences that had seen little since the days of Allan Wilkie. He would not be replaced until 1990 when John Bell formed his own company.
Frank Van Straten, 2007
Related Links
References
Biographical
Ruth Cracknell: A Biased Memoir, Viking, 1997
Penny Gay: 'International Glamour or Home-grown Entertainment?', in O Brave New World, Currency Press, 2001
Richard Lane: The Golden Age of Australian Radio Drama, Volume Two, ScreenSound Australia, 2000
John Rickard: 'John Alden', in Australian Dictionary of Biography, volume 13, Melbourne University Press
Malcolm Robertson: "John Alden', in Companion to Theatre in Australia, Currency Press, 1995
Media
John Alden as King Lear in the John Alden Company Production of King Lear, c1951 Photograph Courtesy National Library of Australia, Lady Viola Tait collection pic-vn3601234.