John Bell AO AM OBE
John Bell AO AM OBE
John Bell AO AM OBE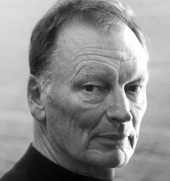 Born in Maitland, NSW, in 1940 and educated at University of Sydney.
The Bell Shakespeare Company was launched in 1990 with Hamlet and The Merchant Of Venice (with Bell as Shylock).
John Anthony Bell, actor, director and 'Australian Living Treasure' was born in Maitland, NSW, in 1940.
Educated at University of Sydney, he acted with Sydney University Dramatic Society and made his professional debut in 1963 in the Old Tote Theatre Company's first production, The Cherry Orchard. In 1964 he was a sensational Henry V, with Anna Volska as Katherine, in an innovative Adelaide Festival tent presentation. The Sydney Morning Herald called him 'a possible Olivier of the future'.
After training with the Bristol Old Vic Theatre School, Bell joined The Royal Shakespeare Company for four years and was made an Associate Artist. He returned to Sydney in 1970 as Head of Acting at the National Institute of Dramatic Art. That same year he produced the landmark Australian musical burlesque The Legend of King O'Malley and co-founded the Nimrod Theatre Company. He was its artistic director, director and principal actor until 1985.
At Nimrod Bell presented many significant Australian plays, such as David Williamson's Travelling North, The Club and The Removalists, Peter Kenna's A Hard God, Jim McNeil's How Does Your Garden Grow and Ron Blair's The Christian Brothers. Other highlights included a dra¬matic adaptation of Laurence Sterne's Tristram Shandy, The Venetian Twins, an Australian musical based on the Goldoni classic, and the Bernstein musical Candide. Bell also introduced a distinctive Australian Shakespeare style, with memorable productions of Measure for Measure, Much Ado About Nothing and Macbeth.
In 1989 Bell played Duke in Big River, his first major role in a musical. Shortly after this he was invited by the late Tony Gilbert, a Shakespeare-loving philanthropist, to establish a national touring organisation presenting Shakespeare in a popular style.
The Bell Shakespeare Company was launched in 1990 with Hamlet and The Merchant Of Venice (with Bell as Shylock), followed by Richard 3 (with Bell in the title role) and Romeo And Juliet. In 1993 the Federal government matched a challenge grant of $250,000 from Gilbert so that the company could be established on a firm footing. Dedicated to the ideal of uninhibited access to the great classics for as many Australians as possible, Bell Shakespeare presents its broad range of productions and education activities regardless of geographic location. As Australia's national touring theatre company, it tours every state and territory with creativity and audacity.
In 2009, Bell Shakespeare will employ more than 100 actors, directors, designers, artisans and technicians, in addition to the hundreds who will work on the company's presentations in theatres around the country.
Bell's productions have included Hamlet, Romeo And Juliet, The Taming of the Shrew, Richard 3, Pericles, Henry 4, Henry 5, Julius Caesar, Antony And Cleopatra, The Comedy Of Errors, Wars Of The Roses, Measure For Measure, Macbeth and As You Like It, as well as Goldoni's The Servant Of Two Masters, Gogol's The Government Inspector and Ben Jonson's The Alchemist.. His roles for the company include Shylock, Richard III, Macbeth, Malvolio, Coriolanus, Leontes, Prospero, King Lear and Ulysses. He recently directed Madame Butterfly for an Oz Opera national tour.
In 2002 Bell's portrayal of Richard, Duke of Gloucester in Richard 3 earned him a Helpmann Award for Best Male Actor. He has a Producers and Directors Guild Award for Lifetime Achievement, and Honorary Doctorates of Letters from the Universities of Newcastle and Sydney. He has been honoured with an OBE (1978) and an AM (1987). In 2003 the Australia Business Arts Foundation awarded him the Dame Elisabeth Murdoch Cultural Leadership Award.
In the 2009 Australia Day Honours, Bell was named an Officer of the Order of Australia 'for service to the performing arts, nationally and internationally, as an actor and a director, as a supporter of emerging artists, and through a range of educational programs.'
John Bell is married to actor Anna Volska. He is the father of dramatist Hilary Bell and actor Lucy Bell.