John Sumner AO CBE 1924 – 2003
John Sumner AO CBE 1924 – 2003
John Sumner AO CBE 1924 – 2003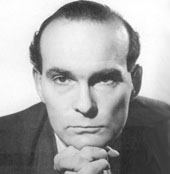 John Hackman Sumner was born in Britain on 27 May 1924.
In 1947 he entered professional theatre as an assistant stage manager in Dundee, Scotland.
He came to Melbourne in 1952 to manage the Union Theatre at the University of Melbourne.
The trailblazer
'The event that changed the path of my career was the arrival in Melbourne of an Englishman named John Sumner,' recalled actor Noel Ferrier. 'He announced he was going to set up Australia's first professional repertory company, using the excellent Union Theatre at Melbourne University. From my comparatively secure and well-rewarded position in the world of radio acting, I regarded the project with a mixture of amazement, derision and some little envy. Performing in repertory seemed like bloody hard work – doing a new play every two weeks; playing one while rehearsing the next one. And all for about ten quid a week. I couldn't see how it would work in Australia, yet I had a nagging desire to be part of it.
'The Union Theatre Repertory Company, as it was then known, was established against a great deal of pooh-poohing by the established semi-professional companies and a large part of the acting profession in general. It triumphed over its critics and today is one of the largest and most successful theatrical companies in Australia. I hope the remarkable pioneering work done by John Sumner is never forgotten. John Sumner gathered a noble bunch of players – such luminaries as Zoe Caldwell, Barry Humphries, Frederick Parslow, Ray Lawler and scores of others, many of whom have gone on to win international fame and fortune. It was back-breaking, mentally exhausting yacker, but those days represented some of the most rewarding and happiest of my career. Like the pioneer days of television we did not realise what we were instigating. Sumner, was, and I suppose, still is, a fairly daunting figure – tough and dedicated. During my time at the UTRC I never warmed to him, but had enormous respect for him. Every two weeks he would turn out the goods, God only knows how, on a budget of about ninepence a show – and with no Australia Council handing him thousands of dollars annually.'
John Summer's autobiography Recollections at Play is subtitled 'A Life in the Australian Theatre' – which encapsulates his extraordinary journey. John Hackman Sumner was born in Britain on 27 May 1924. As a boy he joined the London Opera School, going on to appear in concert and on radio in Britain and the United States. It was his wartime service in the Merchant Navy that first took him to Melbourne – if only for 24 hours in 1942. In 1947 he entered professional theatre as an assistant stage manager in Dundee, Scotland. Later he became a stage director and manager for the London-based commercial entrepreneur H.M. Tennant Ltd. He came to Melbourne in 1952 to manage the Union Theatre at the University of Melbourne.
In 1953 Sumner persuaded the University to support a small professional acting company that would use the theatre when it was not needed for student use. The result was then the country's only professional drama company, the Union Theatre Repertory Company. Its stated objectives were:
• To produce and perform theatrical entertainments not generally offered by commercial managements;
• To educate theatre-goers to a finer appreciation of the theatre by first-class presentation;
• To present theatrical entertainments which seek both to educate and entertain;
• To encourage playwrights and give them the opportunity to become educated in the work of the theatre, and to present their work 'whenever practical';
• To give young artists interested in the work of the theatre a chance to become educated in that work by first-class experience.
The UTRC debuted on 31 August 1953 with Jean Anouilh's Colombe. The cast included Zoe Caldwell, George Fairfax, Hanna and George Pravda, Alex Scott, David Niven, Gil Brearley and Kenrick Hudson. Sumner directed and also designed the set.
In 1955 Sumner left the UTRC and joined the Australian Elizabethan Theatre Trust in Sydney, though he found time to direct the company's landmark production of Ray Lawler's Summer of the Seventeenth Doll. It premiered at the Union Theatre on 28 November 1955 and was subsequently seen around Australia and in London and New York. It was the springboard for an exciting new era in home-grown drama. Sumner rejoined the UTRC in 1959, first as administrator and, from 1962, as director. His choice of material was often criticised as stodgy and unadventurous, but he included many notable Australian plays, and developed a policy of producing one-third 'classical' writing, one-third local work and one-third overseas material – a pattern subsequently followed by comparable companies in other states.
In 1960 the UTRC presented a holiday-season revue in Melbourne's central business district – in a 374-seat converted church hall known as the Russell Street Theatre. There were to be many more presentations at Russell Street until, in 1966, the company left the Union and made it their principal home. After alterations by architect Robin Boyd it reopened in February 1968 with Arthur Miller's The Crucible – the company's first production under its new name, The Melbourne Theatre Company.
In 1977 Sumner established a bustling office, workshop and rehearsal facility in South Melbourne. He also adopted the Athenaeum Theatre in Collins Street as a venue for larger-scale productions. In May 1984, after years of frustrating delays, he moved MTC's main performances into the Playhouse at Melbourne's new Arts Centre. The Playhouse was designed with MTC's requirements in mind, and it was leased to them for 40 weeks every year. For the inaugural production there he chose Robinson Jeffers' translation of Euripides' Medea; Zoe Caldwell returned from Broadway to star in it.
John Sumner retired at the end of 1987, around the time of the company's 460th production. Back in Britain Sumner lived quietly near Oxford, writing his memories of the 34 busy years he had spent in Australia, almost all of which he had devoted to creating and developing the Melbourne Theatre Company and to nurturing the people who worked there – and the audiences that it attracted and entertained. At the time of his departure, the MTC's attendances were at an all-time high.
Sumner was made a Commander of the British Empire in 1971. He became an Australian citizen in 1975 and was made an Officer of the Order of Australia in 1985.
John Sumner returned to Melbourne in 2003 to participate in the MTC's 50th birthday celebrations. To mark the occasion the company launched the John Sumner lecture series. The first speaker was the MTC's current director, Simon Phillips. 'I'm in awe of Sumner,' he said. 'I could not have set up the structures in the way that he did. And they have been followed everywhere around the country. He had the vision and the ability to get the support he needed from influential people. You always need a certain amount of luck, but John worked like crazy to bring it off.'
Back in 1975, the Council of Adult Education's Colin Badger said this of his colleague: 'Sumner is as tough as a boot, but he reminds me of the definition of a Christian – as cunning as a serpent and as harmless as a dove. Once he said "Right" to bargain, you didn't have to worry about the paperwork, you knew he would keep his word. And he never disparaged anybody else's production.'
Frank Van Straten, 2007