John Truscott AO 1936 – 1993
John Truscott AO 1936 – 1993
John Truscott AO 1936 – 1993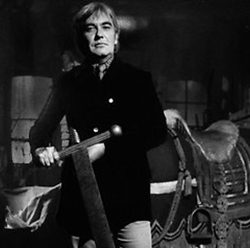 He was born in Melbourne on 23 February 1936.
By the time he was 18, Gertrude Johnson had accepted him into her National Theatre circle. He started there as an actor.
In 1960, on Irene Mitchell's recommendation, he supervised and co-ordinated the wardrobe for the Garnet H. Carroll/Tivoli presentation of The Merry Widow with June Bronhill.
Designing dreams
'He lived, worked, laughed and played with great intensity,' said Sue Nattrass of John Truscott.'Never satisfied, he was demanding of others, but also of himself. And inside, there was, I suspect, a cold core of loneliness – the loneliness of the visionary – that he warmed with friendship. He had more creative ideas in a day than most of us have in a lifetime. But he also had that rare gift of taking people with him and inspiring them to achieve more than they ever believed they could.'
As incongruous as it may seem, John Truscott was going to be a blacksmith. He was born in Melbourne on 23 February 1936. He dreamed of being an actor but, for safety's sake, learnt metalwork at Caulfield Technical College. Nevertheless, by the time he was 18, Gertrude Johnson had accepted him into her National Theatre circle. He started there as an actor – First Porter in Shaw's Caesar and Cleopatra at the Princess in 1954. He was cast in the next production, Ann Veronica, but, significantly, also designed the complicated laboratory set. There were more roles – acting and dancing – but eventually these gave way to his real talent – design. In 1956 he assisted Kenneth Rowell in designing for the Elizabethan Trust's inaugural opera season.
The following year, 1957, Truscott joined George Fairfax, Peter Randall, Irene Mitchell and the team at the Melbourne Little Theatre, which had recently built its own modern playhouse in South Yarra. He became Irene Mitchell's protégé and surrogate son. For six years he was the company's resident designer, working on everything from Shakespeare to satirical revue: up to 12 productions a year, including five Australian premieres. When the Little's production of The 'Caine' Mutiny Court Martial was reworked for live television, Truscott designed that too. Occasionally he took time off to work for other groups, such as Laurel Martyn's Ballet Guild and Bunney Brooke's drama company. In 1960, on Irene Mitchell's recommendation, he supervised and co-ordinated the wardrobe for the Garnet H. Carroll/Tivoli presentation of The Merry Widow with June Bronhill. Carroll then commissioned him to design the costumes for West Side Story, and the sets and costumes for The Most Happy Fella and The King and I.
Up to this point it had been accepted that J.C. Williamson's always staged their musicals using local reproductions of the original sets and costumes, but when it came to Camelot, in 1963, The Firm's joint managing director, John McCallum, daringly decided that the Broadway originals were not good enough. He commissioned John Truscott to create entirely new designs. The results – 13 dazzling sets and hundreds of sumptuous costumes – were greeted by spontaneous rounds of applause. After Camelot, Truscott designed one last show for St Martin's, Rashomon, and Jazz Spectrum, for the Australian Ballet. This was choreographed by Williamson's resident dance director, Betty Pounder, whom he had met while working on Camelot. They became lifelong friends.
Helped by a gift of £2,000 raised through a testimonial fund established by Irene Mitchell, JohnTruscott headed for London. His lack of formal qualifications precluded study at the Slade School of Art – though later he joined the staff! His first London challenge was his second Camelot – Robert Helpmann's1964 production for Jack Hylton at the mighty Theatre Royal, Drury Lane. After that came the Ravel opera L'Enfant et les Sortilèges for Sadler's Wells (1965), Swan Lake for London's Festival Ballet (1965), and the play Kain with Keith Michell, at the Yvonne Arnaud Theatre (1966).
Next came the call to Hollywood. Jack Warner commissioned him to design the film version of Camelot, which was to star Vanessa Redgrave, Richard Harris and Franco Nero. It was an enormous project. The Great Hall set took up almost an entire soundstage, and was one of the largest indoor sets built to that time. At the 1968 Academy Awards, Truscott won two Oscars, one for his design, the other for his art direction, a unique double for an Australian. Truscott's next project was Paramount's Paint Your Wagonwith Clint Eastwood and Lee Marvin (1969). There was little in Hollywood for him after that, though he worked briefly on The Great Gatsby.
Truscott returned to Australia in 1978. He designed Idomeneo for the Victoria State Opera and The Pearl Fishers in 1979. George Fairfax, the former director of St Martin's who was now heading the Victorian Arts Centre Building Committee, approached Truscott with an enormous challenge: the design of the interiors of the Victorian Arts Centre's Melbourne Concert Hall. The building was nearing completion, and he had to work extremely quickly. With its splendid red and gold foyers and glistening cave-like auditorium, it opened in 1982. Truscott's contract was extended to cover the interiors of the adjacent Theatres Building, which opened in 1984. This included not only the spectacular State Theatre, the more intimate Playhouse, and a 'black box' Studio for experimental work, but also many foyer areas, a gallery space, function rooms and a restaurant – each with its own special character. He enhanced the public areas with personally selected and often commissioned Aboriginal and contemporary Australian art – the largest such collection to be seen outside a public gallery. All this Truscott accomplished in just four years, often relying on theatrical techniques to generate an inviting ambience of splendour and excitement and a palpable sense of occasion.
Truscott's last theatre commission came in 1983 – a Victoria State Opera staging of Saint-Saens' Samson and Delilah in the Melbourne Concert Hall. He completed an elaborate set model and many costume designs, but artistic disagreements and budget over-runs resulted in the company handing over the project to Kenneth Rowell.
John Truscott was made a Member of the Order of Australia in 1985. Two years later he acceptedthe position of creative director of World Expo '88 in Brisbane. Within an almost impossibly tight time frame he 'sitescaped' the sprawling area on the South Bank of the Brisbane River, commissioning and installing sculpture and other artworks and peopling it with living fantasy figures. His program of outdoor events included a breathtaking carnival style cavalcade that wound its way through the exhibition grounds every day and – most memorably – every evening. He was also instrumental in obtaining a superb collection of treasures from the Vatican, which were displayed in a specially designed pavilion.
From 1989 to 1991 Truscott was artistic director of the annual Spoleto/Melbourne International Arts Festival. He had seen Gian Carlo Menotti's original Spoleto Festival on his first trip overseas, and it had left an indelible impression, but he believed that every festival had to develop its own identity, not merely rely on world-class imports. 'Our Festival has to have its own personality,' he said. 'In this case it's the personality of Melbourne – and that means involving our own arts community.'
For his first Festival – the last under the Spoleto banner – Truscott centred activities at the Victorian Arts Centre. He established a big free outdoor entertainment component, and illuminated the city's streets and trees, fountains and flowers; he pressed the River Yarra into service and mounted a Botanica garden exhibition; and he introduced the now-traditional Lunchtime Chamber Music Concerts. For the 1990 Festival Truscott spanned St Kilda Road with two huge ornamental arches. Visitors included Placido Domingo and Julia Migenes, and Nigel Triffitt staged his adaptation of Moby Dick. Highlights of Truscott's final Festival were Richard Strauss' Elektra, directed by Bruce Beresford, and a major retrospective of the work of the Australian-born stage designer Loudon Sainthill. Under Truscott's direction, the Melbourne International Arts Festival became a major event in the city's calendar, eagerly anticipated and warmly accepted by a wide array of audiences, and generously supported by a diverse range of sponsors.
In 1992 Truscott returned to the Arts Centre. As Artist-in-Residence he helped re-assess and refurbish the Centre for the 10th anniversary of its opening and developed plans for the next decade. Sadly, he saw neither. John Edward Truscott was still working, dreaming and inspiring when he died on 5 September 1993.
A substantial archive of his designs, and a number of his original stage costumes, are preserved in the Performing Arts Collection at the Arts Centre in Melbourne. To perpetuate his ideals, a group of his friends and colleagues established the John Truscott Foundation Inc. It encourages excellence in design, especially from emerging practitioners, and sponsors an annual Green Room Award for innovative stage design.
Frank Van Straten, 2007
Related Links
References
Biographical
Martin Carlson and Margaret Manion: 'The Truscott Legacy', in On Stage, volume 2, numbers 1 & 2
Paul Clarkson: Melbourne International Arts Festival, 1986-2005, Melbourne International Arts Festival, 2005
Sue Nattrass: 'A Tribute to John Truscott,' in the commemorative booklet published by the Victorian Arts Centre, 1993
Frank Van Straten: A John Truscott Chronology, unpublished manuscript, 1995
Pamela Zeplin: 'John Truscott', in Companion to Theatre in AustraliaCurrency Press, 1995