June Bronhill OBE 1929 – 2005
June Bronhill OBE 1929 – 2005
June Bronhill OBE 1929 – 2005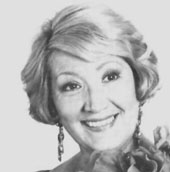 June Mary Gough was born in Broken Hill on 26 June 1929, and grew up singing.
At six, in white tie and tails, she beguiled the Crystal Theatre audience with 'Little Man, You've had a Busy Day'.
At six, in white tie and tails, she beguiled the Crystal Theatre audience with 'Little Man, You've had a Busy Day'
Her London studies with tenor Dino Borgioli – who also trained Joan Hammond – led to an engagement with Sadler's Wells Opera.
June's tune
'June had a diamond-bright voice, excellent diction and that indefinable quality of charm that always endeared her to an audience,' recalled Opera Australia director Moffatt Oxenbould. 'She was the life of many a party, and loved to get together with friends and colleagues after a show; she adored pranks onstage, but never interfered with the public's enjoyment of the performance. She was vulnerable, impetuous, occasionally frivolous, but always herself.'
Though she was a star in that remarkable constellation of world acclaimed Australian sopranos – among them Melba, Florence Austral, Marjorie Lawrence, Joan Hammond, Joan Sutherland – June Bronhill's natural vivacity steered her career into waters unknown to her operatic peers. Twenty years after her Covent Garden triumph in Lucia di Lammermoor she was delivering outrageous double ententes in the Australian version of Are You Being Served?
June Mary Gough was born in Broken Hill on 26 June 1929, and grew up singing. At six, in white tie and tails, she beguiled the Crystal Theatre audience with 'Little Man, You've had a Busy Day'. A few yeas later she was the male lead in her school's all-girl production of the musical A Country Girl. After that it was concerts with the local Philharmonic Society.
At age 19 she tried her luck in Sydney. By day she worked in the NRMA office and in the evenings she studied with the renowned Maryanne Mathy, who became her 'second mother'. When Mathy organised a fund-raising production of Humperdinck's Hansel and Gretel at the Sydney Conservatorium, she gave her favourite pupil the role of Gretel; Mathy had sung it in Germany under the composer's direction.
Mathy encouraged the young soprano to enter the prestigious Sun Aria competition. In the 1949 finals, she came third (Joan Sutherland was first); she won it the following year.At six, in white tie and tails, she beguiled the Crystal Theatre audience with 'Little Man, You've had a Busy Day'. , the NSW National Opera Company's inaugural productions; she also won the Mobil Quest. She ventured to London in 1952 – a trip largely financed by her loyal Broken Hill supporters. In gratitude she elided her surname to Bronhill.
Her London studies with tenor Dino Borgioli – who also trained Joan Hammond – led to an engagement with Sadler's Wells Opera, where she sang Adele in Die Fledermaus, Gilda in Rigoletto and Norina in Don Pasquale. In 1958, in a desperate bid to restore its flagging fortunes, the Wells broadened its repertoire to include operetta, and Bronhill was given the title role in Lehár's The Merry Widow. The resulting artistic and financial triumph is now theatre history, and the 'Vilia' aria was soon known affectionately as 'June's tune'. The production toured throughout Australia under the Garnet H. Carroll–Tivoli Circuit banner, captivating audiences and establishing records wherever it went.
Back in London Bronhill tackled works as diverse as Martha, The Magic Flute, Orpheus in the Underworld, Janáek's The Cunning Little Vixen, Richard Strauss' Ariadne auf Naxos and Menotti's The Telephone. And there was her highly acclaimed Covent Garden debut in Lucia di Lammermoor. 'The voice soared amply,' said The Times, 'and she negotiated the Mad Scene with attack and accuracy and a natural understanding of Donizetti's florid romantic manner.'
Her frequent broadcasts reached a vast audience. She was a regular guest on Stars on Sunday, Yorkshire Television's religious musical programme, and on BBC radio's light music shows Friday Night is Music Night, Variety Playhouse and Palm Court. She became such a fixture her friends started referring to the 'Bronhill Broadcasting Corporation'!
In 1961 Bronhill returned to Australia to play Maria in Garnet H. Carroll's production of The Sound of Music. Back in London she accepted the female lead in Robert and Elizabeth, a new musical by Australian Ron Grainer, based on the romance of Elizabeth Barrett and Robert Browning. Co-starring were Keith Michell as Browning and John Clements as his tyrannical father. The show notched up 948 performances – a London run longer than The King and I and South Pacific. Though a legal wrangle prevented a Broadway transfer, Garnet H. Carroll brought the production to Australia in 1966. This time Bronhill's co-stars were Denis Quilley and Frank Thring. In 1967 Bronhill made her debut with the Australian Opera, as Norina in Don Pasquale and Adele in Die Fledermaus.
Now firmly established as a crowd-pulling leading lady in operetta and musical comedy, Bronhill toured the United Kingdom in new productions of old favourites like The Dancing Years, Bitter-Sweet, Glamorous Night, Perchance to Dream, Merrie England and, unsurprisingly, yet another revival of The Merry Widow.
In 1975 she made her home in Sydney. Typically she was one of the stars who participated in the Cyclone Tracy fundraising gala at the Sydney Opera House – she sang 'Vilia' and joined Donald Smith in 'Make Believe'.
She was the second person to be honoured on the Australian version of This Is Your Life (the first was Robert Helpmann). She appeared in Rigoletto for the Australian Opera, Maria Stuarda for the Victorian Opera Company and La Rondine for the State Opera of South Australia. In the vastness of the Perth Entertainment Centre she sang in Gilbert and Sullivan and at Rockdale Town Hall she was an enchanting Madame Armfeldt in A Little Night Music. She was everywhere! There was The Maid of the Mountains in Brisbane, HMS Pinafore in Canberra, a whistle-stop South Australian tour of Robyn Archer's Songs from Sideshow Alley (the gruelling itinerary included Coober Pedy, Alice Springs and, naturally, Broken Hill), and a national tour of The Masters, Brian Crossley's celebration of the words and music of Noel Coward and Ivor Novello, in which Bronhill shared the stage with Dennis Olsen. Her services to music were recognised with an OBE in 1976.
And she was always ready to try something new, the more controversial the better! When the diminutive Ronnie Corbett toured Australia she joined him on television for a spoof of La Traviata, made all the funnier by the fact that she, too, was short, only 150 centimetres. This led to the plum 'Mrs Slocombe' role in the 1980 Australian version of the campy British TV romp Are You Being Served? in a cast that included the original 'Mr Humphries', John Inman.
After that it was back to London for a new production of The Sound of Music. This time Bronhill was not Maria – that honour went to Petula Clark – but as the Mother Abbess it was Bronhill who stopped the show every night with her soaring rendition of 'Climb Ev'ry Mountain'.
At home there was still more Gilbert and Sullivan – Ruth in the Victoria State Opera's The Pirates of Penzance in 1984. The following year she was a rumbustious Sally Adams in Call Me Madam in Canberra and at Sydney's Footbridge Theatre she cavorted with Judi Connelli and Maria Venuti in the rauncly spoof Women Behind Bars. More sedately she featured in a 1988 revival of the Australian musical The Sentimental Bloke at Parramatta Theatre Centre, and then played Mrs Higgins in Rodney Fisher's production of My Fair Lady at Her Majesty's in Sydney. Fisher also directed her as the impresario of an outback opera company in the TV mini series Melba.
During the late 1980s Bronhill's health began to deteriorate. She survived breast cancer, but increasing deafness began to curtail her singing. In 1990 she appeared in the comedy musical Nunsense and the following year, at the Sydney Opera House Drama Theatre, she and her old friend Gwen Plumb romped through Peter Williams' revival of Arsenic and Old Lace, which went on to tour nationally. There was just one more musical: the starry 1993 Gordon/Frost production of How to Succeed in Business Without Really Trying, in which Bronhill played alongside Tom Burlinson, Georgie Parker, Noel Ferrier, John Gregg, Bruce Spence, Garth Welch and Robyn Arthur. This opened at the Footbridge and was later seen in Brisbane and Perth.
In 1994 Bronhill played a naïve mother in Peter Williams' production of Straight and Narrow, a gay-themed British comedy. It was her last stage role. Tragically, Bronhill's deafness not only destroyed her career, it precluded her from enjoying her most treasured pastime: the company of friends. Her last years were difficult and lonely.
June Bronhill died in Sydney on 24 January 2005. The opening night of Opera Australia's Tosca was dedicated to her, and her daughter, Caroline Finny, attended as guest of honour. Her funeral was held in the June Bronhill Auditorium of the Broken Hill Entertainment Centre and the city observed a minute's silence. 'She is very special to us,' said Mayor Ron Page. 'If you ask every householder in Broken Hill they'll be able to say, yes, they are proud of June Bronhill.'
Bronhill's artistry survives on her recordings: more than 30 albums of shows, arias, ballads, hymns, concert favourites, even some ebullient old British music hall songs, all displaying that warmly familiar voice, with its perfect diction and its rich, bell-like purity.
Frank Van Straten, 2007
Related Links
References
Biographical
June Bronhill: The Merry Bronhill, Methuen Haynes, 1987
Moffatt Oxenbould: Timing is Everything, ABC Books, 2005
Frank Van Straten: 'Rich legacy bequeathed by a glorious voice', in The Age, 28 January 2005
John West: 'June Bronhill', in Companion to Theatre in AustraliaCurrency Press, 1995