Kathleen Gorham OBE 1928 – 1983
Kathleen Gorham OBE 1928 – 1983
Kathleen Gorham OBE 1928 – 1983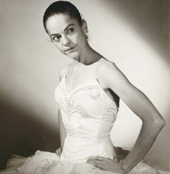 Miss Kathleen Gorham was born in the New South Wales Riverina town of Narrandera on 7 September 1928.
Gorham made her first public appearance as Tiger Lily and a member of the ballet in Peter Pan at the Minerva Theatre at Christmas 1945.
A protégé of Leon Kellaway, she moved to Melbourne in 1946 to study under Madame Borovansky.
Dedicated to dance
'Kate Gorham was first and foremost a performer, from the flash of those great dark eyes to the tips of her long raven tresses,' recalled William Akers, who was Borovansky's stage director, and the Australian Ballet's first production director. 'Dramatic, capricious, temperamental and brilliant, she was always the entertainer, the public's darling. But there were a dozen Kate Gorhams – one never knew what to expect. She wasn't a ballerina's ballerina – her mates were among the corps and the staff. Stagehands adored her. In many of the theatres throughout Australia and New Zealand there was a small barre in the OP corner that was always "Kathleen's barre", built and put there for her by her ever-loving crew members.
They loved and respected her because she was little and tough and worked like they did. It was no surprise to see Kate Gorham in at 8am doing her own barre, before class started at 10. She has left us something more of herself than memories. She was an exciting and compelling teacher, and it is a fortunate student who, when asked the name of their teacher, can say with pride: "Miss Kathleen Gorham!"'
Miss Kathleen Gorham was born in the New South Wales Riverina town of Narrandera on 7 September 1928 – though in later life she tended to 'adjust' the date for professional reasons.
Gorham grew up in humble circumstances in the western suburbs of Sydney. Somehow her mother scraped up enough money to allow her to train with Lorraine Norton and Frances Scully. With other Scully students, Gorham made her first public appearance as Tiger Lily and a member of the ballet in Peter Panat the Minerva Theatre at Christmas 1945. A protégé of Leon Kellaway, she moved to Melbourne in 1946 to study under Madame Borovansky. Her travel was financed by fellow members of Uncle Tom's Gang, a children's radio show. She made her Borovansky Ballet debut in May 1946 as a Circassian lad in Schéhérazade.
Almost immediately the company was shoehorned into the musicals The Dancing Yearsand Gay Rosalinda. Gorham had tiny but featured roles in both. In 1947, promoted to the rank of junior ballerina, she danced a range of major roles including the Debutante in Fokine's Le Spectre de la Rose, the mazurka and pas de deux in Les Sylphides, and the First Hand in Le Beau Danube. She also recreated Peggy Sager's original role of the Spirit of Australia in Borovansky's Terra Australis.
Borovansky's company disbanded at the end of 1947 and, inevitably, Gorham was among the local dancers drawn to the ranks of the visiting British Ballet Rambert. She joined the Rambert corps de ballet in 1948, dancing as 'Anne Somers', a name with links to her mother's family. Her brilliance soon won her featured roles such as the Sugar Plum Fairy in Nutcracker and Odette in Swan Lake – Act 2. When the Rambert company sailed back to Britain, Gorham went with them. Kathleen Gorham made her London debut at the Princes Theatre on 21 February 1949 as a Midinette with Roland Petit's Ballet de Paris in Suite de Danses du Beau Danube. Later that year she joined Sadler's Wells Theatre Ballet. After starting as a Cygnet in Swan Lake – Act 2, she swiftly worked her way up to principal roles in ballets by choreographers such as Balanchine, Ashton and Cranko.
Edouard Borovansky brought her back to Australia for his company's 1951-1952 national tour. She danced for the first time in Giselle, a ballet with which she became especially identified. She also had leading roles in three important new works: Miss X in Borovansky's Ned Kelly ballet, The Outlaw, Woman in Dorothy Stevenson's Chiaroscuro, and Juliet in Paul Grinwis' The Eternal Lovers – appropriate, as she and Grinwis, a popular Belgian dancer and choreographer, had become engaged.
In 1953 Gorham accepted an invitation to join the prestigious Grand Ballet du Marquis du Cuevas, with whom she created roles in ballets by George Skibine and Serge Golovine. Her Paris debut was sensational, and her success was repeated when the company appeared at the Stoll Theatre in London early in 1954.
Gorham rejoined the Borovansky Ballet later that year. In 1954 she took the title role in Pineapple Pollunder the direction of its choreographer, John Cranko, and created leading roles in Grinwis' Los Tres Diabolos (1954) and Lichine's Corrida (1956). As well she entranced audiences in the great 19th century classics – Swan Lake, The Sleeping Princess, Nutcracker, Coppélia and, of course, Giselle.
But it was not only in ballet that Gorham shone. For Christmas 1956 William Orr cast her in the title role of his adaptation of Alice in Wonderland, with music by Dot Mendoza. After an enormously successful season at the Phillip Street Theatre in Sydney Alice was restaged at the Comedy in Melbourne in 1961, and revived at the Phillip in Sydney in 1966 and at the Princess in Melbourne in 1967. In 1957 Gorham reached a vast new audience when she played the tragic deaf mute in the drama Johnny Belinda, telecast live as part of the groundbreaking Shell Presents drama series on ATN7 and GTV9. Later she was often seen in classical ballet segments on Graham Kennedy's In Melbourne Tonight.
In 1957 Borovansky imported Robert Pomie, a dashing Moroccan-born French choreographer and dancer. He and Gorham married in December 1958. They had one son, but divorced some years later. In 1959 Gorham danced in several classical and original works with Pomie's own short-lived company at his Ballet Theatre le Français in Pitt Street, Sydney. After that she and Pomie returned to the Borovansky Ballet, which had survived its founder's death in December 1959. In January 1960 she, Pomie and Grinwis premiered Grinwis' Journey to the Moon. It was the company's first full-length ballet and Grinwis dedicated it to Borovansky's memory. Gorham and Pomie's interpretation of Giselle was rapturously received, as was their Coppélia and their Don Quixote Pas de Deux.
In 1961 Gorham and Pomie danced in an extended version of The Surfers, which he had created for his own company in 1959. It was one of the Borovansky Ballet's final offerings. The company disbanded in February 1961.Gorham went to Europe, but was persuaded to return in 1962 to become a prima ballerina and foundation member of the newly-formed Australian Ballet.
In its early programs she danced Swan Lake and Pomie's moving Pas Classique, choreographed to Bizet's Symphony in C. Gorham created the role of Archer in Rex Reid's Melbourne Cup and the Fiancée in The Night is a Sorceress. For Robert Helpmann she created leading roles in The Display and The Soldier's Tale (1964), Yugen (1965) and Elektra (1966). The Display was one of the highlights of the Australian Ballet's first overseas tour, in 1965. With Margot Fonteyn and Rudolf Nureyev as guest artists, the company was a principal attraction of the first Commonwealth Arts Festival. With Gorham in the title role, the company's Giselle won the Grand Prix de Paris at the Third International Festival of Dance in Paris.
Gorham retired from the Australian Ballet in 1966. Her final performance was in Giselle at the Princess Theatre on 18 May. At the end of a night of streamers, flowers and tears, Madame Borovansky told the audience: 'Many years ago my late husband and myself discovered a seed… We nurtured and tended it, and over the years have seen it grow and develop into a rare and beautiful flower in the form of Australia's prima ballerina, Kathleen Gorham.' Two years later Gorham was awarded the Order of the British Empire.
Gorham transferred her energies to the ballet school in Melbourne that she had taken over from Rex Reid. As passionate a teacher as she had been a dancer, she claimed she found teaching far more interesting. In December 1968, perhaps with memories of that Peter Pan in which she had debuted 23 years before, she produced Nutcracker at the Comedy Theatre in Melbourne, showcasing dozens of her devoted students. Elaine Fifield was the Sugar Plum Fairy and Leon Kellaway, Gorham's old teacher, made a guest appearance as Uncle Heinrich. Keith Little danced the role of Drosselmeyer and shared the choreographic credit with William Akers, a Borovansky colleague, who also directed.
In August 1969 she and another Borovansky veteran, Martin Rubinstein, produced the ballet for the fledgling Victorian Opera Company's production of Orpheus and Euridice at the Union Theatre at the University of Melbourne.
In 1975, when the lease on her teaching premises expired, Gorham and her students amalgamated with the National Theatre Ballet School in St Kilda, which was headed by her old friend Marilyn Jones. Gorham became associate director. A slight stroke slurred her voice a little, but it did not diminish her commitment to teaching. As well as her regular students, she fostered Aboriginals, the blind, the poor, and the mentally handicapped.
Gorham was as volatile as she was passionate, and staff and friends found her increasingly difficult to work with. Then, in 1981, virtually without warning, she moved to Southport in Queensland, where she opened a school in an unpretentious church hall. She also ran summer schools at Tallebudgera on the Gold Coat with her friend Peggy Sager. In 1983 she was a guest teacher for the Queensland Ballet.
Kathleen Anne Gorham died of a heart attack in 30 April 1983. Her memory is commemorated in the Royal Academy of Dance's Kathleen Gorham Memorial Scholarship, and she is still revered by hundreds of her former pupils. Among them are dance luminaries such as Steven Woodgate, Rebecca Yates, Sheree da Costa, Mark Annear, Suzanne Mzuri Watts, Aboriginal dancer Roslyn Watson, Gary Ginivan and Beverly Jane Fry, who eventually followed in her teacher's footsteps to become director of the National Theatre Ballet School in Melbourne.
Frank Van Straten, 2007
Related Links
References
Biographical
Barry Kitcher: From Gaolbird to Lyrebird, Front Page, 2003
Edward H. Pask: Ballet in Australia,Oxford, 1982
Edward H. Pask: 'Kathleen Gorham', in Dance Australia, September 1983
Frank Salter: Borovansky, Wildcat Press, 1980
Media
Photograph courtesy National Library of Australia vn3064554-v