Kenn Brodziak OBE 1913 – 1999
Kenn Brodziak OBE 1913 – 1999
Kenn Brodziak OBE 1913 – 1999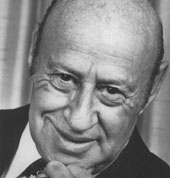 He was born in the suburb of Waverley on 31 May 1913. At school, his ambition was always to act and to write and produce his own plays; he even chose a stage name, 'Richard Raymon'.
Brodziak's subsequent ventures included a literary agency, a theatre party booking system, a film script assessment service and artist management.
Mr Show Business
'Showbiz,' said actor and producer Noel Ferrier, 'has always needed showmen – producers with a hard business sense mixed with flair, daring and the guts to take a gamble with their own brass – or, preferably, with someone else's! What the business doesn't need is starry-eyed accountants, well-intentioned though their amateur attitudes might be. Kenn Brodziak probably has been one of Australia's greatest post-war showmen.
He's always had a nose for a hit. He secured the Beatles for their Australian tour before they were big time. His failures could be counted on the fingers of one hand. Among those who rose around him were Harry M. Miller, Paul Dainty, Michael Edgley and, the youngest of the breed, Wilton Morley. Guys of that sort give the business excitement.'
For Kenneth Leo Brodziak, that excitement started in Sydney, where he was born in the suburb of Waverley on 31 May 1913. At school, his ambition was always to act and to write and produce his own plays; he even chose a stage name, 'Richard Raymon'. He staged his first play, a thriller called The Killer, when he was 15, but to please his parents he agreed to study law. Soon he was leading a frenetic double life: during the day he was law student Kenneth L. Brodziak, but at night he became Richard R. Raymon, involved with The Entertainers, an amateur dramatic company. They staged his musical comedy The Mystery Girl in 1929; others followed.
It was the furore surrounding the banning of Clifford Odets' anti-Nazi play Till the Day I Die that alerted Brodziak to the value of publicity. He determined to write a play that, too, would be banned. The result was Desire Brings Welcome, in 1936. Its plot revolved around (surprise!) a young law student named Kenn who wants to be a playwright. His play's characters included a lesbian, a prostitute, a homosexual, a drug addict, a nymphomaniac, a sadist, a blackmailer and a social climber. Sir Benjamin Fuller agreed to be the production's patron – and, as Brodziak had hoped, after a satisfying avalanche of publicity, it was helpfully banned.
Brodziak's subsequent ventures included a literary agency, a theatre party booking system, a film script assessment service and artist management. Along the way he persuaded David N. Martin to stage the American comedy Susan and God at the Minerva in Kings Cross; it was a smash hit.
In 1941 Brodziak joined the RAAF. He trained as a navigator in Canada; this allowed him to spend his leave exploring the theatre on offer in New York. Later, while serving in Europe, he was involved in several bombing raids over Germany. During his West Africa posting he wrote and staged revues for the troops.
In London Flight Lieutenant Brodziak saw an innovative new show called Get a Load of This, part musical, part drama, part revue. When he returned to Australia he persuaded David N. Martin to produce it at the Tivoli; at the same time Brodziak also talked himself into a job as assistant producer.
In 1946 Brodziak formed Aztec Theatrical Management and Publicity Company. But what started out as a publishing firm, printing tourist guides and organising a newspaper column called 'The Shopping Spy', became increasingly involved in theatre. In 1948 Brodziak presented Doris Fitton's acclaimed Sydney Independent Theatre production of O'Neill's Mourning Becomes Electra in Melbourne. Others shows followed, including Sumner Locke Elliott's lustily-languaged Rusty Bugles, which went on to tour widely through Australia and New Zealand, in association with Garnet H. Carroll. In 1952 Brodziak imported his first big overseas star, Jessie Matthews. She toured for him in the play Larger than Life.
By now Kenn was edging into the 'big league' of Australian entrepreneurs, working in competition – or, more often, cooperation – with Garnet H. Carroll, David N. Martin and J.C. Williamson's. But he was different: he never owned a theatre. 'I worked independently,' he said. 'I found that if I got the attraction, I'd always get the theatre. We'd do it in a joint presentation. I'd get the show and they'd put up the theatre. We'd have some percentage arrangement for sharing.' Soon theatre owners were coming to him, asking for shows to keep their theatres open.
In 1954 Brodziak imported the brilliant drummer Gene Krupa, French crooner Jean Sablon, Ted Heath and His Band, and the sensational Water Follies. He also acquired the Australian amateur and repertory rights for the works of several notable overseas playwrights, including Tennessee Williams, Lillian Hellman and William Inge.
Unlike his fellow entrepreneurs, Brodziak didn't regard television as a threat. Instead he used it constructively to promote his attractions, and he imported many of the stars of overseas TV programs. And one of his biggest successes, The Black and White Minstrel Show, was a spin off from a popular small-screen show.
In the late 1950s and early 1960s he was involved in tours by Winifred Atwell, Moira Lister, Lonnie Donegan, Bob Crosby, Cliff Richard and The Shadows, Ruth Wallis, the Dave Brubeck Quartet, Helen Shapiro, Kenny Ball, Sophie Tucker, Marcel Marceau, Eartha Kitt, Joyce Grenfell, Nelson Eddy, Des O'Connor, Jack Benny, and the musical Stop The World – I Want To Get Off. His greatest coup came when he engaged the Beatles for an Australian tour before they had become world famous. By the time they got to Australia in 1964, they played for a fraction of the fee they could command elsewhere.
Other concert attractions included Marlene Dietrich, who toured for him twice, Manfred Mann, Cilla Black, Mark Wynter, the Dave Clark Five, the Seekers, Gene Pitney, P.J. Proby, Peter Paul and Mary, Normie Rowe, Bob Dylan, Herb Alpert, and Trini Lopez. Brodziak's theatrical productions included Madge Ryan in Peter Shaffer's Black Comedy, Ron Randell in There's a Girl in My Soup, Robert Morley in his one-man show, the musical Instant Marriage and The Windmill Revue.
In 1968 Brodziak and Harry M. Miller transformed a forgotten hall in Exhibition Street to become the Playbox, the home for the Melbourne season of their production of the controversial play The Boys in the Band. Brodziak's involvement with musical theatre included productions, usually with other managements, of Godspell; Canterbury Tales and Charlie Girl, which starred Anna Neagle, Derek Nimmo and John Farnham; No, No, Nanette; Two Gentlemen of Verona; Pippin, again with Farnham; and The Magic Show.
The 1970s brought Sid James in The Mating Season and Derek Nimmo in Why Not Stay For Breakfast? Concert attractions included Carol Charming, Rod McKuen, Bette Davis, Hinge and Bracket, and Ronnie Corbett.
In 1976, on the demise of the illustrious J.C. Williamson organisation, Kenn Brodziak became managing director of J.C. Williamson Productions Ltd, which aimed to continue the JCW tradition. Its debut – the world premiere of More Canterbury Tales – was a major disappointment, but its successor, the locally created The 20's and All That Jazz, starring John Diedrich, Caroline Gillmer and John O'May, did much better. Next came A Chorus Line, the plays Boeing Boeing and Funny Peculiar, the Melbourne seasons of Patrick White's Big Toys and Side by Side by Sondheim.
The cavalcade continued with Dracula, directed by Robert Helpmann and starring John Waters, the musical Annie with Jill Perryman, Hayes Gordon and Nancye Hayes, Liv Ullmann in Cocteau's The Human Voice, Deathtrap, The Two Ronnies, Peter Allen in Up In One, and Derek Nimmo again, this time in Shut Your Eyes and Think of England.
From 1969 until 1973 Kenn Brodziak was vice president and then president of what today is known as Live Performance Australia. Another of his contributions was the training his office gave to a new generation of theatre professionals. Among the distinguished Brodziak alumni are Sue Nattrass, Malcolm Cooke, Robert Ginn, Shane Hewitt and Ashley Gordon.
In 1980, at the age of 67, Kenn Brodziak announced his retirement, but it was, at best, a Clayton's affair. He stayed on as chairman of J.C. Williamson Productions until the company was sold in 1984, he continued to invest in shows, he offered advice whenever it was sought of him, and he continued his 13-year service on the board of the Melbourne Theatre Company – ironic, in view of the disdain in which he held most subsidised performing arts.
His remarkable contribution to entertainment was honoured in 1978 when he was awarded the OBE. In 1998 he and fellow entrepreneur Edna Edgley were the recipients of the in inaugural LPA James Cassius Awards, honouring their outstanding contributions to live entertainment in Australia.
Kenneth L. Brodziak died in Melbourne on 3 June 1999. A major collection of his personal memorabilia and his business records, including detailed documentation of the Beatles' 1964 tour, are preserved in the Performing Arts Collection at the Victorian Arts Centre in Melbourne. A major biography by Raymond Stanley remains unpublished.
Frank Van Straten, 2007
Related Links
References
Biographical
Ian Bevan: The Story of the Theatre Royal, Currency Press, 1993
John Cain: On With the Show, Prowling Tiger Press, 1998
Noel Ferrier: There Goes Whatsisname, Macmillan, 1985
Raymond Stanley: 'Mr Kenn Brodziak OBE', in Inaugural James Cassius Awards program, The Entertainment Industry Employers Association, 1998
John West: 'Kenn Brodziak' in Companion to Theatre in Australia, Currency Press, 1995