Kevin Jacobsen OAM
Kevin Jacobsen OAM
Kevin Jacobsen OAM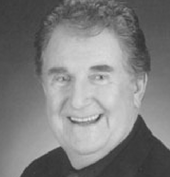 Born in Sydney on 29 July 1937, Kevin George Jacobsen began his working life in a chartered accountant's practice.
In 1957, he and his brother, guitarist and singer Colin, joined with drummer John Bogle, saxophonist Lawrie Erwin and guitarist Dave Bridge to form the KJ Quintet.
They took the advice of a clairvoyant and changed their name to Col Joye and the Joy Boys.
Family spectacular
Rock promoter and former Lee Gordon associate Max Moore recalls: 'The first time I saw Col Joye perform was at the old Sydney Stadium in 1959, when he and the Joyboys appeared on one of Lee's Big Shows. As Lee began including more and more Australian talent in his shows, I phoned Col's office and arranged a meeting between Lee and Col's personal manager – his brother Kevin Jacobsen. Kevin was a tall ginger-haired guy with a big Mohawk hairstyle, who smoked and blinked incessantly. When he was introduced, I thought to myself, 'What a dopey looking bastard to be managing Col Joye.' Little did I realise that Kevin would become one of the most, if not the most, successful entrepreneurs in Australia and would bring to this country a myriad of international artists as well as some of the world's greatest musicals and ensembles, and that I would be associated with him and Col for over thirty years. How wrong first impressions can be!'
Born in Sydney on 29 July 1937, Kevin George Jacobsen began his working life in a chartered accountant's practice. An adept piano player – he always stood up to play – he devoted all his spare moments to music. In 1957, he and his brother, guitarist and singer Colin, joined with drummer John Bogle, saxophonist Lawrie Erwin and guitarist Dave Bridge to form the KJ Quintet. After some success playing for weddings and local dances, they took the advice of a clairvoyant and changed their name to Col Joye and the Joy Boys, adding younger brother Keith on bass. Almost immediately they scored a booking on Bill McColl's Jazzarama concert in October 1957. After this came an engagement to play at the Capitol Theatre in Sydney as a curtain raiser for the film The Tommy Steele Story, an appearance on TV's Bandstand and a recording contract. Kevin and Col wrote a number of songs, but none, unfortunately, were among their four Number One hits and their many other Top Forty successes.
While Col Joye went on to become a 'teen idol' and an enduring pop legend, Kevin left the band and began managing artists and promoting concerts. He and Col set up Col Joye enterprises and their own publishing company. In 1965, with Col and Tony Brady, Jacobsen founded ATA Allstar Artists, which encompassed a record label, a recording studio, event promotion and production, and artist representation.
Initially Jacobsen presented local acts – including, of course, Col Joye and the Joy Boys – but before long he began importing overseas attractions. It was to mark this change of direction, that 'Kevin Jacobsen Productions' was created. He claims that in the 1970s and 1980s he toured more artists than any other Australian promoter. Eventually he started producing theatrical shows and arena spectaculars, frequently working in partnership with other promoters. Among his early successes was a tour by the affable Irish comedian Dave Allen; one of his disasters was The Evil Knievel Thrill Spectacular, whose infamous American daredevil star failed to deliver either thrills or spectacle.
In 1987 Jacobsen presented Michael Jackson's first Australian tour. In 1988 he was commissioned by the Queensland Government to mastermind 'Queensland Day' celebrations in the presence of the Duke and Duchess of Kent, and by the Federal Government to produce the Royal Bicentennial Concert in the presence of the Prince and Princess of Wales. In 1989 he presented the sell-out concert event Legends of Rock.
In 1995 he was the first promoter outside the USA to be invited by the Disney organization to present the stage version of Beauty and the Beast. Its run of two years in Melbourne and 15 months in Sydney grossed $58 million. Also that year he produced the television series Gladiators for the Seven Network. The gross takings for his 1997 presentation of The Three Tenors at the Melbourne Cricket Ground were the largest in Australian history for a single concert – $15 million. In 1999 he presented The Bee Gees – One Night Only, the first live performance at Stadium Australia – the Olympic Stadium.
In 2000 Barbra Streisand's four stadium concerts in Sydney and Melbourne achieved the highest grosses anywhere in the world for this artist, more than $23 million. The year 2001 brought Shout! – The Legend of the Wild One, an all-Australian production based on the life of Jacobsen's old friend, Johnny O'Keefe. It toured Australia to record crowds, winning Mo and Green Room Awards and an ARIA for Best Cast Album. In 2002 Jacobsen presented a sell-out Elton John concert tour, plus Fame – The Musical, which toured throughout Asia, and two sensationally successful arena shows: the classic Australian rock anthology Long Way to the Top and the brilliantly innovative The Man from Snowy River Arena Spectacular.
Other Jacobsen theatrical ventures have included Oscar Wilde's Diversions and Delights, Girls' Night Out, A Chorus Line, Camelot (with Richard Harris), Lend Me a Tenor, Return to the Forbidden Planet, Walt Disney's World on Ice and Stars of the Bolshoi Ballet, as well as massive open-air productions of Aida and Turandot.
Among the many artists who have toured under the Jacobsen banner are Slim Whitman, KISS, Simon and Garfunkel, Bob Marley, Shania Twain, Billy Joel, John Denver, Pearl Jam, Cyndi Lauper, Julio Iglesias, Barry Manilow, Meatloaf, Olivia Newton-John, Peter Allen, Sammy Davis Jr, and many more.
In 2003 the Jacobsen enterprise, which had been floated as a public company only the year before, suffered heavy losses from a disappointing Bruce Springsteen tour and the failure of the musical The Witches of Eastwick. Jacobsen attributed the combined loss of some $8.5 million to the impact of the Bali attacks and the Iraq war.
A subsequent Jacobsen ventures proved more successful: Dirty Dancing – The Classic Story on Stage, an adaptation of the much loved movie, had its world premiere at the Theatre Royal in Sydney on 18 November 2004 and went on to international success.
Jacobsen was also involved in venue management through a private company, Jacobsen Venue Management (JVM). This controlled the 13,000-seat Vector Arena in Auckland, the 12,000-seat Sydney Entertainment Centre and the 2000-seat Capitol Theatre in Sydney – on whose stage Jacobsen was the subject of This Is Your Life on 11 September 1997. He was also been involved in the management of the Convention and Exhibition Centres in Sydney and Brisbane, and the Newcastle Entertainment Centre.
Kevin Jacobsen's brother, Col Joye, and his sister, Carol, were actively involved in the family's enterprises, as were the next generation of Jacobsens, Michael (Kevin's son) and Amber (Col's daughter). The family album also includes singer Sandy Scott (Carol's husband), pop icon Little Pattie (Patricia Amphlett – who was married to Keith) and the Divinyls' Chrissie Amphlett (Little Pattie's cousin).
Kevin Jacobsen served a four-year term on the board of the Australian Broadcasting Corporation and was influential in establishing the Triple J radio network, the most significant broadcaster of contemporary music in Australia. In 1985 he received the Order of Australia Medal (OAM) in recognition of his services to the performing arts. He has also garnered numerous ARIA, Mo and Green Room Awards for his theatrical productions. In 2002 Live Performance Australia honoured his contribution to the industry with its James Cassius Williamson Award.
In 2011, after an acrimonious family split, the multitude of intertwined family companies went into liquidation.
Frank Van Straten, 2007, 2013
References
Biographical
Ian McFarlane: The Encyclopedia of Australian Rock and Pop, Allen and Unwin, 1999
Max Moore: Some Days are Diamonds, New Holland Publishers, 2003
Greg Tingle: Media Man Interview with Kevin Jacobsen, 28 August 2003, www.mediaman.com.au