Lee Gordon 1923 – 1963
Lee Gordon 1923 – 1963
Lee Gordon 1923 – 1963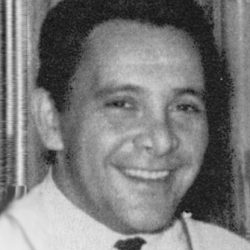 The Australian Dictionary of Biography says he was born Lee Lazer Gordon in Detroit, Michigan, on 8 March 1923, yet people who knew him well say his real name was Gevorshner, and that he was born in Coral Gables, Florida in 1917.
At the suggestion of his friend Arthur Schurgin, a Detroit promoter, Gordon decided to explore the possibility of presenting big-name acts in Australia. He arrived in September 1953.
The Big Showman
'Lee Gordon was the pioneer,' said entrepreneur Harry M. Miller in the ABC TV series Love is in the Air. 'He created and invented for Australia large-scale entertainment in big arenas. He'd put four or five major names on the one bill. Today you get one person. He was very generous and entrepreneurial. Nobody else started it. He did. He was very imaginative, way before his time. He was talking about drive-in hamburger bars before McDonalds was even heard of. He was short, pug nosed, and always had a cigarette in his mouth. Without doubt he was a very hip guy.'
Who was Lee Gordon? The Australian Dictionary of Biography says he was born Lee Lazer Gordon in Detroit, Michigan, on 8 March 1923, yet people who knew him well say his real name was Gevorshner, and that he was born in Coral Gables, Florida in 1917. That's just one of the many murky areas in the extraordinary Lee Gordon saga.
Gordon graduated from the University of Miami in 1944 with a Bachelor of Business Administration, but he had already dabbled in show business, presenting a jazz concert in an ice rink in Muskegon, Michigan. With publicist Benn Reyes he dabbled in a Shakespeare in the Round project and worked for a while with Royal American Shows, a large Tampa-based travelling carnival. In Lima, Peru, he was involved in a direct mail business, and in Havana, Cuba, he exported cigars and roses to the United States and booked American acts into the lush Tropicana, Havana's famous open-air nightclub. Back in the United States he developed a chain of 60 House of Grams and House of TV stores, but his gimmicky sales pitches drew the wrath of the powerful US Electrical Retailers' Association. He was forced out of business and lost heavily. At the suggestion of his friend Arthur Schurgin, a Detroit promoter, Gordon decided to explore the possibility of presenting big-name acts in Australia. He arrived in September 1953.
Gordon's cheeky marketing drew thousands of customers to his Royal Art Furnishing in Castlereagh Street, Sydney. He decided to invest his considerable profits in an invasion of the largely conservative world of Australian show business. With television still several years away, Australians' popular entertainment was controlled by a handful of well-established entrepreneurs like J.C. Williamson's and the Tivoli Circuit, whose presentations were tailored to the limitations of the theatres they owned. Lee Gordon changed all that. He was the first of a new breed of showmen, geared to mass marketed entertainment, air travel, and the emerging generation of affluent teenagers.
In July 1954, in partnership with Benn Reyes and Arthur Schurgin, Gordon hired the vast boxing stadiums in Sydney, Melbourne and Brisbane for the first of his now legendary Big Shows. That ground-breaking bill featured four great names: jazz legend Ella Fitzgerald, ace drummer Buddy Rich, clarinet genius Artie Shaw and the zany comic Jerry Colonna, all backed by a superb locally recruited big band led by Dennis Collinson. He remained Gordon's musical director until his death in 1959. The venture resulted in a small loss, but Gordon's next tour, which extended to Adelaide, Singapore and Hong Kong, was a bonanza. He headlined the sensational 'Cry' singer Johnny Ray and backed him with comedian Dave Barry and dancers Ray McDonald and Peggy Ryan. Local Tivoli all-rounder Babs McKinnon was added for her feminine glamour. Initially bookings were disappointing, but a typical Gordon stunt, in which thousands of promotional leaflets were dropped from planes, resulted in packed houses and a tidy profit. He rounded off 1954 with tours by Louis Armstrong and the All Stars and Billy Daniels with the Andrews Sisters.
Over the next decade Gordon brought many of the world's top popular entertainers to this country, frequently adding local acts to fill out the bill. It was a roller-coaster ride. Some of his shows minted money; others lost heavily. And through it all Gordon became increasingly addicted to drugs, spending vast amounts of money and time in a bizarre search for a 'legal' form of marijuana.
In 1955 Frank Sinatra made the first of his four tours for Gordon, Johnnie Ray returned, and Nat 'King' Cole, Frankie Laine and comedians Rowan and Martin drew crowds. Gordon, it was said, had 'made a million'. Then the bubble burst. Instead of concentrating on the big pop personalities, Gordon put together a series of shows featuring legendary Hollywood stars: Betty Hutton, Bob Hope and Abbott and Costello. They were used to playing in theatres, not arenas, and they all flopped. To add to the dilemma, the West Melbourne Stadium burnt down, forcing Gordon to rent the totally unsuitable Leggett's Ballroom in Prahran as a temporary venue. He returned to safer fare in 1956: Gary Crosby, a Record Star Paradefeaturing Joe 'Fingers' Carr, Stan Freberg, Buddy Rich, Don Cornell, with the local group Bob Horsfall's Tune Twisters, plus return visits from Johnnie Ray, Nat 'King' Cole, Frankie Laine and Louis Armstrong and the All Stars, who toured for Gordon in Britain as well as Australia.
There was a second Record Star Parade in 1957, with Stan Kenton, Guy Mitchell, Cathy Carr andLionel Hampton and his Band – all top artists, but whose music was suddenly and decisively sidelined by the advent of rock 'n' roll. Typically, Gordon was the first local promoter to hop aboard the exciting new bandwagon, with a January 1957 package featuring Bill Haley and the Comets, Little Richard, Gene Vincent, Eddie Cochran and The Platters. He followed this with The All American Rock 'n' Roll Show with Little Richard, plus Cochran, Vincent, and a sensational young local act – Johnny O'Keefe and the Dee Jays. Another local act, Graeme Bell's Skiffle Gang was featured with Johnnie Ray. Gordon also worked in the United States, where he promoted one tour with Sinatra and two with Elvis Presley, in association with the ubiquitous Colonel Tom Parker.
In 1958 Gordon established his own record labels, Leedon and Roulette. There was a brilliant World Hit Parade of Stars, with Paul Anka, Buddy Holly and the Crickets, Jerry Lee Lewis, Jodie Sands and Johnnie O'Keefe, and a financially disastrous Liberace tour; but mostly Lee Gordon was AWOL: high on drugs in the United States or Britain and later locked away to dry out Honolulu. Competitors took advantage of his absence, notably Bill Watson, whose Headliners tours featured Chuck Berry, Bobby Darin and Disney's Mouseketeers. Watson later managed and toured the Delltones and Lucky Starr.
Things were more stable in 1959, with a string of Big Shows featuring established overseas stars such as Frank Sinatra, Sammy Davis Jnr, Stan Freberg, Red Norvo and Johnny Cash, plus a parade of top rockers including Frankie Avalon, Tommy Sands, Gene Vincent, Tab Hunter, Sal Mineo, Fabian, the Everley Brothers, Lloyd Price, Conway Twitty, and the Kalin Twins. And there was plenty of local talent, by now billed equally with the imports: Johnny O'Keefe, Johnny Rebb and the Rebels, Col Joye and the Joy Boys, Johnny Devlin, Dig Richards, Lonnie Lee, the Delltones, Warren Williams, Diana Trask, Helen Reddy, Daryl Stewart, the Australian Jazz Quintet and the Horrie Dargie Quintet. The following year, 1960, brought The Diamonds, Duane Eddy, Jerry Lee Lewis, Bobby Rydell, Santo and Johnny, Floyd Robinson, Crash Craddock, Pat Boone, Harry Belafonte and Ricky Nelson.
When he could, Gordon took his shows, or segments of them, to smaller centres such as Newcastle, Wollongong, Hobart, Launceston, even Broken Hill. Sometimes he encountered an unofficial colour bar against black performers. In Adelaide, for instance, the Platters had to be secreted in and out of their hotel, while one of Gordon's staff kept the manager plied with Scotch.
In the latter half of 1960 Gordon diversified: a Big Boy Hamburger Drive-In in Parramatta Road, Taverners Hill and a 'high class strip restaurant', the Primitif, in Kings Cross. Neither lasted long. A nightclub called the Peppermint Lounge in Goulburn Street was another failure. Gordon also lost heavily on a jazz spectacular featuring Sarah Vaughan, Dizzy Gillespie, Jonah Jones, the Teddy Wilson Trio, Dakota Staton, Al Hibler, Coleman Hawkins and Ray Price.
Gordon started 1961with an All American Rock Spectacular, which brought back many of his earlier imports. Next was Connie Francis – his first young female headliner – with Bobby Vee. After them came American pop psychologist Dr Murray Banks, a final Frank Sinatra tour – his fourth for Gordon – and Chubby Checker headlining a show exploiting the latest dance craze, the Twist. A subsequent Twist promotion in the United States and a disastrous season with the foul-mouthed comedian Lenny Bruce ruined Gordon's reputation and his finances. By this time Gordon had survived a severe mental breakdown and was working in partnership with the 'colourful Sydney identity' Abe Saffron. He opened – and closed – a seedy nightclub in Oxford Street. His final enterprises were Sydney's first disco, located in the old Kings Cross Theatre, and The Jewel Box, a drag venue in Darlinghurst Road. This made a star of a stunning young transvestite who Gordon called Carlotta; the show eventually evolved into Sammy Lee's long running Les Girls drag spectacular.
In July 1963 Gordon was arrested on drug charges and fled Australia. The official cause of his death in a small London hotel on 7 November 1963 was cardiac arrest, but his friends were sceptical.
Lee Gordon changed Australian show business forever. He brought us some of the world's greatest entertainers, but he also introduced us to an exciting generation of young Australian performers who proved that they, too, could draw crowds. His success encouraged the building of new Festival Halls in Melbourne and Brisbane. There never could be another Lee Gordon, but entrepreneurs like Kevin Jacobsen, Kenn Brodziak and Harry M. Miller carried on where he left off. 'I really liked him,' said Miller. 'I always found him to be a soft, gentle guy, very sharp but soft. If you asked him for a favour he'd do it, and because he was honourable in his behaviour with me you see a guy in a different light I suppose.'
Frank Van Straten, 2007
Related Links
References
Biographical
Toby Creswell: Love is in the Air, ABC Books, 2003
Alan Heffernan: Big Shows: The Lee Gordon Years, Alan Heffernan, 2003
Max Moore: Some Days are Diamonds, New Holland, 2003
Michael Sturma: 'Lee Gordon', in Australian Dictionary of Biography, volume 14