Leo McKern AO 1920 – 2002
Leo McKern AO 1920 – 2002
Leo McKern AO 1920 – 2002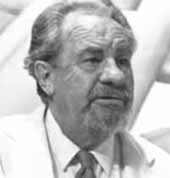 Reginald McKern (the 'Leo' came later) was born in the Sydney suburb of Petersham on 16 March 1920.
He took acting lessons, worked on radio serials at one guinea an episode, and joined May Hollinworth's Metropolitan Theatre.
Late in 1945 McKern and Holland were recruited by Will Mahoney for a production of Peter Pan at the Theatre Royal in Brisbane.
The wrinklies' hero
'He was an actor who not only perfectly played the character as you wrote it, but added to it withgenius and passion,' said John Mortimer, creator of the crumpled defence barrister Horace Rumpole, the greatest role in Leo McKern's lengthy career. 'He was shapeless, lovable and he could make you laugh and cry. His acting existed where I always hope my writing will be: about two feet above the ground, a little larger than life, but always taking off from reality. Perhaps he thought he had done too much Rumpole, but that for me could never be so.'
Reginald McKern (the 'Leo' came later) was born in the Sydney suburb of Petersham on 16 March 1920. At 15 he started an engineering apprenticeship, but an accident put him in hospital for 18 months and cost him his left eye. In 1937 he switched to commercial art. From 1942 to 1944 he served in the Australian Army. On his discharge he 'realised that the stage was where I wanted to be.' He took acting lessons, worked on radio serials at one guinea an episode, and joined May Hollinworth's Metropolitan Theatre. He made his acting debut there in 1945 in the role of the Stage Manager in Thornton Wilder's Our Town. In the lead role of Emily was a fine young classical actress, Jane Holland (Joan Alice Southall). J.C. Williamson's gave McKern his first professional engagement – as Ben, the chemist, in the grim thriller Uncle Harry, which ran at the Theatre Royal in Sydney in August 1945 (for a 5.30 p.m. season) and in October at the Adelaide Royal.
Late in 1945 McKern and Holland were recruited by Will Mahoney for a production of Peter Pan at the Theatre Royal in Brisbane; McKern doubled as Gentleman Starkey and assistant stage manager. In March 1946 he played Brian Curtis in Mahoney's production of French Without Tears. Holland, meanwhile, had filmed A Son is Born with Peter Finch and John McCallum, and had sailed for Britain. McKern soon followed her; they married in London.
McKern subsisted as a furniture salesman, commercial artist, cleaner and factory hand, until his wife got him a job stage managing Easy Money, in which she was on tour. This led to work with the Combined Services Entertainment Unit in Germany and provincial tours with the Arts Council. After experience with Nottingham Repertory Company, McKern made his London debut in October 1949 as Foreseter in the Old Vic's Love's Labour's Lost at the New Theatre. He remained with the Old Vic until he and his wife joined the Shakespeare Memorial Theatre Company for its 1953 Australian tour. McKern appeared as Iago in Othello, Touchstone in As You Like It and Glendower and Northumberland in Henry IV, Part I. Back in London he was kept busy with more Shakespeare, Big Daddy in Cat on a Hot Tin Roof and even Toad in Toad of Toad Hall.
In 1956 the Australian Elizabethan Theatre Trust decided to stage Douglas Stewart's Ned Kelly for the Melbourne Olympics. McKern was chosen to play Ned, and he and a number of other expatriates were brought back especially. It was a fiasco. The Sydney season was disappointing and the Melbourne establishment decreed that the glorification of a bushranger was not appropriate Games fare. The proposed season at Her Majesty's was abandoned. To make amends, the Trust backed a production of N. Richard Nash's The Rainmaker, which McKern directed and played in. He was also seen in an ABC radio production of The Clandestine Marriage.
In London in 1959 McKern directed the British premiere of The Shifting Heart, Richard Beynon's drama of bigotry against 'New Australians'. Two years later he made his New York debut as Cromwell in A Man for All Seasons, which achieved a marathon 637-performance run.
He was back in Australia in 1971, playing for the Melbourne Theatre Company as the irascible Governor Bligh in Ray Lawler's The Man Who Shot the Albatross, and the self-opinionated Rollo in Marcel Achard's Patate. Both plays were repackaged for the 1972 Adelaide Festival. McKern's greatest stage success in Australia came in 1988-1991 when he toured in Patrick Edgeworth's Boswell for the Defence.
The last of McKern's many West End credits was the Chichester Festival Theatre production of Harold Brighouse's Hobson's Choice at the Lyric Theatre in 1995. He returned to Australia in 1999 to play Mr Hardcastle in Oliver Goldsmith's She Stoops to Conquer for the Sydney Theatre Company at the Opera House Drama Theatre. The cast included Ruth Cracknell and McKern's daughter, Abigail, with whom he had never previously acted on stage.
All through his career McKern was as at home on film and television as he was on stage. His principal television credits include The Prisoner (1967), Reilly – Ace of Spies (1983) and, of course, the wily, overweight, jaded-but-dedicated defence lawyer Horace Rumpole in 42 episodes of John Mortimer's Rumpole of the Bailey (1978-1992). 'I suppose old Rumpers is a universal sort of character,' McKern said of the characterisation for which he is best known and most affectionately remembered. 'It's rather nice that the oldies, the crumblies, the wrinklies – and I'm one of them – have a hero who isn't young.' As QC Geoffrey Robertson, put it: 'His great achievement was to create a lawyer the world could love.'
In real life, McKern was as conservative as Rumpole was liberal. 'Rumpole and I are as different as chalk and cheese,' he said. He was also uncomfortable with the inevitable type casting: 'I'm like a little doggie, struggling to its feet after having the branding iron put on me.'
Among McKern's many film credits are Murder in the Cathedral (1952), Richard Lester's The Running Jumping and Standing Still Film (1959), The Mouse That Roared (1959), The Day the Earth Caught Fire(1962), the Beatles' Help! (1965), A Man for All Seasons (1966), The Shoes of the Fisherman (1968), Ryan's Daughter (1970), The Adventure of Sherlock Holmes' Smarter Brother (1975), The Blue Lagoon (1980) and Gloucester in Laurence Olivier's King Lear (1983). His radio play Chain of Events was filmed in 1957.
McKern also made a noteworthy contribution to Australian film. In 1987 he played the ageing Frank in Travelling North, a role that won him the AFI Best Actor Award. In 1995 he and Joan Sutherland played Dad and Mum Rudd in Dad and Dave: On Our Selection. He told the press: 'I must say being away from the country for so long, and loving it so much, there may be a tendency to forget the accomplishments of people like Dad Rudd in building this place. I hope the film will open the eyes of a lot of people, especially the young kids who seem to know little or nothing about their country and the way it developed, the sort of people who made it. It seems to me that a lot of people, and the government especially, are determined to smother the whole story of our background and how it was made, how it developed. The old Anglo-Saxon foundation of Australia, if you can call it that, and the way it developed, is being denigrated and ignored to an enormous extent.' McKern's last screen role was Bishop Maigret in Paul Cox's Molokai: The Story of Father Damien. It was released just a few days before his death.
In 1983 Leo McKern's long, lustrous career was recognised when he was made an Officer of the Order of Australia. He died in Bath on 23 July 2002, survived by his wife and his daughters – Abigail, who has a long list of stage, film and television credits, including the role of Liz Probert in Rumpole of the Bailey, and Harriet, who is a film-maker.
In spite of the years he spent overseas and his early struggles to soften his accent, Leo McKern remained robustly Australian, as British theatre director Tyrone Guthrie attested: 'He can coo like a dove, roar like a lion, sing like an angel and curse like, well, as only Australians can.'
Frank Van Straten, 2007
Related Links
References
Biographical
Leo McKern: Just Resting, Methuen, 1983
Lynne Murphy: 'Jane Holland' and 'Leo McKern', in Companion to Theatre in Australia, Currency Press, 1995
Hal Porter: Stars of Australian Stage and Screen, Rigby, 1965
John Sumner: Recollections at Play, Melboune University Press, 1993