Louise Hanson-Dyer 1884–1962
Louise Hanson-Dyer 1884–1962
Louise Hanson-Dyer 1884–1962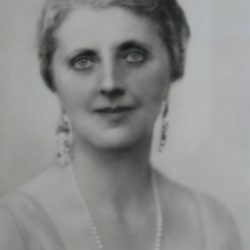 Louise Berta Mosson Hanson Smith was born in Melbourne on 19 July 1884.
She attended the Albert Street Conservatorium, studying piano with Eduard Scharf.
She returned to Melbourne and married James 'Jimmy' Dyer, a successful businessman. She was 27; he was 54.
The lyrebird lady
'I got word from A.G. Stephens that Mrs James Dyer, a Melbourne lady, had offered to fetch out abook of my verse by subscription,' recalled the 'bush poet' John Shaw Neilson. 'I wrote and told the lady that I did not think the thing was practicable. She replied that she meant to do it somehow. [Then] I got a note from A.G. saying that Mrs Dyer had given the publishers a cheque for £100, and that the book would be out in a few days. Thus Ballad and Lyrical Poems was born in a great hurry. I felt very much indebted to Mrs Dyer. [On a beautiful summer morning, New Years Day 1924] I went out to Toorak. I had on a grey coat and vest, the remains of a rather decent suit; but my trousers were unspeakable. They were slops of the worst kind. They were dark and at least a size too big for me. I turned them up at the bottom to accommodate my rather short legs. I would have got out of that trip if I could possibly have done, but there didn't seem to be any option. When I beheld such great mansions and such spacious grounds I could scarcely get pluck enough in me to enter the gates. I need not have been so timorous about it, as Mrs Dyer and her worthy husband made me very welcome. Had I been the Prince of Wales I could not have been better treated. I have recollections of a very fine six-course dinner the like of which I had never seen before. After that I said goodbye to Mrs Dyer, the very gracious lady who was anxious that my verse should be known not only here but in the old world, to which she was going to take a trip. She was at home during the London season in 1924 and had the great opportunity of doing so. If anybody knows about me in Britain, it is almost entirely due to Mrs Dyer. In Melbourne she encouraged several elocutionists to recite my verse. She told me that she had put on a green dress herself at an entertainment and had said "Petticoat Green". She did not say she recited it. She was too modest for that.'
Louise Berta Mosson Hanson Smith was born in Melbourne on 19 July 1884. Her father, Louis Lawrence Smith, the son of a London theatrical entrepreneur, was a well-known Melbourne doctor, parliamentarian and art collector.
Louise's musical talent was recognised at the Presbyterian Ladies' College, East Melbourne. She attended the Albert Street Conservatorium, studying piano with Eduard Scharf. In 1907 she went with her elder brother, Louis, to Britain, where she took further instruction in piano. In 1911, soon after she had returned to Melbourne, she married James 'Jimmy' Dyer, a successful businessman. She was 27; he was 54.
Louise Dyer swiftly claimed a place in Melbourne's artistic circles. At 'Kinnoull', her grand mansion in Toorak, she played munificent host to the city's elite. She engaged the best available musical talent to entertain her guests, and commissioned leading artists to design the souvenir programs. She was always centre-stage, always gorgeously and flamboyantly dressed, and always sparkling with wit and charm.
Dyer fostered Melbourne's Alliance Française and the formation of the British Music Society of Victoria. She subsidised most of its presentations, including in 1926 a single performance of Gustav Holst's short English opera Savitri, proceeds of which provided a considerable boost to the British Music Society's Endowment Fund.
Dyer also espoused the work of the bush poet John Shaw Neilson. She underwrote the publication of his Ballad and Lyrical Poems in 1923 and led a deputation to the prime minister to seek an increase in the pensions that the Commonwealth made available to writers.
Her husband, meanwhile, served on the executive of the Royal Victorian Liedertafel, with which he had sung as a tenor, and expanded his art collection.
In 1927, after they donated £10,000 to assist the formation of a permanent orchestra, the Dyers left Melbourne and spent two years exploring Europe. They settled permanently in Paris, which Louise called 'the Mecca of musicians'. Their luxury apartment, with its view of the Eiffel Tower, became a magnet for the era's leading composers and writers, and for friends visiting from Australia. There were frequent trips back to Melbourne, most notably in 1932: her brother, Harold Gengoult Smith, had become the city's lord mayor. He was then a bachelor, and Louise enthusiastically assumed the role of lady mayoress.
Back in Paris, Louise devoted herself to collecting historic musical manuscripts and to establishing her own publishing house, 'Éditions de l'Oiseau-Lyre', the name and associated logo reflecting the iconic lyrebird of her homeland.
Her first project was the publication of the complete works of the composer François Couperin,timed to coincide with the 200th anniversary of his death, 1933. Dyer's definitive 12-volume edition was acclaimed for its impeccable scholarship, superb engraving and artistic design. In recognition of her work for French music, Louise Dyer was appointed a Chevalier of the Légion d'Honneur in 1934.
By 1940, Éditions de l'Oiseau-Lyre had published around 40 volumes, including collections of sonatas by Purcell and Blow and the polyphonic music of the 13th century. Australian composers were not forgotten: Arthur Benjamin, Peggy Glanville-Hicks, John Tallis, Esther Rofe and Margaret Sutherland – including Sutherland's settings of John Shaw Neilson poems. There was also The Melbourne Centenary Music Book, published to mark the city's 100th birthday in 1934.
In 1939 Éditions de l'Oiseau-Lyre issued its first 78rpm gramophone recordings. Initially the repertoire illustrated or complemented the company's published music, but soon the recordings assumed their own importance.
James Dyer died in 1938. The following year Louise married Joseph 'Joe' Hanson, an English literary scholar who had studied at the universities of Melbourne and Paris. She was 55; he was 30. During the war they lived in England. Hanson attended Balliol College, Oxford, while Louise continued to administer Éditions de l'Oiseau-Lyre from London.
After the war the couple moved to Monaco. The music publishing continued, as did the recording program. A trip to the United States convinced Louise of the advantages that the newly introduced long playing recordings could offer classical music. In 1949 Éditions de l'Oiseau-Lyre issued the first LP records in France. There followed a steady stream of superb recordings of mostly unfamiliar music, impeccably performed. The repertoire ranged from Monteverdi (the first ever recording of his Vespers) to ground-breaking works by Schönberg, Milhaud and Stravinsky. Oiseau-Lyre was responsible for two of Joan Sutherland's earliest recordings: a recital of Handel arias in 1959 and his opera Acis and Galatea the following year. In 1957 the French Government promoted Louise to Officier of the Légion d'Honneur in recognition of her key role in the renewal of interest in and performance of Baroque music.
Louise Hanson-Dyer died in Monaco on 9 November 1962. Most of her Australian estate, valued for probate at £241,380, was bequeathed to the University of Melbourne – an indication of her continued attachment to her homeland. The principal beneficiary of her European estate was her husband. He continued Louise's work, commissioning a new edition of the complete works of Clément Janequin, adding to the catalogue of rare and otherwise unrecorded works, and supporting young musicians. In 1970 Decca bought the recording business; it continues to use the label for its specialised early music releases.
When Hanson died in 1971, control of Éditions de l'Oiseau-Lyre passed to his second wife, Margarita M. Hanson. Her most significant venture, a definitive 25-volume edition of polyphonic music of the 14th century, was completed in 1992. She also supervised the publication of revisions of existing editions, including a new edition the François Couperin collection with which Louise Hanson-Dyer had launched Éditions de l'Oiseau-Lyre five decades earlier. In 1992 Margarita Hanson was awarded the degree of Doctor of Music Honoris Causa by the University of Melbourne. When she retired in 1995, the business passed to musicologist and harpsichordist Davitt Moroney, who had been with the firm since 1981. He was succeeded in 2001 by Kenneth Gilbert, also long associated with the firm.
Since 1979, thanks to Louise Hanson-Dyer and J.B. Hanson's munificence, all Éditions de l'Oiseau-Lyre's publications have been produced with the financial assistance of the University of Melbourne. The company is now owned by the Lyrebird Trust, of which the University of Melbourne is a Trustee. It is also supported by the government of Monaco and several other European institutions.
Louise Hanson-Dyer's precious collection of 15th to 19th century music scores, librettos and theoretical tracts was bequeathed to the university and is now part of the music library's rare collections. In 2006 an exhibition of key items from the collection marked the renaming of the library in Louise's honour and the launch of a new imprint: Lyrebird Press at the University of Melbourne. Appropriately, its first publication was a catalogue of the entire Louise Hanson-Dyer collection.
Frank Van Straten, 2007
References
Biographical
Jim Davidson: 'Louise Berta Mosson Hanson Dyer', in Australian Dictionary of Biography, volume 8, Melbourne University Press
Jim Davidson: Lyrebird Rising, Miegunyah/Melbourne University Press, 1994
Richard Excell and Jennifer Hill: Bowerbird to Lyrebird, Baillieu Library, University of Melbourne, 2006
John Shaw Neilson: The Autobiography of John Shaw Neilson, National Library of Australia, 1978