Margaret Sutherland AO OBE 1897 – 1984
Margaret Sutherland AO OBE 1897 – 1984
Margaret Sutherland AO OBE 1897 – 1984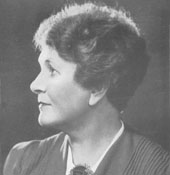 Sutherland was born in Adelaide – on 20 November 1897 – during her father's stint as a writer for The Register.
In 1914 Sutherland was awarded two scholarships at the Albert Street Conservatorium, one for piano with Edward Goll, the other for composition with Fritz Hart.
By 1923 Sutherland had saved enough to travel to Europe.
Sutherland married in 1927 and for the next few years devoted most of her energies to raising her two children.
The matriarch of Australian music
In her 1948 book Australia Makes Music, Isabelle Moresby describes Margaret Sutherland as 'an original and fearless composer. By her faith and determination she has won distinction for her serious contribution to the musical literature of the world. Yet it takes her quite by surprise when others remark on the charm of her own work. Lili Kraus, the famous Hungarian pianist, heard some of Sutherland's recordings and exclaimed, "These are exquisite!" then Frederick Grinke, leader of the Boyd Neel String Orchestra touring Australia was so impressed with her saxophone sonata and the singing quality of the composition, that he came to her and asked if she had any violin pieces as he would like to perform them. She believes that music is the ideal career to combine with domesticity, in spite of times of stress and strain that necessarily come when such a full "double" life is attempted. To be a success both ways is an achievement, proving that a vital and artistic gift must and will find expression.'
Margaret Ada Sutherland was a member of a large, close-knit and exceptionally talented Melbourne family. Her parents were keen amateur music-makers, and her uncles and aunts excelled in writing, science, history, art and music. Nevertheless, Sutherland was born in Adelaide – on 20 November 1897 – during her father's stint as a writer for The Register. In 1902 he transferred to the Melbourne Age, so from then until her death, Sutherland lived in Melbourne.
At her small private school, Sutherland was taught music by Mona McBurney, this country's first notable female composer. In 1914 Sutherland was awarded two scholarships at the Albert Street Conservatorium, one for piano with Edward Goll, the other for composition with Fritz Hart. When Goll, a Czech-born naturalised Australian, was dismissed as an enemy alien, Sutherland followed him to the University of Melbourne Conservatorium. She eventually became his assistant. She was a confident recitalist and soon started to teach. At the age of 19 she was invited to Sydney by Henri Verbrugghen to pay the Beethoven's Piano Concerto in G Major under his direction.
By 1923 Sutherland had saved enough to travel to Europe. She visited Paris and Vienna, but spent most of her two years away in London, where she studied composition and orchestration. Her mentor there was the British 'pastoral' composer Arnold Bax; he was sufficiently impressed with her Sonata for Violin and Piano (1925) to call it 'the best work by a woman that I know.' Played by Edward Goll and Bernard Heinze, it was a highlight of a concert of Sutherland compositions given at the Assembly Hall in Collins Street, Melbourne, on 12 March 1926.
The concert was organised by a group of friends and supporters including Louise Dyer, the Melbourne philanthropist whose Paris-based L'Oiseau-Lyre Press later published the Sonata and several other pieces by Sutherland.
Sutherland married in 1927 and for the next few years devoted most of her energies to raising her two children. In 1934 and 1935 her compositions won awards in ABC competitions. Her patriotic song 'Land of Ours' was featured during the 1934 Melbourne Centenary celebrations, and her first work for full orchestra, Suite on a Theme by Purcell, was conducted by George Szell during his 1938 ABC concert tour.
Sutherland continued to teach and perform. During the Second World War she formed a groupcalled Women of the University to give concerts for young people and lunch-time chamber music recitals to raise funds for the Red Cross.
Sutherland's inspiring, philanthropic spirit led her to champion a variety of worthy causes, most notably the creation of an Arts Centre for Melbourne. In 1943 the old Wirths' Circus site in St Kilda Road seemed destined to be sold for industrial redevelopment. Sir Daryl Lindsay and Sir Keith Murdoch had suggested that, instead, it should be used for a new home for the National Gallery – which, with the museum, was squeezed into the Public Library in Swanston Street. Sutherland, who was a member of the National Gallery council, had a grander vision. She wrote to The Age suggesting the site be reserved for a building containing a gallery, 1000-seat theatre, 200-seat lecture hall, small recital studios, an arts library and a restaurant. She soon gathered support and established a lobby group called the Combined Arts Centre Movement (CAMA). A meeting at the Assembly Hall in November 1943 attracted representatives from the ABC, the Melbourne Symphony Orchestra, the Musicians' Union and many other interested organisations and individuals. Even Bernard Heinze, with whom Sutherland had fallen out many years before, was cautiously supportive. Twelve months later CAMA was able to present the state government with a petition containing 40,000 signatures. Eventually it agreed.
Towards the end of 1951 Sutherland made a second trip to Britain, where she promoted Australian music and studied performing arts centres. She also sought a publisher for her music. Boosey and Hawkes expressed interest in her Concerto for Strings, but rejected it when it was pointed out the composer, 'M. Sutherland', was a woman. Later, with fellow composer Don Banks, she founded the Australian Music Association, dedicated to assisting Australian musicians studying abroad, arranging concerts of Australian music, and setting up a library of Australian music at Australia House in London.
If Sutherland thought that the end of the war would lead to a start on the Arts Centre she was wrong. This battle was far from over. During a period of intense political instability, the government quietly gave one of its most influential members, business tycoon Arthur Warner, permission to build a factory on the site. Backed by Murdoch's Sun News-Pictorial, Sutherland and her team went into action. By this time she had won recognition as an important contemporary composer; she was also a mentor for a new generation of young musicians, many of whom lent their enthusiastic support to the cause. And she won. Soon after Henry Bolte came to office, in June 1956, he set up the National Gallery and Cultural Centre Building Committee which steered the immense project to completion – though it took another 26 years.
Sutherland was also prominent in the Council for the Encouragement of Music (the forerunner of the Arts Council), the Australian Music Advisory Committee for UNESCO, and the Camerata Society, which she founded to present contemporary chamber music concerts, particularly new Australian work. She also established the music publishing imprint Kurrajong Press.
The 1950s and 1960s were Sutherland's most creative years. She wrote vocal, piano and chamber music, concertos, major orchestral pieces and music for ballet – including Dithyramb (1946) and The Selfish Giant (1947) for Laurel Martyn's Victorian Ballet Guild, and Variations on a Mood for Gertrude Johnson's National Theatre Ballet (1953).
Sutherland's last major creation was a short chamber opera called The Young Kabbarli; Maie Casey's libretto was based on the experiences of Daisy Bates and incorporated the poetry of Judith Wright and John Shaw Neilson. The Young Kabbarli premiered on 19 August 1965 at the Theatre Royal, Hobart, during an Australian contemporary music festival. In 1972 it was presented by the Intimate Opera Group in the unlikely setting of the Olde King's Music Hall theatre-restaurant as part of the Adelaide Festival and, soon after, in a series of Melbourne concerts celebrating Sutherland's 75th birthday. It was the first opera ever recorded in Australia.
In 1969 Sutherland found herself unrepresented in a massive portfolio of recordings of the works of significant Australian composers, a project of the Commonwealth Assistance to Australian Composers Scheme. This was apparently the result of her steadily deteriorating relationship with conductor Bernard Heinze, who was a member of the Scheme's board. Sutherland never forgave the slight.
In 1976 Graeme Murphy used Sutherland's 1950 tone poem Haunted Hills, a lush evocation of the Dandenongs, as the score for his ballet Glimpses, a depiction of the unconventional world of Norman Lindsay. Murphy restaged Glimpses for his Sydney Dance Company in 1979 and again in 2006.
The University of Melbourne awarded Sutherland an honorary Doctorate of Music in 1969. She received the Order of the British Empire in 1970, the Queen's Jubilee medal in 1977 and she was made an Officer of the Order of Australia in 1981.
By then she had suffered a near-fatal stroke and her eyesight was failing. She spent her last 10 years in a nursing home. Happily she lived long enough to attend the opening of the Melbourne Concert Hall (now Hamer Hall) in 1982, but, inexplicably the gala program included not one note of her music.
Margaret Sutherland died on 12 August 1984. In his obituary, James Murdoch described her as 'more than the Mother of Australian music – she was the Matriarch.' A memorial concert was presented, appropriately, in the foyer of the Melbourne Concert Hall, and the Concert Master's Suite was named in her honour. Unfortunately, it's right next door to the Conductor's Suite, which commemorates her old foe, Sir Bernard Heinze.
She is also commemorated in the Margaret Sutherland Strings, a string ensemble of around 55 musicians aged 11 to 16 who have completed AMEB Grade 4+. The development of ensemble, musical and technical skills is emphasised as the members prepare for advancement to the larger symphony orchestras. Now, that, at least, is something that Margaret Sutherland would have liked.
Frank Van Straten, 2007
Related Links
References
Biographical
Vicki Fairfax: A Place Across the River, Macmillan, 2002
Isabelle Moresby: Australia Makes Music, Longmans, 1948
David Symons: The Music of Margaret Sutherland, Currency Press, 1997
David Symons: 'Margaret Sutherland'. in The Oxford Companion to Australian Music, Oxford University Press, 1997 Anne Press, 1987
Joan Sutherland: A Prima Donna's Progress, Regnery Publishing, 1997