Nellie Melba GBE 1861 – 1931
Nellie Melba GBE 1861 – 1931
Nellie Melba GBE 1861 – 1931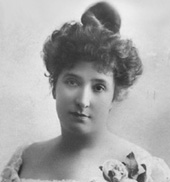 Melba was born Helen Porter Mitchell on 19 May 1861 in the Melbourne suburb of Richmond.
In Paris she studied under the famous and formidable Mathilde Marchesi who, in just a year, transformed 'Mrs Armstrong' from a talented beginner into a brilliant coloratura – Nellie Melba.
Melba made her debut at Brussels as Gilda in Rigoletto in 1887.
The Voice of Australia
In her family memoir, Melba's grand-daughter, Pamela, the Lady Vestey, writes: 'Today it is hard to realise how natural, or even innocent, was the adulation given by the Australian public to a woman who was hailed as "the world's greatest singer", "our Melba", "our greatest daughter". In those days the phrase caused no embarrassment. Rather than exciting envy, her success was seen as a compliment, and it encouraged other Australians. Of course, she had many detractors; their words were noted and used by later critics. Madame Marchesi had reminded Melba at the beginning of her career that she was being spoiled with too much praise; that praise continued throughout her long career. The legend soon believes itself. The wonder is that Nellie remained at heart such a simple and practical woman.'
Melba. The name still has magic.
Melba was born Helen Porter Mitchell on 19 May 1861 in the Melbourne suburb of Richmond. She took the name 'Melba' from her home city. Her love of her homeland remained with her all her life. In her autobiography she explained, 'If you wish to understand me at all, you must understand first and foremost that I am an Australian. I shall always come back to the blue mountains, in the heart of the vast, deserted continent that gave me birth.'
After initial studies in Melbourne with Pietro Cecchi, a disastrously unhappy marriage, and experience as an associate artist in a concert tour managed by George Musgrove, she went to Europe in 1886. In Paris she studied under the famous and formidable Mathilde Marchesi who, in just a year, transformed 'Mrs Armstrong' from a talented beginner into a brilliant coloratura – Nellie Melba.
Melba made her debut at Brussels as Gilda in Rigoletto in 1887. Soon after, she triumphed at Covent Garden, the great London opera house that she would call her 'spiritual home'. Nevertheless her heart was in Australia.
By 1902, when she returned to her homeland for a concert tour again managed by George Musgrove, she was recognised as the most accomplished and most famous soprano of her time. She had sung at the Met in New York, at La Scala, at the Imperial Opera in St Petersburg, and with Caruso in Monte Carlo. Police had to control the vast crowds that gathered just to see her enter the Melbourne Town Hall for her first concert. She went on to sing in Adelaide, Brisbane and Sydney. For her third Sydney concert she received the highest fee ever paid a singer for a concert appearance, bettering by £350 the £2000 that P.T. Barnum had paid Jenny Lind many years before, but the triumph was soured by the rampaging John Norton. His malicious campaign to vilify Melba in the pages of Truth sullied the later stages of the tour and irreparably stained her reputation.
Melba made her first commercial recordings in 1904, though there had been attempts to captureher voice during performances in New York in 1901. For the HMV and Victor companies she cut around 160 sides, mostly by the primitive acoustic process. Her 1926 electrical discs include the remarkable 'live' recordings of her Covent Garden Farewell.
In 1907 what started as a private visit to her homeland inevitably climaxed with a series of concerts in Sydney and Melbourne. Touring Australia at the same time was the English contralto Clara Butt, whom Melba had so controversially advised to 'sing 'em muck!'
Two years later Melba was back. She sang in the capital cities, of course, but also undertook what she called a 'sentimental tour', a gruelling 10,000-mile trek that took her to dozens of towns across outback Australia. She sang for adoring crowds at affordable prices. 'I never had a more appreciative audience,' she reminisced. 'From outlying stations they came, from remote homes in the wildness of the bush, in carts, trucks, and often enough on foot, over distances of hundreds of miles. At every stopping place the village halls were packed, and at each place I arrived they gave me a reception of which even royalty could not have complained.'
It was during this visit that Melba purchased and developed a property at Coldstream, in the countryside near Melbourne. John Grainger, Percy's father, extended the farmstead for her and she christened it 'Coombe Cottage'. Its isolation made it an ideal and much needed haven. Nevertheless, she loved entertaining and Coombe was often crowded with guests. The picturesque house and its grounds are still lovingly maintained, just as they were when the diva was in residence.
In 1911 Melba sang for the first time in grand opera in her homeland. In partnership with J.C. Williamson'sshe created an international company with a repertoire of 12 operas, including two Australian premieres, Saint-Saëns' Samson and Delilah and Puccini's Tosca. The principal tenor was a sensational young Irishman, John McCormack. Melba was deeply committed to the enterprise. She said, 'All my ambitions, my heart, my brain – if I have any! – have been centred on this project.' She sank a significant amount of her own money into the venture and shared the costs and risks. She sang six different roles, giving three performances a week. Overseas she would sing usually only once a week.
The company debuted at Her Majesty's Theatre in Sydney on 2 September and later transferred toHer Majesty's in Melbourne. George Tallis of J.C. Williamson's was delighted: 'The attendances have [been] better than anything ever recorded before for grand opera in Australia. It was encouraging to note the educative effect of the series. Men and women who came with the idea of seeing one or two frequently became so fond of opera that they never missed one afterwards.'
Melba returned to Australia in 1914 to see her ill father. When war broke out she immediately devoted herself to raising money for local war charities. Untiringly she gave dozens of patriotic concerts, singing without fee. She raised over £100,000 – a tremendous sum in those days. In reward she was created a Dame of the British Empire. From 1915, whenever she was in Melbourne, she encouraged, taught and inspired a new generation of Australian singers at the Conservatorium that bore her name.
There were more concerts during a 1921-22 visit and a 'farewell' Melba-Williamson opera season in 1924. For 28 weeks in Sydney and Melbourne another carefully selected international company presented a repertoire of 17 operas, including the Australian premiere of Giordano's Andrea Chénier. Now 63, Melba sang only in La Bohème, Faust and Otello – she was content to leave the demanding bel canto roles to 30-year-old Toti Dal Monte, then at the beginning of a starry career. Other notable principals included tenor Dino Borgioli and baritone Apollo Granforte. 'It was really wonderful to see how all classes were swept up in the wave of enthusiasm,' she said. 'People cheerfully waited in the streets for hours to obtain seats.' The season concluded on October 13 with a gala charity matinee of La Bohème at Her Majesty's in Melbourne. It was broadcast live to an estimated audience of 150,000.
Melba's 'Farewell Concert Tour' in 1927 was another outback odyssey with concerts in unpretentious halls and frequent fundraising efforts for local charities. 'I must sing,' she said, or I will die.' On 9 May she was in Canberra to sing the National Anthem and 'Land of Hope and Glory' at the opening of Federal Parliament.
The following year brought the third, the biggest, and in many ways the best of the illustrious Melba-Williamson seasons. In the adventurous repertoire of 26 operas were an Australian work, Fritz Hart's Deirdre in Exile, and no fewer than six Australian premieres, including Puccini's Turandot and Thaïs by Massenet. Melba was paid £3000 a week, though illness caused many of her performances to be cancelled. Several 1924 favourites returned, notably Toti Dal Monte and Apollo Granforte. The tour covered Melbourne, Sydney, Perth and Adelaide, where, on 2 October 1928, Melba sang for the last time on the operatic stage in Australia in a program consisting of three acts of La Bohème and a scene from Act 4 of Otello.
Melba died in Sydney on 23 February 1931. She was 71. Her funeral was one of the biggest everseen in Australia. Mourners remembered her farewell message: 'I have done my best. For all that Australia has done for me, for all the beauty she has shown me, for all the love she has offered, I wish to say "thank you" from the bottom of my heart.'
Melba was buried, as she wanted, in the cemetery at Lilydale, not far from her treasured Coombe Cottage. Her grave bears the inscription, 'Addio senza rancor' ('Farewell without bitterness'), a quote from Mimi in her beloved La Bohème.
Her name is still spoken with reverence and respect. Today, busts of Melba grace the foyers of Covent Garden and the Met. There are extensive collections of Melba memorabilia in the Performing Arts Collection at the Victorian Arts Centre in Melbourne and at the Lilydale and District Historical Society Museum. Virtually all her recordings are still available on CD. There have been two films based on her life, several biographies, two radio series, a television mini series and a play. Her portrait is on our $100 note and a Canberra suburb is named in her honour. They wrote songs about her, too; there were no less than three 'Melba Waltzes' over the years and Cole Porter mentions her in a song in Anything Goes. And in 1963 the American country musician Marty Robbins wrote something called 'Melba from Melbourne Town'. Hank Snow recorded it. And of course there's Pêche Melba and Melba toast. Melba herself was cautious: 'While I have no objection to Pêche Melba,' she said, 'I do have the strongest objection to my name being calmly taken for any object which the proprietor considers suitable – from scent to hairpins.'
Sadly, though, the Melbourne Conservatorium that bore her name has closed, and there's no major memorial to her in the country that she represented so admirably; she was, after all, the first Australian to be known overseas as an Australian. A truly great achiever, Melba was a woman of immeasurable importance. And she was undoubtedly, by popular acclaim, 'the Voice of Australia'.
Frank Van Straten, 2007
Related Links
References
Biographical
John Hetherington: Melba, F.W. Cheshire, 1967
Nellie Melba: Melodies and Memories, Thornton Butterworth, 1925; republished by Nelson, 1980
William R. Moran: Melba, a Contemporary Review, Greenwood Press, 1985
Thérèse Radic: Melba, the Voice of Australia, Macmillan, 1986
Pamela Vestey: Melba – A Family Memoir, Phoebe Press, 1996
Media
Dame Nellie with Dina
Dame Nellie at Melbourne Town Hall
Dame Nellie with baby
Dame Nellie as Violetta