Nellie Steward 1858 – 1931
Nellie Steward 1858 – 1931
Nellie Steward 1858 – 1931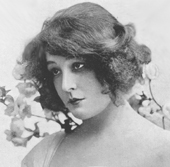 Eleanor Towzey Stewart was born in Woolloomooloo, Sydney, on 20 November 1858.
Stewart's education at the National Model and Training School and Grandtown Boarding House in Melbourne was often interrupted by stage work. In 1875, for instance, she and her family appeared at the Theatre Royal in a piece called A Frogee Would a Wooing Go.
Fated for the theatre
'Her dimple, her grace of movement, her vitality and her delightful voice enchanted men and women alike,' reminisced author and playwright Hal Porter. 'Her photograph was to be seen in every barber's shop and postcard album. She was never an actress in the tradition of Bernhardt; she lacked the grandeur or fury or inspired intensity. She was trained, however, to the finest point in the lore of the stage, and used every artifice to make her natural abilities appear at the best advantage. Adhering to her rule – "Always be picturesque, even in tatters" – she was ever lovely to look at. She worked hard and honestly to burnish and perfect. Particularly in scenes of tender emotion and delicate gaiety, her work was a model. Her diction faultless, her sense of movement and timing never in error, her femininity expressed without cloying sweetness. She was the most lovable of actresses.'
She was, quite simply, the most popular performer this country has ever produced. She was beautiful, vivacious, warm, intelligent, artistic, generous, enthusiastic, enterprising, widely travelled, appreciated and loved – and she was, first and foremost, a fine actress.
Nellie Stewart was a child of the theatre. Her mother, Theodosia Yates, was an Irish-born singer descended from Richard and Mary Ann Yates of Drury Lane fame; she had come to Australia with Mrs Clarke's Opera Company in 1840, and had been a popular star at the Theatre Royal, Hobart, for many years. Her father was Richard Stewart, an English comedian, actor and entrepreneur.
Eleanor Towzey Stewart was born in Woolloomooloo, Sydney, on 20 November 1858. When she was still very young, she and her family – she had two sisters and a brother – moved to Melbourne, where her father was associated with George Coppin at the Theatre Royal in Bourke Street. At the age of five she made her stage debut at the Haymarket Theatre in The Stranger, with the great Charles Kean. Sixty years later she was to write: 'That first appearance did not determine my destiny – my birth did that – but it did set the seal on my calling and inclination. From that time on I never had any clear idea of my life or career, apart from the stage. Always I knew that I was fated for the theatre'.
Stewart's education at the National Model and Training School and Grandtown Boarding House in Melbourne was often interrupted by stage work. In 1875, for instance, she and her family appeared at the Theatre Royal in a piece called A Frogee Would a Wooing Go. In 1877 Nellie played Ralph Rackstraw in an unauthorised production of HMS Pinafore at St George's Hall in Melbourne; her sisters Docie and Maggie were Josephine and Buttercup, her brother Dick was Corcoran, and her father was Sir Joseph.
In 1880 Stewart starred for George Coppin in Sinbad the Sailor, the annual pantomime at the Theatre Royal, Melbourne. It was during its 14-week run that she met entrepreneur George Musgrove. Their professional and romantic relationship would last until Musgrove's death in 1916, despite the fact that Musgrove already had a wife and family. Nellie's own marriage, in 1884, to Richard Row, was a disaster; she described it as 'just a girl's mad act to repent of at leisure'.
Musgrove starred Nellie as the drummer boy in his lavish presentation of Offenbach's La Fille du Tambour Major. Its success was enormous, and led to a string of starring roles in operetta and light opera, including Gilbert and Sullivan's Patience, The Mikado, The Pirates of Penzance, Iolanthe, and Princess Ida.
In 1886, as a token of thanks for her support of a fund to commemorate the death of General Gordon of Khartoum, Nellie Stewart was presented with 25 gold sovereigns. These she had made into a bangle which she wore for the rest of her life – a fashion swiftly emulated by thousands of women all over Australia.
Nellie Stewart had a beautiful soprano voice, ideally suited for light opera. In 1888, however, Musgrove persuaded her to try grand opera, and she appeared, to great critical acclaim, in his production of Gounod's Faust at the Princess Theatre. It was on the first night of this season that the baritone Federici, as Mephistopheles, suffered a fatal heart attack as he descended to Hell through the stage trapdoor, and went on to immortality as the Princess Theatre's resident ghost. Unwisely, Nellie Stewart sang Marguerite on 24 consecutive nights; this so severely strained her voice that she was forced in future to concentrate on lighter roles, and eventually on drama.
Stewart starred in Paul Jones for Musgrove in 1890. The couple went to London where, in 1892, she made her West End debut at the Prince of Wales Theatre in Blue-Eyed Susan and appeared in Incognitaat the Lyric. Their daughter Nancye was born in London in 1893. Stewart headed a comic opera company that toured Australasia until 1895, and then returned with Musgrove to London. There, in 1897, she starred in The Scarlet Feather at the Shaftesbury, and played principal boy in two legendary Drury Lane pantomimes, The Forty Thieves in 1898 and Jack and the Beanstalk in 1899.
Back in Australia Stewart starred in Cinderella in 1900 and sang the memorial anthem at the opening of the first Federal Parliament at the Melbourne Exhibition Buildings in May 1901. On 15 February the following year she created the greatest success of her career, in the title role of Paul Kester's play Sweet Nell of Old Drury. Everybody, including Musgrove, had predicted failure. Who would want to see Nellie Stewart in a straight play? She had no reputation as a dramatic actress, and yet she knew instinctively that she was ideally suited for the role. It would become the part for which she was most fondly remembered, and which she would play, time and again, until shortly before her death nearly three decades later.
In 1906 Musgrove took his production of Sweet Nell to the United States. Their scenery and costumes were lost in the San Francisco earthquake, and the tour was abandoned. Musgrove never fully recovered from this setback. Back in Australia he mounted an extensive country and New Zealand tour of Sweet Nell. Tragically, Raymond Longford's 1911 film record of their production has been lost.
Stewart was shattered by Musgrove's death in 1916. In poor health and reduced circumstances, she was befriended by entrepreneur Hugh D. McIntosh. He dusted off the Sweet Nell sets and costumes and presented the old play 'one act per week' as part of the regular vaudeville bills at his Sydney and Melbourne Tivoli Theatres. In 1920 he engaged Stewart as a coach for the leads in his productions of The Lilac Domino and Chu Chin Chow. He also sponsored a Nellie Stewart School of Acting in Sydney.
Although she was revered as Sweet Nell, Stewart had many other plays in her repertoire, among them Mice and Men, Sweet Kitty Bellairs, Zaza, Dolores, A Country Mouse, Camille, Trilby, What Every Woman Knows, When Knighthood Was in Flower and As You Like It. These she often presented in repertory with Sweet Nell; she could always rely on it to fill the theatre if things got tough.
Nellie Stewart made her last appearance in Melbourne in 1930 at the Comedy Theatre in Edward Sheldon's play Romance (it was subsequently filmed with Greta Garbo in the lead). Hal Porter remembered: 'She was 72 but this was not apparent from the auditorium, as she moved with the litheness of a young woman and, with the merest huskiness tingeing her voice, gave the touch of truth to the eternally trite words of the playwright'.
In March 1931 Stewart recorded an 'Address to Her Public' and three scenes from Sweet Nell, inwhich she was joined by her daughter, Nancye, and her son-in-law, actor Mayne Lynton. These old 78s demonstrate unquestionably her perennial youthfulness. Her very last appearance was – typically – for charity at the Mosman Town Hall in April 1931.
Two months later, Nellie Stewart was dead. She passed away peacefully in the arms of her daughter on 20 June 1931. Her ashes were interred in the family tomb at Boroondara Cemetery in Melbourne. A scroll at the base reads: 'Think of me as withdrawn into the dimness'. Above is a kneeling angel, modelled on Nellie Stewart herself.
After her death, the Nellie Stewart Old Drury Club was founded by hundreds of grieving friends and fans. For many years it continued her selfless tradition of supporting worthy charities. It also funded the Nellie Stewart Garden of Memory, with its 2,500 rose bushes, in the Sydney Royal Botanic Gardens. The garden is long gone, but at the Princess Theatre in Melbourne, where she had so many successes, and where she first played Sweet Nell of Old Drury, the confectionary shop is named 'Sweet Nell's' in her honour. In 2001 the Victorian Arts Centre in Melbourne mounted a major exhibition marking the 70th anniversary of Nellie Stewart's death.
Nellie Stewart was a woman of skill and courage, talent and dedication. She worked hard in the service of her art and for the benefit of others. Her grace and generosity were boundless. She inspired countless others, on stage and off, to do their best – not least her daughter, Nancye, who enjoyed a notable stage career in Australia and in Britain, where she appeared frequently with the Old Vic and the Shakespeare Memorial Theatre Company. She married actor and broadcaster Mayne Lynton. Nancye Stewart died in 1973.
Frank Van Straten, 2007
Related Links
References
Biographical
Ross Cooper: 'Nellie Stewart', in Australian Dictionary of Biography, volume 12, Melbourne University Press
Richard Lane: 'Nellie Stewart', in Companion to Theatre in Australia, Currency Press, 1995
Hal Porter: Stars of Australian Stage and Screen, Rigby, 1965
Marjorie Skill: Sweet Nell of Old Sydney, Urania Publishing, 1974
Nellie Stewart: My Life's Story, John Sands, 1923
Frank Van Straten: 'Nellie Stewart – Fated for the Theatre', in Stages, June 1991
Media
Nellie Stewart portrait