Nick Enright OAM 1950 – 2003
Nick Enright OAM 1950 – 2003
Nick Enright OAM 1950 – 2003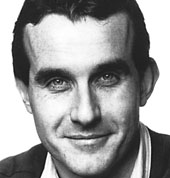 Enright was born into a family of lawyers in Maitland, New South Wales on 22 December 1950.
The theatre had captured him – in 1966, at the age of 16, he was one of Fagin's boys in a J.C. Williamson revival of Oliver! at the Theatre Royal in Sydney.
In 1973 Enright became the Melbourne Theatre Company's first trainee director.
Man of the theatre
'Nick was one of those people who believed in me and persuaded me to come to NIDA and teach,and, as it happens, direct Summer Rain, which he'd been working on with Terry Clarke,' said Gale Edwards, who directed Enright's The Boy from Oz. 'It was an absolutely thrilling time at NIDA, something of a golden age, and I remember the cheers and streamers the night Summer Rain opened. Nick was a tremendous educator and I used to trail him on campus taking notes. I learnt a lot during that time and I remember [that] he was very clear about the process of acting and how much he loved and responded to young people's energy and aspirations. Nick worked best in intimate, nurturing environments and found the ruthlessness of the commercial world unattractive.'
Actor, director, translator, teacher, mentor, and writer of plays, musicals and revue for stage, film, television and radio – Nicholas Paul Jonathan Enright was this country's most widely talented theatre person.
Enright was born into a family of lawyers in Maitland, New South Wales on 22 December 1950. He was educated at Saint Ignatius' College, Riverview, and spent a year as an exchange student in California. He graduated with a Bachelor of Arts from the University of Sydney in 1972. Well before this, though, the theatre had captured him – in 1966, at the age of 16, he was one of Fagin's boys in a J.C. Williamson revival of Oliver! at the Theatre Royal in Sydney.
Enright spent 1972 as an assistant and small-part actor at the Nimrod Street Theatre; he also found time to try his hand at directing at the amateur Genesian Theatre in Kent Street and to write satirical material for The Mavis McMahon Show, a Gordon Chater romp at the Macleay Theatre in the Chevron Hotel, Potts Point.
In 1973 Enright became the Melbourne Theatre Company's first trainee director. He took its production of David Williamson's Jugglers Three on tour through New South Wales and Queensland, and worked with its ambitious touring Young Melbourne Company. In 1975, hoping to expand his directing skills, he obtained an Australia Council grant that enabled him to study acting and directing at the New York University School of the Arts. There he was encouraged by the playwright Israel Horovitz to write for the theatre, and he also began to teach acting to students in the dance program.
At the end of 1977 Enright returned to Australia. From 1978 until 1981 he was assistant and then associate director at the South Australian Theatre Company (later the State Theatre Company of South Australia) during one of its busiest and most productive eras. One of his first assignments was Royal, a four-times-a-day variety extravaganza staged at the Adelaide Showgrounds to honour the centenary of the founding of the city's much-loved Theatre Royal, which had been demolished in 1962.
In April 1979 the ABC aired Enright's delightfully whimsical radio play The Maitland and Morpeth String Quartet, with music by Vincent Plush. Six months later came Enright's ebullient musicalisation of Goldoni's knockabout commedia dell'arte masterpiece The Venetian Twins. With a score by Terence Clarke and a brilliant performance by Drew Forsythe, it was premiered by Nimrod at the Sydney Opera House on 26 October 1979. It has since enjoyed countless professional and amateur revivals, and the mock 'hometown' song 'Jindyworobak' never fails to stop the show. The following year Enright wrote another musical, On the Wallaby, set in the outback during the Great Depression. In 1982 he wrote the lyrics for Fatal Johnny, 'a fairy tale without fairies, but with little children' presented by Ariette Taylor's Australian Dance Theatre for the Adelaide Festival of Arts, and also in Adelaide.
For a while Enright's seemingly limitless energy was split three ways: directing, writing, teaching. Direction lost. His Measure for Measure for the Sydney Theatre Company in 1986 was his last directorial credit. In 1983 Enright headed the Acting Course at the National Institute of Dramatic Art in Sydney, but after a couple of years he sacrificed the position and the regular income it provided to concentrate on his real love, writing for performance – musicals, plays, radio drama, even special 'party pieces' for his friends. He wrote the musicals Variations (1982) and Summer Rain (1983) with Terence Clarke and Orlando Rourke(1985) with Alan John, but there was no second Venetian Twins. Real success eluded Enright for most of the 1980s, but the drought broke in 1989 with two triumphs – the multi award winning ABC television series Come in Spinner, set in wartime Sydney, and the modern comedy Daylight Saving.
Enright had also developed extraordinary skills as a translator and adaptor. His achievements included Sophocles' Electra (with Frank Hauser, 1978), Goldoni's The Servant of Two Masters (with Ron Blair, 1978), Oh What a Lovely War, Mate (an Australianisation of Joan Littlewood's original, 1979), Gozzi's King Stag (1980), Beaumarchais' The Marriage of Figaro (1983), Molière's Don Juan (1984), Hans Andersen's The Snow Queen (1985), Euripedes' The Trojan Women (1989) and the Offenbach operetta La Périchole(for the Australian Opera, 1993). And he returned occasionally to radio, most notably with Ship Without a Sail – The Songs of Lorenz Hart (1985) and Watch over Israel (1990).
In 1992 Enright's screenplay for the George Miller film Lorenzo's Oil earned him an Academy Award nomination. He toyed with other Hollywood film projects, but eventually decided that he preferred a less frenzied working environment, where he could explore themes involving Australian ideas and characters and continue his work with young people.
In 1992 Enright wrote A Property of the Clan, a powerful retelling of the rape and murder of a Newcastle schoolgirl, for that city's Freewheels Theatre-in-Education Company. It was subsequently reworked as Blackrock, first as a multi award winning play, and then as a film produced by David Elfick. Also widely performed was Good Works (1994), which chronicled two Australian Catholic families over five decades. Enright and Justin Monjo's monumental stage adaptation of Tim Winton's sprawling novel Cloudstreet was first produced by Company B Belvoir for the 1998 Sydney and Perth Festivals. This 102-scene three-part five-hour masterpiece won the 2002 Helpmann Award for Best Play. It travelled widely, and was seen in London and New York.
From 1998 Enright was Adjunct Professor at the Western Australian Academy of Performing Arts at the Edith Cowan University. His students adored him, and several of his later productions emerged from the dynamic workshops he conducted there, the musical Mary Bryant, for instance.
Enright's last triumph was The Boy from Oz, a large scale musicalisation of the life of Australian singer–songwriter Peter Allen. Produced by Ben Gannon and Robert Fox and with Todd McKenney as Allen, the show opened at Her Majesty's in Sydney on 5 March 1998. For the next two years it played for 766 performances, was seen by more than 1.2 million patrons, grossed more than $60 million and won numerous awards, including the 2001 Helpmann Award for Best Musical. The record-breaking Broadway production in October 2003 was a Tony-winning triumph for its star, Hugh Jackman, who later repeated the role in a hugely successful arena production that toured Australia in 2006. The show has also been staged in Tokyo.
In 1999 Enright was artistic supervisor for a widespread tour of Wesley Enoch's innovative Bell Shakespeare production of Romeo and Juliet; this started in Sydney, and played through New South Wales, Victoria and Queensland, concluding in Alice Springs.
Enright returned to NIDA in 2002 to develop Country Music for the opening of the Institute's splendid new Parade Theatre in Kensington. The show was designed to involve as many students as possible, and to demonstrate the theatre's exciting technical possibilities. Five intersecting storylines encapsulated the cultural, political and spiritual life of Australia from a young person's viewpoint, and included a strong indictment of our treatment of Aborigines and refugees. Enright also contributed a witty prologue for the theatre's gala opening on 23 April.In 2000 Enright, Julian Louis and Jessica Machin had founded State of Play, a unique company with a strong commitment to the creation of accessible physical theatre work through performer collaboration. The company's Five Stories High was a highlight of the 2003 Sydney Festival. The Daily Telegraph called it 'Theatre at its romping, hollering, poignant best.' It was a fitting curtain for Nick Enright.
Enright's friend David Marr said of him: 'There is a streak of melodrama in his work. If he'd created a character who was, say, a playwright in his early 50s, never more certain of his talent, with a great career ahead of him, he'd be sure to throw in some disaster to build the drama, say, an aggressive cancer. He killed off lots of his characters with cancer, not least a playwright in Mongrels and the heroine of A Man with Five Children. That's how it turned out in life.' A Man with Five Children, Enright's last play, opened the Sydney Theatre Company's 2002 season.
Enright died of cancer in Sydney on 30 March 2003. He was 52. At the time of his death Robyn Nevin was preparing a new Sydney Theatre Company production of Summer Rain, his loving depiction of the Australian travelling shows of the 1930s and 1940s. Through his all-too-short but gloriously productive career he had received numerous awards, among them Awgies, Logies, Green Rooms, Helpmanns, the Sidney Myer Performing Arts Award in 1998 and, posthumously, a special New South Wales Premier's Literary Award and membership of the Order of Australia. His extensive papers are preserved in the Australian Defence Academy Collection and the State Library of New South Wales.
Frank Van Straten, 2007
References
Biographical
Bryce Hallett: 'The Words and the Wisdom Still Endure', in The Sydney Morning Herald, 2 August 2003
Veronica Kelly: 'Nick Enright', in Companion to Theatre in Australia, Currency Press, 1995
David Marr: 'Nick Enright: Man of the Theatre', in The Sydney Morning Herald, 2 April 2003editions, Pitman
John West: 'Cyril Ritchard', in Companion to Theatre in AustraliaCurrency Press, 1995