Oscar Asche 1871 – 1936
Oscar Asche 1871 – 1936
Oscar Asche 1871 – 1936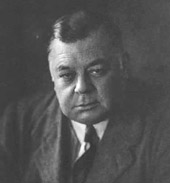 The son of a Geelong publican, John Stanger Heiss Oscar Asche was born on 24 January 1871 and educated at Melbourne Grammar School.
He made his stage debut on 25 March 1893 in Man and Woman at the Opera Comique, London.
Oscar winner
'He was an extraordinary character, perhaps one of the most extraordinary men in the theatrical world. Money meant nothing to him. He made and got through enormous sums. I remember him once telling me that he spent £40,000 on greyhounds when he became a coursing enthusiast. Asche thought nothing of that. He always did things in a big way.'
That's entrepreneur Hugh D. McIntosh remembering riches-to-rags Oscar Asche who, despite his acclaimed Shakespearian productions and his legendary long-running musical, Chu Chin Chow, ended his life in penury.
The son of a Geelong publican, John Stanger Heiss Oscar Asche was born on 24 January 1871 and educated at Melbourne Grammar School. He was still in his teens when his Norwegian-born father sent him to study acting with Björn Bjørnson in Oslo, Sweden. When Ibsen advised him to work in his own language, Asche tackled London, continuing his studies and having his Australian accent 'corrected'. He made his stage debut on 25 March 1893 in Man and Woman at the Opera Comique, London, with Arthur Dacre and Amy Roselle – the popular husband-and-wife actors who sensationally suicided in Sydney two years later.
Between small parts with the F.R. Benson Company, Asche 'slept rough' and survived on a few tips calling cabs for theatre patrons. His engagements increased, and soon he was earning a good living and playing increasingly important parts. In 1899 he married Lily Brayton, another member of Benson's company; the two were associated in most of Asche's subsequent productions.
Asche was a good athlete and loved cricket: he even played in some minor matches with the Marlylebone Cricket Club. In 1901 he was a great success in Pinero's Iris, his first important modern comedy. The following year he joined Herbert Beerbohm Tree's Company and in 1903 played in Much Ado About Nothing opposite Ellen Terry.
In 1907 he leased His Majesty's Theatre in London; it remained under his management for many years.
In 1909 the Asche–Brayton company came to Australia under the aegis of Clarke, Meynell and Gunn – a liaison between actors Clyde Meynell and John Gunn, entrepreneur Sir Rupert Clarke and the notorious John Wren, king of the illicit Collingwood 'tote'. They shuffled their shows between the Royal in Melbourne and the Criterion in Sydney, which Wren owned.
It was at the Royal that Asche made his Australian debut in The Taming of the Shrew. 'What a homecoming it was,' he remembered. 'Nothing, nothing can ever deprive me of that. I had made good and had come home to show them. Whatever the future years hold, nothing can eliminate that. For over five minutes they greeted, shouted at me. Could anyone ever forget that? Hundreds waited in Little Bourke Street by the stage door, and we could scarcely move off in our car.' Later, he and Lily appeared in As You Like It, The Merchant of Venice, Othello, and Asche's own adaptations of Stanley Wyman's book Count Hannibal and Besier's The Virgin Goddess.
Asche's Othello garnered more than its share of audience involvement. One night, when Asche was disposing of his Desdemona, a woman shouted, 'You big black …' The crowded house waited for the next word, and sighed with relief when it turned out to be 'beast'. And during another performance an excited youth called out to Iago: 'You're a bloody liar!'
The Asche tour finished with two weeks in Perth. Though the city was paralysed by a transport strike, Asche filled His Majesty's. 'People walked miles to the theatre and back again,' he recalled. 'They drove in and rode in from country districts and put up at the hotels and every place where a bed could be found. They made up parties and drove in on lorries and farm carts. And the strikers took advantage of their holiday by coming too! We played to record business, and every night foot and mounted police had to control the crowds.'
Asche toured Australia again in 1912-13 with a repertoire including his elaborate production of Edward Knoblock's play Kismet, which had run for two years in London, plus more Shakespeare.
Asche again mined Oriental mystique when he wrote Chu Chin Chow, a fabulous Arabian Nights extravaganza, with music by Frederic Norton. He also directed and starred in it with his wife. Chu opened at His Majesty's in London on 31 August 1916. Colourful, spicy and spectacular, it was just what wartime Britain needed. It ran for five years – 2,235 performances – in spite of complaints about the ladies' scanty costumes, which Herbert Beerbohm Tree described as 'more navel than millinery'.
In 1920 the Australian entrepreneur Hugh D. McIntosh spent so much producing Chu Chin Chow at the Melbourne Tivoli that he was forced to retire from theatrical management.
Asche himself played in Chu during his third Australian tour in 1922. Also in his repertoire were Cairo, The Spanish Main, Julius Caesar, Galsworthy's The Skin Game and Pinero's Iris. This time Lily Brayton did not accompany him. Contractual squabbles with Williamson's led to an extraordinary finale in Melbourne.
According to Asche: 'Before the final curtain had touched the stage, the orchestra started the National Anthem – but the auditorium was kept in pitch blackness. I was to be prevented making a speech. I went in front of the curtain, which the stage manager had orders not to take up. Two enemy stage-hands tried to prevent me but I did a bit of rough-house. I stamped heavily with my heel on one man's instep and jogged my elbow into the other's mouth, leaving him with the prospect of a heavy dentist's bill. But I could not speak because the orchestra was playing tiddly bits for the audience to walk out to. On comes Doris Champion, who jumps over the footlights on to the top of the piano and thence to the floor, garrottes the conductor with one arm and with her free hand snatches the baton out of his hand. Then the band stops, the audience cheer, and I speak.'
Back in London, Asche's fortunes faltered. His marriage failed, though Lily Brayton, who was always more astute with money, did help produce his final play, The Good Old Days of England, in 1928. It flopped.
Asche wrote two Oriental-themed novels and an autobiography, published in 1929. He directed Brayton's last stage appearance in 1932, but his glory days were gone. Bankrupt, hopelessly obese, petulant, violent and unreliable, he picked up a few small parts in now forgotten films, but had no involvement in the spectacular 1934 film version of Chu Chin Chow.
Oscar Asche died in poverty on 23 March 1936. He had no children, but his nephew, the Honourable Keith John Austin Asche AC, has played a prominent role in Australian public life, notably as Chief Justice of the Northern Territory and its Administrator from 1993 to 1997. Oscar, on the other hand, is barely remembered, though for many years his name survived as rhyming slang for – ironically – 'cash'.
Frank Van Straten, 2007
Related Links
References
Biographical
Oscar Asche: His Life by Himself, Hurst & Blackett, 1929
L.J. Blake: 'Oscar Asche', in Australian Dictionary of Biography, volume 7, Melbourne University Press
Victoria Chance: 'Oscar Asche', in Companion to Theatre in Australia, Currency Press, 1995
Chrissie Fletcher: A Theatrical Life – The Many Faces of Oscar Asche, Privately published, 2004
Brian Singleton: Oscar Asche, Orientalism and British Musical Comedy, Greenwood, 2004
Media
Photograph taken by Harold Cazneaux courtesy of National Library of Australia, pic-an2383919-1