Peter Scriven MBE 1930 – 1998
Peter Scriven MBE 1930 – 1998
Peter Scriven MBE 1930 – 1998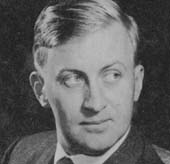 Jeremy Peter Scriven was born to wealthy parents in Melbourne on 28 September 1930.
Peter was educated at Geelong Grammar. Intrigued with puppetry, at the age of 14 he built his own glove puppet show.
Peter Scriven Puppets debuted in Melbourne on 2 June 1953 and toured Victoria with six 900- millimetre marionettes, a manager and one assistant.
Pulling strings
'Scriven's contribution to puppetry is an important part of Australia's performing arts history,' said Jenny Gould, who toured through Asia with him. 'He developed puppetry as an art form in this country where there had been none. It was original, creative and visionary in its scale. He sought funding from the corporate sector, a new concept we now take for granted; he was an entrepreneur. He had a genius for attracting talented and hardworking creative people – writers, musicians, actors, technicians and craftsmen – to implement his ideas.'
Jeremy Peter Scriven was born to wealthy parents in Melbourne on 28 September 1930. His father, Victor, was a British air force pilot and his mother was the daughter of the chairman of the National Bank. Peter was aged two when the family moved to Britain. His father died in 1933 and Peter and his elder brother were educated by private tutors. When war broke out, Mrs Scriven brought the boys back to Australia. Peter was educated at Geelong Grammar. Intrigued with puppetry, at the age of 14 he built his own glove puppet show. He rejected tertiary education, preferring to study with W.D. Nicol, the brilliant Scottish-born puppeteer. Instrumental in founding the Puppet Guild of Australia, Nicol presented puppet shows professionally at his Littlest Theatre in a Melbourne city basement.
When he was 17, Scriven worked as a radio announcer at 3HA in Hamilton, Western Victoria. In 1948 he toured his marionette act through country New South Wales and Queensland in a travelling variety show headed by the Great Levante, the internationally known Australian illusionist. Realising that adults appreciated his work as much as children did, Scriven set off for Europe for further experience and study. He visited more than 50 Continental marionette theatres and toured England with the noted puppeteer Waldo Lanchester. He also appeared on BBC television.
Scriven returned to Australia in 1951. His mother died the following year and he inherited £100,000 from his grandfather's estate. This allowed him to adopt an extravagant lifestyle, but it also enabled him to establish his own company. Peter Scriven Puppets debuted in Melbourne on 2 June 1953 and toured Victoria with six 900- millimetre marionettes, a manager and one assistant. In a three-year partnership with the NSW Division of the Arts Council of Australia, Scriven took his children's shows throughout New South Wales. A 1953 holiday matinee season at the Theatre Royal in Sydney was followed by a record-breaking 76-day provincial tour – 95 performances attended by more than 53,000 youngsters. There were similar seasons in 1954 and 1955. Scriven also established a music publishing business.
In 1956 Peter Scriven unveiled the first of his warmly remembered Tintookies shows. TheTintookies, he claimed, were 'the little people who live in the sandhills'. They were celebrated in an extravagantly mounted musical comedy enacted by a cast of appealing large-scale marionettes. The original Tintookies show, with music by Kurt Herweg and book and lyrics by Hal Saunders, premiered at the Elizabethan Theatre in Newtown on 12 June 1956. It was presented by Scriven's own company in association with the Australian Elizabethan Theatre Trust's recently formed Australian Opera Company (the future Opera Australia). The Trust's general manager, John Sumner, acted as production advisor, though the Polish puppet master Igor Hyczka devised the portable stage with its lofty bridge for the team of manipulators.
The Tintookies revolutionised Australian puppetry: it was a full-length production on a scale grand enough to be at home in a large theatre, yet it could travel easily; it employed a team of seven manipulators plus assorted support staff; it was performed to a soundtrack recorded by a full orchestra, chorus and leading singers and actors; its story and characters were unashamedly Australian; and though it was designed to appeal to youngsters, their mums and dads enjoyed it too.
In October 1957 Scriven's company presented a new 'live action' Australian musical, Nex' Town, at the Independent in North Sydney. It was written by Kyie Tennant and Maurice Travers with music by Iris Mason and Hal Saunders. Betty Pounder choreographed and champion boxer Tommy Burns staged the fight scene.
Meanwhile The Tintookies travelled widely. Scriven recycled some of the characters for his next production, Little Fella Bindi, which depicted an Aboriginal boy's friendship with bush animals. It premiered at Her Majesty's Theatre in Brisbane in 1958 and became Scriven's personal favourite. His version of Norman Lindsay's beloved children's story The Magic Pudding followed in 1960.
In 1963 Scriven created and manipulated the wily Sebastian, a marionette in an otherwise adult world, for Sebastian the Fox, a series of 12 children's films directed by Tim Burstall for ABC Television. George Dreyfus provided the memorable music. After that Scriven went overseas for further study.
In 1965 Scriven's dream of a full-time professional puppet company was realised. With theAustralian Elizabethan Theatre Trust and the Arts Council of Australia, he founded the Marionette Theatre of Australia. The board was chaired by Sir Howard Beale, president of the Arts Council, and included Dr H.C. Coombs, Dorothy Helmrich and Scriven, who was also artistic director. Apart from commissioning and presenting original Australian puppet works, the MTA was to establish a training school, encourage the development of other groups, and import overseas companies.
The Marionette Theatre of Australia debuted with a tour of a revival of the original Tintookies. In 1966 Scriven dusted off Little Fella Bindi and also created an entirely new production, The Explorers. In 1967, with backing from the Department of External Affairs, Little Fella Bindi toured for seven months through 14 South East Asian countries; this was one of the first international tours undertaken by an Australian theatre company. Bindi was manipulated by Scriven; he was supported by a team of five young puppeteers supervised by Igor Hyczka, a stage manager, a sound technician and a tour manager – Tony Gould, later to head the Queensland Performing Arts Centre. Special soundtracks in appropriate languages were recorded for each leg of the tour. After this came another Australian tour.
Around this time, Scriven, like many others, became increasingly disgruntled with the Trust's management and policies. In 1968 he stood for the board, but his election was thwarted by the chairman, Sir Ian Potter, who claimed that as an employee of the Trust he was ineligible. There was more trouble ahead.
On 30 September 1969 a fire swept through the Trust's Botany storehouse. All Scriven's productions were lost, except for The Explorers, which was away on tour. Fortunately, however, the soundtracks of Scriven's shows survived, preserving the voices of performers such as Valda Bagnall, Ray Barrett, John Bluthal, Gordon Chater, John Ewart, Ray Hartley, Reg Lindsay, Tex Morton, Max Oldaker, Neil Williams and Stuart Wagstaff.
For the MTA's contribution to the 1970 World Expo in Osaka, Scriven devised Tintookies 2000, using large rod puppets instead of the more familiar marionettes. This production and The Magic Pudding travelled on to other South East Asian centres. Tinkookies 2000 failed to excite audiences; this, and his continually deteriorating relationship with the Trust, led to Scriven's resignation.
After a spell in Singapore and Malaysia, Scriven returned to Sydney in 1973 as puppetry consultant to the Australian Council for the Arts. In late 1974 Scriven put together a new version of The Tintookies. Utilising around 100 near life-size marionettes, this was the biggest puppet production ever undertaken in Australia. It premiered at the Princess Theatre in Melbourne on 8 January 1975 and toured Asia in early 1976.
Scriven's next home was Sri Lanka. He commissioned local puppeteers to make the marionettes for The Tintookie Man, a small-scale show that he presented on an independent tour of Australian schools in 1976-7. When he left to live in the Philippines, the show was continued by Graeme Mathieson, an accomplished puppeteer with whom Scriven had worked at the MTA.
In 1974 Richard Bradshaw succeeded Scriven as artistic director of the Marionette Theatre of Australia. It became an autonomous body in 1979 and from 1983 had its own theatre in the Rocks. It closed in 1988.
Peter Scriven's services to theatre were acknowledged with an MBE in 1970. He spent his last years living in increasingly reduced circumstances in Manila, finally subsisting on just $5 a day. He worked on a play and an autobiography, but neither has been published. In 1998, diagnosed with a brain tumour, Scriven returned to Australia. He had been here just three weeks when, on 13 October 1998, he was found dead in a boarding house in Fortitude Valley, Brisbane. The man whose artistry had entertained countless thousands of Australian youngsters and had inspired a new generation of professional puppeteers had just $1.50 in his pocket. He was survived by many of his Tintookie marionettes, which now live in the archives of the National Institute of Dramatic Art in Sydney.
Scriven's enthusiasm and expertise had legitimised Australian puppetry, transforming it from a children's party distraction into a major performing art form that attracts wide audiences and government funding and is taught in performing arts schools.
Frank Van Straten, 2007
References
Biographical
Richard Bradshaw: 'The Marionette Theatre of Australia', 'Puppetry', 'Peter Scriven' and 'The Tintookies', in Companion to Theatre in Australia, Currency Press, 1995
Jenny Gould: 'Tintookies' creator set puppet style', in The Australian, 21 October 1998
Norman Hetherington: Puppets of Australia, Australian Council for the Arts, 1974
Peter Scriven: The Tintookies and Little Fella Bindi, Lansdowne Press, 1966
Maeve Vella and Helen Rickards: Theatre of the Impossible – Puppet Theatre in Australia, Craftsman House, 1989
Obituary, Sydney Morning Herald, 19 October 1998