Phillip Parsons AM 1926 – 1993
Phillip Parsons AM 1926 – 1993
Phillip Parsons AM 1926 – 1993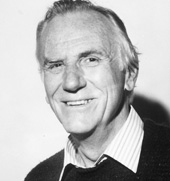 Philip Edward Parsons was born in Adelaide on 27 January 1926, but grew up in Perth.
After he graduated in 1950, a Harkness Fellowship took him to King's College, Cambridge.
From 1959 until 1964 Parsons lectured in English Literature at the University of Western Australia.
In 1977 Parsons was instrumental in forming what is now the Australasian Association for Theatre, Drama and Performance Studies (ADSA),
The Currency Lad
Probably Australia's most respected theatre academic, Philip Parsons also made his mark as an innovative director, knowledgeable dramaturg, inspiring mentor and enterprising publisher.
Philip Edward Parsons was born in Adelaide on 27 January 1926, but grew up in Perth. He carried a childhood fascination with theatre with him to the University of Western Australia, where his portrayals of various villains in undergraduate plays became legendary. After he graduated in 1950, a Harkness Fellowship took him to King's College, Cambridge. There his tutor was George Rylands, the great authority on Shakespeare and Restoration drama. Parsons' thesis was a radical reappraisal of the performance of Restoration tragedy.
From 1959 until 1964 Parsons lectured in English Literature at the University of Western Australia. He took the opportunity to test his theories of Elizabethan performance practice, especially that the text's punctuation was there to assist the actors, not the readers. Parsons was involved in the planning of the university's New Fortune Theatre, the first attempt to replicate the dimensions and characteristics of an Elizabethan playhouse anywhere in the world. The New Fortune opened with Hamlet during the 1964 Festival of Perth. Four years later Parsons directed a 'daylight' production of Richard III there, with Martin Redpath in the title role. It was designed by Rex Cramphorn, a student of Parsons'.
In 1965 Parsons joined the University of New South Wales. When Professor Robert Quentin established the university's drama department in 1966-67, Parsons and Victor Emeljanow were its first lecturers. Parsons' colleague Dr John Golder described him as an 'ideas man', and instrumental in shaping the development of its Theatre Studies Department. Parsons remained with the university for 22 years, finally retiring in 1987 as Senior Lecturer in the School of Theatre and Film Studies. During this period he continued to direct, most notably the world premiere of Dorothy Hewett's Mrs Porter and the Angel for PACT Youth Theatre in 1970 and Molière's Don Juan for the university in 1976.
In 1977 Parsons was instrumental in forming what is now the Australasian Association for Theatre, Drama and Performance Studies (ADSA), the peak academic body in the Pacific region promoting the study of drama in any performing medium. ADSA convenes an annual conference and awards annual prizes for the best scholarly paper by an ADSA member (the Marlis Thiersch Prize), the best performance-as-research project by a postgraduate ADSA member (the Philip Parsons Prize), the Rob Jordan Prize for the best book published by an ADSA member, and the Veronica Kelly Prize for the best postgraduate paper.
In 1986 Parsons resumed his experimental work on Elizabethan drama. Using minimal scenery and props, Parsons and his former student, Wayne Harrison, presented a highly acclaimed single Saturday morning production of Marlowe's The Tragical History of Dr Faustus with an all-male cast headed by John Howard. Its success encouraged them to found Dramaturgical Services Inc. (DSI), which produced an all-male Hamlet, with Robert Menzies as the Prince, in 1988. Also in 1988, Parsons and Harrison recreated an Elizabethan touring company to present Othello, with Howard as Iago and David Downer as the Moor.
In 1991, when Harrison became the Sydney Theatre Company's artistic director, he and Parsons introduced the often controversial Shakespier Project in a bare space beneath the Wharf Theatre. Audiences were encouraged to eat, drink and respond, though the occasional all-male casts frequently produced embarrassed giggles. Their 1991 productions were Henry IV Part 1 and King Lear (with Ron Haddrick in the lead). Much Ado About Nothing and Antony and Cleopatra (with John Stanton, Sandy Gore and Marcus Graham) followed in 1992.
For two decades Parsons' theatrical activities were concurrent with his commitments as chairman of Currency Press, which he and his wife, writer and critic Katharine Brisbane, established in 1971 to make available the work of the emerging generation of new Australian playwrights. For its first 10 years Currency was run from an office squeezed into the Parsons' home in Jersey Road, Woollahra. Currency's first title was Alex Buzo's play Macquarie. The following year brought Hewett's The Chapel Perilous and David Williamson's The Removalists.
Since then Currency has published hundreds of playscripts, disseminating the work of a who's who of Australian dramatists: Ron Blair, Michael Boddy, Andrew Bovell, Jimmy Chi, Terence Clarke, Raimondo Cortese, Jack Davis, Alma De Groen, Barry Dickins, Ron Elisha, Bob Ellis, Nick Enright, Michael Gow, Jack Hibberd, Alan Hopgood, Barry Humphries, Jenny Kemp, Peter Kenna, Ray Lawler, Bob Maza, Joanna Murray-Smith, Louis Nowra, Hannie Rayson, John Romeril, Stephen Sewell and Patrick White.
Currency's 1973 publication of Louis Esson's The Time is Not Yet Ripe instituted a series of earlier Australian classics, including plays by Bert Bailey, Alfred Dampier, George Darrell, Dick Diamond, Oriel Gray, Katharine Susannah Prichard, Betty Roland, Steele Rudd and Garnet Walch.
In 1982 Currency moved to 330 Oxford Street, Paddington. By then it had started to complement its continuing output of playscripts with books on Australian performing arts history and practice. The first, in 1981, were Contemporary Australian Drama: Perspectives Since 1955, edited by Peter Holloway, Harold Love's The Golden Age of Australian Opera: W.S. Lyster and his Companies, 1861-1880 and Legends on the Screen: The Narrative Film in Australia, 1919-1929 by John Tulloch. Many more followed.
In 1992 Philip Parsons and Katharine Brisbane received the Sydney Critics' Circle Award inrecognition of their services to Australian theatre. Philip Parsons' last major undertaking was Currency Press's monumental Companion to Theatre in Australia. This massive 700-page Bicentennial publication incorporated 1,200 authoritative articles from 200 expert contributors, all overseen by Parsons, who was general editor. Sadly, he did not live to see its publication.
Philip Parsons died on 20 January 1993, a short time after the announcement that he and his wife had been made Members of the Order of Australia. Later in the year the NSW Ministry for the Arts instituted an annual Philip Parsons Memorial Lecture on the performing arts. His widow gave the first on 1 December 1993. Later speakers have included Wayne Harrison, John Derum, Richard Wherrett, Neil Armfield, Robyn Nevin, Stephen Page, David Hare, David Marr and Sandra Levy.
For a while after her husband's death, Katharine Brisbane continued to head the Currency enterprise. In 1998 the business moved into larger premises at 201 Cleveland Street, Redfern, which has been transformed into a centre where writers, musicians, film-makers and designers can interact and work together. In 2001 Katharine Brisbane incorporated a non-profit association called Currency House Inc. to provide a network for workers in the arts, encouraging research and raising the standard of informed debate in public policy-making.
The Parsons' two children are both active in the arts, Nicholas as a theatre director and playwright, and Harriet as a visual and installation artist.
In September 1991, in celebration of Currency's 20th birthday, Sydney's theatre fraternity got together to present 'an actors' tribute' to the Parsons at the Wharf Theatre. Nick Enright wrote a loving prologue, which was spoken by Ruth Cracknell. It concluded:
True lovers these and, be it understood,
The press they founded for our current good
Has seen out twenty years and scores of plays.
Now let our rusty bugles sound their praise:
For we salute you, with humble hearts and glad,
Katharine and Philip, the Currency Lass and Lad.
Frank Van Straten, 2007
References
Biographical
John Golder: Preserving the Ephemeral – Katharine Brisbane and Currency Press, Friends of the National Library of Australia, 1995
John McCallum: 'Philip Parsons', in Companion to Theatre in Australia, Currency Press, 1995
John Senczuk: 'The DSI Elizabethan Experiments, 1986-93', in O Brave New World, Currency Press, 2001
Media
Photograph taken by David Liddle 1988 – courtesy Currency Press