Queenie Paul OAM 1893 – 1982
Queenie Paul OAM 1893 – 1982
Queenie Paul OAM 1893 – 1982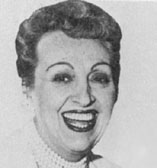 Eveline Pauline Paul was born in the Sydney suburb of Pyrmont on 30 December 1893.
In 1917 Queenie married an American vaudevillian, Mike Connors.
Aptly named Brighter Days, their first revue opened on 4 April 1931.
Thanks for the memory
'She was a woman with untold energy and drive, a born showman, of course,' said veteran comedian Ron Shand. 'And she had the brains. She wasn't what you'd call a great performer, but she had a very strong personality and a lot of ability. And she knew what would suit her. She had a flair for clothes, probably because of her French background. She was a hard task master and she was always the driving force. Nothing could stop Miss Queenie Paul!'
Eveline Pauline Paul was born in the Sydney suburb of Pyrmont on 30 December 1893. 'I was the first girl after four boys,' she explained, 'and they said, "Isn't she a little queen!" – so they called me Queenie and the name stuck.' She learnt dancing and studied singing with Grace Miller, Hugh J. Ward's wife. By the time she was 15 she was in J.C. Williamson choruses, and understudying as well. In 1915 she was 'second boy' in Mother Goose. The following year she graduated to Principal Boy in The Bunyip, Fullers' 1916 all-Australian pantomime, in which she shared the spotlight with Stiffy and Mo.
In 1917 Queenie married an American vaudevillian, Mike Connors, who was touring for Fullers' with his partner Freddie Witt. Queenie and Mike formed a double act and for a while produced shows for Jack Asprey at the Cremorne in Brisbane. They were back with Fullers' when live theatre was hit by the 'talkies' and the Depression.
Like most of their colleagues, Mike and Queenie were out of work – but not for long. Queenie argued that a bright show at a minimal admission price would attract the unemployed, so they pooled their savings, hired the Haymarket Theatre in George Street, Sydney, and begged and borrowed scenery and costumes. Aptly named Brighter Days, their first revue opened on 4 April 1931. Their early headliners were Hector St Clair, Roy Rene and Jim Gerald. They played twice daily to full houses. 'Connors and Paul' never looked back.
In July 1931 Connors and Paul expanded to Melbourne, leasing Fullers' Bijou, a few doors from the Tivoli, where a consortium led by George Dickenson was presenting similar fare. In September the two organisations merged as Connors and Paul Theatres Pty Ltd, presenting gloom-chasing fare in Melbourne at the Tivoli and in Sydney at the Theatre Royal. The following year, at Queenie Paul's suggestion, they leased George Marlow's shabby Grand Opera House in Castlereagh Street, where she had appeared in The Bunyip 16 years before. They spruced it up, hired some neon lighting and – another of Queenie's inspirations – renamed it the New Tivoli, in tribute to Sydney's original Tivoli, which had closed in 1929. The New Tivoli opened on 23 July 1932 with a bill headed by Roy Rene and Syd Beck. This was the start of Australia's second Tivoli Circuit, which entertained Australians for the next 34 years.
In 1933, while Queenie and Mike were talent-spotting in the United States, a surprise share transfer delivered control of the Tivoli to George Dickenson and Frank Neil. By mid 1934 they had moved on. In partnership with Roy Rene they presented Insanities of 1935 at the Civic, a revamp of the old Haymarket in Sydney. The next year, teamed with Roy Rene, they played at the Apollo and the Princess in Melbourne, then put in three months at the Majestic in Newtown, and took a company to New Zealand with George Wallace as their star. This was so successful that in 1937 they embarked on a second tour. Unfortunately their new headliner, Syd Beck, was drinking heavily, and the show collapsed. Queenie and Mike mortgaged their Sydney home to raise the money to pay off the cast and buy their return fares.
In 1938 Mike joined the ABC as presenter of the immensely popular Hospital Half Hour. He was also in radio variety and conducted the ABC's national breakfast session. In 1944 Mike retuned to the Tivoli as a 'feed' for Roy Rene, and a year later Queenie was back choreographing the ballets.
Toward the end of 1946, Queenie and Mike signed with entrepreneur Harry Wren, who was presenting revue at the Cremorne in Brisbane. Queenie produced The Tommy Trinder Show for Wren in Brisbane and Adelaide.
Connors died in 1949. The following year Queenie went into partnership with Martin Goode in an attempt to establish 'a permanent home for variety in Sydney'. The leased the 900-seat Tatler in Liverpool Street – the former Australian Picture Palace, it boasted an exterior designed by Walter Burley Griffin and an interior modernised by C. Bruce Dellit, designer of David N. Martin's Liberty and Minerva theatres. Queenie's Tatler shows starred Adelaide comic Hal Lennon and his new bride, Val Jellay, but the venture was not a success. Queenie became resident producer at Joe Taylor's Celebrity Club in York Street, Sydney, where she 'discovered' Dawn Lake. In 1953 Queenie accepted an offer from the Singapore-based Shaw Brothers to present glamorous revues in their hotels, clubs and cinemas; she also took her eight famous 'sun-kissed' dancers to entertain the troops in Malaya.
It was Harry Wren who brought her back to Australia for his spectacular nostalgic revue Thanks for the Memory. It opened at the Princess in Melbourne 3 October 1953 with a cast headed by George Wallace, Jim Gerald and Queenie Paul. In fact, Queenie created the whole nostalgic juggernaut, drawing on her flair, expertise and years of experience, though, many years later, she admitted, 'I must have been a crotchety old bitch as a producer.'
Queenie remained with Wren as resident producer for his Celebrity Circuit, and her son, Paul became stage director. After a series of revues at the Palladium – the old Haymarket again – Wren staged The Good Old Days in 1956, with Queenie, George Wallace, Jim Gerald, Maurice Colleano and Jenny Howard. At least 500,000 people saw it as it toured Australia and New Zealand. Wren's third nostalgia extravaganza was 1959's Many Happy Returns, with Queenie, Gladys Moncrieff, Jim Gerald, Jenny Howard and George Wallace Jnr.
Queenie took television in her stride. She was a frequent guest on Graham Kennedy's In Melbourne Tonight, The Don Lane Show and The Mike Walsh Show and in 1965 had a featured role in a quirky 13-episode musical series called Dave's Place. Then she found an entirely new career singing old-time favourites in Sydney hotels and clubs. On 26 March 1966 she was in the royal box to farewell the theatre she had resuscitated in 1932 and had renamed the Tivoli. In 1977 she had the unnerving experience of seeing herself portrayed by Gloria Dawn in the Nimrod production of Steve J. Spears' Young Mo. The following year she was honoured on This Is Your Life.
She also released a cassette of some of her most asked-for numbers. The proceeds benefited the United Nations Association of Australia. In 1982 her services to theatre were rewarded with the Medal of the Order of Australia.
Queenie Paul never retired. Ignoring severe chest pains, she fulfilled an engagement at Newtown Leagues Club on 29 July 1982. She died of a heart attack two days later. She was 88. Her children were also involved in show business: Celestine McDermott sang for some years on the Tivoli Circuit, and Paul managed St Kilda's popular Palais de Danse.
Frank Van Straten, 2007
References
Biographical
Victoria Chance: 'Queenie Paul', in Companion to Theatre in Australia, Currency Press, 1995
Frank Van Straten: Tivoli, Lothian Books, 2003
Frank Van Straten: 'Connors and Paul – Two of the Best', in Tivoli Follies, unpublished manuscript, 1999
Media
Queenie Paul and Mike Connors
Queenie Paul