Rex Cramphorn 1941 – 1991
Rex Cramphorn 1941 – 1991
Rex Cramphorn 1941 – 1991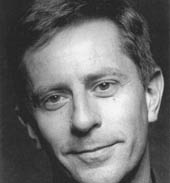 Rex Cramphorne – he dropped the final 'e' around 1972 when he decided it was a family
affectation – was born in Brisbane on 10 January 1941
In 1969 he created the Performance Syndicate, an experimental workshop group taking its inspiration from the theories of Peter Brook and the Polish director Jerzy Grotowski.
Rough magic
Rex Cramphorne – he dropped the final 'e' around 1972 when he decided it was a family affectation – was born in Brisbane on 10 January 1941. 'The fact that Rex came from Brisbane is in some ways quite important,' said his fellow Queenslander David Malouf. 'People in Brisbane grew up in a very strange way… everybody grew up in their own little world. [Brisbane] produced people who had very idiosyncratic ways of doing and thinking about things … Rex was one of those people who came out of Brisbane, already at twenty-one, fixed in the kind of world which was going to be his for the rest of his life, and that was very much a world of things French.'
Educated at Brisbane Boys' High School, Cramphorn held a BA Hons in French and English studies from the University of Queensland – where he began working in theatre: there, with his own group, he produced such plays as The Changeling and Suddenly Last Summer. After he graduated he taught for a year, and then, in 1965, he undertook the two-year production course at the National Institute of Dramatic Art, at the same time contributing drama reviews to The Bulletin.
Cramphorn designed the costumes for Aarne Neeme and Philip Parsons' production of Richard III at the University of Western Australia's New Fortune Theatre for the 1968 Festival of Perth. His first professional productions were lunch-time seasons for the Q Theatre at the AMP Theatrette in Sydney: Carlino's Snow Angel in 1969 and David Mercer's The Governor's Lady in 1970.
In 1969 he created the Performance Syndicate, an experimental workshop group taking its inspiration from the theories of Peter Brook and the Polish director Jerzy Grotowski. Its members were mainly recent NIDA graduates, and they used NIDA as a rehearsal venue. The group lasted until 1975. Its continually changing ranks included Gillian Jones, William Yang (then known as Willy Young), Nick Lathouris, Kate Fitzpatrick and Robyn Nevin. In 1970 the Performance Syndicate's memorable productions included Tourneur's The Revenger's Tragedy for the Hobart Theatre Royal and, at NIDA's Jane Street Theatre, William Yang's 10,000 Miles Away and The Legend of King O'Malley. The latter was an enormously successful rumbustious song-and-dance melange by Michael Boddy and Bob Ellis, directed by John Bell. It toured widely.
In 1971 Cramphorn seemed to be everywhere. He directed Stravinsky's The Soldier's Tale and the world premiere of Barry Conyngham's Edward John Eyre for the University of New South Wales' Music Department, and The Dutch Courtesan for the Old Tote. The Performance Syndicate was seen in Pericles at Jane Street and Yang's Orestes at the Arts Factory, a converted warehouse in Surry Hills, and participated in John Bell's first professional production of Shakespeare: a 'dark' Macbeth, at Nimrod, with Nick Lathouris in the title role.
Cramphorn also found time to become drama critic for The Sunday Australian and work as Jim Sharman's assistant on the quirky cult film Shirley Thompson versus the Aliens, after which Sharman invited him to design the costumes for Harry M. Miller's original production of Jesus Christ Superstar, which opened at the Capitol in Sydney on 4 May 1972. That same year Cramphorn directed Helmut Bakaitis' Shadows of Blood for Nimrod, and productions of Macbeth and The Tempest for the Old Tote. The latter also played a season at the Guild Theatre at Melbourne University.
Cramphorn worked with Grotowski when he visited Australia in 1972. At the end of that year Cramphorn and Christopher Muir were recruited to breathe new life into the ailing St Martin's Theatre in the conservative Melbourne suburb of South Yarra. St Martin's – formerly the Little Theatre – had served its community since 1931, but its audience had aged and dwindled, and it had been eclipsed by the livelier offerings of the Melbourne Theatre Company and the Australian Performing Group. In March 1973 Cramphorn's Performance Syndicate productions of The Tempest and an adaptation of Hans Andersen's The Marsh King's Daughter played there in repertory. Jeff Underhill's Australian musical The Ballad of Angel's Alley followed in May. The experiment failed and St Martin's ceased production within a year.
By this time the Performance Syndicate was losing momentum. Its last productions were the Sanskrit classic Shakuntala and the Ring of Recognition for the Adelaide Festival and Alan Simpson's Muriel and George Hutchinson's My Shadow and Me at Jane Street, all in 1974; and Racine's Bérénice and Molière's Scapin, in Cramphorn's translation, in 1975. In 1975, totally 'out of character', he directed an irreverent NIDA spoof of the vintage musical comedy Rio Rita, which introduced talent like Brandon Burke, Colin Friels and Tom Burlinson. He directed Helmut Bakaitis's Le Château d'Hydro-Thérapie Magnétique the following year.
In 1976 Cramphorn joined the Old Tote as a director; the association lasted until 1978, when he and Sharman resigned in frustration with the Tote's lack of commitment to more adventurous work. He and Sharman established the Paris Company; its mission was to present large scale new Australian work.
Supported by Patrick White, Dorothy Hewitt and others, it was based in the historic old Australian Picture Palace in Liverpool Street, Sydney, a building largely designed by Walter Burley Griffin. Sharman directed the opening production, Hewitt's Pandora's Cross, and Cramphorn the second, Louis Nowra's Visions. In The Sydney Morning Herald H.G. Kippax hailed it as 'Theatre of high interest'. Sadly, the interest was insufficient: neither the Paris Company nor the theatre survived.
In 1980 Cramphorn established A Shakespeare Company under the auspices of the University of Sydney. Ruth Cracknell, John Howard and Ron Haddrick were in the first production, Measure for Measure. It was a play to which Cramphorn returned several times. The years from 1981 until 1985 were Cramphorn's most productive: he worked with the Playbox Theatre Company in Melbourne, first as resident director and later as co-artistic director. His productions there included Thérèse Radic's A Whip Round for Percy Grainger, Barry Dickins' A Couple of Broken Hearts, Peter Handke's My Foot My Tutor and Racine's Britannicus (1982), Antony and Cleopatra, Edward Bond's Summer, Terry Johnson's Insignificance and Fugard's 'Master Harold'…and the Boys (1983), Molière's Scapin, Terry Johnson's Unsuitable for Adultsand David Williamson's The Removalists (1984), and Hamlet, Measure for Measure, Louis Nowra's The Golden Age and Roy Mathew's A Spring Song (1985). Also that year Cramphorn directed his adaptation of Molière's A Doctor in Spite of Himself for Sydney Theatre Company at the Wharf Theatre.
Around this time Cramphorn sought funding for an ensemble company which would work towards the establishment of a performance style arising from a close study of classic texts 'with an aesthetic which is appropriate to an heir of English-speaking tradition with a multicultural future in a Southeast Asian location … A classic company, capable of drawing from the best available academic and professional resources and developing a valid Australian contribution to world theatre.' The company did not eventuate.
Despairing of the frustrations of short term funding and what he saw as the institutionalisation and conservatism of state theatre companies, Cramphorn turned to his other great love: cinema. From 1986 until 1989 he studied at the Australian Film, Radio and Television School. His graduating film, The Pursued, was well received.
For the 1988 Adelaide Festival Cramphorn directed his fourth and possibly most controversialMeasure for Measure, which integrated live action with filmed segments. The Sydney Morning Heraldcritic Bob Evans hated it: 'Rex Cramphorn has finally succeeded in doing Measure for Measure to death. [His] production is one of the scrappiest, doggedest massacres of Shakespeare I have ever seen. For all the theorising and technological wizardry, Cramphorn delivers a lifeless production where the austerity is not measured by the vitality and humour of the play… And through it all the audience shuffled and coughed and occasionally tittered. The wiser and more fortunate were able to leave at interval.'
The show's production manager, Ruth E.E. Aldridge, leapt to Cramphorn's defence, holding Evans personally responsible for the box-office failure of the subsequent Sydney season: 'Your venom has cost us around $40,000. It is people like you who make live theatre today the disappointing experience it often is. Who is going to take risks, when every time they do, there is a predator like you, waiting to shoot down their every effort?'
But by then Cramphorn was facing another predator: AIDS. His final theatre work involved cross-gender casting in The Tempest and Molière's Don Juan, which he directed for the Centre for Performance Studies at the University of Sydney in 1991. He died that year, on 22 November, from an AIDS-related illness. He was 50.
Perhaps to redress its earlier criticism, The Sydney Morning Herald said: 'With [his] death the Australian theatre has lost one of its most challenging and sensitive talents. Those who worked with him in the Performance Syndicate, in A Shakespeare Company and in Melbourne count him as a formative influence. His range of remembered productions was wide. But if he had one quality that stood out it was his capacity to take a play and turn it into an object of contemplation, to penetrate its mystery so that it stayed in the mind long after the image faded.'
The New South Wales Government has established the biennial $15,000 Rex Cramphorn Theatre Scholarship to assist a professional theatre artist in career development. A studio at the University of Sydney's Centre for Performance Studies has been named in Cramphorn's honour, and he is commemorated in an annual lecture by an outstanding theatre practitioner. The first was delivered by Jim Sharman.
Frank Van Straten, 2007
References
Biographical
Katharine Brisbane: 'Rex Cramphorn', in Companion to Theatre in Australia, Currency Press, 1995
Katharine Brisbane: 'The Performance Sydnicate', in Companion to Theatre in Australia,Currency Press, 1995
Media
Photograph courtesy National Institute of Dramatic Arts (NIDA)