Richard Wherrett AM 1940 – 2001
Richard Wherrett AM 1940 – 2001
Richard Wherrett AM 1940 – 2001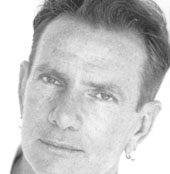 Born in Sydney on 10 December 1940, Richard Bruce Wherrett was educated at Trinity Grammar.
At the University of Sydney he dabbled in acting, before graduating in arts in 1961.
Wherrett went to Britain in 1965. There he taught and directed at East 15 Acting School in Loughton, Essex and directed at the London Academy of Music and Dramatic Art, the Lincoln Theatre Royal and Lancaster University.
Richard the Lionheart
'Now, I don't think Richard is the greatest director I've ever worked with,' said his friend, actor John Hargreaves, 'and I don't think he claims to be Australia's greatest director. The thing that Richard did was always to create this very relaxed ambience in which you could work very easily. He also cast well, usually. He was a very good casting director. Richard's productions were always very enjoyable to work in because of that incredibly relaxed ambience, where you felt that you could try anything out … there was no pressure coming from a demented director who had to prove something. I think that quality Richard had is a very, very valuable asset in a director.'
For four decades Richard Wherrett dominated Australian theatre, creating a cavalcade of highly acclaimed productions of drama, opera, film and television; he founded the Sydney Theatre Company, wrote several books and directed notable arts festivals. He was probably the country's most successful, controversial and outspoken theatrical director.
Born in Sydney on 10 December 1940, Richard Bruce Wherrett was educated at Trinity Grammar. At the University of Sydney he dabbled in acting, before graduating in arts in 1961. After a few lessons from Doris Fitton at the Independent Theatre, he was ready for his professional debut – ironically as a dancer in a 'live' transmission of Petrouchka on ABC television. He returned to Trinity where he spent four years as a teacher, and occasional participant in school productions.
Wherrett went to Britain in 1965. There he taught and directed at East 15 Acting School in Loughton, Essex and directed at the London Academy of Music and Dramatic Art, the Lincoln Theatre Royal and Lancaster University. He was back in Australia in 1970. He worked briefly for the ABC in South Australia, then became an assistant on Tyrone Guthrie's production of King Oedipus for the Old Tote and toured as assistant director on the Tote's Major Barbara. In September 1970 the Tote appointed him associate director to Robin Lovejoy and artistic director of its affiliated Australian Theatre for Young People. Despite his notable productions of The Man of Mode and The Resistible Rise of Arturo Ui, which was televised by the ABC, Wherrett and the Old Tote proved to be incompatible. After directing Bob Ellis's The Legend of King O'Malley for the South Pacific Arts Festival, Wherrett escaped to London with actress Jacki Weaver. He taught again at East 15.
At the end of 1972 Wherrett returned to Australia. He joined the innovative Nimrod Theatre in Kings Cross, where he directed a widely acclaimed production of Ray Lawler's Summer of the Seventeenth Doll. He became Nimrod's co-artistic director in 1974, the year it moved into larger premises – a converted salt factory in Belvoir Street, Surry Hills. At the Nimrod Wherrett introduced the work of many local playwrights, Alex Buzo, Alma de Groen, David Allen, Ron Blair, Tim Gooding and Steve J. Spears among them. Wherrett's greatest Nimrod success was Spears' The Elocution of Benjamin Franklin, a solo tour-de-force for Gordon Chater. It opened at the tiny Nimrod Downstairs on 28 August 1976 and went on to tour widely, including seasons in London and New York, where its title was judiciously shortened to The Elocution of Benjamin. It won prestigious Off-Broadway OBIE awards for Wherrett, Spears and Chater. In 1977 Wherrett directed another Spears play, Young Mo, an affectionate tribute to the revered comedian Roy Rene, played by Garry McDonald. Martin Sharp designed the show's striking Kabuki-style poster, which became Nimrod's logo. In 1998 Wherrett presented Sharp's original painting to the National Portrait Gallery in Canberra.
Wherrett also directed at NIDA, perhaps most notably a Romeo and Juliet in 1976, with Mel Gibson and Judy Davis in the leads.
By 1978 the Old Tote had run out of steam – and money – and despite its residency at the Sydney Opera House, had ceased to be the city's leading drama company. In 1979 the Wran government created the Sydney Theatre Company, and Wherrett was appointed its first artistic director. He launched the new company on 1 January 1980 with his rollicking production of George Darrell's spectacular 1883 melodrama The Sunny South. The Sydney Theatre Company was an immediate success. In 1981 Wherrett boldly decided the STC should stage a musical. He chose wisely. Chicago, with a cast headed by Nancye Hayes and Geraldine Turner, was so successful it transferred to the Theatre Royal, and went on to play in Melbourne, Adelaide and Hong Kong.
Away from the STC, Wherrett extended his directorial expertise with two short films – The Girl Who Met Simone de Beauvoir in Paris and The Applicant – in 1981, and an ABC television musical, The Girl from Moonooloo, with Jacki Weaver, in 1982. That same year he directed Kurt Weill's The Rise and Fall of the City of Mahagonny for the Australian Opera.
Wherrett mounted three notable STC productions 'away from home' at the Sydney Royal: Peter Shaffer's Amadeus in 1982 and Noel Coward's Present Laughter in 1983. The latter starred John Hargreaves, Wendy Hughes, Geraldine Turner and Robyn Nevin. At the end of 1983 came the now-legendary eight-and-a-half hour version of The Life and Adventures of Nicholas Nickleby, which Wherrett co-directed with John Gaden; it later played in Melbourne and Adelaide. The fact that Nick Nick, as it was more efficiently known, was an STC–Australian Opera co-production, elicited a snide comment in the magazine Matilda that it was the sort of thing that 'Patrick Veitch [of the AO] and Richard Wherrett would cook up together in bed.' Wherrett sued and won. His action against the Sun-Herald for describing his production of Harold in Italy as 'wanking' was vindicated with an apology and a retraction. Wherrett also sustained a long barrage from The Bulletin's critic, Brian Hoad, which culminated in a bitter exchange of views in The Bulletin in March 1986.
After much lobbying, Wherrett persuaded the NSW Government to fund new STC headquarters and a small additional performance space in an unused wharf building in Hickson Road, Walsh Bay. The conversion was designed by Vivian Fraser, who had also worked on the refurbishments of the first and second Nimrod Theatres. The new venue, the 340-seat Wharf, opened with a season of short new Australian plays on 12 December 1984, capping a year in which his contribution to the performing arts had been rewarded with Membership of the Order of Australia.
In the later 1980s Wherrett directed The Cobra, one of Robert Helpmann's last stage appearances, Hedda Gabler with Judy Davis, Sondheim's Company with Geraldine Turner, and David Williamson's Emerald City, which was also presented in London to mark Australia's Bicentennial. Similarly, the STC's productions of Summer of the Seventeenth Doll and Michael Gow's Away went to the Pepsico Summer Festival in New York. In 1987 Wherrett directed his second opera, Turandot, for the Victoria State Opera.
From 1985 to 1988 Wherrett was a member of the Australia Council's Performing Arts Board and in 1990 he received the Sydney Theatre Critics' Circle major award for his 'Significant Contribution to Sydney Theatre'.
After eleven exhausting yet productive years, Wherrett resigned from the Sydney Theatre Company in August 1990. The remaining decade of his life was filled with new challenges. The first was a monumental debacle: Gypsy, a remounting of the classic musical that was to star Geraldine Turner. The cast met on 13 April and the finance fell through three days later. Curtain. Jesus Christ Superstar for Harry M. Miller/IMG was next, with a star cast including John Farnham, Kate Ceberano, Jon Stevens, John Waters and Angry Anderson. Originally created for arena presentation in 1992, the show was later recast and reworked for a 1995 national tour of conventional venues. In 1992 Wherrett succeeded John Truscott as Artistic Director of the Melbourne International Arts Festival. It was not a happy experience, and he resigned after producing only two of the three festivals for which he had been contracted. The highlight of his first festival was the groundbreaking Philip Glass opera Einstein on the Beach and the second featured a memorable one-off concert performance of Steven Sondheim's Follies.
Wherrett's experience with his only feature film, a comedy with music called Billy's Holiday, washardly happier. It was based on the unlikely fact that actor Max Cullen's singing voice was indistinguishable from Billy Holiday's – and it was swiftly forgotten. Another disappointment followed. In 1995 Wherrett was chosen to direct the Australian production of Disney's Beauty and the Beast. Presented by Kevin Jacobsen and Michael Edgley in association with Disney, this version starred Rachael Beck and Michael Cormick, with a supporting cast including Hugh Jackman, and Bert Newton. Again Wherrett was uncomfortable, finding he was expected merely to reproduce the American original.
In 1996 Wherrett directed The Stars Come Out, a gala concert at the State Theatre in Sydney for the Gay and Lesbian Mardi Gras (he had directed several earlier Mardi Gras events), another gala concert to celebrate the reopening of Melbourne's Regent Theatre on 17 August, and Richard Mills' operatic treatment of Summer of the Seventeenth Doll for the Melbourne International Festival. This was televised by the ABC. In 1997 he directed the musical Cabaret for Gordon Frost at the Footbridge Theatre in Sydney, another musical, Pageant, for Harry M. Miller at Paddington Town Hall, Red Hot and Rhonda, the high-powered Rhonda Burchmore showcase that opened the Showroom in Melbourne's Crown Casino on 8 May, and Katharine Thompson's play Navigating for the Queensland Theatre Company. In 1998 there was The Merchant of Venice for Bell Shakespeare, and 1999 saw a restaging of the opera Summer of the Seventeenth Doll at the Sydney Opera House.
In 1997 Richard Wherrett and his brother Peter, the noted motoring writer released a co-written autobiography, Desirelines: An Unusual Family Memoir, revealing Richard's homosexuality, Peter's transvestism, and the unhappy childhood they suffered with their violent, alcoholic father. Richard's own autobiography, The Floor of Heaven, was published in 2000 and dedicated to Jacki Weaver. He also wrote Mardi Gras! From Frock Up to Lock Up, published in 1999.
Wherrett was responsible for the staging of perhaps the most heart stopping segment of the Sydney 2000 Olympics Opening Ceremony – the entry of the Olympic flame, its transfer by Cathy Freeman to the waiting torch, and its slightly shaky ascent to the cauldron. His last major directorial credit was the Johnny O'Keefe musical Shout! The Legend of the Wild One, with David Campbell in the lead. It opened at the State Theatre in Melbourne on 26 December 2000 and toured widely.
Richard Wherrett was scheduled to direct a revival of The Elocution of Benjamin Franklin when he died of an AIDS-related illness on 7 December 2001. In spite of his homosexuality, he had enjoyed a long, loving relationship with actress Jacki Weaver, and she lived with him through his last days. In her tribute she called him 'Richard the Lionheart'. The lights on the Opera House sails were dimmed in his honour.
Frank Van Straten, 2007
References
Biographical
Ron Blair: 'Richard Wherrett', in Companion to Theatre in Australia, Currency Press, 1995
Tony Watts: John Hargreaves – a Celebration, Parrot Management, 2000
Jacki Weaver: Much Love, Jac, Allen & Unwin, 2005
Richard Wherrett: The Floor of Heaven, Sceptre, 2000