Sir Robert Helpmann CBE 1909 – 1986
Sir Robert Helpmann CBE 1909 – 1986
Sir Robert Helpmann CBE 1909 – 1986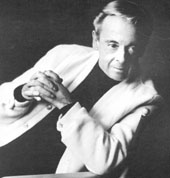 He was born Robert Murray Helpman – only one 'n' – in Mount Gambier, South Australia, on 9 April 1909.
He had his first lessons from Nora Stewart in Adelaide, where he made his debut in 1922, dancing at the Theatre Royal in The Ugly Duckling.
His father arranged for him to join the visiting Anna Pavlova company. He studied with them and danced minor roles.
A knight to remember
'An infusion of excitement, apprehension and nerves spread through the new company as weawaited the arrival of Sir Robert Helpmann,' reminisced dancer Barry Kitcher who, in 1964, Helpmann chose to create the role of the Lyrebird in his ballet The Display. 'His appearance was unmistakeable: a slim elegant figure in a cool safari suit, a deeply sun-tanned face with a shock of dyed blonde hair and a lei of gold chains around his neck. While we worked through our normal class he simply came straight in and sat himself down next to Peggy van Praagh.
There were no formalities, no introductions. He was there to watch class. We heard constant whisperings between them while his large bulbous eyes circled the room, taking in all our movements. I felt he was an x-ray machine boring through my insides and not missing a thing. Then, before the class had even finished, he unceremoniously stood up and walked out. In that brief encounter he had sorted out which of us he wanted for The Display.'
When Sir Robert Helpmann died in Sydney on 28 September 1986 the curtain fell on a career so long, diverse and extraordinary that obituary writers hardly knew where to start. In his 77 years he had packed more activity, met more challenges and excelled in more fields than any of his contemporaries, in Australia or overseas.
What was he? A dancer? A choreographer? A director of ballets, plays and operas? A stage, film and television actor? Even a singer? He was all these and much, much more: a theatrical chameleon, capable of adroitly adapting his prodigious knowledge, talent and enthusiasm to everything he tackled. Robert Helpmann was unique.
Today most people identify him with ballet and it was in dance that he first made his mark. He was born Robert Murray Helpman – only one 'n' – in Mount Gambier, South Australia, on 9 April 1909. He had his first lessons from Nora Stewart in Adelaide, where he made his debut in 1922, dancing at the Theatre Royal in The Ugly Duckling. His sister, Sheila and his brother, Max, followed in his theatrical footsteps.
Young Bobby's professional career began in 1927 when he was principal dancer in J.C. Williamson's production of the operetta Frasquita at His Majesty's in Sydney. That year his father arranged for him to join the visiting Anna Pavlova company. He studied with them and danced minor roles. He gained further experience in variety at the Tivoli and in musicals and plays for Williamson's. He so impressed the visiting English actress Margaret Rawlings that she gave him a small role in The Barretts of Wimpole Street and asked him to create a short ballet as a curtain raiser for another play in her repertoire, Happy and Glorious. The result was Business-à-la-Russe, which Helpmann choreographed to a score he commissioned from an Adelaide friend, Tom King. Promising an introduction to Ninette de Valois at Sadler's Wells, Rawlings persuaded Helpmann to venture to London.
Sporting the extra 'n' that Pavlova suggested, Helpmann left Australia in 1933. He would be away for 22 years. In London Helpmann scored a small role in I Hate Men at the Gate Theatre. Soon after, thanks to Rawlings, he was accepted into the Sadler's Wells Ballet School. Before long he was made a member of the company. Swiftly and sensationally he made his mark, dancing with the leading English ballerina Alicia Markova. He was with the Wells from 1934 to 1950, often in partnership with Margot Fonteyn. Along with the rest of the company he was on a goodwill tour of the Netherlands when the Nazis invaded the country. The dancers' departure, minus baggage, scenery and costumes, was dramatic and harrowing.
Helpmann's innate genius for choreography culminated in the extraordinarily influential 1948 film The Red Shoes in which he starred with Moira Shearer. He was also involved in the spectacular screen version of The Tales of Hoffmann in 1953. His other movie credits include One of Our Aircraft is Missing and Laurence Olivier's Henry V. Later he was featured in films as diverse as 55 Days at Peking, The Quiller Memorandum, Chitty Chitty Bang Bang and Alice's Adventures in Wonderland.
Obviously dance could not contain Helpmann's ambitions. He turned his talents increasingly to drama, appearing with Vivien Leigh in the Old Vic's A Midsummer Night's Dream in 1937 (his Oberon was described as 'eerie and impressive') and Hamlet in 1944. 'His very entrance on the stage,' commented an English writer, 'evokes the sort of awed silence that used to herald the parting of the curtains at the appearance of Sir Henry Irving.' And revered Sunday Times critic James Agate hailed 'acting on androgynous plane of pure poetry, as indeed one expected from an artist in the school of Nijinsky.'
In 1947, with Michael Benthall, Helpmann became artistic director at the Duchess Theatre, appearing there in The White Devil and He Who Gets Slapped. In 1948 he joined the Shakespeare Memorial Theatre, playing at Stratford-on-Avon as King John, Hamlet and Shylock. In 1955 he led the Old Vic's tour of Australia, appearing with Katharine Hepburn in The Taming of the Shrew, Measure for Measure and The Merchant of Venice. The press welcomed Helpmann's homecoming with a mixture of admiration and suspicion: admiration for his obvious achievements, and suspicion of his extrovert flamboyance.
The middle aged enfant terrible toured Australia again in 1958 in the Noël Coward comedy Nude with Violin. He later played in a television adaptation for the BBC.
In the 1950s and 1960s Helpmann worked extensively as a director. His diverse credits include the ballet Swan Lake (for Margot Fonteyn), the operas Madama Butterfly, La Bohème and Le Coq D'Or, the musicals Golden City, After the Ball, Finian's Rainbow and Camelot, (with designs by the young John Truscott), the pantomime Aladdin, the drama Murder in the Cathedral and many of Shakespeare's plays. He and Vivien Leigh led the Old Vic world tour of 1961 in a repertory consisting of The Lady of the Camellias, Twelfth Night and Christopher Fry'stranslation of Jean Giraudoux's Duel of Angels.
Helpmann enjoyed and exploited his notoriety. In 1963 he made headlines – and the airwaves – with a bizarre disc of surfing songs which he recorded in a studio in Honolulu on his way to Australia. It is now a coveted collectors' item. His flamboyance challenged the stultifying conservatism of 1960s Australia. On one celebrated occasion, with eyebrows plucked and fingernails painted red, and sporting Oxford bags, pink shirt and purple tie, he strolled with a friend on Bondi Beach. Before long they were being trailed by a large, silent crowd, 'like mourners behind a cortege'. Eventually some macho lifesavers picked him up, carried him to the surf, and unceremoniously dumped him in. More headlines!
Helpmann had not abandoned ballet. He returned to the Royal Ballet (formerly Sadler's Wells) for its first Australian tour in 1956, dancing in Coppélia, Façade, The Rake's Progress and his own ballet, Hamlet. For the Australian Ballet he created The Display in 1964, followed by Yugen and Sun Music. From 1965 until 1976 Helpmann was artistic director of the Australian Ballet, working in association with Dame Peggy van Praagh for the first nine years of his tenure. He directed the company's tours to Europe, South America and Canada (for Expo 67) and South-East Asia.
With the Australian Ballet he danced as Doctor Coppélius in Coppélia, as an Ugly Sister in Cinderella and in the title role in the stage and film versions of Rudolf Nureyev's landmark ballet interpretation of Don Quixote. Helpmann also appeared with the Australian Ballet as Sergeant Pepper in Gillian Lynne's original television ballet The Fool on the Hill, using music by the Beatles.
Helpmann was appointed a Commander of the British Empire in 1964. In 1965 he was named Australian of the Year. A knighthood 'for distinguished contribution to ballet and choreography' followed in 1968. He directed the 1970 Adelaide Festival of Arts.
In 1975 Helpmann acquired the rights to transform The Merry Widow into a ballet: years before he had danced in a revival of Franz Lehár's operetta in which Gladys Moncrieff had starred. One of the Australian Ballet's greatest successes, The Merry Widow remains a favourite in the repertoire.
Helpmann continued to make guest appearances with the world's major dance companies. He was involved with Michael Edgley in the sensational 1978 'Stars of World Ballet' company, notable especially as Margot Fonteyn's eighth and final tour of Australia.
In 1977 Helpmann played the Professor in the Australian film The Mango Tree. He was on screen again in the macabre Patrick in 1978. That same year he directed a touring version of the play Dracula. Back in Britain he was a delightfully wicked Cardinal Pirelli in the Chichester Festival Theatre production of Sandy Wilson's quirky musical Valmouth. He also toured the United States in Colette with Diana Rigg.
In 1981 Helpmann worked with the Australian Opera, directing Alcina by Handel, a production later re-staged with Joan Sutherland in the title role. In 1983 he celebrated his 60th year in theatre with involvement in productions in the three main auditoriums of the Sydney Opera House: in the Concert Hall he directed Anson Austin and Glenys Fowles in Gounod's Roméo et Juliette for the Australian Opera; in the Opera Theatre he re-choreographed The Display for the Australian Ballet; and in the Drama Theatre he starred for the Sydney Theatre Company in the world premiere of Justin Fleming's play The Cobra, directed by Richard Wherrett. Helpmann's portrayal of the elderly Lord Alfred Douglas, reflecting bitterly on his notorious youthful relationship with Oscar Wilde, was unforgettable.
In 1984 Helpmann made a notable guest appearance in a special two-part episode of the television drama series A Country Practice. In 1985 he was the Red King in Checkmate for the Australian Ballet, reviving a role created for him nearly half a century before. It was his last stage appearance.
Helpmann died as he had always lived: as a creature of the theatre. 'Theatre remains the only thing I understand,' he said. 'It is in the community of the theatre that I have my being. In spite of jealousies and fears, emotional conflicts and human tensions; in spite of the penalty of success and the dread of failure; in spite of tears and feverish gaiety – this is the only life I know. It is the life I love.' He died on 28 September 1986. More than 1000 people packed St Andrews Cathedral in Sydney for his memorial service.
Shortly before his death, Sir Robert donated his papers to the National Library of Australia, and he and his siblings, actors Sheila and Max, established The Helpmann Bequest to assist with the training of NIDA students. The 542-seat community theatre in his birthplace, Mount Gambier, has been named in his honour, and there is a statue of him in the foyer of the Adelaide Festival Centre. The Helpmann Academy in Adelaide unifies the skills and resources of South Australia's universities and TafeSA, bringing together courses in music, dance, drama, directing, visual arts, technical theatre production and design. And, in 2001, when Live Performance Australia inaugurated its annual awards for performing arts excellence, the name that came naturally was, of course, 'The Helpmanns'.
Sir Robert has been portrayed by actor Tyler Coppin in a monodrama called Lyrebird: Tales of Helpmann. This started life as a satirical sketch at the 1995 Sydney Fringe Festival, and was later developed into an acclaimed full theatre piece. It has been seen throughout Australia and in London, Edinburgh, and New Zealand, and Coppin, in character, opened the 2001 Helpmann Awards ceremony.
Frank Van Straten, 2007
Related Links
References
Biographical
Mary Helpman: The Helpman Family Story, Rigby, 1967
Barry Kitcher: From Gaolbird to Lyrebird, Front Page, 2001
Elizabeth Salter: Helpmann – The Authorised Biography, Angus & Robertson, 1978
Media
Photograph courtesy Australian Ballet